Flooding and sea level rise are perhaps the biggest threats to Charleston's viability since the Civil War, reporter Tony Bartelme tells us in our latest podcast episode.
---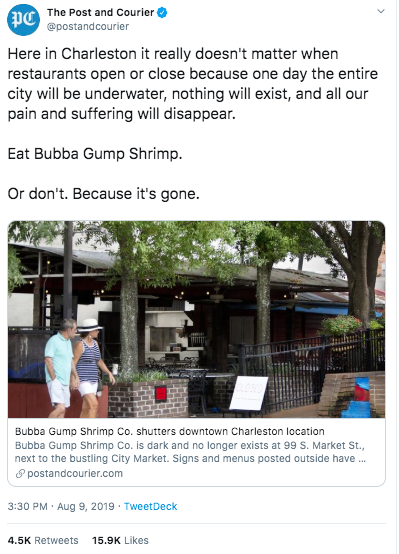 (Yes, our brand account went there...)
But seriously, the tweet's popularity shows just how much sea level, flooding (and nihilism) are on people's minds right now.
So for this week's episode, we thought it was high time to talk about the specific challenges Charleston and the coast as a whole face as climate change continues to affect how many flooding events impact the area. 

In what we think might just be our best episode yet, here are some of the questions we tackle:
How quickly is sea level rise accelarating?
What factors are contributing to flooding?
When it floods, what exactly is in the water? (Spoiler: It's poop.) 
What actions are being taken to fix the problem? 
What solutions are working and which ones aren't and why?
Why do new developments in certain areas cause more floods?
How did flooding contribute to Emory's recent epic fall? (Because we know you want to hear more about that.) 
And so many more things. This episode is pretty comprehensive.
Listen to our discussion with Senior Projects Reporter Tony Bartelme and Environmental Reporter Chloe Johnson here. 

How to listen:


Read previous stories we've written about flooding: