Federal prosecutions of shady sheriffs, crooked politicians and other corrupt officials have dropped by 50 percent since 1998 — a nationwide shift in crime-fighting priorities that opens the door to misconduct and erodes the public's already tenuous trust in its leaders, a Post and Courier Uncovered analysis shows.
This decline also comes amid a leadership vacancy in South Carolina that could make prosecuting corruption here even more difficult and rare: The Biden administration has yet to name a new U.S. Attorney for South Carolina, the official most likely to spearhead anti-corruption probes.
The downward trend in corruption cases began in the Bush administration and continued during Obama's presidency. The slide grew steeper during the Trump administration, but case numbers ticked up slightly during Biden's first year, data obtained by Syracuse University's TRAC project shows. As corruption prosecutions declined, immigration cases soared.
Corruption cases often are complex, expensive and can take years to do, three reasons why the federal government is doing fewer ones, current and former federal prosecutors told The Post and Courier. They also take a special determination and fearlessness to challenge entrenched power brokers.
In recent years, federal prosecutors have done only a handful of government corruption cases in South Carolina. Yet, these cases had big impacts.
Among the most recent was one in Chester, a rural county between Columbia and Charlotte. Evidence uncovered in a federal investigation, along with earlier reports by The Post and Courier, revealed how ex-Sheriff Alex "Big A" Underwood used his position to create a climate of fear. FBI agents eventually arrested Underwood on charges he spied on political opponents, skimmed public money, covered up an illegal arrest and ordered deputies to build a "party barn" on his property. A jury in April found him guilty of seven corruption and abuse-of-power charges. He has yet to be sentenced.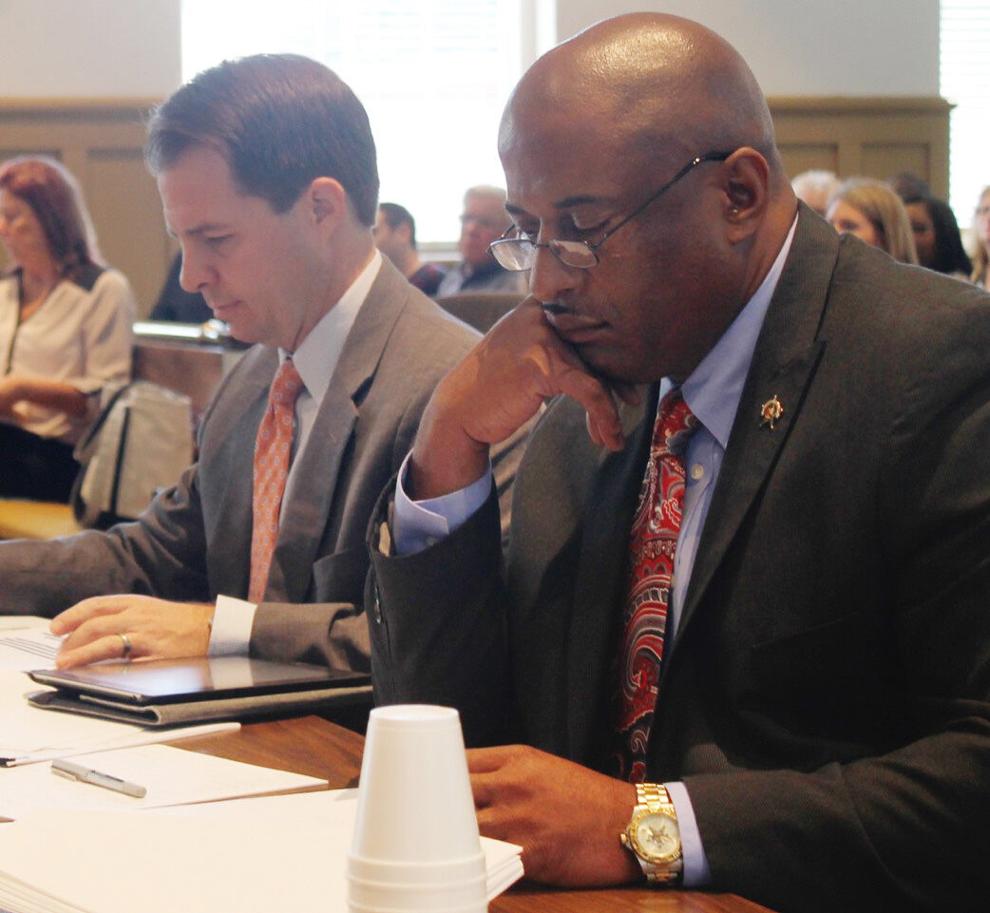 Strong federal watchdogs have long served as powerful deterrents to misconduct on the local and state level, criminal justice experts say. Police and sheriffs often are less able or willing to go after corrupt officials in their backyards. They may lack the investigative chops and resources to go after fraud schemes. Or they may be corrupt themselves, as seen in the Underwood case and a number of other scandals involving South Carolina sheriffs.
A less aggressive federal watchdog weakens this deterrent. And it comes amid the loss of other important checks on public officials, including the closures of community newspapers. (For its Uncovered project, The Post and Courier has teamed up with 16 community news organizations to shine a light on questionable government conduct.) 
But when done right, taking down corrupt officials can reverberate for years. 
Consider what happened after one of South Carolina's biggest scandals.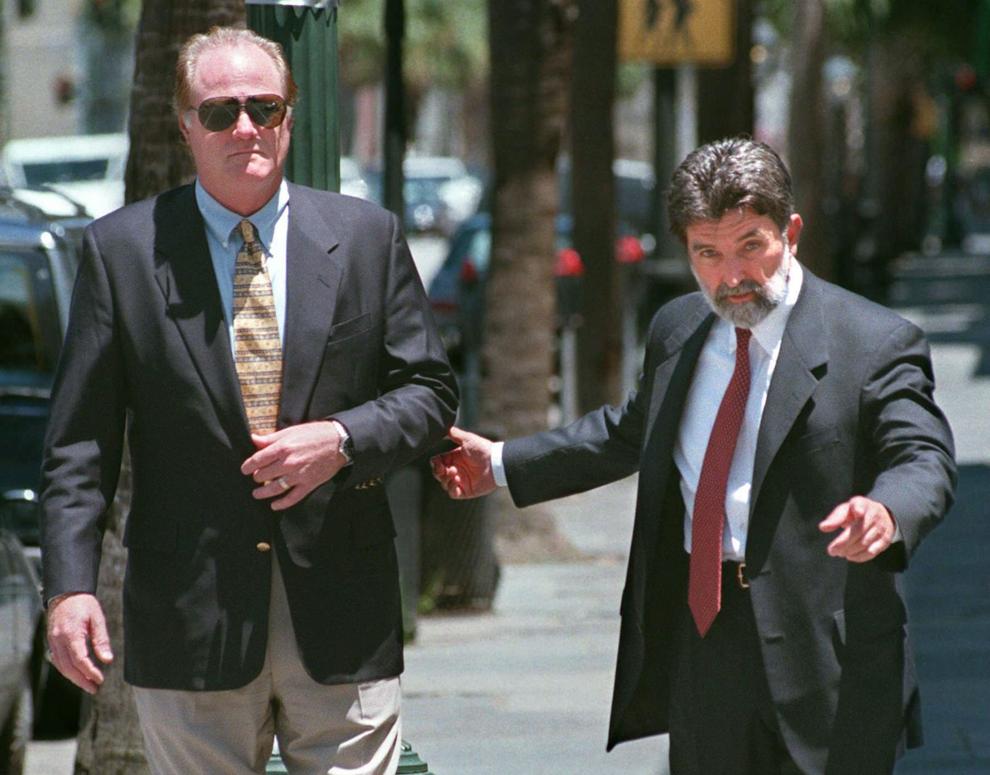 Lessons from a sting
In the early 1990s, the General Assembly was a cauldron of misconduct. Cigar-chomping lobbyists prowled the chambers, dishing out credit cards and free meals. One Lowcountry legislator bragged that he would trade his vote for a couple of suits. Another from the Midlands said he'd give up his for a set of golf clubs. 
Then the FBI began to investigate, starting with the arrest of a lobbyist named Ron Cobb on a cocaine charge. Cobb drove a shiny Jaguar and was known for plying lawmakers with cash.
Simply doing a drug bust would have been an easy win, said Charleston lawyer E. Bart Daniel, U.S. attorney for South Carolina at the time. "We had a kilo of cocaine and a lobbyist and we would probably get our pictures in the paper for all of that." Instead, FBI agents used the cocaine charge against Cobb to do an elaborate sting.
With hidden cameras rolling, Cobb handed lawmakers envelopes stuffed with cash. In exchange, the lawmakers agreed to vote for a sham bill to legalize horse track betting. Then about 70 FBI agents secretly fanned out to interview lawmakers about the cash hand-offs.
"We didn't want to give them time to talk to each other and get their stories straight," Daniel said. Over and over, the lawmakers lied to FBI agents about getting the cash. Lying to the FBI is a federal crime.
In all, 27 people were convicted, including 17 lawmakers — roughly a tenth of the Legislature. The public shaming made a difference.
Operation Lost Trust energized honest members to pass a new ethics reform law. Though still full of holes, the new ethics law banned cash campaign contributions and using campaign money for personal use. Gifts that once flowed freely were cut off.
But Operation Lost Trust also helps explain why prosecutors might shy away from corruption cases.
"They are some of the most complex investigations and prosecutions you can do," Daniel said. They take an enormous amount of time, and the cases themselves can be difficult to prove. In Lost Trust, lawmakers could have claimed they accepted the cash as campaign contributions, which is why it was important to catch the targets lying to FBI agents, he said. 
There are other headwinds: Many U.S. Attorneys have used their high-profile positions as stepping stones to lucrative private practice jobs or elected offices. But while the public often welcomes corruption probes such as Lost Trust, they also can generate powerful enemies, Daniel said.
"I grew up in South Carolina, and I got calls from friends saying, 'Do you realize what the hell you are doing? Are you going somewhere after this? You have to live in this state after it's over.'"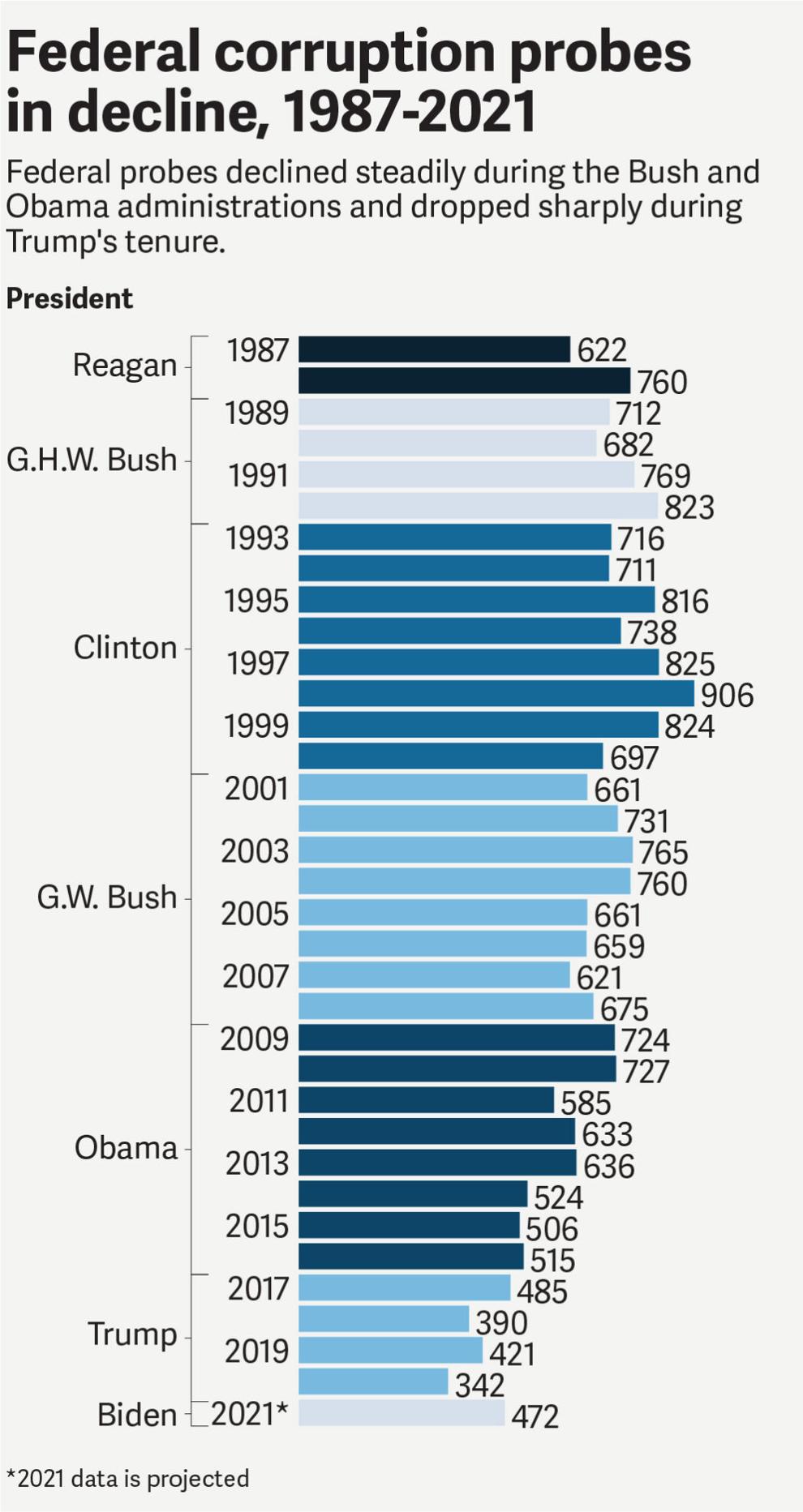 Competing demands
When Daniel led Operation Lost Trust in the 1990s, federal investigators did about 800 corruption prosecutions a year, peaking in 1998 at 906, according to TRAC, a Syracuse University research project that gathers federal data through Freedom of Information Act requests.
But 1998 was a high-water mark.
During the Bush administration, federal prosecutors launched fewer corruption cases. It was a relatively slow decline, and one that came amid an uptick in immigration and terrorism-related cases after the Sept. 11, 2001 attacks.
These trends — fewer criminal corruption cases, more immigration investigations — continued during the Obama administration.
From 2001 to 2013, during much of Bush's and Obama's presidencies, Robert Mueller ran the FBI. Despite the focus on terrorism, Mueller maintained that corruption cases were a top priority. In a 2006 interview with The New York Times, Mueller told a reporter that "you come to realize first of all that public corruption tears the fabric of a democratic society. You lose faith in public officials, it leads to cynicism, it leads to distrust in government."
In 2013, James B. Comey took over as FBI director, and the decline in corruption cases grew steeper. This downward trend grew even more pronounced after Trump fired Comey in 2017 and replaced him with the current director, Christopher Wray.
Where federal prosecutors did 600 to 800 criminal corruption cases during the previous administrations, Trump's Justice Department averaged just 400 cases a year.
The decline has little or nothing to do with actual rates of corruption, a TRAC report found earlier this year; there are many more corruption offenses than law enforcement resources capable of bringing offenders to justice. Rather, rises and declines reflect shifting priorities, the TRAC report found.
"The FBI might say corruption cases are a priority, but to me it doesn't seem like a top priority anymore," Daniel said. "It definitely was back in the day."
Kristine Artello and Jay Albanese, two researchers at Virginia Commonwealth University, tried to understand these changing priorities by interviewing 40 former federal investigators and prosecutors.
During their interviews, officials told them that corruption investigations were complex and required multiple layers of support from upper-level managers and the FBI. Each level represented a potential road block. They also found that the decline in corruption investigations roughly corresponded to changes in FBI directors.
Amid this steady drop in public corruption prosecutions, immigration cases ballooned from 30,000 a year in 2004 to more than 117,000 in 2019, TRAC data shows.
Artello said she was left thinking that prosecutors who take on corruption cases "are rare birds, because they're going up against the typical ways of doing things."
Caveats  
In South Carolina, Justice Department officials did about seven official corruption prosecutions a year during the Bush administration, six a year during Obama's tenure and two a year during Trump's four years, according to the TRAC data.
But the low numbers in South Carolina and nationwide don't tell the full corruption story, current and former prosecutors said.
Judges have made it more difficult to prosecute corrupt officials, they say.
Examples include the Supreme Court's decision to overturn convictions in New Jersey's "Bridgegate" scandal. That case grew out of an effort in 2013 by then-Gov. Chris Christie's aides to cause a traffic jam to embarrass a political opponent. But the Supreme Court eventually ruled the officials' actions were an abuse of power but that no federal laws were broken. 
And, in 2016, the Supreme Court also vacated the conviction of former Virginia governor Robert McDonnell. Prosecutors alleged that McDonnell received more than $175,000 in gifts for his support of a dietary supplement business.
The court's decision in the Virginia case narrowed the scope of what constitutes corruption under federal laws, "which complicated public corruption cases," said M. Rhett DeHart, acting U.S. Attorney in South Carolina. "As a result, we often charge traditional wire fraud or mail fraud instead in these cases." That may make the corruption numbers appear lower than they really are, he and other prosecutors said.
Corruption also comes in many forms, added Jim May, who served as an assistant U.S. Attorney for a decade. He left this year to join Greenville's Wyche firm. He helped lead the case against SCANA, an investigation into the $9 billion collapse of a nuclear reactor project north of Columbia. The case has so far yielded three guilty pleas, but it wasn't technically a government corruption case.
"I worked the better part of four years on SCANA, which I think was a public trust case," he said. "It takes years to get to the bottom of these cases, where you have millions of unique documents and have to unravel what took years in the making."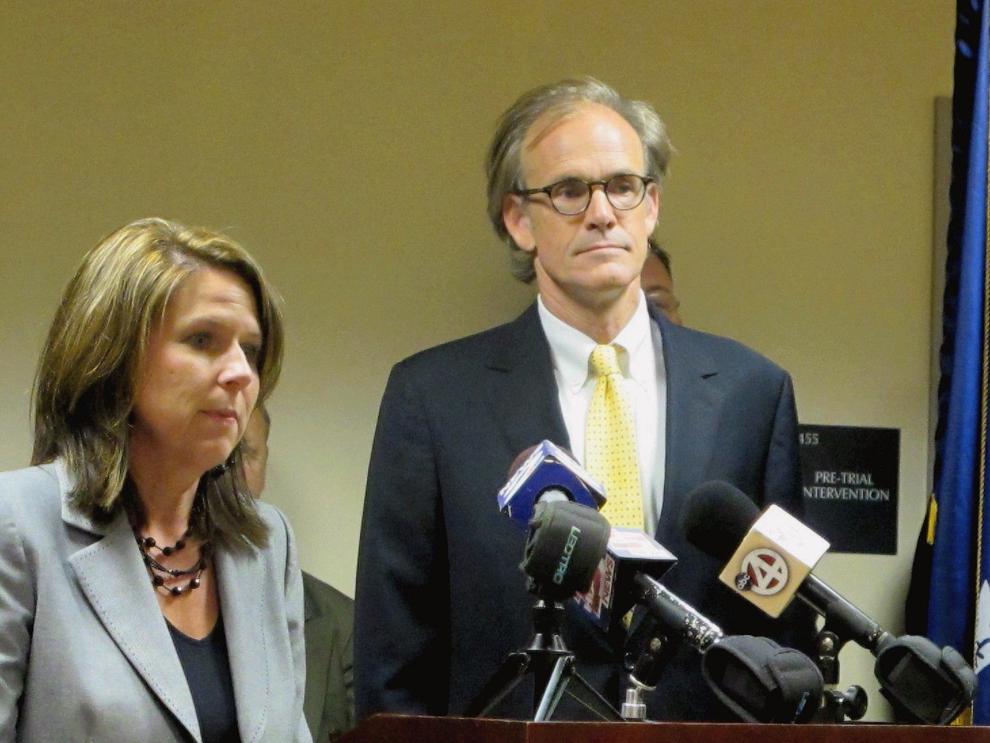 Bill Nettles was South Carolina's U.S. Attorney during much of the Obama administration. He noted that the Justice Department also does civil cases, often using the federal False Claims Act as a weapon to go after people and companies that cheat the federal government, another form of corruption. Punishment in these civil cases typically involve fines and monetary settlements, not jail time. These fraud cases often take years to sort out, he said.
He added that his office still prosecuted several high-profile public officials, including former Lexington Sheriff James Metts. Metts was one of the longest-serving sheriffs in the United States when he was indicted in 2014 on charges he accepted bribes from friends to spring undocumented immigrants from the county jail. 
Nettles felt it was more efficient to take a multi-pronged approach — going after fraudsters on the civil side and corrupt officials on the criminal. "It's just a matter of where the (U.S. Attorney's office) leader wants to put the focus."
Limbo
The Justice Department has 93 districts in the United States, each with a U.S. Attorney in charge.
But about 75 percent of these U.S. Attorney posts currently are filled by people in interim or acting positions. It's a void "that happens after every administration change," Daniel and Nettles said. The Trump administration demanded resignations from 46 Obama-era U.S. Attorneys; Biden did the same for 56 Trump picks. South Carolina's district is one of those unfilled positions.
Politics can complicate the nomination process. So far, the Biden administration has nominated 29 people to fill open U.S. Attorney slots.
But the U.S. Senate must confirm new nominees, opening the process to even more delays. In April, U.S. Sen. Tom Cotton, a Republican from Arkansas, threatened to stall all of nominees because of a rift over Senate rules and Biden's choice for assistant attorney general.
Daniel said that he doesn't think the Justice Department or FBI stops investigating corruption cases during this leadership transition. Rather, an acting or interim U.S. attorney might be less eager to initiate a corruption investigation, Daniel said. "He or she might not want to rock the boat."
Nettles and May added that career attorneys in the office provide some continuity no matter who's in the top slot. May said that during his 10 years of service as an assistant U.S. attorney, "we had an acting (U.S.) attorney for four of those years. So the DOJ is going to stay on the tracks because they have good, dedicated career individuals."
It's unclear when South Carolina will have a new U.S. Attorney, but the acting chief is an experienced hand. M. Rhett DeHart, a resident of Mount Pleasant, took over when Peter McCoy resigned in February after serving for a year.
DeHart has been with the district's Charleston office since 2001, with a special focus on white-collar fraud. He said that exposing corrupt officials has been a priority regardless of the administration. "It has been for me, and it was for my predecessors. I'm sure it will be for the next U.S. Attorney."
The front-runners for the post are thought to be 1st Circuit Solicitor David Pascoe and Adair Ford Boroughs.
Pascoe was special prosecutor of the Statehouse corruption probe that exposed the once-powerful consulting firm Richard Quinn and Associates and snared high-profile politicians on misconduct charges, including former House Speaker Bobby Harrell. Boroughs is former Justice Department attorney.
Others reportedly in the mix include James Smith, a Columbia attorney and former state legislator and Meghan Walker, executive director of the State Ethics Commission.
Whoever is nominated will supervise about 62 assistant U.S. Attorneys and 100 support staff in Charleston, Columbia, Florence and Greenville — a formidable weapon against South Carolina officials and businesses who cheat the public. If it's used.
Avery Wilks and Glenn Smith contributed to this report.