Every morning on the edge of the Ashley River, construction workers form lines and step into metal cages about the size of telephone booths. Then a crane between the U.S. Highway 17 bridges lowers them down a 180-foot shaft.
This daunting commute is part of the Spring-Fishburne Drainage Improvement Project, one of Charleston's largest and most expensive flood prevention efforts to date.
When completed, which is now projected for 2024, its pump station and network of tunnels will be able to siphon 6,000 gallons of water per second from a critical part of the city's peninsula.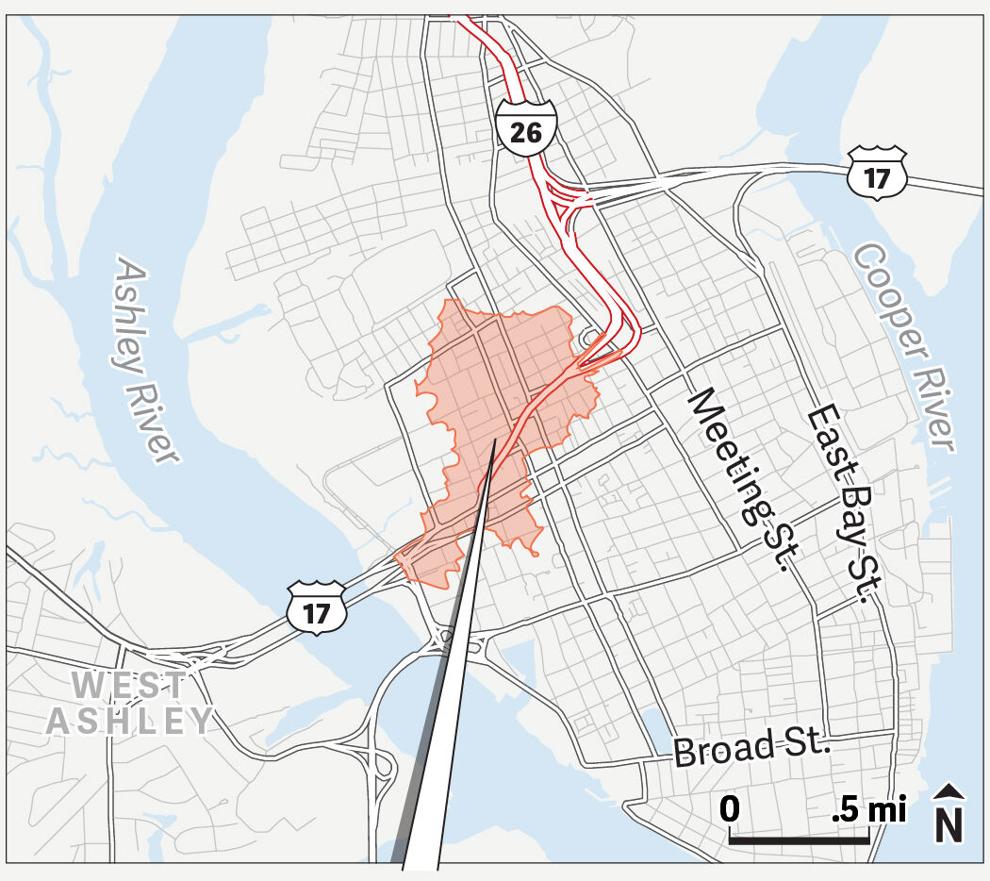 It will speed drainage on the Septima P. Clark Parkway, a key transportation corridor also known as the Crosstown Expressway with areas that turn into swollen canals during routine downpours. It will protect the city's sprawling medical district, where flooding sapped an estimated $45 million between 2015 and 2020 alone. 
And it will safeguard scores of homes and small businesses that sit where transportation officials bulldozed over a floodplain to build the expressway in the first place.
But those promises are still unfulfilled.
A cascade of faulty assumptions, planning failures and subsequent construction delays set the project back 10 years from the initial timeline and three years behind a revised schedule, which began ticking when the city received the lion's share of the money for the work. Delays sent the project $44 million over budget even as a changing climate and rising seas have put the city in greater peril, a new Post and Courier investigation found.
As part of its Rising Waters climate project, the newspaper obtained thousands of emails, meeting memos and construction schedules through multiple Freedom of Information Act requests to the city. The documents and interviews with industry insiders paint the most extensive portrait of the project to date.
Among the findings: The city's patchwork approach to paying for the project caused crippling delays from the start. Contractors were slow to hire qualified workers, then struggled to keep them. Crews encountered toxic gasses, contaminated soil and long-lost graves. And one tropical storm after another pounded the peninsula, slowing the progress even more.
"Spring-Fishburne has been the largest, most complex infrastructure project in city history," said Mayor John Tecklenburg, who was first elected in 2015, about eight months before the tunnel portion began. "Thankfully, we're at the point now where we can see the light, or in this case the water, at the end of the tunnel."
But as a rapidly warming planet generates higher seas and heavier downpours, the project's delays and cost increases raise questions about the city's ability to face these enormous challenges. What went right and what went wrong?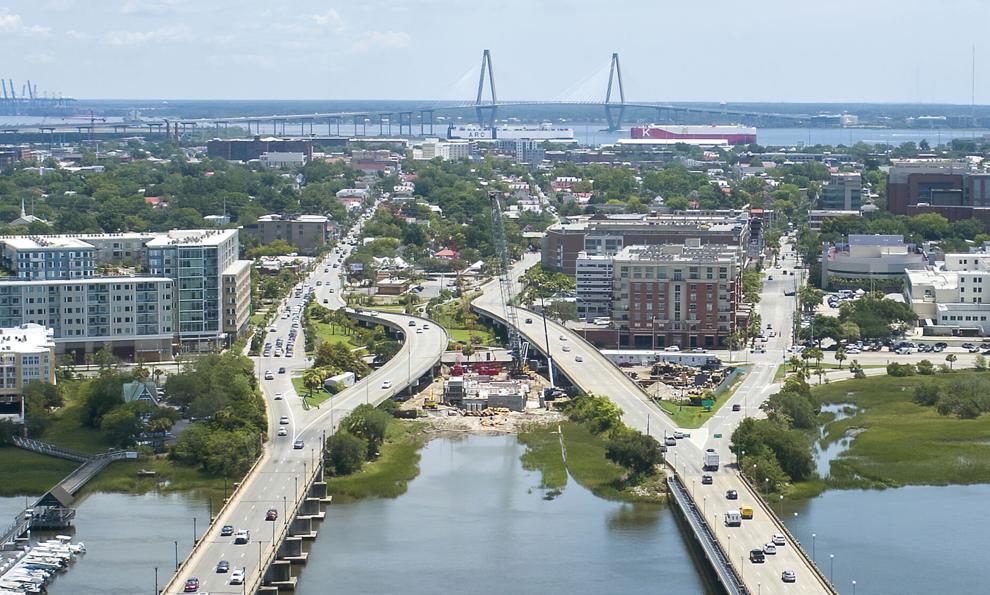 Finding workers
At the heart of the project plan is a mile-long tunnel connected to a series of shafts, including one on the edge of the Ashley River between the U.S. 17 bridges.
When completed, the tunnel will drain thousands of gallons of water per minute into the river using only gravity.
During a storm or high tide, a diesel-powered pump station will be able to ramp up drainage to 360,000 gallons per minute. That's about half the amount of water in an Olympic-sized swimming pool.
In short, this was an ordinary drainage project designed to an extraordinary scale.
And it faced an extraordinary amount of problems, as well. 
In mid-2016, when work on the tunnel portion of the Spring-Fishburne project began, the Michigan-based JayDee Contractors had trouble finding and keeping crane operators. Without them, crews couldn't make their daring morning commute down the access shaft.
Workers also used two cranes to move equipment and construction materials, potentially dangerous tasks. One crane operator hit part of the northbound Ashley River bridge, a vital artery linking populous suburbs to the peninsula. It caused minor damage to the bridge, as well as to the other crane, while narrowly missing passing traffic, an incident report showed.
Over the course of the tunnel work, at least one crane operator quit. Another was fired.
JayDee also had trouble finding other construction workers, internal correspondence notes. Running under-manned shifts started to add up. Project engineers questioned whether a bid that the contractor won to work on another project in St. Louis at the same time as Spring-Fishburne would spread JayDee too thin.
Meeting memos from September 2016 showed that just weeks into work on the tunnel phase it was already behind schedule.
But JayDee officials said the hiring challenges were rooted in the nature of the work.
"Underground construction is not your normal construction," said Louie Shapiro, the company's general superintendent on the Spring-Fishburne project.
Workers who try underground construction for the first time don't know if they are cut out for it until they experience it themselves, he said. It's hot and isolating work that can trigger claustrophobia.
"Pretty close to hell," was how he described a previous job in Arizona. There, he was burying spent nuclear rods 8,000 feet below sea level.
In Chicago, where Shapiro is from, these workers are easier to find. Contractors can call on hundred-year-old labor unions dedicated specifically to underground construction work.
In Charleston, it's not so simple.
"I hired and laid off over 300 people just to maintain a workforce of 50," Shapiro said.
Extra shifts helped, but more problems were on the horizon.
And they came from the sky.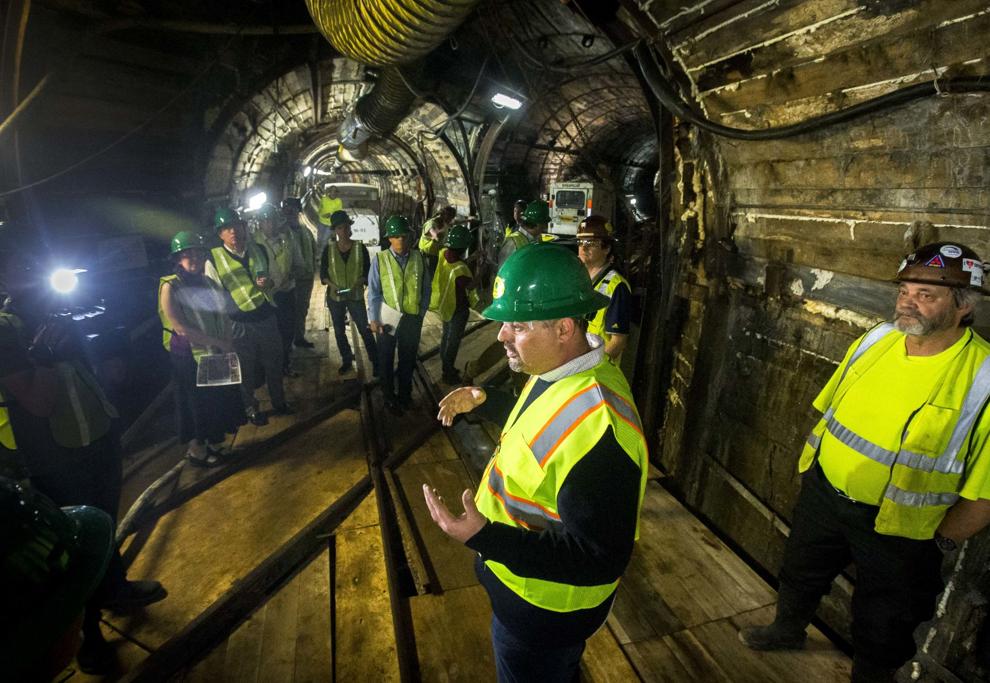 Weathering storms
During the historic floods of October 2015, 20 inches of rain fell across the lower half of South Carolina over five days, killing 19 people and overwhelming more than 500 roads and bridges.
The storm dropped 440,000 gallons of rain per minute on the Charleston peninsula alone. Much of the peninsula was underwater for days, especially low-lying areas in the Spring-Fishburne drainage area.
In an original 2009 federal grant application, the city aimed to get the entire project done in three years — well before the historic flood.
It was a gamble led by then-Mayor Joe Riley. At the time, he said he was confident the city would receive almost all of the funding for the project from the grant mainly because of its job-creation potential.
The city requested $146 million, which amounted to 10 percent of all the money available from the U.S. Department of Transportation grant program nationwide.
Charleston received $10 million.
As a result, the city moved forward with the last steps of the project first — landscaping and new storm drains. The funding delays moved the finish line back to 2020.
So when the first rain drops fell in October 2015, there was no tunnel. Residents and businesses once again had to fend for themselves.
Politicians, including then-Gov. Nikki Haley, described it as a 1,000-year flood. But Hurricane Matthew swamped many of the same areas a year later, and Tropical Storm Irma struck another debilitating blow the year after that.
Each storm wrought new havoc for people who lived in the area or who were simply in the wrong place at the wrong time.
People like Anthony McKnight had to wade through a foot-and-a-half of water to his home on the West Side after a 3-inch deluge in 2020. Samuel Hart had to push a stalled car on Line Street during a similar storm. And Steven and Christy Parker watched their silver Hyundai fill with knee-high water that smelled of sewage after they stalled out on their way to a medical appointment.
All of these floods came at a crucial time. Change orders show that Matthew and Irma, Winter Storm Grayson and some smaller storms delayed progress by more than 30 days during the first two years of the tunnel work.
But a storm didn't have to escalate to hurricane status to threaten the project. In April and May 2020, JayDee notified engineers and city staff that the unfinished tunnel had taken on water during two heavy rainstorms.
Like the train of storms that hit the area, the project ran into a deluge of problems — including the discovery of human remains.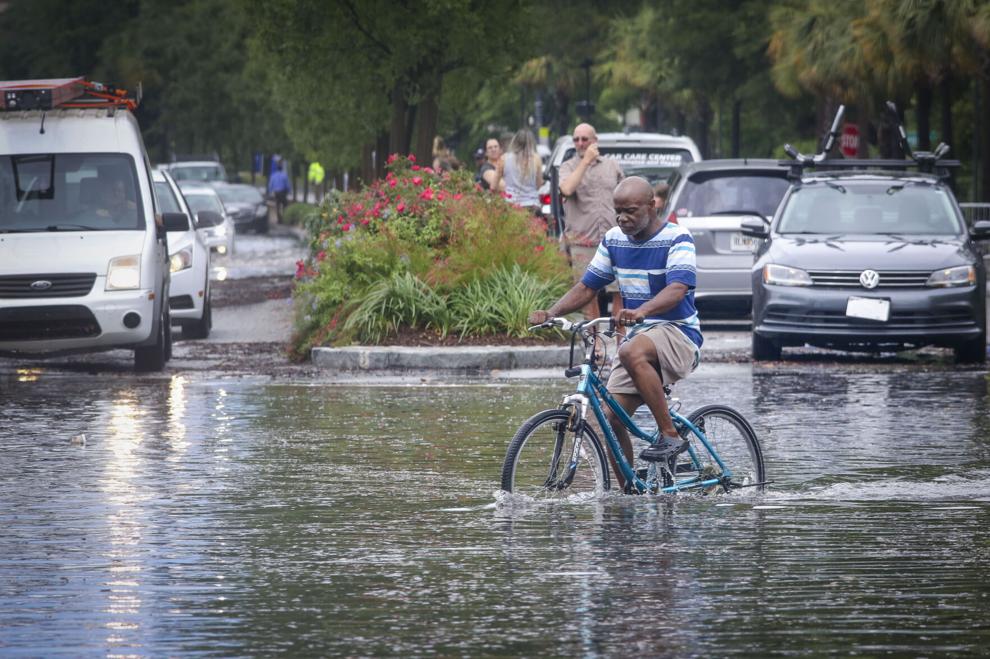 Cascade
"We warned them there could be bones there," said Eric Poplin, a senior archaeologist for local firm Brockington & Associates. The city hired him to evaluate the Spring-Fishburne construction site. He knew chances were high that crews would find remains. In 2017, workers found them near The Citadel.
About a decade earlier, 341 grave sites were discovered beneath the military college's football stadium. Historians believe the area was used as a burial site in the 19th and early 20th centuries for sailors, Civil War soldiers and the city's indigent population.
Spring-Fishburne workers found remains of three people while digging one of the access shafts at Harmon Field, a 13-acre city park along President Street. Poplin estimated that the bones dated to between 1850 and 1910. The investigation caused a two-week delay.
From storms to bones, overlapping issues meant the delays kept growing. So did the city's concerns.
By June 2018, the tunnel work was six months behind schedule.
And a safety hazard put an even bigger dent in the project's timeline.
Fighting fumes
Charlestonians know the smell. Lowcountry marshes often emit a rotten egg kind of stink. That stench is hydrogen sulfide. In extreme cases, it can cause underground construction workers to fall ill, or even into a coma. 
Shapiro, JayDee's superintendent on the Charleston project, knew that odor well. Early in his career in Chicago, there was no electronic monitoring for toxic gasses found underground such as methane and carbon dioxide. His crews had their own version of a canary in a coal mine.
"Our gas alarm was a parakeet in a bird cage," he said. "If there was any gas, it would fall over dead."
Now, underground projects have more advanced monitors.
During the Spring-Fishburne tunnel work, those gas detectors found concentrations of hydrogen sulfide six times higher than federal safety limits.
To mitigate the threat, crews ran fans and inserted a special type of grout into pockets of the tunnel that emitted the gas.
The city and JayDee were aware they could come across pockets of hydrogen sulfide. But even taking soil samples ahead of time would not give a full picture of what lay beneath the ground, said Steven Kirk, senior engineering project manager for the city.
Still, if other projects across the U.S. are any indication, officials should have factored in the risk of coming across a toxic gas, especially swamp gas in South Carolina marshes.
"There is no question that this is an issue, particularly in the United States. Most work sites are classified as potentially gassy," said Mike Rispin, chairman of the Underground Construction Association.
Mitigating the gas tacked on six more months, delays that wreaked havoc with the project's overall schedule.
The next phases of work involved building an outfall — an area where the water would come out of the tunnel — and the pump station. But crews couldn't start until that end of the tunnel was done.
"It's a challenging site between those two Ashley River bridges. We are essentially doing three phases of the five-phase project in one location," said Michael Horton, an engineer the city hired to help manage the project.
By the end of the tunnel phase, the project was more than a year behind schedule — with the outfall and pump station phases still to go.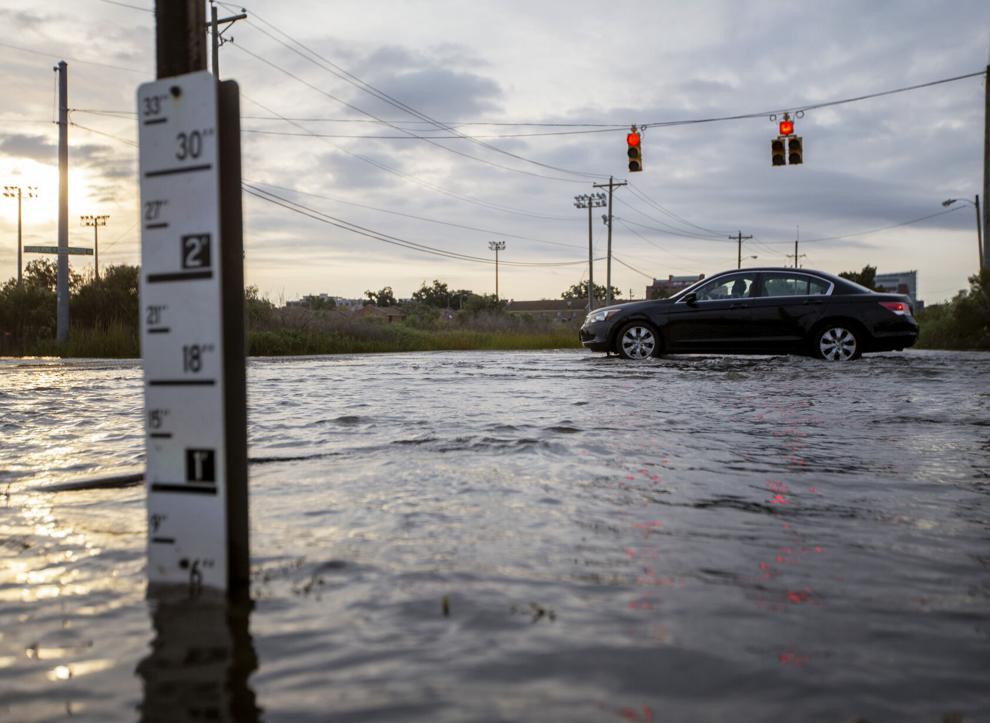 Views from the West Side
While the tunnel sat idle, flooding continued to plague the city's West Side, affecting some 600 students at Burke High School and Simmons-Pinckney Middle School.
The constant threat of water distracted from the mission at hand: teaching students. Teachers had to learn where to park on campus to avoid getting swamped. They had to come prepared with rain boots. And students and their parents had to navigate the rain-swollen streets surrounding the schools just to reach the classrooms. 
Stephanie Spann, principal of Simmons-Pinckney Middle, estimates heavy rains and high tides disrupt school days about five to six times per year. Students whose teachers can't get to school on time are split up into other classes, and sometimes after-school activities are canceled.
She fears the worst for her kids on those days.
"You never know what kinds of currents or under pools that could happen because of flooding," she said.
When the Spring-Fishburne project is complete, it will drain several of the main roads leading to the school, including Fishburne Street and Ashley Avenue, eliminating much of the stress that builds when dark clouds roll in.  
"Knowing that you can get to and from school or work without having to worry about, 'Am I going to get stranded? Am I going to get rained out? Is my car going to be OK?' When those anxieties are removed, you can focus on learning," Spann said.
But as that reality got pushed further away, its price tag grew.
Racking up a bill
With the tunnel done and the final two phases starting, city leaders were facing a serious case of sticker shock.
Even as the project's timeline grew, city officials failed to adjust estimates for inflation and other construction costs. Their budget effectively stayed the same as it was about 10 years before.
All in all, the project saw a $43 million bump by the beginning of Phase 4 — construction of the outfall to the Ashley River.
City Council members were stunned.
"This should have been before us a long time before now," then-Councilman Bill Moody said at a 2018 council meeting. "I don't want this to be Charleston's V.C. Summer nuclear plant," he said, referring to the failed $9 billion nuclear power expansion in rural Fairfield County.
It wasn't long before Conti Enterprises, the phase 4 contractor, asked for more money and brought up another issue: toxic soil.
The city knew the contractor would have to dispose of contaminated waste at some point. It was written into the contract.
But when Conti's crews began excavating the soil, the contractor soon realized it would be costlier than the company expected.
Conti asked for an additional $4.41 million. This triggered intense negotiations, with the city eventually agreeing to pay $1.4 million, and Conti agreeing to add overnight and Saturday shifts to speed up the work.
Although the $1.4 million fell within the contract's contingencies, tensions remained.
A tweak to part of the project's design kicked off another dispute over costs. At one point, Conti alleged the city was threatening to withhold payments until the disagreement was resolved.
Conti's interpretation "grossly mischaracterizes" the situation, a letter from the city countered.
The city pegged Conti for being unclear about its schedule and failing to communicate changes to city staffers.
In November, city staff and engineers met for an "issues resolution meeting" to lay out progress of three separate conflicts that were ongoing between the city and Conti.
Meanwhile, the Phase 4 completion date of August was approaching.
In June, City Council, without any discussion, approved a four-month extension for the phase.
The project's total cost is now estimated to be $198 million, up 29 percent from its 2009 projection of $154 million.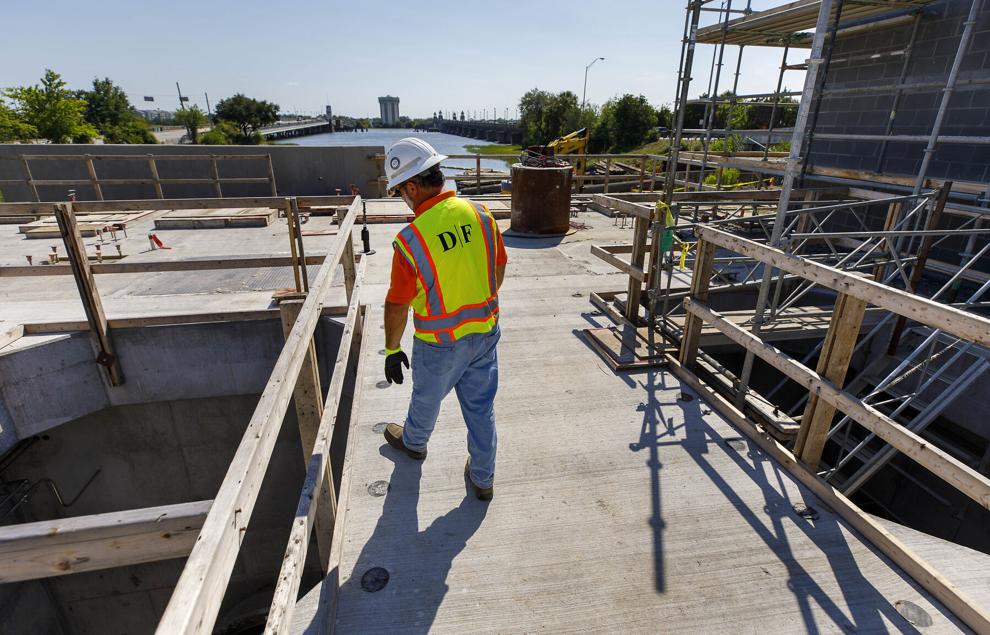 The road ahead
More than a decade after construction began, the Spring-Fishburne project is nearing the finish line. If it stays on its current schedule, it could begin draining using gravity by the end of this year. The pump station should be done by the end of 2024. 
In February, City Council approved a $12 million connection from the Spring-Fishburne tunnel to an existing drainage system underneath the medical district. Doing so will broaden the tunnel's connections to the area. Although the extension was not originally part of the Spring-Fishburne plans, state and local officials have been working to add it on as a side project.
"This is truly an extraordinary project — probably the most difficult thing we've ever done as a city," said Tecklenburg.
But the city has long tried to control its destiny by controlling the waters in and around it. Colonists built higher ground by filling in marshes. But those marshes had naturally drained surrounding land for ages. By the mid-1800s, the city was constructing its first underground drainage systems. The work hasn't stopped since.
And climate change is only making the floods worse.
Fifty years ago, the city had a handful of tidal floods every year. In recent years, that number wobbled between 50 and 89. Seas rose about an inch every decade through the 1990s. Now, it's an inch every four years.
Charleston will first have to get through potential floods this week. King tides and summer rains are forecasted to converge over the peninsula. If the rain comes, water will once again fill up city streets instead of flowing through the Spring-Fishburne tunnel into the Ashley.
Meantime, construction churns on.
On a recent afternoon, you could see a flat slab of concrete — the foundation of the future pump station. There is no building yet for those giant engines, only some rebar jutting from the ground. You can see the word "hole" painted on pieces of plywood covering openings where workers could fall. Dust, dirt and debris are scattered about.
And you can see a crane that will hoist crews from the shaft after their day's work is done — work that should have been finished years ago.