Crappie aren't the biggest fish. They don't put up the biggest fight. But there's something special about catching a mess of crappie. So there was no way I was turning down an invitation from fishing buddy Mike McSwain to spend an afternoon targeting crappie on a private lake in Dorchester County.
As we pushed the small two-person boat from the bank, McSwain explained that we would be drifting our shiners across brush piles, and that when we hooked up he would drop the anchor and try to stay on the school.
Even though we were in a small lake and had no electronics, we would be using the same techniques that crappie pros employ on bigger bodies of water. It was only a matter of minutes before we doubled up and Mike dropped them into a fish basket which he hung over the side of the boat.
"The guys fishing the big lakes are fishing their brush piles," said McSwain, who regularly guides for smallmouth bass on the Broad River (broadriversmallmouth.com). "They might see a ton of fish on one and none on the next one. They school really tight. Their might be 300 to 400 crappie in a school, wadded up in groups.
"If you find a school and get it going you can catch a bunch of them."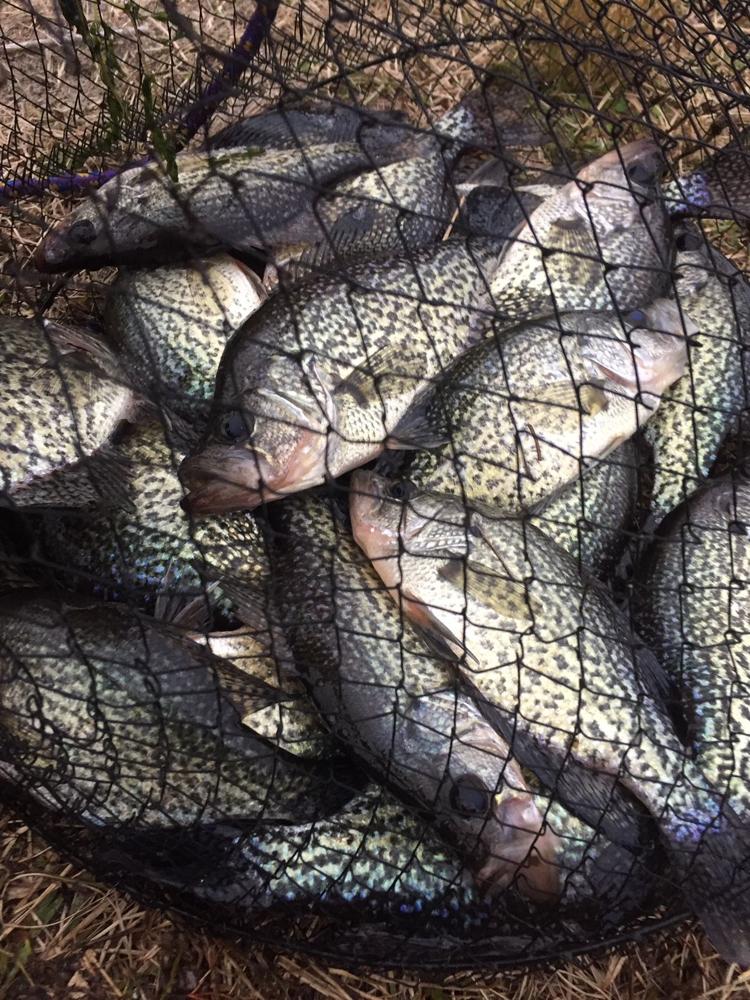 His comments about how tightly crappie school brought back a memory of a long-ago trip on Lake Norman. I had been invited to fish from someone's dock where they supposedly had been slaying crappie. I was dutifully soaking minnows and having absolutely no luck when a boater pulled up and asked if we minded if he fished the other side of the dock, a place I had neglected. He immediately began hauling in fish and invited me to join in the fun.
"Crappie can be real finicky," McSwain said. "You can fish and fish and fish and not get a bite, even though you know they're down there. Then you start reeling in your lure or bait fast and they hit. It's a wives tale, but I think it's true that crappie look up to eat."
There are two species of crappie. The SCDNR website describes white crappie as having an "overall body color of gray-green with a silver side and white belly. The dark spots on the side tend to form wavy vertical bars." Black crappie are "overall gray-green to bluish on the back that fades to a silvery side and belly. Black mottling is present on the sides of the body as well as the anal, dorsal and caudal fins."
It's very easy to tear a hook from a crappie's mouth if you try to apply too much pressure. Use light line and a flexible rod. Lively minnows work well as do small plastic-tipped jigs or spoons jigged vertically.
The Santee Cooper lakes offer some excellent crappie fishing. If you are striking out on your own, you might want to try drifting some of the fish attractors that members of the S.C. Department of Natural Resources Freshwater Fisheries Section have constructed. Lake Moultrie has 19 fish attractors while there are 13 on Lake Marion. A list of fish attractors and their GPS coordinates can be found at dnr.sc.gov/fish/fishattract/fishattr.html.
We are entering a transition period from winter fishing to spring fishing for crappie. When the water temperature is in the 58- to 64-degree range, crappie will move into shallow water in preparation for spawning. So plan your trip accordingly.
And when you return from a successful trip, plan for a sumptuous feast. The traditional method is to fry the fish using corn meal or flour but they're just as tasty when you saute them.
Black crappie
South Carolina record: 5 pounds, 0 ounces (Lake Moultrie, 1957)
World record: 5 pounds, 7 ounces (Tennessee, 2018)
White crappie
South Carolina record: 5 pounds, 1 ounce (Lake Murray, 1949)
World record: 5 pounds, 3 ounces (Mississippi, 1957)