You have to wonder what's going on in the Lowcountry. Several days ago a meteor was streaking across the early morning sky. Next you might be seeing bass boats headed South down the Intracoastal Waterway toward Charleston and then rocketing up the Cooper River.
The Bassmaster Elite Series (bassmaster.com) is headed across the state, from Lake Hartwell (where an Elite Series event finishes Sunday) to Winyah Bay this week. There are closer spots than the Cooper River to fish — the Sampit, Waccamaw, Santee, Pee Dee and Black rivers are all eligible waters — but a large number of the country's top bass pros will be willing to make a very long run to find the biggest fish.
First-year Elite pro Patrick Walters of Summerville said it's a 103-mile boat ride from the Carroll Campbell Marine Complex in Georgetown to the Tees in the Cooper River,  which is where he said the best fishing begins. Boats will be making one to two stops for gas during the day — at Charleston Harbor Marina and Toler's Cove or Isle of Palms.
"It takes about an hour and 40 minutes to make that run. From there on, you're playing with fire. On the average, we're carrying 50 to 60 gallons of gas. And sadly, these boats are not as efficient as cars. They get about 3 miles per gallon," Walters said.
Official practice begins Monday for the 75 anglers. Competition is Thursday-Sunday with a cut to the top 35  after Friday's fishing. The top 10 compete Sunday for a $100,000 top prize. Daily takeoffs begin at 7 a.m. with weigh-ins at 3:15 p.m.
A big deal for Georgetown
When the Elite Series fished Winyah Bay in 2016, it drew 27,500 people, one of the largest crowds for an Elite Series tournament, said Gettys Brannon, who was a teammate of Walters at South Carolina and now works for McAlister Communications in Columbia and is the communications coordinator for the Bass Anglers Sportsman Society. The recently completed Bassmaster Classic in Knoxville generated an economic impact of $32 million. Brannon said Elite Series tournaments often bring upwards of $2 million to the host community.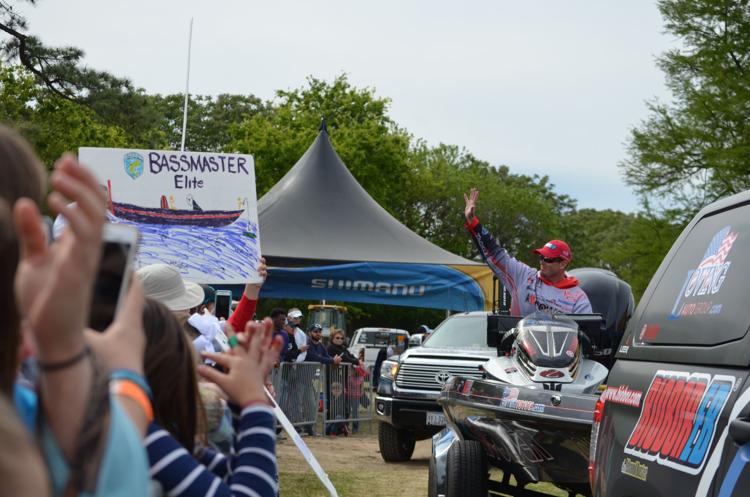 "It's a big deal for us. We have a lot of people from outside the county coming in," said Georgetown County Administrator Sel Hemingway, noting that the Winyah Bay Heritage Festival is held in conjunction with the Elite Series tournament.
This will be the fifth straight year Georgetown and BASS have joined forces for a tournament. It began with a BASS Nation event in 2015, followed by the Elite Series, a College Series event, a BASS Nation regional and now the Elite Series again.
"We've built a relationship we treasure and hope to continue into the future," Hemingway said. "We have people come in for our festival activities. Some come for the weigh-in. There are people that didn't understand what the fishing tournament was all about. They were subjected to that weigh-in and the fanfare that comes with it.
"Now they are big fans of the tour and are watching it week by week on ESPN and following the anglers. It's an event that really is big for us and we look for it to be big again this time."
The venue
The Carroll Campbell Marine Complex plays a big part in that success. It opened in 2009 and has six launch ramps and accommodations for 200 vehicles with trailers.
"I was on County Council at the time and we were encouraged by some local fishing clubs, both freshwater and saltwater, that we needed a facility like that to accommodate the local fishermen and boaters and the visitors that were coming," Hemingway said.
"They said you will have these various organizations clamoring to come here to fish tournaments. We partnered with various sources to put the money together to make it happen."
Hemingway said he contacted BASS and the IFA Redfish Tour and told them: "I'm begging you to come, but if I do the job that I think we will you will be begging us to come back."
"And it's worked that way," Hemingway said. "No organization we have hosted under that premise has failed to want to come back."
Family fun
There will be much more going on than just fishing. There's an Elite Expo Saturday and Sunday where people can take demo rides on various bass boats; explore the Berkley/Abu Garcia Experience trailer and test their knot-tying skills; merchandise trailers; kids activities; and food and beverage vendors.
The Angler Alley will take place from 1-3 p.m. Saturday where spectators can talk to the pros, get autographs and take photos. At the same time there will be Elite Angler Clinics with pros talking about tips, techniques and gear. Saturday is Military and First Responder Appreciation Day. There's an Elite LIVE Watch Party from 1-3:30 p.m. Sunday to watch Bassmaster Live.
The Winyah Bay Heritage Festival begins at 10 a.m. Saturday and Sunday, highlighted by the South Carolina Duck Calling Championship that begins at noon Sunday.
After the weigh-ins on April 12 and 13, free concerts will be held from 6-9 p.m. in front of Francis Marion Park in downtown Georgetown. Country music star Collin Raye headlines Friday's performance and Jason Michael Carroll is the feature act for Saturday.
What about the fishing?
Walters, whose Summerville home is only a short drive from the Cooper River, said he's trying to treat this tournament like any other. But he's excited about the attention and exposure the tournament will bring to Georgetown.
"I try not to put too much pressure on myself and worry about it because at the end of the day it's still fishing. When you put on that pressure on yourself, stress yourself, that's when you don't perform. My goal is to go at this one like it's just another tournament, like I'm in somebody else's backyard," Walters, 26, said.
"The main thing is to let the fish do the talking. What I mean by that is let the fish tell me where they are and what they are going to bite. Don't go in with too many preconceived notions."
He said he knows roughly the areas he wants to fish, and thinks the majority of the field will make the run to the Cooper River. But he has backup plans.
"All 75 of these guys are the best in the world. They can catch them and they know what they're doing," Walters said.
Asked for a winning weight, Walters said: "Fifteen to 17 pounds a day on average. The winner will have that."