Patrick Walters' first tournament as a member of the Bassmaster Elite Series was an eye-opener for a lot of folks and should be quite a confidence-builder for the 24-year-old Summerville resident.
Walters steadily climbed the leaderboard at the Power-Pole Bassmaster Elite Series tournament fished last week on the St. Johns River in Palatka, Fla., and finished fourth among the 75 Elite Series professionals.
Veteran Rick Clunn, who turned 72 last July, broke his own record as the oldest angler to win a Bassmaster Elite Series title, finishing the St. Johns event with a four-day total of 98 pounds, 14 ounces, including a final-day tally of five fish that weighed 34-14. With his 16th career victory, Clunn earned $100,000 and went over $2.5 million in career earnings with B.A.S.S.
Walters also cracked the 90-pound mark with a four-day tally of 91-14. He was 30th after the opening day with a five-fish limit of 13-14, climbed to 11th on the second day with 23-7, jumped to second after Day 3 with 32-15 and then tallied 21-9 on the final day. Walters earned $15,500 and took the lead in the Bassmaster Rookie of the Year race after the first of nine Elite events.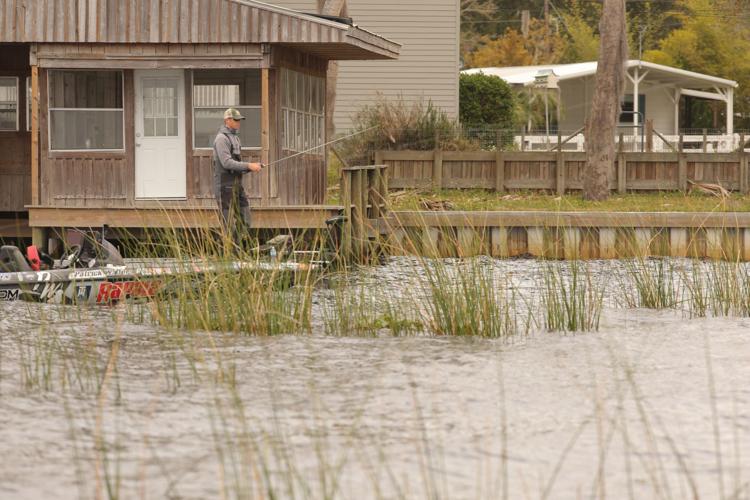 Being one of the top pros on the Bassmaster Elite Series was a high school dream of Walters, who towed his bass boat to Holly Hill Academy so he could head over to the Santee Cooper lakes at the end of the day. Walters focused his studies at the University of South Carolina on business management and marketing, reasoning that they would be helpful when he turned professional. His website is patrickwaltersfishing.com and you can follow him on Facebook at Patrick Walters Fishing or on Instagram @pmwalters.
His parents, Todd and Leiding Walters, both were on hand for their son's Elite Series debut. Walters said his girlfriend surprised him and showed up Saturday and many of his friends made the 4½-hour drive Sunday in anticipation of a win.
"I was trying to pull it out for them. It's crazy and shows just how good the fishing is when you catch 21 pounds and you fall two places," he said.
A fourth-place finish didn't look to be in the cards during practice. Walters said he had only three bites his first day of practice, five on the second and two bites on the third "fishing daylight to dark."
"My plan was to find areas where the fish would be pulling up (into shallow waters to spawn)," Walters said. "I was predicting that the fish would go shallow and start to spawn but in practice they just weren't there."
Considering what had happened in practice, Walters was happy with an opening-day limit that weighed almost 14 pounds.
"At the beginning of the tournament, if someone told me, 'Patrick, I'll give you 12 pounds every single day, would you take it? Or would you go do what you can do?' I'd probably have taken the 12 pounds. It was that tough," Walters said.
But Walters managed to find fish the second day and was on his way. He climbed to 11th, then made a run at the title with his 32-15 third-day total. His final day was solid, but not enough to catch Clunn, Christ Johnston and Mark Menendez.
"I caught a 9-pounder three days in a grow, on Day 2, Day 3 and Day 4. I had a 9-12, a 9-6 and a 9-3," Walters said. "The last day was a struggle. My goal was to catch a minimum of 20 pounds and I was going for 30. I figured if I could catch 20 pounds and Chris Johnston (who was the third-day leader) would slip and only catch 15 I would have a chance of winning.
"I went to my best area and missed two fish right off the bat. That area ended up getting blown out. The water was real dirty so I had to leave there and completely cross it off my list. I started running, trying to find protected areas that had reeds and buggy whips that the fish would be pulling up to spawn. The fish were biting finicky. I was getting a bite every hour and ended up running into a couple of key fish."
Walters said his main baits were Zoom Magnum worms, Rapala X-Rap Prop baits and Zorro 3/8-ounce Bango Blade spinner baits.
"I've dreamed about my first Elite Series tournament for a very long time and the way it worked out, I couldn't have scripted it any better. I dreamed about it a thousand times and it never turned out that good," Walters said. "How tough practice was and the way the tournament turned out, I was truly blessed. The cards just fell into place."