South Carolina's artificial reef program has come a long way from its humble beginnings in the 1970s.
A 1978 publication about the state's artificial reef program said reefs served dual purposes — they create spots for recreational fishing and were "an effective means of disposing of materials which are unsightly littler when accumulated on land."
As an example, the 1978 publication noted that Capers Reef (R8), 12 miles due east of the Charleston Jetties, had more than 30,000 baled automobile tires, an 80-foot wood- and steel-hulled trawler, a 60-foot steel yacht, a school bus loaded with steel and concrete, a tank truck body, a steel caisson, 100 milk crates, a deckhouse, concrete rubble and junked steel appliances (refrigerators and washing machines).
In other words, during the early days of the reef program, anything and everything that might serve as fish habitat was used. That still holds true today, but there's a lot more thought about what is used for reef material. Instead of school buses, the S.C. Department of Natural Resources has used surplus subway cars. Tugboats and barges that have outlived their original purpose are coveted. In the early days, old tires were plentiful and might have seemed like a good idea, but the materials used to hold them together eventually fell apart and the tires scattered, sometimes ending up on shore after major storms.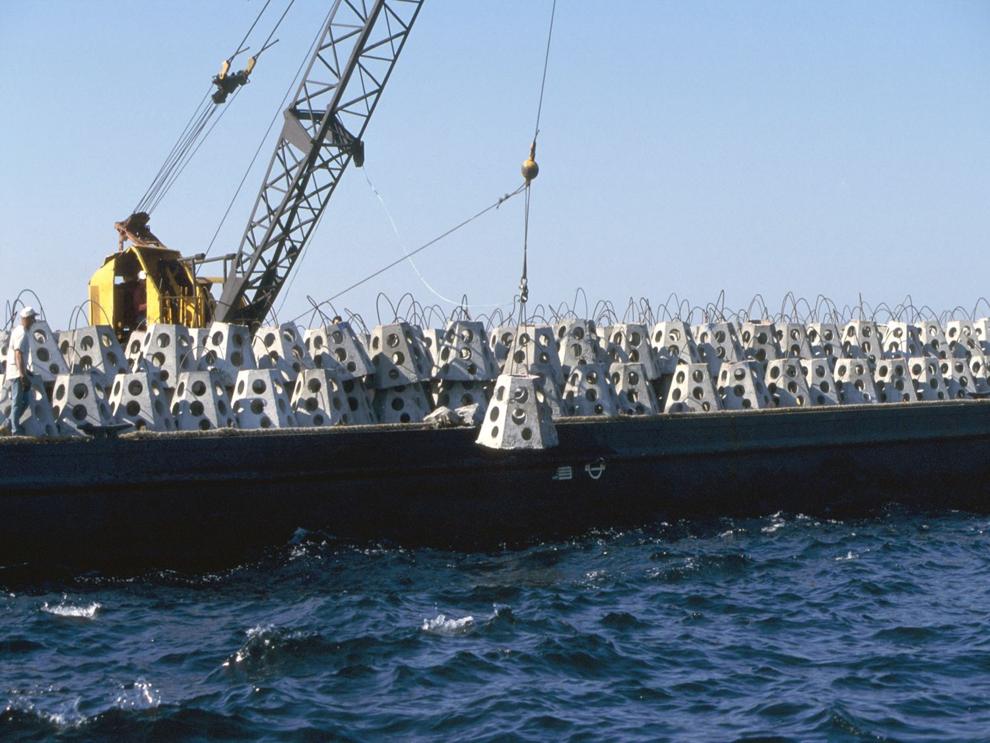 Robert Martore, who heads the S.C. Department of Natural Resources' artificial reef program, said the program was unfunded in the early days. People didn't know what would work and what wouldn't work. He said "people all over the country were dropping tires in the ocean. In vast quantities, too." Martore said anything that was big and bulky was tried.
"The ultimate purpose (of an artificial reef) is to stabilize or enhance fish populations," Martore explained. "A lot of species have been overfished. By creating additional habitat, we're enhancing fish populations. Using artificial reefs helps to stabilize fishing pressure. It spreads it out so no one particular area becomes too overfished."
Martore said there are 45 public fishing reef sites up and down the South Carolina coast, marked by bright yellow buoys. Some are inshore, a few are around public fishing piers. 
"We continue to add to these reef sites year after year using a wide variety of materials," Martore said.
Ships and tugboats are used when available. Surplus concrete such as large culverts or junction boxes is a good reef material. Martore said SCDNR also builds some of its own concrete structures such as reef balls and reef cones, large structures with holes in the side that allow fish to swim through and around.
An interesting development in reef structures, Martore said, is memorial reefs.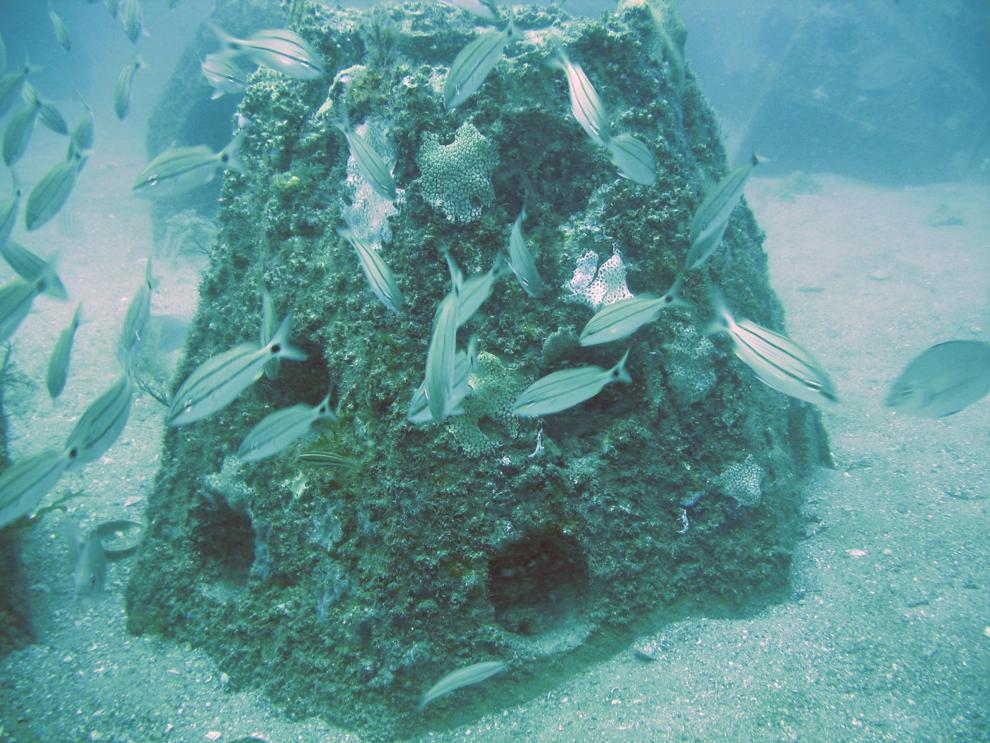 "A lot of folks are interested in putting their loved ones' ashes into concrete reef units," he said. "There are a couple of companies that do this, that's their whole business. And there are some local businesses that will build reef units and put people's ashes in them as well."
The "Guide to South Carolina Marine Artificial Reefs" (www.dnr.sc.gov/artificialreefs/docs) points out several Community Reefs. The Charleston Nearshore Reef has one such section.
Technically, the furthest offshore reef site is the South Carolina Memorial Reef located 52 miles off Charleston. It is a Type II Marine Protected Area which allows trolling for pelagics but prohibits bottom fishing. It has been quite successful in its purpose of providing spawning habitat for deepwater grouper species.
The Vermilion Reef, located 30 miles off Georgetown, is in 120 feet of water and is the home of a 460-foot ship named Vermilion.
"It's been a while since we've gotten a really big ship. We've begun work on another tug boat that will go down off Hilton Head on the Betsy Ross Reef. We recently completed one off of Murrells Inlet and last year did one off Charleston. We've been pretty successful getting tug boats recently and I anticipate doing one big tug boat job a year for the next couple of years."
Martore said the program is funded primarily through the state's recreational saltwater fishing license, but funds also come through the Sport Fish Restoration Act. He said outside groups also assist, noting that CCA South Carolina has been partnering with the reef program in helping to obtain and deploy tug boats. Fishing clubs also often offer financial assistance.
"That helps our money go a little further and helps pay for a few more deployments," Martore said. "Every little bit helps. Marine transportation is very expensive, so any help we get helps our money go further."