It was a catch that stood the Charleston angling community on its collective head. 
Marsha Hass, Derek Eager, Jon Lucas and Chuck Olred were taking advantage of a break in the weather recently to head offshore in Hass's 23-foot Sea Hunt, Marshgrass.
"We were trolling out around 200 feet. We had a king and a dolphin. All of a sudden this line starts screaming out. Derek, who has mated for me for years and is a neighbor, said he saw the tail but wasn't sure what it was, maybe a wahoo," Hass said.
Lucas took the rod and began a long battle.
"So this thing kept screaming and screaming and we couldn't get any line back. We were only fishing a (Shimano) TLD 20 with 30-pound test line," Hass said. "It kept going on and on and on. An hour later we finally get the fish up to the boat and Derek yells 'Oh my God, it's a yellowfin tuna!'"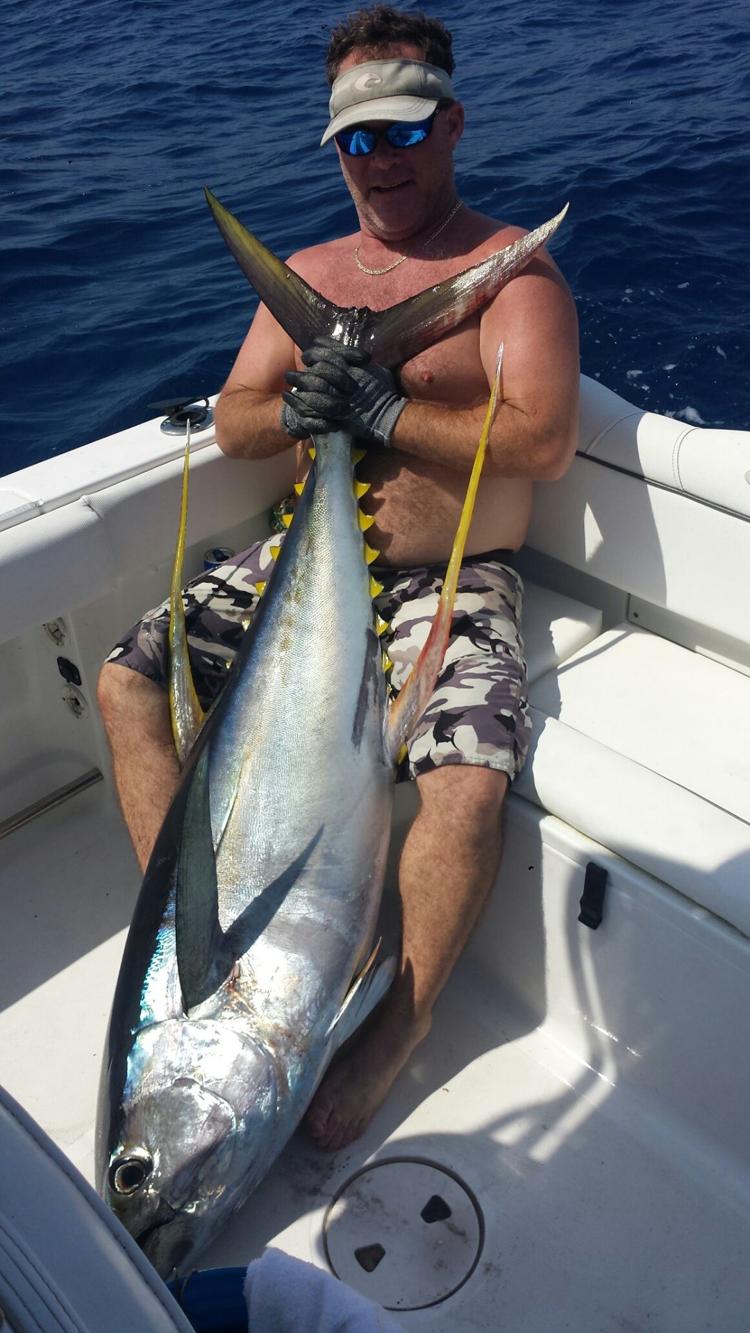 Once a very common catch by Palmetto State offshore anglers, the yellowfin tuna is a species that has all but disappeared from South Carolina waters. Hass said the last yellowfin tuna catch she can remember was nine years ago. The last time a yellowfin won the tuna award in the South Carolina Governor's Cup Billfishing Series was 2007. South Carolina's state record weighed 241 pounds, 12 ounces and was caught in 1979 out of Charleston by Tommy Lewis.
"It was the shock of a lifetime," Hass said. "It didn't do what a tuna is supposed to do. It's supposed to go straight down and circle, the death circle. This thing kept running. I thought we had a marlin and since it wasn't jumping it must be hooked pretty bad in the bill."
Not only was it a yellowfin tuna, it was a huge yellowfin that Eager struggled to bring over the gunnel of the boat. Bled and gutted, it weighed 110 pounds on a set of bathroom scales back at Hass's dock.
"I asked for a radio check, and when someone answered I said y'all aren't going to believe this but I just boated about a 100-pound yellowfin. I could almost hear giggles," Hass said.
"After we got the lines back out, we thought there might be another one. All of a sudden the line screams out and we get a 65-pound wahoo. That would have been a day-maker right there, but the yellowfin was like a decade-maker."
Overfishing off the coast of West Africa is the common explanation given for the lack of yellowfins oin South Carolina waters, but Dr. Mitch Roffer, founder of Roffer's Ocean Fishing Forecasting Services, Inc. (ROFFS), said there is more to the equation. He said a change in ocean currents also is a factor, pointing out that while anglers in South Carolina have been going through a yellowfin drought, North Carolina anglers whose fishing grounds are much closer to the Gulf Stream have continued to boat yellowfins.
"Let's go back 15, 20 years. We always thought the currents we've learned are responsible to bring in yellowfin to North Florida, South Carolina and North Carolina were constant, that we never saw any change," Roffer said.
Roffer said the Antilles Current, which flows past the island chain that separates the Caribbean and the Atlantic, is an important factor. Blue marlin, yellowfin and other species move into that current, and how it bounces off Abaco and Eleuthera in the Bahamas probably plays a role in where the tuna make their crossing of the Gulf Stream. Over the last 10 years scientists have documented a great deal of variability in this current, Roffer said.
"Initially it could be a factor of we're not getting the supply of tuna coming off West Africa, which is probably true due to overfishing there. We're not getting the supply coming across the Atlantic," Roffer said. "And you have the additional aspect that this current is not pushing the water with a reduced amount of yellowfin tuna into South Carolina. Some years it changes. We get a pulse of fish that comes across the current just right and (the tuna) make it into the western side of the Gulf Stream, which is what I think is happening this year."
The crew of Marshgrass certainly hope there are more yellowfin tuna off the coast.