T.J. Britt and his Wide Open fishing team had a goal of catching a 30-pound king mackerel when they headed out of the Charleston Jetties early Tuesday morning. A 30-pounder would put them in good position in the South Carolina Fall Classic King Mackerel Series, a first-year statewide event.
Tournament teams could designate two fishing days for the tournament, beginning Sept. 16, weighing two fish each day with the smallest of the four weights thrown out. Britt and his crew members — Frank Wyndham, Greg Burris, Chris Bates and Jered Roberts — didn't get a chance to fish until late in the tournament, going out for the first time on Monday. But they made the most of that day, catching one king that weighed 35.7 pounds and another that was 34.1 pounds. So a 30-pound catch didn't seem out of the question.
But the monster king mackerel they brought to the Toler's Cove Marina scales Tuesday afternoon weighed a mind-boggling 61.3 pounds, just seven/tenths of a pound off the South Carolina state record that has stood for more than four decades.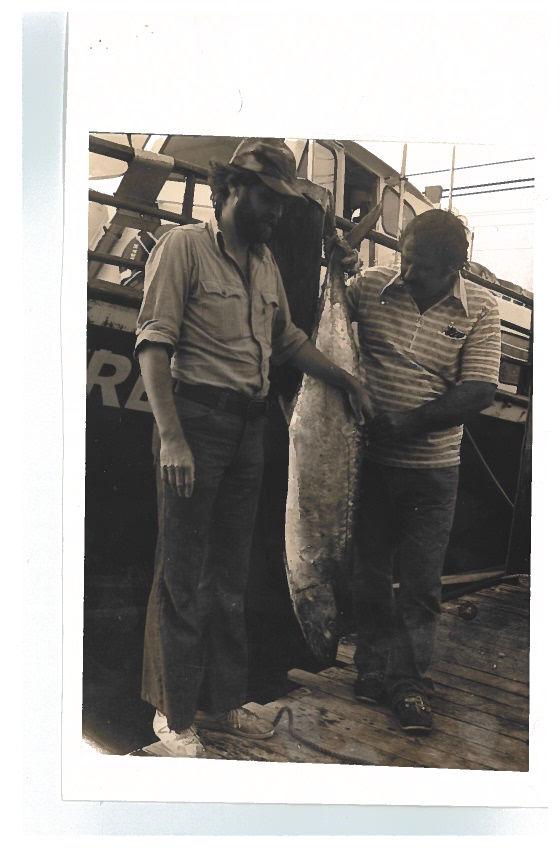 Forty-three years ago, John Brownlee III, fishing aboard the party boat Gulf Stream II, captained by Randolph Scott and docked at Shem Creek, caught a 62-pound king mackerel. Brownlee's state record fish measured 54.33 inches in fork length; Britt's catch measured 59 inches  and had a girth of 26½ inches (the girth of Brownlee's catch was not recorded).
"It never crossed my mind what the state record was," Britt said. "I knew going into Day 2 of the tournament that we needed to have a 30-pound fish to compete in the top five. Then somebody came down to the dock and said we had missed it by 0.7 pounds. That's so cool. It's the largest fish ever weighed in a king mackerel tournament in the state of South Carolina."
The back story on the fish makes for a memorable fishing tale. Britt, who is a travel team baseball coach and owns a heating and air company, said time was running out for the South Carolina Fall Classic (scfallclassic.com), with the last fishing day on Saturday.
"We fished on Monday and caught 19 (king mackerel) in an hour and 44 minutes," Britt said. Their two big fish gave them a 69.8-pound aggregate, putting them high on the leaderboard. Not everyone could get off work to fish on Tuesday, so Britt, Wyndham and Burris headed out in nasty conditions.
"It was overcast. It was raining. It was windy. It was horribly rough," Britt said. "We literally caught eight menhaden (for bait). That's all we had. We didn't start fishing until 11 o'clock. We jigged up two pinfish off the bottom."
They nearly got their 30-pounder at 1:10 p.m., boating a king mackerel that would weigh 28.5 pounds. They then put the other pinfish out on a downrigger and 30 minutes later landed the monster.
"Frank Wyndham was on the rod, I was on the gaff and Greg Burris was on the wheel," Britt said. "We caught the fish in about nine minutes, and he almost spooled one of my Avet reels. When the fish came up, he made a loop around the bow of the boat. I have a 12-foot gaff and when I stuck him my gaff got hung up in my T-top. The fish freaked out and came off the gaff and went down about 15 feet. He only had one treble hook in him, in the side of the head."
But Britt said everyone stayed calm, did their jobs and they soon were able to gaff the fish again. It took all three to bring the big fish over the side of the boat.
"He looked like a dinosaur. I've been kingfishing for 20 years and never in my life seen something that looked like this," said Britt, who at the time thought the fish weighed about 50 pounds.
Britt said he and his crew began fishing tournaments about nine years ago, gradually moving up from an 18-foot center console, and have enjoyed enough success to warrant sponsorship from Sea Pro and Simrad.
Breaking the 50-pound mark undoubtedly will help them in the South Carolina Fall Classic. Tournament founder Capt. Marc Pincus of Hilton Head modeled the event after the South Carolina Wahoo Series he began about nine years ago, and one of the wrinkles was including a 50-pound rollover tournament within a tournament. If no one caught a 50-pound king, the money would be held and go into the following year's 50-pound rollover. But the question of how that money would be handled was answered by Wide Open.
Pincus began the South Carolina Fall Series to highlight the incredible fall king mackerel fishing off the South Carolina coast, "and it's been epic," he said.
Boats could weigh their catch at Hilton Head Harbor Marina, Toler's Cove Marina in Mount Pleasant or Georgetown Landing, giving the event a true statewide presence.
"It's exactly what I was hoping it would be. I did a little test event last year (out of Hilton Head) to see if it would work and people liked it. But it's exceeded our expectations," he said, noting that in addition to Wide Open's 61-pound catch, a 45-pounder was weighed along with three fish over 40 pounds.
Registration for the six-week event was $400 per boat and Pincus had 81 boats sign up. The top seven three-fish aggregates will earn paychecks with first place paying $15,000.