The summer heat can easily sap all of an angler's energy unless the fish are biting. But catching fish when the temperatures are in the 90s is challenging.
One of the best bets this time of year – and something that's certain to excite most anglers – is boating a shark. Whether it's bonnetheads around the inlets or high-flying blacktips off the beaches, sharks can make you forget about the heat.
"Shark fishing is very important to the local guides, probably the species that tourists and kids most want to target" said Capt. John Ward of Affinity Charters (affinitycharters.com).
Ward said inshore anglers can encounter bonnetheads, lemons, blacktips, sharpnose and sandbar sharks. In the inlets and along the beach and fishing behind shrimp boats, you may tie into blacktips, spinners, blacknose and finetooth sharks. Head out to the reefs or over live bottom and you might hook a big tiger, nurse or bull shark.
Bonnetheads are cousins of the hammerhead with shovel-shaped heads that can reach more than 30 pounds in weight. The South Carolina state record is 27 pounds, 11 ounces and was caught near Charleston in 2005.
"We target bonnetheads all the time. It's probably the most common shark I catch," Ward said, adding that bonnetheads are crustacean feeders and love to feed on  live or dead shrimp and crabs. "Cut mullet, live menhaden and cut-up ladyfish all work well for bonnetheads. Bonnetheads will eat something like a shad or ladyfish, a fish that's oily."
If you are looking for something a little larger that will jump from the water like a tarpon, consider targeting blacktips. The state record blacktip weighed 163 pounds, 14 ounces and was caught in 2009 near Hilton Head. Ward said blacktips can often be found trailing shrimp boats, but anglers should remember to give shrimpers plenty of distance.
"I'll tell people they've never tied into something like a blacktip," Ward said, adding that they are extremely fun on light tackle. "Fighting some of these 5- to 7-foot blacktips for 20 minutes, I've had customers tell me they fought as hard as tarpon."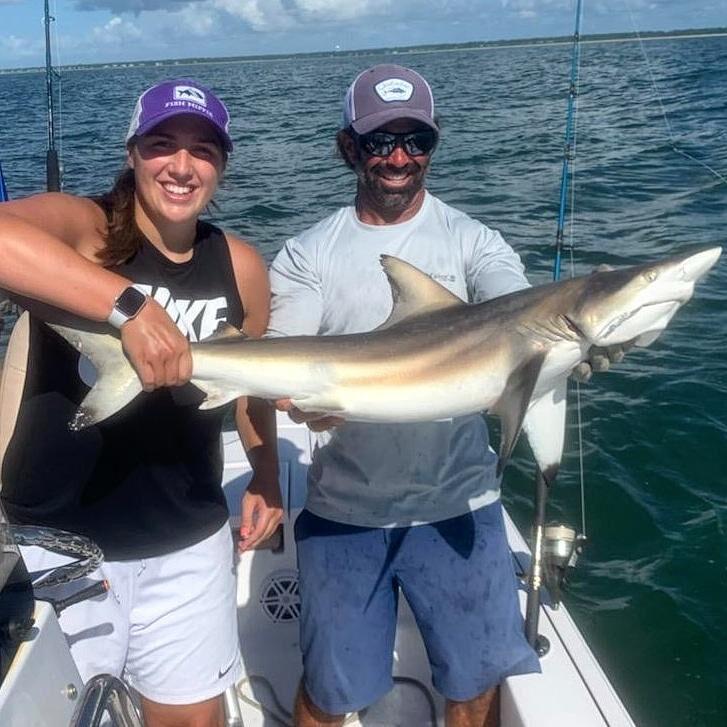 Ward said he'll often spot blacktips and sight-cast a bait or lure to the shark. Dolphins are good indicators of where the backs of the shrimpers' nets are, and the blacktips will follow along as well. Blacktip are usually caught on live or dead bait, but Ward also has had customers catch blacktips using artificial lures or even casting flies.
"I'll fish big live menhaden or pinfish, or I'll take some cut mullet which also works well because the blacktips are scent feeders," Ward said. "They're not as aggressive with topwater plugs, like a big giant Spook or chugger. They will chase after it but they'll only hit it when the lure is sitting still. They will follow the retrieve but won't hit it until it stops. Then they'll get all fired up and launch out of the water sometimes."
Ward said when he's bait-fishing for the big sharks he uses a No. 7 circle hook and a 150- to 200-pound monofilament leader. The heavy mono doesn't work as well fishing with artificials so he drops down to 60- to 80-pound test mono and ties the leader a little longer. He seldom uses wire because that can cut down on the number of hookups for his anglers. Ward said he fishes 7-foot spinning rods and 6500 to 7500 model large reels and 40- to 70-pound braid line.
When Ward gets one of the larger sharks boatside, he makes a loop with his bow line and then slips it over the shark's head and cinches it tight to control the shark.
Ward did his undergraduate work in marine biology and learned how to safely handle sharks by flipping them upside down, which can put them into a catatonic state. For sharks less than 7 feet he feels comfortable bringing the shark into the boat for a quick photo and removing the hook, but anything larger he takes photos of the fish in the water before releasing the shark.
America's Boating Club
America's Boating Club Charleston will offer safe boating classes for all ages from 9 a.m.-4 p.m. on Aug. 8 and Aug. 22. Successful participants earn the S.C. Department of Natural Resources Boater Education Card. The cost is $25 for adults with youngsters 12-18 free. The class is not recommended for children under 12. Bring a bag lunch. To register call 843-312-2876 or email lynes@tds.net.