Christmas is coming early for veteran bass fisherman Nick Gainey. The Charleston real estate investor is expecting the arrival of a new Ranger bass boat Monday in preparation for the 2019 FLW (Fishing League Worldwide) Tour that begins in January.
This will be Gainey's 13th year fishing FLW's top level, and he's hoping for a bounceback from 2018.
"This past year I had a bad year," Gainey said. "In 2017 I had a pretty good year. I finished 15th at Beaver Lake and had a top 50 at the Potomac River. I actually made enough money to pay off the entry fees. In 2018 I just missed getting a check in three different tournaments, by 6 ounces in one and the other two by a pound or so. But that's just part of the game. That's just fishing."
The goal is a return to the Forrest Wood Cup, FLW's Super Bowl. Gainey qualified for the Forrest Wood Cup in 2008.
Gainey said he will fish a minimum of 10 tournaments, the seven that comprise the FLW Tour, along with the three that are part of the Costa FLW Southeastern Series. The FLW Tour begins Jan. 10-13 on Sam Rayburn Reservoir in Texas and also includes stops at Lake Toho (Fla.), Lake Seminole (Georgia), Grand Lake (Okla.), Cherokee Lake (Tenn.), Lake Chickamauga (Tenn.) and Lake Champlain (N.Y.). First place in each event pays $125,000.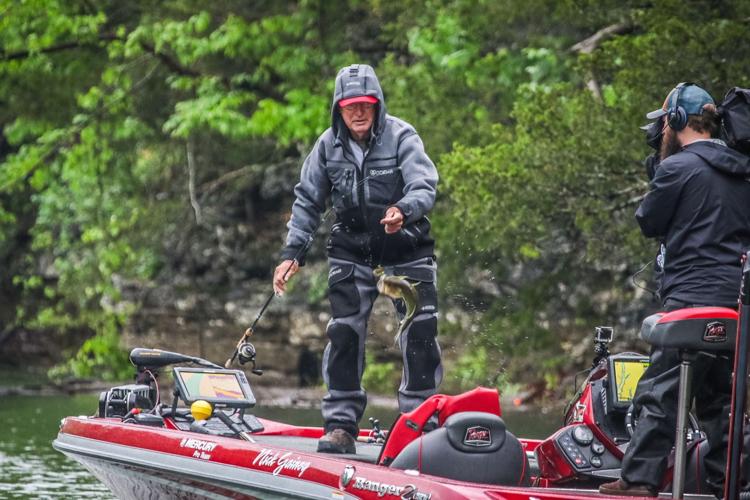 The Costa Southeastern Series includes visits to Okeechobee (Fla.), Chickamauga and Santee Cooper. Gainey said he may also fish the Costa Northern Series in July, August and September, depending on how the previous events work out.
"My sponsors, Ranger, Mercury and Lowrance, have really stepped up," Gainey said, allowing him to fish the ambitious schedule.
Gainey didn't take up bass fishing until much later in life. He grew up in Wilmington, N.C., and was a star basketball and baseball player.
"My wife gave me a birthday present to fish a BASS Invitational. I bet that was 30 years ago," Gainey said. I drove up to Kentucky Lake and fished it. The only reason I did that was because I didn't know how to fish," Gainey recalled.
Gainey loves the competition of professional fishing. He said he has a house on the Santee Cooper lakes but doesn't fish there unless it's practicing for a tournament on the lakes.
"It's my golf game, my tennis game, my extracurricular activities. That's the reason I do it. A golfer hits its 300 yards straight down the middle or hits a 30-foot putt and drops it. It's the same thing with fish. You catch one 5 or 6 pounds and get that adrenaline flow and think maybe I can catch another. It's fun," he said.
Gainey has qualified for the Forrest Wood Cup (which pays $300,000 to the winner), and he's finished second by 6 ounces and posted another half-dozen top 10s in the Costa Southeastern Series.
"I would like to win a tournament. That's the ultimate goal," Gainey said. "But if I can be competitive and finish in the top 50, that's my goal. The objective is to try and get a check to offset the expenses."
The objective this year is to make a check in every tournament. He said if he can finish in the top 50 in every tournament he would finish in the top 20 in points, easily reaching the 40 points required to qualify for the Cup.