Imagine exchanging fish stories with outdoors celebrity and TV host Jimmy Houston and being able to hold your own. That happened in late December when Mount Pleasant resident Jason Bundy found himself in the Miami airport with Houston, both on their way to Brazil to fish for peacock bass.
"I've got a picture right here on my phone. Jimmy Houston and I sat and talked for about 45 minutes. He was going with a different outfitter at the same time," Bundy said while recounting the memorable peacock bass fishing trip.
Bundy said Houston's group fished about 160 miles from where Bundy, West Ashley resident Mark Cook and four friends from Ohio were headed.
The numbers for Bundy's group are phenomenal. The 6½-day tally for six anglers was 1,360 peacocks and more than double that of various other species that included piranha, arowana and wolf fish.
"(Houston's group) caught some bigger fish but nowhere near the numbers. They had several 20-pound fish in the group, a 24 and a 23, quality fish. As far as quantity, they didn't come near us," Bundy said.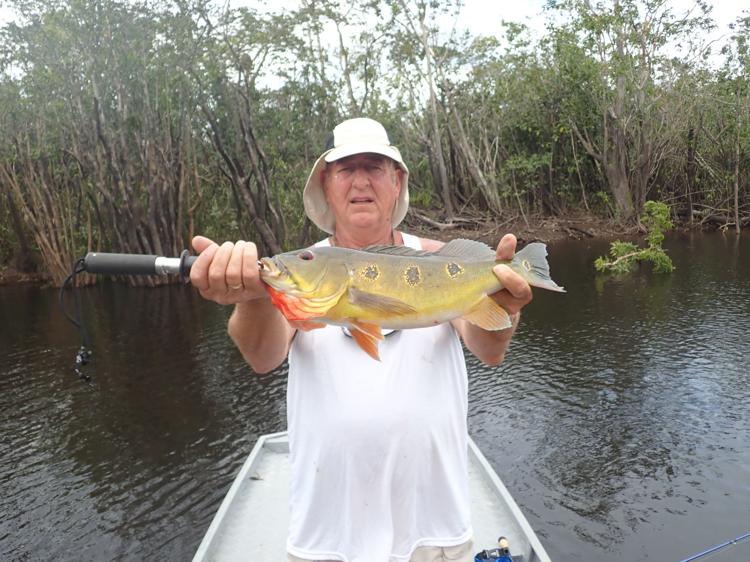 Peacock bass fishing in the Amazon River basin is a bucket list item for freshwater fishermen. The colorful members of the cichlid family are large and ferocious battlers. The world record is a 29-pound, 1-ounce catch made in 2010 from the Rio Negro, the largest tributary of the Amazon.
In describing the peacock's strike to his companions from Ohio, Bundy said "imagine someone taking a 16-pound bowling ball and dropping it from about 10 feet into the water. That's the sound you're going to hear. Then you're going to feel a fish wanting to take the rod out of your hand."
'Pound for pound, I don't think there's a fish that strikes harder than a peacock bass. It's a fish in a bad mood that's got ill intentions when it comes up," Bundy said.
If there's one cautionary consideration Bundy would offer,  it's to know your outfitter. Bundy said he has made 15 trips to Brazil and Cook has been four times. Not all outfitters are equal.
Bundy recalled one experience with an outfitter.
"It was horrific. For six people over six days of fishing, we had a total of less than 100 peacocks and I caught 42 of those," he said.
"(The outfitter) was supposed to have rods and reels available to us. Three of the guys had to borrow reels from me because they didn't have enough rods and reels. I asked them what they would have done if I hadn't brought my own rods and reels. They said they would have worked it out.
"You fish for an hour and then give the rod to the other guy and he fishes for an hour. We're in the middle of the Amazon. They also said they would have lures. They did have some beat-up lures, and they had some for sale if you wanted to buy new ones. Not all outfitters are created equal."
The outfitter Bundy used for the December trip was River Plate Anglers (riverplateanglers.com), and Bundy said it's his opinion that no one does it better.
"I've tried a lot of different outfitters and they all make a lot of promises," Bundy said. "I've used River Plate Anglers seven or eight times and none of them do what these guys do. That's why I go back with them."
Bundy's group flew from Charleston to Miami, where they caught an American Airlines flight for a six-hour flight to Manaus, the Amazon's largest city. After spending the night in Manaus, they then took a float plane to the fishing site off the Rio Negro.
Bundy said the accommodations are two-man floating cabins, towed train-like down the river. Once they reach the fishing area, the cabins, along with a dining cabin, are beached on a sandbar.
"Each cabin has its own shower, its own bathroom, its own air-conditioning system and two bunks. There's a little deck off the back where you can sit at night. The food is phenomenal. If the fishing isn't good, while you are gone they will hook up all the cabins and go down the river and set up on another sandbar. You move continuously to find good fish."
Bundy said he fishes with G.Loomis medium-heavy action rods and high speed Shimano Curado bait-casting reels spooled with 65-pound test braid line.
Bundy said the first time he visited Brazil he looked at the International Game Fish Association (IGFA) record book and saw that all the records were set with 50- and 65-pound test lines. The all-tackle record was 26 pounds, so he decided he would travel with 25-pound test line in hopes of breaking a record.
"They were literally popping my line on the strike. After the fifth time when the fish struck and broke me off, the guide, who was behind me, cleared his throat. I looked back and he was holding up a rod spooled with 65-pound test line," Bundy said.
Bundy said he likes the explosive strike and 90 percent of the time throws big Wood Chopper lures, 8-inch wood baits with a series of treble hooks and props on each end that make a lot of noise as they are ripped across the surface. He said some of the people in his group sight-fished for the peacocks, throwing jigs on the beds, but that's too slow for him. The anglers would have to make 30 or 40 casts before making the fish mad enough to strike. Rat-L-Trap lures also work but the piranhas would knock the paint off of them.
A scoreboard is kept at the camp, with the peacock totals for each guide along with the weights of the fish that exceed 10 pounds. Their biggest day for numbers was the fifth day when the six anglers caught 384, four of which broke the 10-pound mark. The fewest number of peacocks in a day was 83.
"The water levels were the lowest I've seen in 15 trips. You want low water, but the problem this time was the water was so low that there wasn't any structure. The fish were just deep," Bundy said "Normally, you catch some 20-, 22-pound fish. This time our biggest fish was 16 pounds. But we caught over 3,000 fish. The fishing was just crazy good.
"I've fished in Africa, been to Thailand, Venezuela. I've been on a lot of exotic fishing trips, but Brazil is my favorite. It's an amazing adventure."