Whether your interests lie in quietly paddling a kayak in a neighborhood lake or cruising the Atlantic Ocean in a luxury yacht, Charleston will be the place to be next weekend.
Boating enthusiasts can double their pleasure and double their fun by taking in the Charleston Outdoor Fest at James Island County Park and the Charleston In-Water Boat Show at Brittlebank Park and Bristol Marina. Both events officially will be held Saturday and Sunday, although there are opportunities to participate on Friday.
• "The Charleston In-Water Boat Show is completely different from the one in January in the Convention Center," said Jacqui Bomar, who produces both shows. "At the In-Water Boat Show (charlestoninwaterboatshow.com) people can actually test drive some of the boats that are in the water."
The In-Water Boat Show features both power and sailing vessels from local dealers with boats ranging from smaller center consoles to a 68-foot Prestige Motor Yacht.
Show hours are 10 a.m.-6 p.m. Saturday and 10 a.m.-5 p.m. Sunday. General admission is $10, $8 for military with ID and $5 for children 4-12.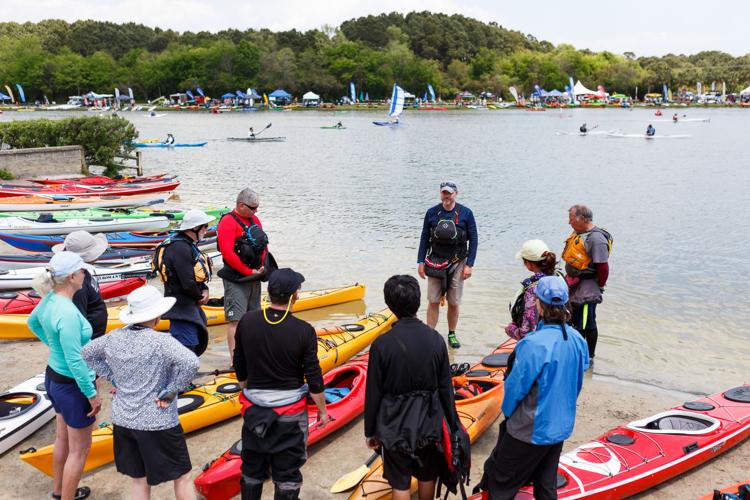 There's also a special Preview (5-7 p.m.) and VIP Party (7-9 p.m.) on Friday. The cost is $50 which includes access to the show throughout the weekend.
"Because of the location downtown, there's a real problem with parking on Friday. What we've done is turn a negative into a positive. We have the party catered with a band. It's really fun," Bomar said.
Pirates, face painting and a bounce house will keep the kids entertained. Musicians will be performing and the Lowcountry Maritime Society's Spring Boat Launch will take place at 10:30 a.m. Saturday, featuring 17 boats built by 135 students from James Simmons, Ashley Hall, Porter-Gaud, Sanders Clyde, Jane Edwards and Sullivan's Island Elementary schools.
• A few miles away, at James Island County Park, the 28th annual Charleston Outdoor Fest (ccprc.com/outdoorfest) will be taking place. Originally begun as the East Coast Canoe & Kayak Festival, the event holds true to its roots but also offers other outdoor related activities.
"Charleston Outdoor Fest combines a try-it event with exhibitors, demos and basic instruction in all the outdoor pursuits the county parks offer in Charleston," said Josh Hall, outdoor program manager for Charleston County Park & Recreation Commission.
Activities include mountain biking, slack lining, archery, disc golf and the climbing wall but the big emphasis is on kayaking, canoeing and standup paddleboarding (SUP).
Attendees can visit the vendor village for the regular $2 park admission, but you can purchase a Try It pass for $10 ($8 for youth 12-under) which allows you to participate in the various activities. If you want to sample a canoe, kayak or paddleboard, this is a great opportunity with more than three dozen vendors on hand. Try It Zone hours are 9 a.m.-5 p.m. Saturday and 9 a.m.-4 p.m. Sunday.
"You don't have to be an expert, but you can come check it out for a very simple fee," Hall said.
For the more serious watersports enthusiast, the East Coast Paddlesports Symposium takes place Friday through Sunday and offers a three-day immersion in the history, technique and hands-on experience of canoeing, kayaking and stand up paddleboarding. Daily registration for this is $145 while full weekend registration is $285.
With all of this, next weekend is not to be missed for those who already enjoy or want to enjoy our local waters.