Make no mistake, the primary purpose of the Charleston Boat Show is for area boat dealers to showcase and sell boats. More than 100 boat lines and approximately 140 exhibitors will be on hand for the show scheduled Friday through Sunday at the Charleston Area Convention Center Complex.
But there's a lot more than just boats to entice visitors to the event, particularly those interested in saltwater fishing opportunities along coastal South Carolina.
"We've really stepped up our fishing seminars. Capt. Tim Wilson out of Wilmington is producing our fishing seminars. He's done this for our Wilmington (N.C.) show as well and does a terrific job," said Jacqui Bomar, who produces the show for the Tri-County Marine Trade Association.
Wilson, who publishes the electronic magazine Coastal Carolina Fisherman, said seminars are scheduled Saturday and Sunday and are included with admission to the show. There is no pre-registration.
"We have tried to divide the seminars between offshore and inshore fishing," Wilson said, adding that the instructors not only come from the Charleston area but also from the Wilmington area.
"One of the reasons why we are bringing people from up here is that it gives people a different perspective. One of the problems when you do seminars for the local fishing clubs is that you hear from the same people all the time. This gives a different perspective, not that it's better but it's different. You get a different viewpoint that you haven't heard before. We want them to be a little unique."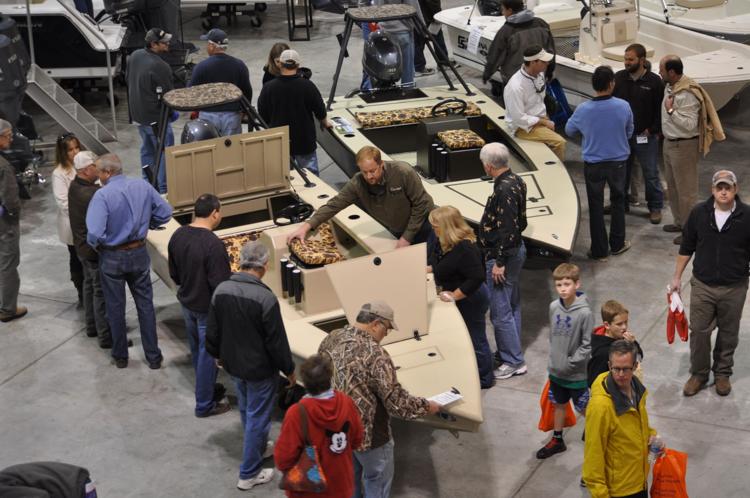 Among the instructors will be Eris Jones, a former Southern Kingfish Association national champion; Capt. Rennie Clark, a Redfish Tournament Trail angler and host of the The Coastal Carolina Fishing Experience; and Mount Pleasant fishing guide Mike Able. Other speakers include Capt. Amanda King, Capt. Ray Dixon, Randy Hamilton, Emmett Stovall and Wilson, who will lead daily Kids Fishing Seminars.
"We will teach kids how to fish safely, the basics of fishing, what a plastic bait is and what a live bait is. We will show them the different types of hooks so when they get out there with their parents they know a little bit about what to expect and understand how not to hook someone," Wilson said.
Other exhibits that focus on fishing including the S.C. Department of Natural Resources' Boating Simulator; Project Healing Waters Fly Fishing Charleston, which is "dedicated to the physical and emotional rehabilitation of disabled active military service personnel and disabled veterans through fly fishing and associated activities including education and outings"; and Wounded Nature - Working Veterans.
Bomar said there will be live music all three days, along with food trucks, pirates and face painting.
Show hours are noon-6 p.m. Friday, 10 a.m.-6 p.m. Saturday and 11 a.m.-5 p.m. Sunday. Tickets are $12 for adults, $8 for seniors over 65 and $5 for children ages 4 to 12 and military with ID. A two-day pass is available for $20. For details and to purchase discount tickets, visit thecharlestonboatshow.com.
Seminar Schedule
Saturday
11 a.m-noon - Pairing Artificial Lures to the Right Rod, Rm. 10, Capt. Mike Able
11:30 a.m.-12:30 p.m. - Light Tackle Triple Play...Fishing for Reds, Trout and Flounder, Rm. 11, Capt. Amanda King
1-2 p.m. - Sightfishing Like a Pro, Rm. 11, Capt. Rennie Clark
2:30-3:30 p.m. - Flounder Fishing...Knowing Your Adversary, Rm. 11, Capt. Amanda King
4-5 p.m. - Kids Fishing Seminar, Rm. 11, Capt. Tim Wilson
4:30-5 p.m. - Topwater Redfishing Tactics, Rm. 10, Capt. Rennie Clark
Sunday
Noon-1 p.m. - King Fishing Like a Champion, Rm. 10, Capt. Eris Jones
Noon-1 p.m. - Offshore Flounder Fishing, Rm. 11, Randy Hamilton
1:30-3 p.m. - Inshore Flounder Fishing, Rm. 10, Randy Hamilton
1:30-2:30 p.m. - Small Boat Offshore Fishing, Rm. 11, Capt. Eris Jones
3-4:30 p.m. - Kids Fishing Seminar, Rm. 11, Capt. Tim Wilson
2-3 p.m. - Intro to Offshore Fishing, Rm. 10, Capt. Mike Able
2-3 p.m. - Easy Ways to Increase the Life of your Boat and Engine, Rm. 11, Emmett Stovall