If you remember last year's list of Clemson invitees to the NFL scouting combine, it was a particularly small group. Cornerbacks Andrew Booth Jr. and Mario Goodrich were joined by receiver Justyn Ross and linebacker Baylon Spector. And that was it.
Plus, there wasn't much going on for that quartet. Ross, in the process of recovering from a foot surgery, didn't fully participate. Goodrich was dealing with pain in his ribs and pulled out after the 40-yard dash. Booth was held out by a quadriceps injury. So if you were that obsessed Clemson fan tuned to NFL Network to catch the Tigers doing 40-yard dashes and three cone drills, you were very disappointed.
But this figures to be a much, much different year for Clemson. Eights players have officially received invites to the combine in Indianapolis, and more than a few have a lot riding on the results. They are:
DL Bryan Bresee
DE Myles Murphy
LB Trenton Simpson
DE K.J. Henry
TE Davis Allen
OL Jordan McFadden
WR Joseph Ngata
K B.T. Potter
There is going to be so much for the Clemson draftniks to watch this time around. Let's run through which events could be the most interesting.
The 40-yard dash
This event gets way overhyped, but it's undeniably true that NFL teams love speed. And they are blown away when someone who shouldn't be able to run that fast ends up flying down the turf at Lucas Oil Stadium.
Clemson has a few of those in this crop. Myles Murphy allegedly has 4.5-second speed in the 40-yard dash at 6-foot-5, 275 pounds. If Murphy flashes that kind of burst at the combine, the better the chance a franchise falls in love with his athletic profile despite a lack of overwhelming production during his time at Clemson (17.5 sacks, 28 quarterback pressures in three seasons).
"I'm even faster, honestly," Murphy said in fall camp when asked about his reported 4.5. "In high school, I got a 4.53, a 4.51, something like that. Haven't run a 40 since then. So we'll see. We'll see during the combine or whatever."
The 40 could also be a highlight for linebacker Trenton Simpson, who has bulked up to 240 pounds but once held 4.4 speed. Can he still run in the 4.4s at 240? Or is he in the 4.5s or 4.6s? That number might play an outsized role in how Simpson is viewed going into April's draft.
And there might be no more important 40 time than receiver Joseph Ngata's. He is, presumably, on the fringe between late-round pick and undrafted. But if he can run in the 4.5s or better at 6-3, 220 pounds, Ngata has measurables that give him a chance to stick in the NFL.
Three-cone drill
This event probably isn't played up enough, because straight-line speed isn't always as important as the ability to change directions.
Jordan McFadden, who played tackle at Clemson but projects more as an offensive guard or center at the next level, will have a chance to show how easily he can move at 6-2, 304 pounds. He was a basketball player in high school, so McFadden's feet should be lighter than most 300-pounders.
Explosiveness and balance really matters for big guys in the trenches. So this will also be an interesting event for the likes of Bryan Bresee, who is uniquely athletic, as well, at 6-5, 305 pounds. He can dispel worries about how often he has been in and out of the lineup over the past two seasons by looking quick and agile in a three-cone drill or short shuttle.
Vertical jump
This might just be a personal fascination of mine, but tight end Davis Allen had more than a few high-point grabs in his time at Clemson. He hurdled a defender for the first time in a game this past season.
How high can he really jump?
NFL teams will love Allen because of his size at 6-6, 250 pounds and his willingness as a blocker (even if his technique can improve). But if Allen shows he's a better athlete than expected, it's very likely a franchise will like his upside as a receiver, as well. Remember, Allen was mostly a defensive player in high school and developed as a receiver through his four years at Clemson.
Bench press
This is important for everyone, especially long-armed specimens like Murphy and McFadden who use those levers to either get to the quarterback or stop pass-rushers from getting there. For Bresee, he also has to show he has the strength to make a dent as a run defender.
But again, everybody better be able to get that 225-pound bar moving. I always remember cornerback Fred Smoot's inability to bench 225, not even once, and it probably contributed to a potential first-round pick's slide into the second.
If you're K.J. Henry, you have something to lose if you can't get the bar up 18 times or more (especially as a 24-year-old prospect). If you're someone like Ngata, the number is more an indication of how hard you have been working in the weight room, which portends well as far as your work ethic.
Interviews/medical
These aspects aren't overly talked about, but they are important.
Athletes can dispense with concerns about character, or just separate themselves from similarly graded prospects with "locker room guy" intangibles. Henry comes to mind as someone who can light up a room. I remember talking to his high school coach, Adrian Snow, who said Henry was either playing in the NFL or he was bound for a career in politics.
The injury piece is, obviously, less in a prospect's control. This hurt Justyn Ross last year, because only the Kansas City Chiefs proved comfortable clearing him post neck surgery, and that was as an undrafted free agent. There is no one with similar concerns this year, but Bresee's knee (ACL tear in 2021) and overall health will be something teams will want to double-check. Ngata just completed his second full season with the Tigers after injury-plagued years in 2020 and '21, so he will be similarly scrutinized.
Everyone's under the microscope, at all times. There's a lot on the line, and that informs the calculus of athletes (and their agents) in sometimes not participating in certain drills and only performing once (either at the combine or at a pro day on their college campus). We'll see if that happens with anyone.
But you can't pull out of a medical evaluation or team interviews. That is going to happen, whether a prospect likes it or not.
As I come to the end, I realize the only athlete I haven't really mentioned is B.T. Potter. But it's really simple with a kicker. Nobody cares what you can bench or how fast you can run or if you're a Rhodes Scholar.
Just put the ball through the uprights, dude.
— Jon
Lunardi pegs Clemson as an 11 seed
If it wasn't already evident how important Clemson's game at North Carolina is this Saturday, ESPN bracketologist Joe Lunardi's latest projection underlined the point.
On Wednesday, Lunardi had both Clemson and UNC as No. 11 seeds.
Of course, this is just one man's opinion. Who knows if the NCAA tournament selection committee will agree. But Lunardi's projection shows how quickly the Tigers' stock might fall if they continue to lose games.
At this point, they have lost two straight, including another bad loss at Boston College, to drop to 10-3 in ACC play. UNC just lost to Wake Forest and fell to 7-6 in conference, but Clemson has only won one game in its history in Chapel Hill, and that just happens to be the last one in 2020.
If Clemson wins, the Tar Heels will need some wins to un-pop their bubble. If UNC wins, the Tigers are running out of opportunities to collect what most observers (including those on the committee) would consider "good" wins. Duke and N.C. State at home and Pitt on the road probably qualify. Wake Forest and Penn State have been fading (other than the Demon Deacons' win over the Tar Heels, of course).
But Clemson let opportunities get away versus Iowa and Miami, and without a win in Chapel Hill, the Tigers would be putting a lot more pressure on winning road games at N.C. State and Virginia. And then a good showing in the ACC's conference tournament might be required.
Good news is the Tigers have a week to get healthy and drill a few particulars in practice. We'll see if their performance at UNC will be enough to remove them from bubble watch -- or if they are living in it for the next few weeks.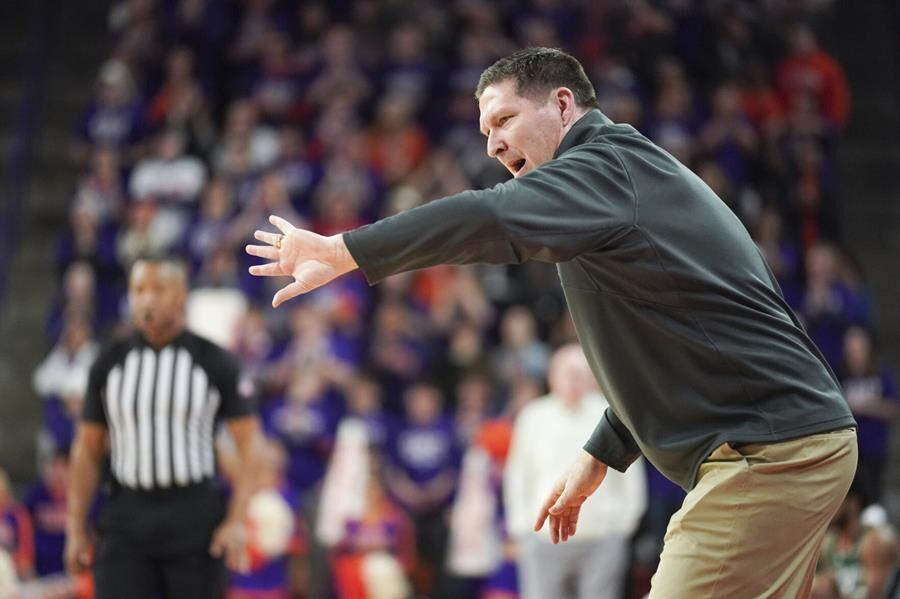 Clemson alum reportedly heading to Delaware
On Wednesday, Delaware football officially announced it had hired Corico Wright as its cornerbacks coach and defensive passing game coordinator.
Wright is a Clemson alum, playing for the Tigers from 2009-12, and then serving as a grad assistant at his alma mater for three seasons before moving on to Murray State, James Madison, and Furman.
But as he told us ahead of Clemson's matchup with Furman on Sept. 10 -- his first trip to Memorial Stadium as an opposing coach -- Wright didn't always want to be an assistant coach. The linebacker was partial to the movie Bad Boys and thought he might go into law enforcement.
He was convinced, however, to go into coaching through conversations with P.A.W. Journey coordinator Jeff Davis and Woody McCorvey, Dabo Swinney's longtime chief of staff. Swinney promised to hold a coaching job for Wright when his playing days were over. Wright was one of the "Dandy Dozen" that made up the coach's first recruiting class at Clemson.
"When he says family, the Clemson family, he truly means that," Wright said of Swinney. "A lot of coaches, they give lip service to that but there's very few who are actually putting that into action."
Now, the protégé is making his next stop in FCS football. It will be interesting to see if this will be the last before a jump to FBS.
Wright makes no bones about his willingness to coach for Clemson again, if he were ever to be considered. It just has to be the right job.
"If that opportunity presented itself, I'd have to evaluate it," Wright said in September. "It obviously depends on the role. I can't go back to being a GA, you know?"