For those who have never seen a personal ad, they were like your Tinder bio. You said a few words about yourself and let the world know you were looking for whatever you were looking for.
Or you could leave someone a message like the first personal that appeared in Free Times.
The ad read, "Barry, Hope New York's ready for you. Miss you already. Have yet to find a cat that can make coffee OR order pizza. Have one in The Scrap Bar for me. And not one more word about all the great food! (Hi Bev!)"
The message came in the 12th issue, sitting amongst other classified ads, one selling a baby stroller and another from a guy named Johnny looking to get musicians together for a band, though the quality of the players was not too important — "no serious inquires please," he said.
The initial personal in the Free Times is signed "Amy," so maybe it was placed by the paper's founder as a nice note to friends or a genius ad sales technique. Maybe it was a stranger who started a trend. Following that ad, more personals started coming into Free Times.
"It started as a natural, organic type thing," suspects Dan Cook, former editor of Free Times, who started with the publication in 1998.
One of Cook's duties early in his media career was to take down the personal ads that people called in. He was known around the office as The Love Doctor.
Cook says the personal ads in the early days of Free Times seem true to spirit of the Rant and Rave section now, "where people saw this new vehicle and could get something out of the ordinary out there."
A personal ad in the 14th issue read, "Butch Barnette, Happy Valentine's Day! How about a ring? Lots of Love, Sonya C."
Things started to get more interesting just a couple issues later.
"SWM, very attractive, wants to find lady with unique quality: very hairy! Will reply to all who send photo."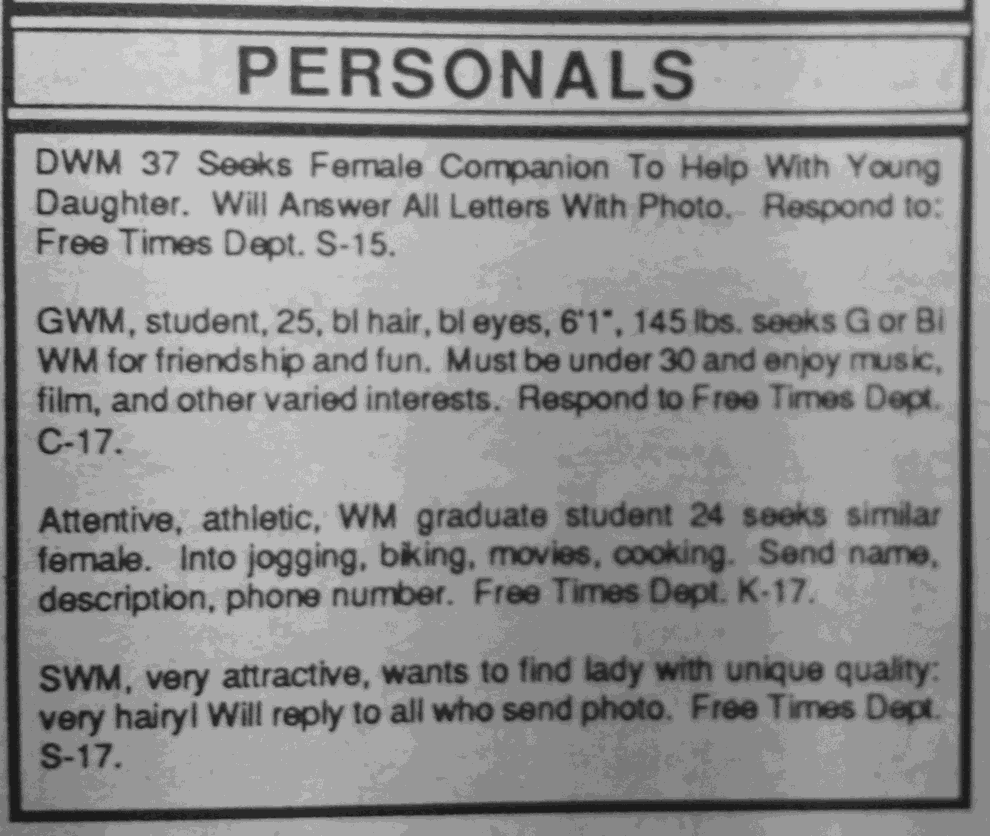 A language existed for personal ads. SWM for Single White Male, GBF for Gay Black Female. C stood for couple, T for transgender. J could stand for Jewish or Japanese and probably caused many people confusion. There were abbreviations for what you were looking for as well. LTR meant long-term relationship, MBA for mutual business arrangement, and WE for well endowed. Also, PnP for party and play, meaning you wanted to mix drugs and sex. Before personal ads became more direct, people had to use code words such as "French" meaning oral sex or "Greek" for anal.
This gets to a serious function of personal ads. They were often a way for people seeking gay relationships to find each other when they couldn't be open about their sexuality. Cook saw this firsthand at the Free Times. An African-American woman often came into the alt-weekly office to place a personal ad saying she was looking for a same-sex relationship.
"It was obvious she was hiding it," Cook says. "It was heartbreaking when she would come into the office, just the fact that she had to hide that."
The personal ads in Free Times early on proved a welcome space for those who went against traditional Southern religious values.
"SWF looking for New Age gentleman," an ad said in an early issue of the paper. Another read "GWM … seeks G or Bi WM for friendship and fun." There was also "SWM, 26, graduate student, low-key, conservative," demonstrating that the personals could go both ways.
Over the decades, the personal ads became as much entertainment for readers as they were a means of starting a relationship.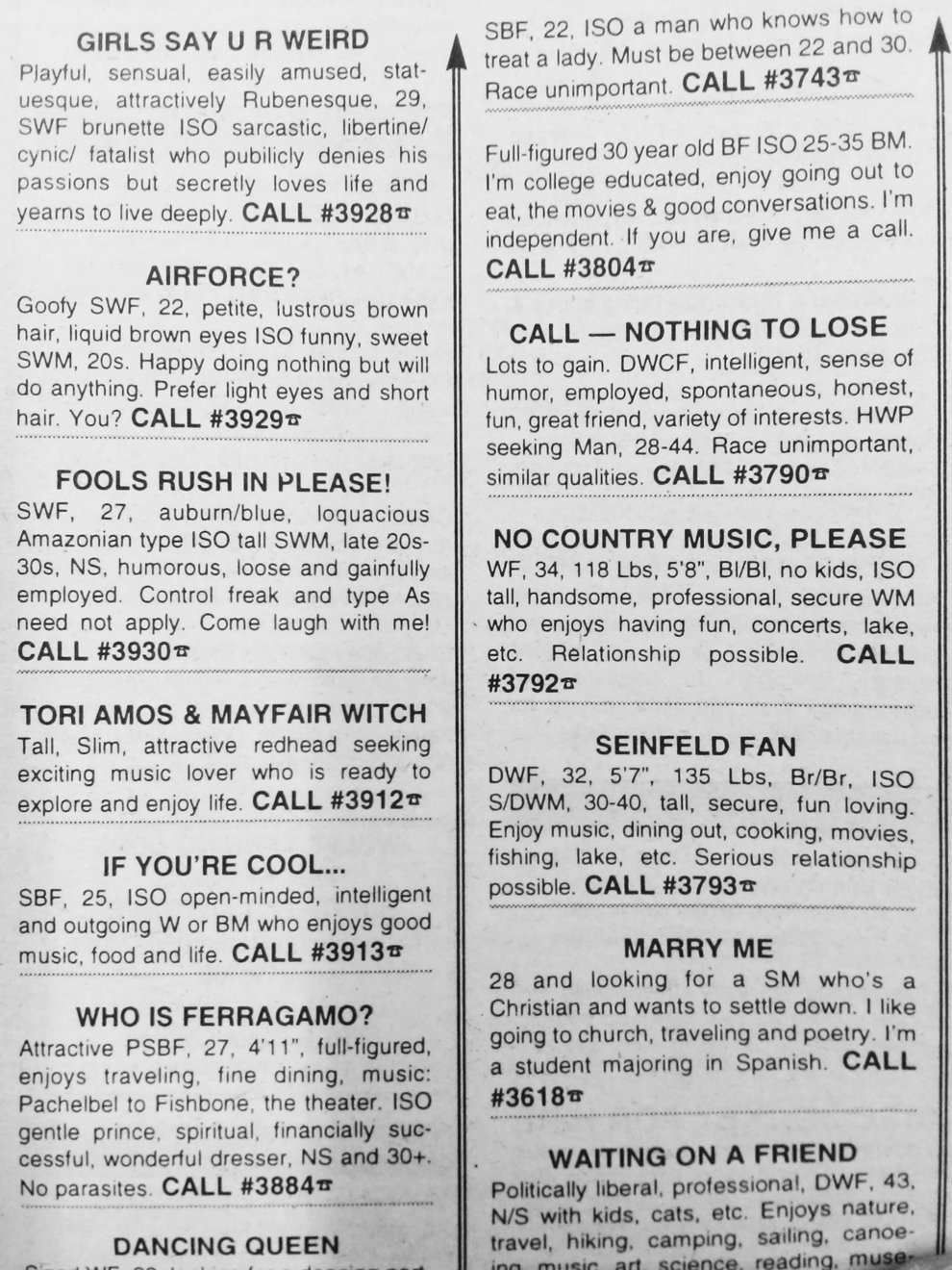 "They were controversial among some readers and extremely popular among others," Cook says. "The non-traditional sexual interest people had, that's what made them controversial but made them entertaining content for someone else."
At the peak of the printed love outreach, Cook remembers Free Times having four pages of personal ads.
Like many things, the internet did away with the personals section in the paper. Tinder, dating sites and Craigslist fill the role now.
"I got a pretty good education taking those ads," The Love Doctor says. "There was some terminology and some practices I had not heard of before taking that job on."
In fact, in the first issue of Free Times featuring a personal, the publishing staff reached out to people to place an ad in the "ASSIFIEDS" section. Maybe it was a typo or maybe that was intentional.