It was never going to work.
That was the initial feedback Darlington Raceway president Chip Wile received from a team executive when he pitched the idea of a throwback weekend at NASCAR's oldest major speedway. For the concept to be successful, the track needed cooperation from all the sport's major players — the sanctioning body, the television network, and the teams themselves, whose throwback paint schemes would be a cornerstone of the event.
But meeting with teams at Daytona International Speedway during the week of the Daytona 500 — six months from Darlington's 2015 event — Wile was already getting pushback.
"This won't work," Wile, now president at Daytona, recalls being told by a team official. "And it won't work because this isn't how we do sponsorships. These sponsors, they spend so much money and they have only so many opportunities to put their brand on the car. They're not going to want to use one of their opportunities to do something that doesn't reflect their brand."
More than four years later, with Darlington's throwback weekend established as a smashing success, that early judgment turned out to be as misguided as a loose setup on a slick racetrack. Next week's Bojangles' Southern 500 will mark the fifth edition of what's now known as "The Official Throwback Weekend of NASCAR."
If sponsors had any initial hesitancy, they got over it quickly — that 2015 race featured 32 Cup Series cars with retro or tribute paint schemes, and more than 20 are committed for the Sept. 1 event.
"It gives us something special a lot of places don't have," said Kerry Tharp, Darlington's current president. "It enhances Darlington, it enhances the brand. I like to say we're the Wrigley Field of NASCAR — we may not be the fanciest place, but we very well could be the coolest, with the history, the heritage, and the tradition. There's just an aura you feel on race weekend."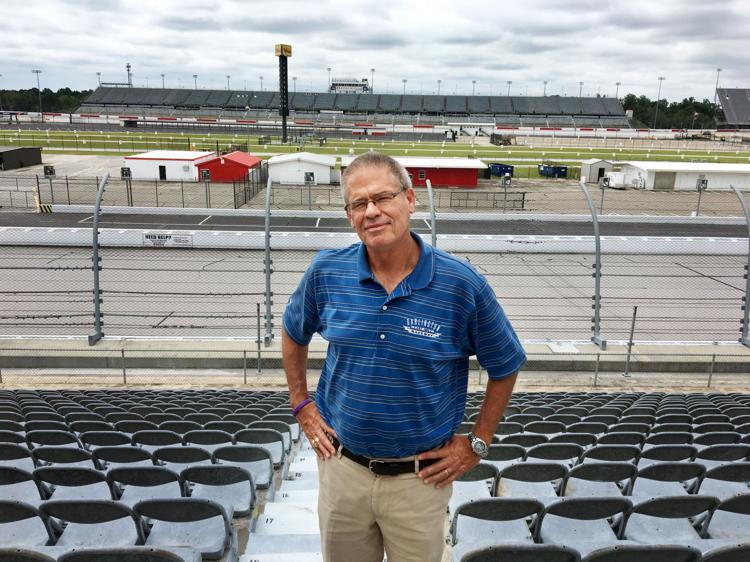 It looks so seamless now, with teams and sponsors and television partner NBC all on board. But it took a lot of convincing to get the throwback idea off the ground five years ago, and it takes imagination and communication to keep it going today. And in the process, it's helped further invigorate a quirky, egg-shaped track that was scraped out of the Pee Dee earth in 1950, and whose age once threatened its very existence.
Now, it has an almost unrivaled cachet — and a popular themed weekend that no other track can match. "It was something that had never been done in the sport before," Tharp said, "and yet it made all the sense in the world, because it was Darlington."
Hand-to-hand combat
Soon after Wile was hired as Darlington's president in 2013, he met in Daytona Beach with Daryl Wolfe, chief marketing officer of the track's parent company, International Speedway Corp. Wolfe had noticed that many other sports had weekends where they celebrated their history, and he wanted to see if something similar might work in NASCAR.
"Darlington just makes a heck of a lot of sense," Wolfe told Wile. "As you get comfortable in your role there, start thinking about that."
Although Wolfe had the nugget of an idea, there were no instructions on how to formulate the platform or make it a reality — that would fall to Wile and the staff at Darlington, which had just a dozen full-time employees. Wile hired Tony Sizemore, who had run the former Busch Series program for Anheuser-Busch, and the pair repeatedly made the two-hour drive to the Charlotte area to try and pitch their nascent concept of a throwback weekend.
"We were burning up the roads between Darlington and Charlotte, meeting with every stakeholder, every race team, to explain how this program was going to work," Wile recalled. "Then we met with NBC, then we met with NASCAR, then we met with the sponsors. It was hand-to-hand combat with that group."
Everywhere they went, Wile and his team brought with them a PowerPoint presentation detailing how the throwback platform would work  — down to the retro look of programs, tickets and merchandise, rollback prices on concessions, and the presence of several NASCAR Hall of Fame members. While the team paint schemes would be important, they wouldn't be the only throwback aspect to the weekend.
"For it to achieve the success it has, it needed to be everything," said Chris Haid, marketing director at Hendrick Motorsports. "That's probably the reason for the success — they covered everything from A to Z. If it was just paint schemes, that one element, it could have probably died on the vine. But the fact that everybody was all in — the industry, the television partners, the teams, the fans — helped to make it successful."
Darlington officials began planning the event while their race weekend was still scheduled for the spring. Then, in the summer of 2014, came a perfect alignment: the Southern 500 would return to Labor Day weekend for 2015, putting that first throwback weekend on Darlington's historic date. The track had raced on Labor Day weekend every year between its founding in 1950 and 2003, after which Darlington lost its schedule spot to the speedway in Fontana, Calif.
Meanwhile, the convincing continued. The first team to buy in, Wile said, was Stewart-Haas Racing. A few weeks after the Darlington group had given its presentation at the team's Kannapolis, N.C., shop, vice president Mike Verlander called to say all four SHR cars would sport throwback schemes for the race. "That gave us momentum," Wile recalled. "As we talked to other teams, we were able to say, 'Stewart-Haas is going to do it.' And it snowballed from there."
While each year has a specific theme — 2019's is celebrating the era from 1990-94, which includes Richard Petty's retirement and the beginning of Jeff Gordon's career — the track does not box teams in, a move that was key to gaining their support. The No. 43 car of Bubba Wallace, for instance, will carry the orange, purple and green scheme the late Adam Petty ran in his ARCA victory at Charlotte in 1998.
"Everybody can pick their own look," Wile said. "The Wood Brothers are going to celebrate it very differently from Hendrick. But it all works. If you go into that garage, you feel like you're walking back in time."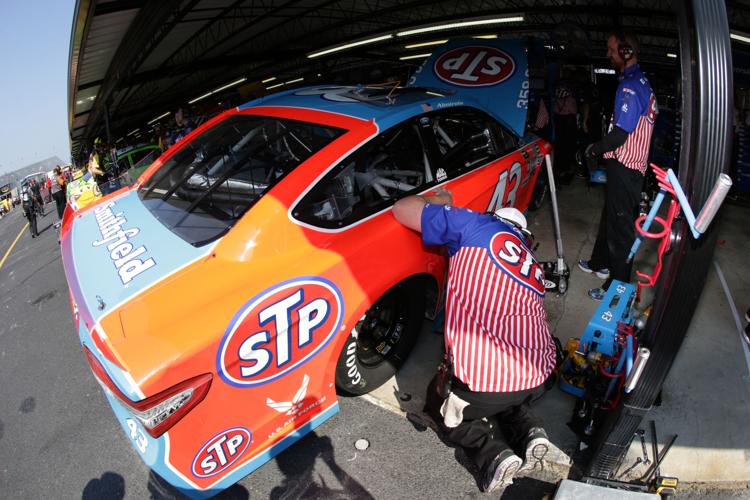 From Richmond to Bowman
Darlington's first throwback race was unlike anything the sport had ever seen. The combination of the retro theme and the return to Labor Day weekend stoked anticipation for the event, with Darlington attracting its biggest crowd in years. NBC played along with retro logos, 1970s clothing for its announcers, and even welcomed broadcasting legends Ken Squier and Ned Jarrett into the booth to call part of the race.
"I think we were all a bit surprised year one was such a success," Wile said. "We knew it was going to be a success, but we thought it would take three or four years for it to flourish. For it to flourish in year one, people really had to rally behind it."
They did, and an idea originally viewed as a five-year platform quickly became a permanent part of the Southern 500. That means Tharp and his small staff are tasked with coming up with new themes and tweaks for each year, and keeping the lines of communication open with teams and industry stakeholders. Darlington officials continue to meet with race teams on an annual basis, usually in December or January, to share their plans and help teams shape their own ideas.
"We make it a point to visit, usually in person, every single race team on the Cup level, and as many as we can on the Xfinity level," Tharp said. "We roll out our marketing plan to these teams, and ask for their buy-in. We discuss, 'What are some things we can do to help you participate? What's important to your organization that we can help highlight?' We have a good relationship with teams, and they want to participate."
The enthusiasm is evident. Tharp said he was walking through the Daytona garage during Speed Weeks in 2017, when Wood Bothers co-owner Eddie Wood chased him down. "We're already working on our throwback for your race," Wood told him. This in February, six months before engines fired at Darlington. "People anticipate it and look forward to it," Tharp added.
It certainly helps that sponsors have found value in the idea, even though their cars are sometimes using older logos or colors not typically associated with the brand. "At the partner level for this event in particular, I feel like there's often flexibility in what they do in how their car and their marks look," said Hendrick's Haid. As an example he cited Chase Elliott's car for the 2016 race, in which sponsor NAPA used its logo and black and yellow colors from 1963.
Rather than finding the throwback theme to be a detriment, sponsors have discovered it can provide them with additional exposure. "If Axalta was running their standard paint scheme with Alex (Bowman) at Darlington, there's not much story to it," Haid said. "But he's running the Tim Richmond theme from 1986-87, which is different. So there's additional light that's shined on the event for our partners. And I think the teams get excited, because it's not just one of 36 events on the schedule."
Drivers often play a part in choosing the theme of their throwback paint scheme. Bowman has long been a fan of the late Richmond, and it was his lobbying that convinced sponsor Axalta to go with the garnet and gold look carried by Richmond's Folger's-backed car. "Axalta actually had a different paint scheme in mind," Haid said, "but once Alex conveyed to them how strongly he wanted to run a Tim Richmond paint scheme, they jumped in."
Driver William Byron and crew chief Chad Knaus hatched the idea of going with a "Days of Thunder" tribute on their No. 24 car by carrying the green and gold City Chevrolet scheme used in the 1990 film. It helped that City Chevrolet remains one of team owner Rick Hendrick's biggest dealerships, and the car's sponsor for the race, Hendrick Autoguard, is a Hendrick-operated company.
Elliott's paint scheme on the No. 9 car this year was his idea: the blue and white colors that his father Bill ran in 1981, the last season in which he competed for the family-owned operation overseen by patriarch George Elliott. "So there's sentimentality and family relevance there for Chase's paint scheme," Haid said.
The drivers relish the prospect of coming up with new and different paint schemes, the teams appreciate the break from the 10-month grind, the sponsors find additional value, and Darlington has experienced a resurgence after once being in danger of becoming obsolete. The throwback theme is now a permanent part of Darlington's race weekend, and the official designation from NASCAR means no other track can copy it. Five years in, the challenge is to keep it going.
Past, present, future
It was one thing for 32 Cup Series cars to show up with retro or tribute paint schemes for Darlington's inaugural throwback weekend in 2016. It was quite another for 36 cars to participate in 2017. That's when officials with Darlington Raceway and ISC knew this was no novelty.
"We started recognizing that we needed to continue this as an annual tradition," Wile said. "It was something we knew was sustainable."
Although teams are not bound by the theme of each year's event, choosing a particular era helps add character to many of the small details that bring the weekend to life. One theme the track is considering for 2020 is the 1950s, Tharp said, which was the first decade of NASCAR. "We have ideas going out until the 2030s already, believe it or not," Sizemore, Darlington's senior director of consumer marketing, told Sports Business Journal.
"Somebody might say, 'You're eventually going to run out of eras.' That's kind of an open-ended statement, because you can always go back and revisit an era," Tharp said. "By that time, there will be a whole new cast of drivers, and maybe sponsors. So I feel like this has a very, very long lifespan we can continue to build upon."
For NASCAR, the throwback weekend has been a welcome boost, given that the sport has experienced dwindling ticket sales and television ratings since the retirement of top stars such as Tony Stewart, Dale Earnhardt Jr., and Gordon. But after hitting historic lows in 2018, TV numbers are beginning to slightly rise again — last weekend's race at Bristol was the 10th this season to see a ratings increase over the previous year, according to Sports Media Watch.
Darlington's recent TV ratings have been mixed; the 2015 throwback race on NBC pulled the best Labor Day number in eight years, while the 2017 race on NBC Sports Network was down 17 percent from the season before. But the throwback has unquestionably had a positive impact on Darlington's ticket sales, Tharp said.
"Our ticket sales for this year's event are trending exceptionally well, and we're up year over year," he said. "Saturday's crowd will be up, and we're working to have a capacity crowd for Sunday's race. The throwback weekend has delivered a great deal of energy and enthusiasm amongst our fans, and has been a real catalyst in driving our ticket sales in a positive way."
It might be making an impact in another way, too. With NASCAR's core audience growing older, the sport is desperate to attract younger fans. So imagine Wile's reaction in the days after the 2015 race, when he spotted young people wearing some of the retro merchandise sold during the event weekend.
"You think, maybe that drew them in? The goal of the platform is not only to celebrate the sport, but also try and capture a new audience like we're all trying to do," he said. "There's such a unique angle to Darlington, and everyone loves hearing the stories of the early years of NASCAR. That's how we got to this point, and it helps us tell the story to a new audience in a new way."
Nearly 2,000 college students will be in attendance at this year's race, Tharp added, and there will be plenty of chances to increase that number. "This is a concept that we want to keep going and going and going for as long as Darlington's here," he said. "And we feel like we can do that. It's the one weekend where the sport can come together and celebrate its past, present and future."
Contact David Caraviello at david@lowcountryeditorial.com