Poor Mick Foley.
The WWE Hall of Famer might be the king of the cheap pop, but he really had to fight for one Monday night on Raw.
A master of the mic, Foley appeared to struggle with a long-winded announcement of a new, and potentially meaningless, championship called the "24/7" title.
The live crowd in Albany, N.Y., reacted – not surprisingly – with a tepid response, some even booing the unveiling.
Foley acknowledged such on social media, but held out hope that the WWE Universe will eventually embrace the rehashed concept.
"Yes, I think the audience will begin enjoying the 24/7 aspect pretty quickly," tweeted Foley. "I just wish I had kicked it off with a better promo."
Even the unorthodox design of the green-strapped belt proved to be underwhelming.
One fan on Twitter described the belt as looking like "the logo of a bad diner."
"I'd be underwhelmed, too, if I had to watch the unveiling of the Green Lantern belt," quipped longtime fan Jamie Sanderson of Georgetown. "How do you think the wrestlers who were part of the skit felt? Bet they didn't envision chasing after that when they signed their contract."
"Sad times," echoed David Miller of Gainesville, Fla. "I could have designed something better on my 3D printer. Foley deserved better."
The flat response, however, wasn't all Foley's fault. The affable hardcore legend was merely the messenger.
"Not your fault Mick," posted Jesse O'Quinn of Hanahan. "People were expecting the hardcore championship, which this essentially is with a different name and look. People will come around. I loved the parallel of you being given the hardcore championship in the past and handing out the new one. Past and present."
Former WWE performer Elijah Burke said he watched the title announcement several times, but couldn't figure out why the crowd booed.
"Mick's promo was great, had passion and delivery was on point," he tweeted. "Even got in the classic 'cheap pop.' I wonder what made the crowd go sour?"
Foley suggested that the crowd might have been hoping for the return of the classic hardcore title. "Thanks for the compliment, but I felt like I came up pretty short on that promo. No one's fault but my own," he reiterated.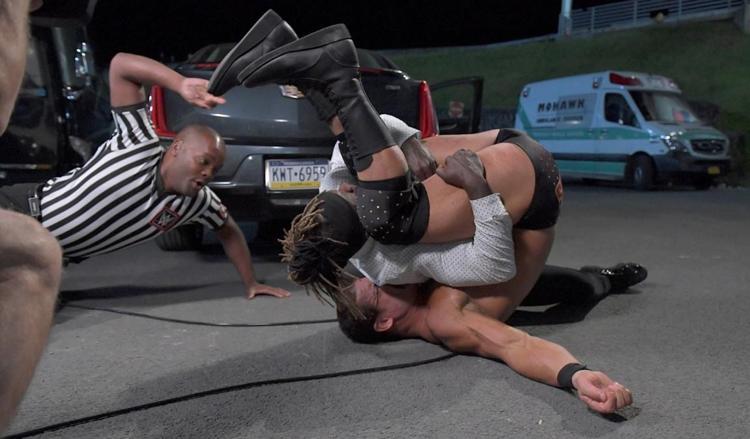 New belt, old rules
Foley's not used to hearing crickets, but the initial reaction of the audience obviously got him off stride.
Unfortunately Foley had little material to work with. The 24/7 title is basically a rehash of WWE's hardcore title, which was created in 1998 with Foley (as Mankind) as its inaugural champion. Over a four-year run, more than 50 WWE performers would claim the title.
The new 24/7 title has the same rules as the old hardcore title.
Basically a "falls count anywhere" title, which in its original iteration included parking garages, airports and even hotel rooms, the gimmick is targeted more at comedy relief than truly hardcore brawling. In other words, don't look for any crimson masks to appear on your screen anytime soon.
An early preview of the concept came when Foley dropped the title in the ring. A "championship scramble" erupted with a number of mid-carders battling for the belt. Titus O'Neil initially emerged victorious before being quickly pinned on the ramp by Bobby Roode, whose title reign didn't even make it through the end of Raw. He promptly dropped the title to R-Truth, who fled the arena in a car.
Expect more of these shenanigans every week as Foley explained that the action will begin the third hour of Raw.
The title, WWE's 11th main-roster championship, can be won and defended any time against anybody across all WWE and NXT rosters.
The "24/7 rule," a regulation stating that the title could be defended anywhere at any time as long as a referee was present, led to numerous title changes in short time periods during its first run (Raven ended up as a 27-time champ within the span of a couple years). The hardcore championship was discontinued in 2002 after more than running its course.
Nearly 20 years later, WWE is attempting to return the once-entertaining title to its former glory, but now in a more family-friendly PG era.
"Nothing more than a modern-day hardcore title," posted Rick Rourk of Charleston. "What would've been more interesting is a world television title and have that belt holder defend on both shows."
"That belt looks like a children's toy. While I understand that design is intended to help sell toys, WWE still needs to make the belt look prestigious enough to be worth owning in the eyes of a combatant," posted Tighe Bowers of Charleston.
"It's a fun gimmick." noted former ECW and WWE performer Justin Credible, "but when the commentators are making fun of everyone involved there is a problem already. It seems like they do a great job killing the gimmick before it starts."
"Could the title be any more ridiculous? I thought with him (Foley) it was going to be a hardcore title, especially when he was talking about what had been missing from Raw. Color!" chimed in Heidi Wooten of Hanahan.
"Should be sponsored by 7-11. Or Waffle House," joked Jack Hunter of Washington, D.C.
Jason Cofar of Charleston tweeted that the gimmick just makes the lesser-used mid-carders "look even more ridiculous."
"Can't get them involved in storylines so just going to have them run around chasing some cheap-looking strap. Awful. Why? What's the point?"
"How am I supposed to care about a new title if the only people interested in it are the ones you job out every week?" asked Brian Bohannon of Summerville.
Darryl Grandy of Pittsburgh is hopeful the comedy title will give some of the undercard talent, and some of the legitimately entertaining performers on the roster, added value.
"It gives a lot of the roster something to do … allows for some lower-tier creativity, and comedy, if you leave it to the performers. The first iteration of the 24/7 premise led to some fun and outside-the-box spots."
"Well if they weren't doing that, they wouldn't even be on TV to begin with," agreed O'Quinn. "I guess the logic is maximizing the bloated roster's usage. It is ridiculous, but hey, it's made me laugh so far. Way more than The Revival getting bullied that's for sure."
While it will provide filler for WWE's expansive programming each week, it's the quality and creativeness of the content that will ultimately determine whether the 24/7 title is a boom or a bust, or merely something in between.
Viewership freefall
Although the Raw rating saw a slight bump for last week's show, WWE TV numbers and live event attendance have declined since Wrestlemania.
"Raw couldn't get worse if they tried," former WWE star Del Wilkes posted on his Facebook account.
"It's not the writers, per se," opined Jamie Sanderson. "Vince has final decision and his filter is broken. He hasn't realized yet his time has come and gone. Holding on to what remains – like a lot do in the profession."
"I also think he operates with more caution now than in the past," Sanderson continued. "The risk doesn't outweigh the reward. He's protecting what he's earned rather than going with youth and risk them jeopardizing the fortune made. I think his mentality tells him he's protecting the longevity, but it's really costing him it.
"Either pull the trigger and let the youth fail or succeed. He's already made the decision to risk his own money on XFL. He should step back from control on WWE and let them run with it. Either it lasts 30 years or folds in five. Either way, the fans decide in the end.
"The fans feel their involvement and thoughts mean something for one reason. They bought in. It was when Vince presented Wrestlemania he sought the audience's buy-in. It's when the Attitude Era kicked off, he sought buy-in. When they got the F out (of WWF), he sought buy-in. Now, the impression is the audience is a nuisance and only gets answered to when they are deemed crybabies. It's WWE controlling the message, even in how they respond to fans. It solidifies the thought process for them. We got ours now, so just deal with what you get served."
One Twitter follower posted: "Double or Nothing is on Saturday and WWE has given us Brock as MITB (Money in the Bank) winner, an ugly new title and a PPV that's advertised as 'better than Wrestlemania' with no women and Goldberg vs. Undertaker as the main event."
The show has been painful to watch, writes Mark Hartley of Mount Pleasant. "I remember a promo that Ole Anderson did with Gordon Solie back in the NWA days. He said, 'We don't talk, we wrestle.' Maybe Vince should take his advice."
"The product is just too overexposed," wrote Adam Kaine of Novi, Mich. "When you have to book six to 10 hours a week of new in-ring action, nobody will get over. They killed the belt with that segment when all the lower-level talent was fighting over it. Not enough ECW-type talent to bring back the hardcore title. I am stumped with what they could do to make a three-hour watchable Raw. The only one that works is Raw after Wrestlemania."
"I am sure many checked the end dates of their current contracts. This recycling of bad ideas and storylines is smothering the product like a Rikishi stinkface," says Alex Keown of Bloomingdale, Ill.
Too many complaints from disgruntled fans, posted veteran wrestler and trainer Rip Rogers.
"Of course they know better … when wrestling is gone they can find something else to complain about. Bottom line … you like it, support it. You don't like it, don't watch. You can become an airchair QB or NFL GM."
Ashley Massaro fundraiser
Kudos to the women of WWE who are raising money for a college savings plan for the late Ashley Massaro's 19-year-old daughter Alexa.
The Squared Circle Sisters, a group of co-workers of Massaro, who recently passed away at the age of 39, are leading the charge to make sure their friend's daughter is financially looked after.
A GoFundMe account has been established, and all money will be entered into a New York state college savings program.
"We, the Squared Circle Sisters who had the amazing honor of working with Ashley Massaro in the WWE, have come together to honor Ashley's memory – and to create light and hope in the wake of tragedy," the campaign noted in a touching tribute.
"We all knew and loved Ashley and her beautiful spirit. Her smile radiated the entire locker room and arenas everywhere. We also got to know Ashley's incredible daughter Alexa. As our way to show Lexi she is not alone, we have started this GoFundMe campaign to unite us all and show Lexi and her family our love. Every dollar raised will go into an official New York State 529 college savings plan (technical schools, vocational schools and career colleges all included) to provide for Lexi's continued education – which would have made Ashley so happy.
"We invite you to please watch the video we put together and join us by contributing to the cause. Let's keep Ashley's memory alive now and forever!! Ashley, thank you for touching our souls and being you! Lexi, please stay strong and know you can reach out to any of us for support! YOU ARE NOT ALONE! WE LOVE YOU!! – Your Squared Circle Sisters"
The group is composed of such former and current stars as Trish Stratus, Lilian Garcia, Gail Kim, Lita, Lisa Marie Varon, Torrie Wilson, Mickie James, Shelly Martinez, Candice Michelle and Maria Kanellis.
Details can be found at https://www.gofundme.com/AshleyMassarosDaughterEducationalFund
OSCW Caged Carnage
Old School Championship Wrestling will return to the Hanahan Rec Center on June 23 with its Caged Carnage show.
ECW hardcore icon Tommy Dreamer will battle former WWE star Gangrel in the main event.
Also scheduled to appear are John Skyler, Caleb Konley, Brandon Paradise, Francisco Ciatso, Stormie Lee, Savannah Evans, Logan Creed, The Ugly Ducklings, Drew Adler, Harlem Bravado, Tracer X, Kevin Phoenix, E.N.D, Josh Powers, The Washington Bullets, James Carver and more.
Bell time is 5 p.m. Doors open at 4:30.
Adult admission (cash at door) is $12; kids under 12 $7. A portion of the ticket sales will go directly to I Got Legs, a nonprofit organization dedicated to re-enabling people with physical challenges by providing opportunities, programs and grants that unlock an improved quality of life.
For more information, visit www.oscwonline.com or call 843-743-4800.
Reach Mike Mooneyham at bymikemooneyham@gmail.com, or follow him on Twitter at @ByMikeMooneyham and on Facebook at Facebook.com/MikeMooneyham. His newly released book — "Final Bell" — is now available at https://evepostbooks.com.