Mark Calaway rarely said a word during one of the greatest careers in pro wrestling history.
But now, three decades after making his WWE debut as The Undertaker, Calaway has a lot to say, and he's doing it on a new stage and in front of a new audience.
The 58-year-old Calaway has been taking his "Undertaker 1 deadMAN Show" to select venues across the country, sharing never-before-heard stories from his Hall of Fame career and taking questions from fans in attendance.
Calaway, who retired in 2020, has sold out venues in Nashville, Philadelphia, Boston and San Antonio, some in conjunction with WWE's premium live events in those cities, since debuting his show last summer.
His final bout, a "Boneyard" match with AJ Styles at Wrestlemania 36 in 2020, was Taker's "perfect ending" to his career, "burying" his opponent and riding away on a motorcycle. He was inducted into the WWE Hall of Fame two years later.
While advancing age, big-man bumps, a bad hip and countless surgeries took a toll on his physical abilities, the aura surrounding the larger-than-life character never faded.
Now Calaway has the opportunity to embrace life beyond his iconic character.
Breaking character
Calaway shared his feelings about this new phase of his career in a recent interview with Adrian Hernandez on Audacy's The Bet 98.5 in Las Vegas.
Saying goodbye to wrestling was difficult, said the Texas native.
"That character was such an important part of my life and career. Just being not able to perform again — that's my passion," said Calaway. "In my mind and heart, there's nothing that I'd rather do (than) be in the ring and performing. That's who I am and what I did for 30-plus years, even long before WWE.
"It's been a difficult transition for me, but I understand … I had a great run. My time is done, and it is time to do something different."
Calaway's one-man show has afforded him the opportunity to do something he never had the chance to do during his long run as The Undertaker. And that's to break character and show more of the man behind the persona.
"I didn't say much for those 30-plus years outside the character. If it didn't end in 'Rest in Peace,' you didn't hear much from me," said Calaway. "So now what we're doing with this 1 deadMAN show is … it's an accumulation of a lot of things.
"You get kind of a career perspective, you get my thoughts on different things that have happened through the industry, things that have happened to me. But you hear Mark Calaway's version of it, not The Undertaker's version of it."
The show, Calaway cautions, is adult-oriented.
"This has been a really cool transition because I'm still out there in front of my fan base, I'm giving them something new, it's putting me out there but I haven't woken up the next week sore one time. I haven't taken any bumps yet," he said. "And look, I'm going to tell people again, I'm new to this, I'm new to pulling back the curtain, but this is an adult-oriented show. I cuss, I carry on, I interact.
"When I open the floor up and start answering questions from the audience, which is part of the show, you never know what's going to happen. It comes completely off the rails sometimes, because you never know what people are going to ask you. And it's not Undertaker talking, it's Mark Calaway, and Mark Calaway ain't afraid to drop an F-bomb here and there. So just be cautious if you plan on bringing your kids."
'Last of kayfabers'
While this new experience has been "freeing" to Calaway after years of vigorously protecting his iconic character, it's also been difficult and he struggles with that to this day. Still, he's not "pulling any punches," he says.
"It's been cool, and it's been a struggle too, because I was notoriously the last of the kayfabers. I was the last to protect the business. That was so instilled in me and my character," he said. "My Mark Calaway character was to protect the business at all costs … It was still that old-school dinosaur in me saying protect the business, so it was a struggle for me a lot of times."
Gradually, though, Calaway has become more comfortable in dealing with his audiences. He's not afraid to talk about the highs and lows of his amazing career. He is now excited to talk about his life, in stark contrast to the mysterious character he portrayed in the ring.
"There's still that inner protective sense in me, but it's coming down, and I don't pull any punches," he said. "It usually comes out. It's been fun to give people my perspectives and my thoughts on different things that they've never heard, and to let them know of some of the things that I've been through, my struggles. We cover all of this stuff in our show
"I've been extremely blessed, but there's been a lot of struggles, there's been a lot of stumbles, a lot of things that happened that I had to learn from and move forward with."
Hates social media
Calaway also made the deep dive into social media after a good friend convinced him to join, telling him he was "missing the boat" on post-wrestling opportunities.
He admits it has been tough making the adjustment.
"It's extremely difficult," he said. "I'm a dinosaur. I hate social media. I know I'm on it now. I finally broke down."
Calaway said he started using social media in 2018.
"I can't stand it. If I'm by myself, I try to be as accommodating as I can to my fans. Early on I was always dressed in black. Even when I didn't have my Undertaker garb on, there was no doubt who I was," he said. "I projected, 'That dude is not friendly.' I tried to minimize the interactions early on."
"Obviously I've peeled the curtain back," he added. "As long as people are respectful, I try to accommodate them as best as I can if I'm by myself."
Even when he's with his wife, former WWE star Michelle McCool, Calaway says the couple is as accommodating as they can be.
But when he's with his kids at various sporting events, he's no longer fair game.
"I appreciate you being a fan, but I'm not Undertaker. I'm Dad this weekend, and hopefully you understand that," he said. "This is about my kids. I've been on the road for all these years. I've missed everything. I'm not missing this.
"Ninety-five percent of the people really do understand that if you approach it that way. They're respectful and they understand. Occasionally you get somebody that is just so entitled … you still have the jokers that are going to film you and take pictures and put it out. It sucks, but it comes with the territory, and you have to accept that."
The dark side
Calaway said in an interview with Fox Sports last year that he had always been enthralled by "mystery and scare," and was even fascinated by death.
Calaway recalled hanging out in a mortuary as early as kindergarten.
"There was a time where I had family members that actually worked in a funeral home, so I was around caskets, and I was in embalming rooms," he said. "Little did I know, at that point, where my career and future was gonna go."
With his mysterious, menacing character part of wrestling history, Calaway realizes that "The Deadman" is dead and buried.
"Now that people know that I can talk and that I have actual thoughts that aren't revolved around digging holes and taking souls, I think that character will live forever in our memory, but I don't think that I can bring it back," he said in an interview with BT Sport.
Local mat action
Old School Championship Wrestling returns to the beach on April 16 with its Sand 'N Slams show at The Windjammer on the Isle of Palms.
Among those scheduled to appear include TJ Boss, Revolt (Kaleb Konley and Zane Riley), Gangrel, Lodi, Drew Adler, Facade, Rob Killjoy, Alexander Moss, CIA (El Oso Blanco and Francisco Ciatso), Stuart Snodgrass, Austin Jordan, Steven Hunter, Zuka King, The Stew Crew, Chase Emery, Dani Mo, Kaitlyn Marie, Lexi Steel, Brittney Jade, Sadie Moss and more.
Bell time is 4 p.m. Doors open at 3.
Adult admission: (cash at door) is $15; kids 12 and under $10. Advance tickets are available at www.THE-WINDJAMMER.COM. For more information, visit www.oscwonline.com or call (843) 743-4800.
WWE hits town
WWE is in town with a "Supershow" on May 14 at the North Charleston Coliseum.
The lineup includes Cody Rhodes, Seth Rollins, Charlotte Flair, Bianca Belair, Sami Zayn, Kevin Owens, The Usos, Austin Theory and Drew McIntyre.
Bell time is 5 p.m. Doors open at 4.
Tickets start at $20.
Reach Mike Mooneyham at bymikemooneyham@gmail.com, or follow him on Twitter at @ByMikeMooneyham and on Facebook at Facebook.com/MikeMooneyham. His latest book — "Final Bell" — is now available at https://evepostbooks.com and on Amazon.com
Did you know …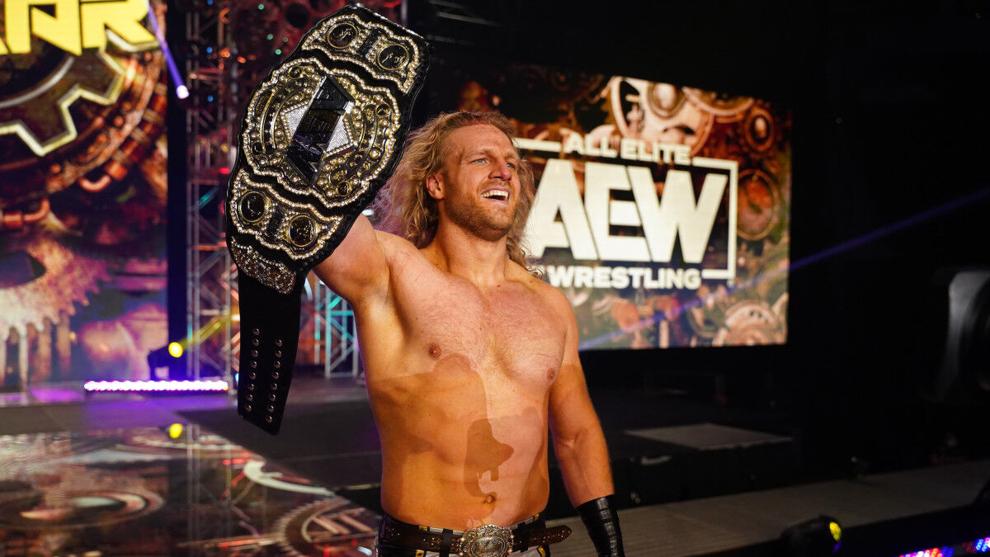 AWE star Hangman Adam Page, whose real name is Stephen Woltz, is a graduate of Virginia Tech, where he earned a bachelor's degree in communications in two years. He also worked as a full-time high school teacher, teaching journalism and graphic design, for five years while wrestling at the same time.
Page started his pro wrestling training during high school, and while in college received advanced instruction from mat legend Jimmy Valiant at Boogie's Wrestling Camp in Shawsville, Va. While Valiant was a major star from an earlier generation, Page had heard stories about his illustrious career.
"I knew him more from history," Page said in a 2016 interview. "He's an awesome guy, I love Jimmy. The Jimmy that I know is the Jimmy running his school now. He had all kinds of characters in his school, and he didn't turn anyone down. He had a very colorful cast of people there. It was a good learning opportunity to be up there with him."
On this date …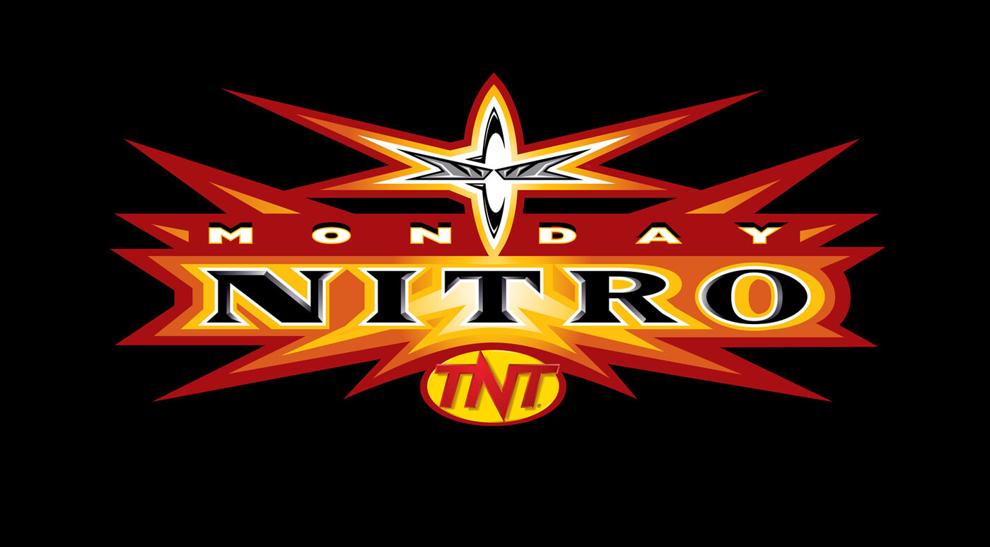 Twenty-two years ago today on this date (March 26, 2001): WCW aired the 288th and final edition of Monday Nitro. Held in Panama City, Fla., the show marked the first and only simulcast between Nitro and former competitor WWF Raw.
The last episode of Nitro was billed as "Night of Champions" in which every active WCW title would be on the line. The show also featured a couple of non-title matches, including a main event between WCW icons Sting and Ric Flair.
Photo of the Week