WWE is playing a dangerous game with its fans.
Only seven weeks away from a Wrestlemania main event that looms to be one of its most anticipated in recent years, Vince McMahon and company are toying with the emotions of a rabid fan base.
That sizable following consists of an ever-growing legion of Becky Lynch supporters who want to see their favorite crowned as Raw women's champion on the company's biggest stage April 7 at MetLife Stadium in East Rutherford, N.J.
What the WWE head honcho did last Monday night on Raw — suspending Lynch for 60 days, effectively taking away her Wrestlemania shot and giving her spot to Charlotte Flair — was designed to clear the path for an expected three-way showdown that now appears to be an almost certainty.
Quite naturally the move created controversy and stirred debate. The "suspension" lasts until five days after Wrestlemania 35.
Once this part of the storyline runs its course, the popular Royal Rumble winner will surely be back in the Wrestlemania main event picture.
Lynch — the fiery Irish "Lass Kicker" — is currently the hottest property in WWE. The company has been fortunate enough to capture lightning in a bottle, and that's a rare commodity these days.
There's no way Lynch won't be at Wrestlemania, but how WWE plays its cards over the next few weeks leading to the big show could determine just how hot a commodity they will have post-Mania.
The past couple weeks of WWE booking has done no favors for Lynch. First she refused orders to see a company doctor in order to get medical clearance for a storyline injury, and later she refused to apologize for laying her hands on Stephanie McMahon and Triple H, further jeopardizing her Wrestlemania match with Ronda Rousey.
Lynch, though, was put in an uncomfortable spot. Refusing to apologize would seem petty in light of the magnitude of the match; apologizing to WWE's authority figures might have given the appearance of being weak.
Last week on Raw, after Lynch finally apologized to Stephanie and Triple H, Vince McMahon showed up and suspended his biggest star for 60 days, at the same time selecting Charlotte Flair to take her place.
Sound familiar? It should. But it also flies in the face of the McMahon family's recent promise of change and listening to the fans.
One WWE fan took to Twitter to express his displeasure.
"Not too long ago the McMahons said that they were going to start listening to us. Tonight you said to Becky Lynch: WWE 'don't listen to them.' If that's best for business, then WWE's business is going to go the way of WCW."
WWE needs to proceed with caution, being careful to allow the fans to steer the course as they cheer on the hottest act in the company.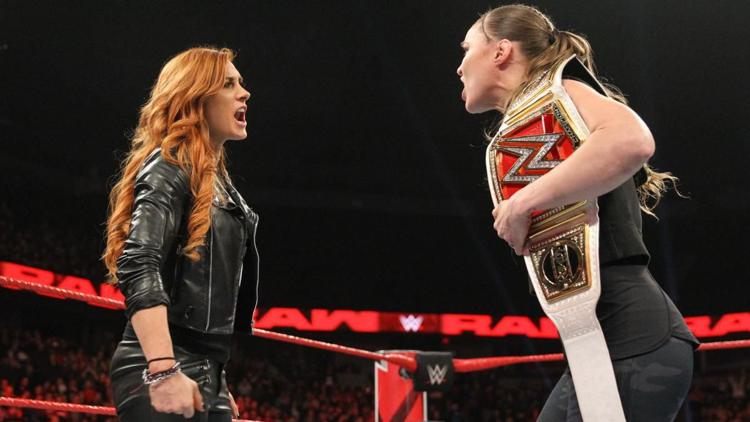 Muddying the waters
Lynch needs a victory at Wrestlemania to properly ensure her coronation and officially validate her position as champion. Anything less, any creative misstep along the way, could halt her momentum.
As was recently discussed in this space, turning her highly anticipated showdown with Rousey into a three-way only muddies the waters and diminishes the impact of Lynch winning a one-on-one contest against the self-proclaimed "Baddest Woman on the Planet."
That's certainly not a knock on Charlotte Flair. She's the most talented performer in the women's division. Her ceiling is as high as anyone on the entire roster. She's one of the best on the mic, not surprising considering her bloodline. Combined with her ring skills and innate athletic ability, she truly is the total package.
A seven-time champion, she has been a part of most of the history-making moments in the women's revolution.
Back in her natural element as a full-fledged heel, Charlotte shines brightest, and she has been showing it every week on TV.
More importantly, she has earned the right to shine at Wrestlemania, and in the main event.
But this isn't the time.
A big-money match that has been built up since November, Lynch vs. Rousey has created a buzz that hasn't been seen in WWE circles for quite some time.
Longtime fan Joe Dobrowski theorizes that perhaps a lack of confidence in Lynch and Rousey to carry a Wrestlemania main event on their own could be a reason for inserting Charlotte into a three-way bout.
"Unfortunately we are at the mercy of the story, but this (could be) a lack of confidence in Becky and/or Ronda that WWE cannot market the match they feel without the Charlotte hook," says Dobrowski.
"It's a compliment to Charlotte but also a diss to Becky. Ronda is the one that's bringing the mainstream attention to this. But it's Becky's personality and anti-hero, buck-the-establishment character that has created the collision course. Last night did a ton of damage to that. It muddied the waters."
"Charlotte is the best in the business, but Becky is hot as a pistol right now and Becky vs. Ronda would be money," writes Tom Sowell of St. Stephen. "I see a lot of the fan boys hating on Ronda, but I think she is must-see TV. Much as I dislike triple threat matches, this is the way I see this playing out and that is probably best for business."
"Charlotte is possibly the best on the roster, man or woman. She should make claim to being 'The Man' instead of Becky," posts Tony Stillinger of Melbourne Beach, Fla.
WWE Hall of Famer Booker T (Booker Huffman) says Charlotte should be removed from the Wrestlemania match against Rousey because he believes this is Lynch's time to shine.
"I really think, Charlotte Flair, come on, her legacy is going to be cemented throughout the years. That's just a given.
"But right now, I honestly, truly think that it's Becky Lynch's time and Becky Lynch needs this more than Charlotte Flair, I think," Booker opined on his "Heated Conversations" podcast. "Becky Lynch needs this spotlight to actually go out and continue to do business."
Reader Mike Leoci of Clarington, Ontario, predicts WWE could get Lynch back on board during the Feb. 25th edition of Raw.
"I can see why Charlotte was added as she is a natural heel and Vince didn't want 75,000-plus booing Rousey, so adding Charlotte takes heat off Rousey and puts it on Flair. I sense when they do Ric Flair's 70th birthday bash on Raw on Feb. 25, Becky is going to attack Naitch and threaten to 'break' Flair's arm if she doesn't get her title shot back. It is almost too obvious that this is how it will happen."
"This is a course correction deal because Becky got too hot," suggests Dobrowski. "Face it, we both know the long term was Charlotte vs. Ronda, but after the Summer Slam errors and the pure avalanche Becky started, they couldn't stick to that plan or they risked getting matches sabotaged or hijacked by the audience and see ratings even tank further if possible."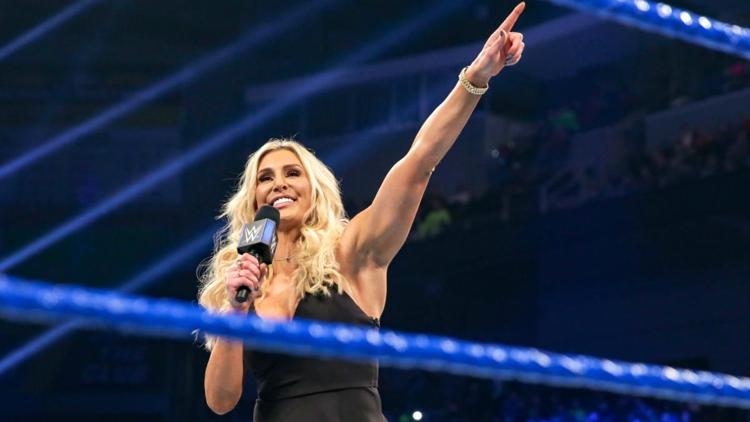 Three-way solution
"I have always despised triple threat matches. Let me know when they have them in UFC or boxing," writes Ed Stylc of Perry Hall, Md. "There is no believability in them and it's all about spots, adding an extra person to the show, laziness and just plain copping out. It's even worse when used for title matches."
While a three-way match is far from ideal in determining a champion (a titleholder can lose his/her title without being the one dropping the fall), there is a way to include Charlotte in the bout while still having Lynch and Rousey settle their issue and produce a winner.
In a three-way elimination match, if Charlotte were to be eliminated first, it would effectively become a singles showdown at that point.
WWE Hall of Famer Bully Ray (Mark LoMonaco) recently offered that possible solution on his "Busted Open" radio show.
"You make it a three-way and you make it an elimination. Becky pins Charlotte, then she goes one-on-one with Ronda and then she pins Ronda. If you're going to make somebody, you make them and that makes Becky Lynch."
"Charlotte's presence, says the nine-time tag-team champion, "could only enhance Lynch's image."
"Having Charlotte in the match would ultimately make Becky a bigger star. If Becky Lynch pins Charlotte and makes Ronda tap, how much bigger can you get?"
Eddie Cheslock of Henrico, Va., predicts a finish in a conventional Triple Threat match that would give "The Man" the title without the champ doing the job.
"Becky will pin Charlotte so Ronda doesn't lose."
Jared Shapiro of Charleston agrees.
"I think this keeps some heat off Ronda since she's getting booed and gives Becky someone else to pin to help protect Ronda's streak. That being said, there's still somehow two PPVs between now and Mania, and a simple Becky vs. Charlotte match can remove one of them from the match."
A decisive victory at sports entertainment's biggest show of the year could put Becky Lynch on the path to becoming one of WWE's all-time greats. And strategically adding Charlotte to the match could work to make Becky's ultimate victory even sweeter.
Whatever it decides, WWE should not be trying to recreate Austin vs. Vince. Becky Lynch has emerged as a star not through the machinations of the McMahon family, but rather through a grassroots movement that has continued to grow and support a new star of their choosing.
Morrison tops OSCW show
The husband and wife tandem of John Morrison and Taya Valkyrie will make their Old School Championship Wrestling debuts on Feb. 24 at the Hanahan Rec Complex as OSCW marks its 13th anniversary.
Morrison currently holds the Impact Wrestling crown as Johnny Impact, a title he won last month in Nashville, while Valkyrie won Impact's Knockouts title on the same show by defeating Tessa Blanchard.
Morrison will lock horns with Francisco Ciatso, while Valkyrie will meet Samantha Starr.
The show will also include such performers as Suicide, Cheerleader Melissa, John Skyler, Tracer X, Stormie Lee, Savannah Evans, Brandon Paradise and others.
For more information, call 843-743-4800 or visit www.oscwonline.com.
Reach Mike Mooneyham at bymikemooneyham@gmail.com, or follow him on Twitter at @ByMikeMooneyham and on Facebook at Facebook.com/MikeMooneyham.