One month away from pro wrestling's biggest event of the year, WWE is ramping up the action with some red-hot angles heading into Wrestlemania.
And no storyline is bigger than the one involving Ronda Rousey, Becky Lynch and Charlotte Flair. Despite the circuitous, clumsy and convoluted route WWE has taken to achieve its goal of a Triple Threat match, the historical import of the contest cannot be overstated.
Just a few short years ago the notion of women headlining a major WWE event, much less a Wrestlemania, would have been unthinkable. But on April 7 at MetLife Stadium in East Rutherford, N.J., three of the company's biggest stars are poised to put an exclamation point on WWE's Women's Revolution.
While former UFC superstar Rousey has been criticized for her sometimes awkward, disjointed promos in the ring, increasingly drawing the ire of fans who haven't warmed up to her the way the WWE brain trust had envisioned, she seemed to turn a corner last week when the real Ronda Rousey emerged. That is, the Ronda Rousey who turned full-fledged heel by telling the WWE Universe that she wasn't their "dancing monkey" anymore.
Keep in mind, though, that "The Baddest Woman on the Planet" is the highest-paid female athlete in the company, reportedly raking in a $1.5 million base salary. By embracing her inner heel, perhaps it will be more palatable to handle defeat, which is likely at Wrestlemania, although the inclusion of Charlotte could make the finish a little more unpredictable.
Although her WWE contract doesn't expire until April 2021, the 32-year-old Rousey is expected to take some time off for family immediately following Wrestlemania.
"The thing is I love this job, I really love this job, but I don't need it at all, not the least little bit," she recently said on her YouTube vlog.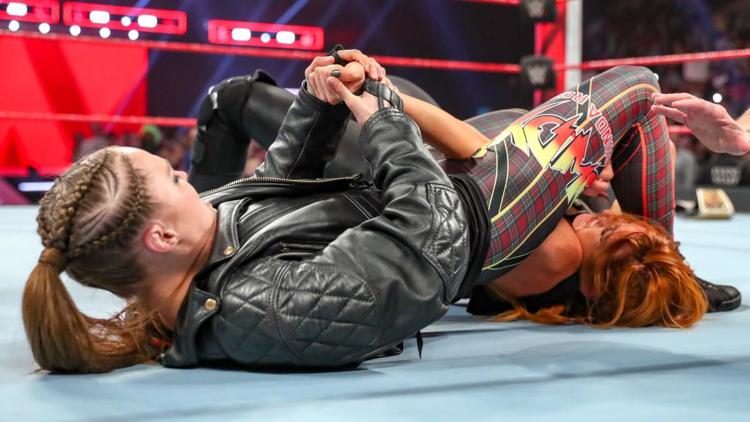 If she truly is taking a break from WWE, at least for an unspecified duration, it won't be without leaving behind a record number of kayfabe-breaking and obscenity-laced tweets. "I'm going out there and doing whatever the hell I want," she said in one of her more sedate comments.
WWE has shown other signs of creative improvement in recent weeks. Whether that has been the byproduct of closing in on its biggest show of the year, or making some changes in the inner sanctum of its planning room, remains to be seen. Some subtle and not-so-subtle changes have been detectible in the overall direction of the product, with some giving credit to Bruce Prichard, who was recently rehired by WWE as a Senior Vice President on the creative staff, along with added input from Paul Heyman. Former Impact Wrestling owner Jeff Jarrett was officially added to the creative team last week.
Also blurring the line between work and shoot was WWE exec and 14-time world champion Triple H, who seemed to reach deep down into his old-school roots as he delivered a compelling money promo last Monday night on Raw.
Accepting former Evolution stablemate Batista's challenge from the previous week, "The Game" combined equal parts emotion and realism to add big-time heat to an already simmering storyline that greatly benefits from having Ric Flair as part of it.
Addressing Flair's beatdown on Raw the previous week, Triple H called Batista a quitter and talked about Richard Fliehr the person, not Ric Flair the man. He even went so far to mention Flair's late son, Reid, and got choked up speaking about how he was afraid that they lost the Nature Boy every time his phone rang during Flair's near-death health scare in 2017.
His passionate words resonated with the Philly audience, and most likely with many viewers as well.
King Kong Bundy
The wrestling world is mourning the loss of the inimitable King Kong Bundy, who passed away on Monday at the age of 61.
Bundy was remembered by fans and colleagues alike as a larger-than-life character who left behind an indelible mark in the wrestling business.
A monster heel billed at 6-4 and 458 pounds, the intimidating Bundy was a worthy challenger and ideal nemesis for superhero champions such as Hulk Hogan during the 1980s.
"King Kong Bundy became a bigger household name than he was a wrestling star," wrote mat pundit Jim Valley. "The look, the snarl, the name. The quintessential Hulk Hogan opponent."
It was just such an opponent as the colossal Bundy, positioned as an invincible monster heel who crushed the good guys, that helped push Hulkamania into the sports entertainment stratosphere.
It was also against Hogan that Bundy, whose real name was Christopher Alan Pallies, captured the eyes of the wrestling world when he challenged the Hulkster for the WWF world title in 1986 in a steel cage match in the main event at Wrestlemania II in Los Angeles.
The next year, at Wrestlemania 3 at the Pontiac Silverdome in suburban Detroit, the massive Bundy slammed legendary midget performer Little Beaver (Lionel Giroux) and dropped an elbow on him as ringside commentator and future governor Jesse "The Body" Ventura yelled, "Smash him, Bundy! Smash him, Bundy!"
The 4-foot-4, 60-pound Little Beaver had annoyed Bundy throughout the match, using his moccasin to smack the big man in the head. But before Bundy could perform his "Avalanche" splash on the diminutive matman, fellow midget performers Haiti Kid, Little Tokyo and Lord Littlebrook rushed to the ring and dragged their colleague to safety.
Suffering a serious back injury, at the age of 52, it would be Little Beaver's last ring appearance after four decades in the business. He died on Dec. 4, 1995, of chronic emphysema.
In a 1998 interview Bundy said he hoped that he wasn't responsible for Giroux's early death, saying he wouldn't want that on his conscience.
Once jokingly referred to as "a walking condominium" by WWE Hall of Famer Gorilla Monsoon, the scowling goliath made fans take notice when he would demand a five count from the referee, instead of the customary three, when pinning his opponents. It was a gimmick Bundy started using in the Oklahoma-based Mid-South promotion, where announcer Jim Ross pitched the idea to territory owner Bill Watts, and one that would later draw great heat in the WWF.
Bundy would return to the WWF (now WWE) in 1994 as a member of Ted DiBiase's Million Dollar Corporation, but would fall to The Undertaker at Wrestlemania 11 in 1995.
"RIP King Kong Bundy, master of the avalanche and the five-count. The man who beat S.D. Jones in eight seconds at Wrestlemania I, main-evented against Hulk Hogan at Wrestlemania II, and sat on a midget at Wrestlemania III. I'd call that one hell of a run," posted one fan.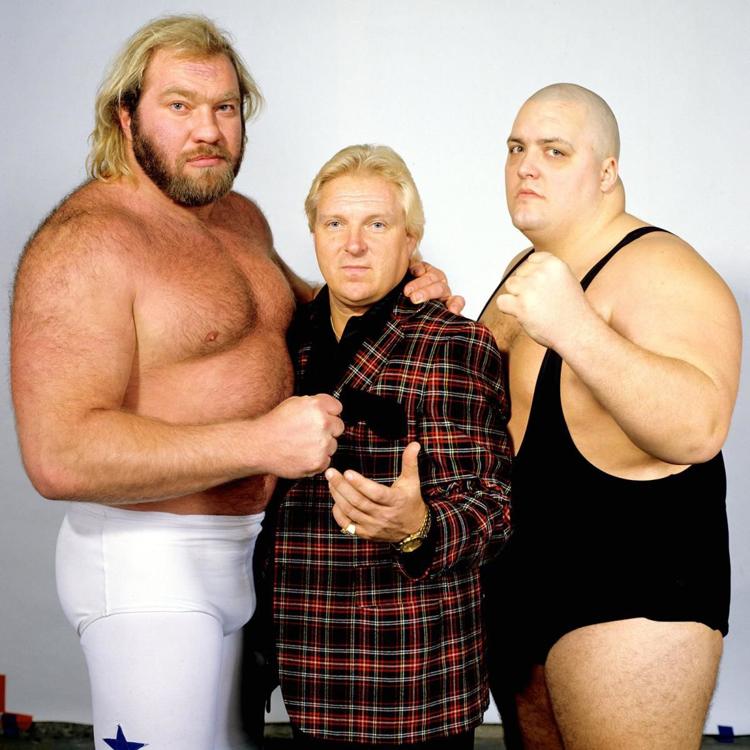 Charismatic giant
John Smith was one of those fans who shared fond memories of Bundy. Following a Bundy squash match in North Charleston during the early '90s, Smith recalled making eye contact with the big man.
"They were filming and Bundy just squashed someone and was walking back to the lockers," Smith recounted. "A cameraman who was walking backwards stooped down, filming Bundy and making him look bigger. Bundy looks me dead in the eye grimacing. Shocked and not knowing what to do, I looked him in the eye and said, 'I stands all I could stands till I can't stands anymore!'
"I caught him by surprise and he was doing his best not to crack up. His top lip was quivering and my wife laughed and said, 'Did you see what you did to him?' The rest of the show was downhill from there because every wrestler thereafter harassed me. The Bushwhackers headlocked me, Val Venus kept calling me baldy, Sid made faces, even Bret Hart cut his eyes at me as if waiting for me to say something (Sid intimidated me so I left him alone). It was great. I will always remember Bundy for making my evening that night. Bundy got it. Even as a heel, he was having fun. Bundy was too cool."
That was Bundy. Resembling a giant bowling ball with his shaved head and black ring outfit, he was half monster heel, half comic book figure. Loud and obnoxious with a menacing in-ring presence, but always charming and armed with a sense of humor outside of the squared circle.
"As clever and witty as he was immense," one colleague said of Bundy.
Those who crossed paths with him remembered the charismatic giant as a gentleman and consummate professional.
"He was so cool to me when I walked in that WWE dressing room as an absolute nobody in 1986," tweeted WWE Hall of Famer Mick Foley.
Bundy worked sparingly for a number of independent promotions following his last WWF stint, with his final recorded match taking place in 2007.
"Bundy was the king of independent wrestling, topping cards all over the country," noted longtime New England Championship Wrestling promoter Sheldon Goldberg. "If you wrestled indy shows in that period, you probably shared a locker room with him. Like the late Jimmy Snuka, there is a generation of wrestlers for whom Bundy was the first big star they were on a card with. His role in establishing independent wrestling can't be understated. On top of all that, he was a genuine good guy."
Bundy would also find work appearing in various films and commercials, playing two different roles on long-running TV sitcom "Married with Children" and in Richard Pryor's "Moving."
The Bundys of "Married with Children" fame were so named because series creators Ron Leavitt and Michael G. Moye were big fans, and Bundy was brought in to play the brother of Peggy Bundy in a memorable 1987 episode.
The New Jersey native was an accomplished amateur who was trained by veteran Larry Sharp in his home state, breaking into the pro ranks in 1981 using the ring name Chris Canyon. He was given the moniker Big Daddy Bundy while working for Fritz Von Erich's World Class promotion in Texas the following year. It was there he shaved his head and defeated the aging Von Erich in a retirement match.
But he would never again reach the heights of acclaim that he had enjoyed while battling superstars like Hogan and Andre The Giant during the early days of Wrestlemania.
Bundy was part of a 2016 class-action lawsuit filed against WWE charging that wrestlers had received neurological damage from their work and had not been properly treated. The case, filed by 60 former wrestlers, was dismissed by a federal judge.
Bundy, who had slimmed down in recent years but was dealing with multiple health issues, died of undisclosed causes. He was planning to appear next month at WrestleCon in New York City.
Reach Mike Mooneyham at bymikemooneyham@gmail.com, or follow him on Twitter at @ByMikeMooneyham and on Facebook at Facebook.com/MikeMooneyham.