Twenty years ago it could have been a marquee matchup worthy of a Wrestlemania main event.
Ten years ago it could have been an intriguing showdown between two iconic superstars whose best years were behind them.
But in 2019, the one word to best describe Bill Goldberg vs. The Undertaker is disappointing.
A sloppy bout plagued by mistakes and botched spots, it was the main event of a show billed as Super Showdown that was anything but. Few memorable moments or highlight-reel footage; just two icons lumbering through a cringe-worthy match neither would want to remember as their last.
That the first-ever one-on-one encounter between the two titans of the mat would be held 7,000 miles away at the King Abdullah International Stadium in Jeddah, Saudi Arabia, was unsettling in itself. But even had the match been held at Madison Square Garden, the end result most likely would have been the same. It was destined to fail.
With 106 years between the two legendary performers, expectations for a classic match were on the low end of the spectrum. It was ill-advised to begin with, this spectacle of two part-time legends well past their prime, working a match in stifling 100-degree heat, in an oppressive, far-away kingdom that preaches 21st-century reform but practices brutality of the Dark Ages.
Sloppy and dangerous
The bout started fast but fell apart early when Goldberg, already enshrined in the company's Hall of Fame, knocked himself out when he inadvertently slammed his head into the ringpost. Valiantly attempting to finish the bout, considering the magnitude of the event, the bloodied grappler visibly struggled the rest of the way.
Fortunately both escaped serious injury following clumsy attempts at executing their respective signature Jackhammer and Tombstone Piledriver finishers.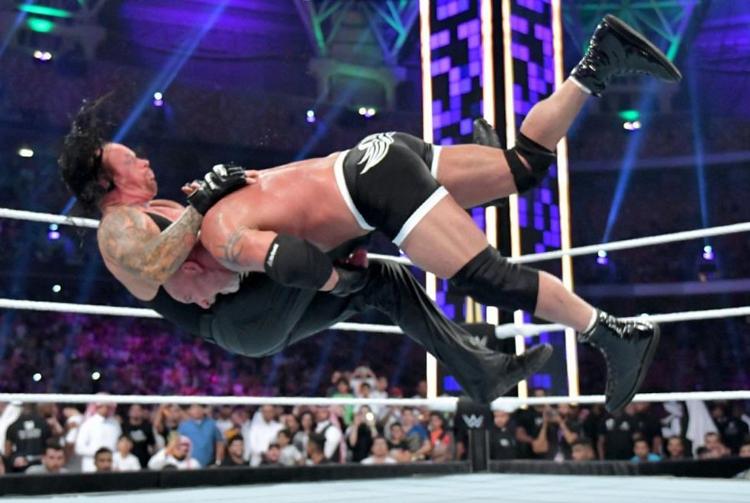 A poorly executed chokeslam by The Undertaker, who struggled to get the 275-pound Goldberg off his feet, put an anti-climactic but merciful ending to the nine-minute match.
Goldberg, who collapsed at ringside after the bout, not surprisingly sustained a concussion, according to reports, which he later said impacted his performance.
WWE Hall of Famer Superstar Billy Graham (Wayne Coleman) commented that he was glad Goldberg didn't suffer a more serious injury.
"I am happy for Goldberg that he will be able to spend that nice payday in a standing, upright position and not in a wheelchair paralyzed from the neck down," Graham posted on social media.
"I would never tell The Undertaker when to retire, but I certainly would not want to be The Undertaker's next victim. Yeah, I know it was about 100 degrees in the ring, so don't give me that excuse. The simple fact is The Undertaker didn't have control of Goldberg and dropped him on his head. Lucky for Goldberg he didn't fly back to the good 'ol USA strapped down on a gurney."
While neither were pleased with their performance, Goldberg later apologized for the disappointing showing.
"Knocked myself out and thought I could finish," the one-time face of WCW posted on Twitter. "Love my fans ... but let u down. Everyone else that found 'pleasure' ... hope ur happy."
Needless to say, social media was scathing in its appraisal.
"Embarrassing, depressing and scary to watch" was one of the typical responses from fans.
"Long-awaited, but way too late" summed it up succinctly.
All about the Benjamins
Goldberg's previous WWE run ended at Wrestlemania 33 in 2017 when he lost the Universal title to Brock Lesnar in a five-minute match.
Most fans had speculated that he would be through after coming back to win the Universal title following a 13-year retirement.
The Undertaker (Mark Calaway), who this year missed his first Wrestlemania in two decades, apparently had his own misgivings going into the match.
Pro Wrestling Sheet reported that Dave Bautista jokingly tried to talk him out of the bout the day of the show. The 50-year-old Bautista (aka Batista) had worked a match with the 49-year-old Triple H (Paul Levesque) two months earlier at Wrestlemania 35.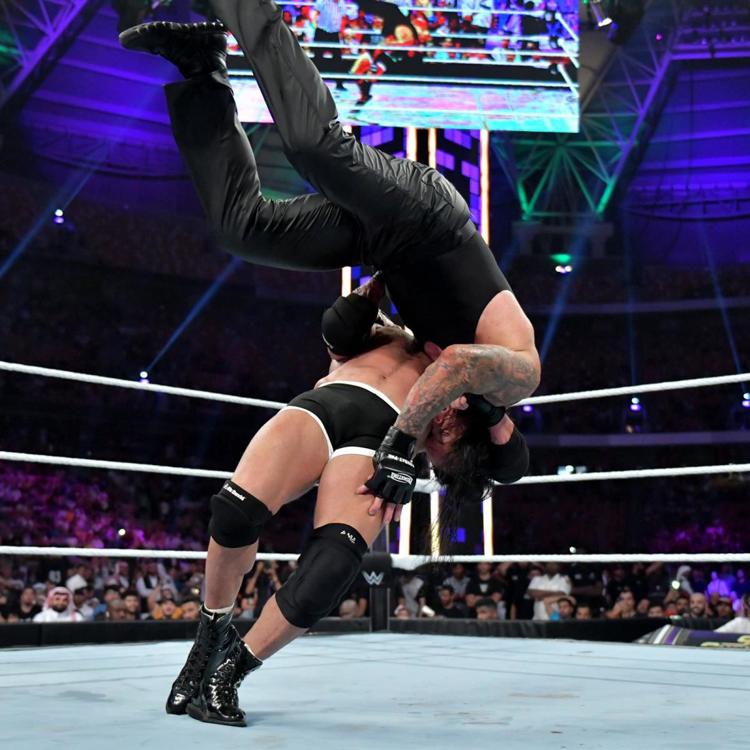 "I called him Friday and I said, 'Hey man, is there any way I can talk you out of this?' and he just started laughing. He goes, 'You know, when they talked to me about it a while back it sounded good, but I'm obligated, so we're doing it.'"
But don't blame the participants. It was all about the Benjamins, and much like Shawn Michaels in his return to wrestling a year ago following a prolonged retirement – not at Wrestlemania but at a similar super-sized show in Saudi Arabia – it was an offer, namely one final big payday, they just couldn't refuse.
Even if they couldn't turn back the hands of time.
It most likely won't be the last shot in the desert kingdom for The Undertaker, who has been specifically requested by Saudi officials for the past three international pay-per-views there. WWE's 10-year partnership with the Saudis is worth an estimated $450 million. Saudi Arabia will host its next WWE spectacular on Nov. 1, and it's a good bet The Deadman will rise again for that event and the payday that comes with it.
Give them a break
Not everyone, though, ripped the Taker-Goldberg clash.
Mark Henry took particular aim at social media critics.
"They went through it for you," Henry said last week on the Sirius XM Busted Open Radio podcast. "But the 'Twitter fingers,' the people that can't run a mile in under a day, the people that can't lift their own body weight, do one pull-up. People that don't have any belief beyond anything but their own nose, those are the people that came on social media and berated The Undertaker and Goldberg, when it was a travesty to the wrestling business because they deserved better than that."
The WWE Hall of Famer said the criticism affected him personally.
"I'm sorry, it's too close and maybe I'm being a little bit emotional about it, because I know both those guys very well. And I'll be dammed if I'm going to let somebody tarnish their memory, and their existence in this business and what they gave to me personally, because they got the ability to communicate with millions of people with sending a tweet.
"Anybody that sent a tweet like that, you should be ashamed of yourself … We have people that can't lace their own shoes, chew bubble gum at the same time trying to tear them down in a second, over a tweet. It's brutal to me."
Former WWE star Chris Jericho acknowledged the match was subpar, but praised the participants for their efforts, comparing the mat legends to a pair of aging rock stars.
"Both Undertaker and Goldberg are once-in-a-lifetime, top-level performers and money draws. And even though they might not be at their peak and had an outing that wasn't perfect, they are still better than most. I think Mick Jagger and Ozzy Osbourne would agree," posted Jericho who, at 48, isn't significantly younger than Goldberg or Taker.
While it's true that their performance at Super Showdown certainly doesn't define their iconic status in the business, asking them to do such a match, for nearly 10 minutes and in such extreme conditions, wasn't fair to anyone.
Sadly, though, it was a "dream match" that shouldn't have happened. Not in 2019. Not in Saudi Arabia. And not even for the sake of nostalgia.
Some things, after all, are just better left to the imagination.
NXT in July
NXT returns to the Lowcountry for the first time since 2017 with a show July 25 at the Charleston Area Convention Center.
Scheduled to appear are NXT champion Adam Cole, NXT women's champion Shayna Baszler, NXT North American champion Velveteen Dream, NXT tag-team champions Street Profits, Matt Riddle, Undisputed Era and others.
OSCW Caged Carnage
Old School Championship Wrestling will return to the Hanahan Rec Center on June 23 with its Caged Carnage show.
ECW hardcore icon Tommy Dreamer will battle former WWE star Gangrel in the main event.
Also scheduled to appear are John Skyler, Caleb Konley, Brandon Paradise, Francisco Ciatso, Stormie Lee, Savannah Evans, Logan Creed, The Ugly Ducklings, Drew Adler, Harlem Bravado, Tracer X, Kevin Phoenix, E.N.D, Josh Powers, The Washington Bullets, James Carver and more.
Bell time is 5 p.m. Doors open at 4:30.
Adult admission (cash at door) is $12; kids under 12 $7. A portion of the ticket sales will go directly to I Got Legs, a nonprofit organization dedicated to re-enabling people with physical challenges by providing opportunities, programs and grants that unlock an improved quality of life.
For more information, visit www.oscwonline.com or call 843-743-4800.
Reach Mike Mooneyham at bymikemooneyham@gmail.com, or follow him on Twitter at @ByMikeMooneyham and on Facebook at Facebook.com/MikeMooneyham. His newly released book — "Final Bell" — is now available at https://evepostbooks.com.