When The Undertaker ceremoniously left his gloves, hat and trench coat in the ring at last year's Wrestlemania, it was widely considered that the dramatic gesture marked his final match and the end to one of the most remarkable careers in professional wrestling.
The buzz regarding his apparent retirement sent ripples throughout the wrestling world. The iconic star had competed sparingly in recent years, and each successive Wrestlemania was rumored to be his last. But he always came back.
Last year, however, seemed different.
It was painfully obvious that age had crept up on the 52-year-old phenom, whose perfect mark at wrestling's biggest event had been marred three years earlier by a defeat suffered at the hands of Brock Lesnar. Later matches, with Bray Wyatt at Wrestlemania 31 and Shane McMahon at Wrestlemania 32, were slow and prodding, far cries from the days of Undertaker putting on all-time great matches with WWE's top talent.
But in his match last April against Roman Reigns, the once-elite worker no longer looked like the invincible force with superhuman powers. Coming off hip surgery the previous year, Undertaker had difficulty holding his own during the match. And the final result, a decisive loss to the new "Big Dog" on the block, had apparently put an exclamation point on the 33-year veteran's career.
Or did it?
It had been an extraordinary career spanning three decades, and Taker was passing the torch to a performer who had been given that special blessing from WWE owner Vince McMahon. Reigns would forever be remembered as the man who ended Taker's career. The wrestling legend even broke character and kissed his wife, former WWE diva Michelle McCool, lending more credence to a symbolic retirement. As he left the ring one final time to a chorus of appreciative chants, all that seemed left was a WWE enshrinement ceremony to come.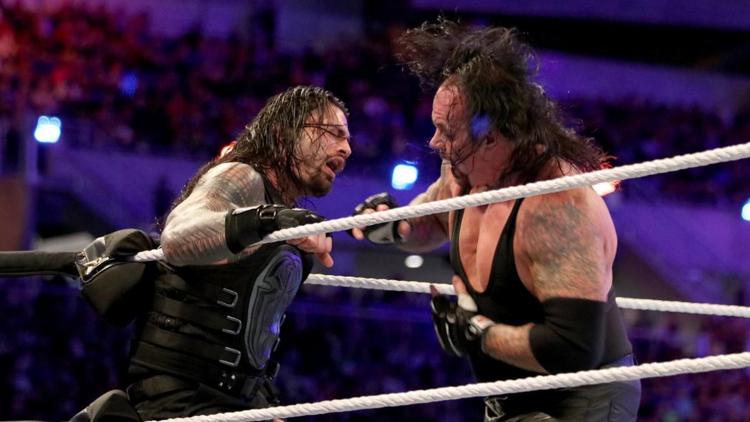 His retirement had been the subject of speculation for a number of years, and as far back as 2003 Mark Calaway pondered his eventual finale, discussing when he would finally decide to call it quits.
"My biggest worry in life, as far as wrestling is concerned, is that I'm in the ring and some father who watched me for years takes his son and goes, 'You know, son, this is The Undertaker here … Boy, I wish you could've seen him when.' … That means it's time for me to hang it up," he said.
Little, however, has been discussed regarding The Undertaker since his last match. But with the road to Wrestlemania looming, the annual speculation has begun.
That buzz will no doubt intensify with "The Deadman" advertised to appear on Raw's 25th anniversary show later this month. And talk about a possible opponent for Wrestlemania 34 has centered around John Cena.
A disturbing tale of the tape: The combined age of Undertaker and Cena is 92 years.
A match between the two had been tentatively planned for Wrestlemania 33, but the much-anticipated showdown was scrapped. Cena's opponent for this year's event is expected to be revealed during the Raw special on Jan. 22.
Even Sting, long rumored as a "dream match" opponent, recently revealed that he had put off neck surgery in hopes for a match with Undertaker.
An even more disturbing tale of the tape: The combined age of Undertaker and Sting is 108 years.
A very long shot to say the least, considering Vince McMahon had already nixed the idea of any possible match between the two.
Cena, who has a new movie coming out in April and announced Thursday that he is teaming up with Nickelodeon for three projects, still remains a strong possibility if Taker is to make one final bow. A match with AJ Styles would be an option, though the 16-time world champion locking horns with wrestling's Grim Reaper would be the bigger headline.
The real question concerns Taker's ability to put on a Wrestlemania-worthy match. Countless surgeries have taken a toll on the larger-than-life performer. Can he rise from the dead for one more retirement match?
Physical capabilities diminish with the passage of time, and wrestling can be a very unforgiving profession. There's a sobering reality about age that even the magic that is professional wrestling can't hide.
Father Time can't be denied. Nor can it be defeated.
'No! No! No!'
It might not be what Daniel Bryan wants to hear, but it's clear from statements made by WWE exec Paul "Triple H" Levesque that there will be no medical exemption for the Smackdown Live general manager.
Levesque clarified his stance when asked by TheWrap what it would take for the company to allow Bryan to compete.
"If the belief is that he's not healthy enough and there's a risk (for him) to perform, then I don't know why you'd allow him to step into the ring unless it can be proven otherwise. There will be no exceptions," said Levesque.
"We have some of the best medical people in the world that work for us. Our wellness policy, our concussion programming, our protocols — I'll put them up there against any on the planet. That is a new science in a way, too. So we're gonna look at it from all aspects, but the medical experts will make the determination as to whether he can ever step into that ring or not."
Bryan, a three-time WWE world heavyweight champion who has battled injuries throughout his career, was forced to retire from the ring in 2016 after a series of concussions made it too dangerous for him to continue wrestling. Since then, Bryan and his personal doctors and concussion specialists believe his brain has healed enough to return to the squared circle.
The WWE medical staff, however, has thus far refused to give him the green light.
"Look, personally for him, I know it would be something he would love to do, and part of me feels like I hope he has that opportunity. But at the same point in time, he's married and has a child. Certainly, (we put) the human being first," said Levesque.
Bryan, 36, who has been out of the ring for almost three years, has indicated in the past that he will wrestle again — in WWE or elsewhere. Even if that means stepping away from his current role as Smackdown Live GM when his contract expires.
"I assume that if I don't wrestle by Wrestlemania, I probably won't be wrestling with WWE at all," Bryan recently told Sports Illustrated. "That's my assumption."
Rumble lineup
The latest lineup for the Royal Rumble on Jan. 28 in Philadelphia:
WWE Universal champion Brock Lesnar vs. Braun Strowman vs. Kane; WWE champion AJ Styles vs. Kevin Owens vs. Sami Zayn; 30-man Royal Rumble; 30-woman Royal Rumble; WWE United States championship tournament final; Raw tag-team champions Seth Rollins and Jason Jordan vs. Sheamus and Cesaro; Smackdown tag-team champions The Usos vs. Shelton Benjamin and Chad Gable in a best-of-three-falls match.
Reach Mike Mooneyham at bymikemooneyham@gmail.com, or follow him on Twitter at @ByMikeMooneyham and on Facebook at Facebook.com/MikeMooneyham.