For years it was a gathering place for locals to enjoy entertainment acts ranging from Tommy Dorsey and Elvis Presley to James Brown, Bob Dylan and Herman's Hermits. The Charleston landmark also served as host to dances, graduations, sporting events, and even welcomed such American icons as Dr. Martin Luther King Jr., Oprah Winfrey and the Harlem Globetrotters.
For wrestling fans, however, it was the place to be on Friday nights when longtime promoter Henry Marcus would bring some of the biggest names in the business to town.
The building is still there, at 1000 King Street, along with its distinctive art deco facade and tower. But it's now an affordable housing complex known as Palace Apartments, and pro wrestling as we knew it is just a shadow crossing our collective memory.
The victim of gradual deterioration and the changing times, County Hall closed its doors in 1985, only to reopen several years later as the King Street Palace, complete with a facelift and additional seating. But it was a short-lived return, as the county regained ownership several years later, officially ending the aging building's era as a showplace.
Before it closed down for good, however, the storied venue enjoyed one last hurrah.
Twenty years ago this week, some of the most colorful characters in the history of Mid-Atlantic Wrestling converged on Charleston for a special weekend that included a get-together, banquet and autograph signing, and culminated with a "Night of the Legends: A Tribute to Henry Marcus" program and awards ceremony that honored the veteran promoter and stars of the Mid-Atlantic era.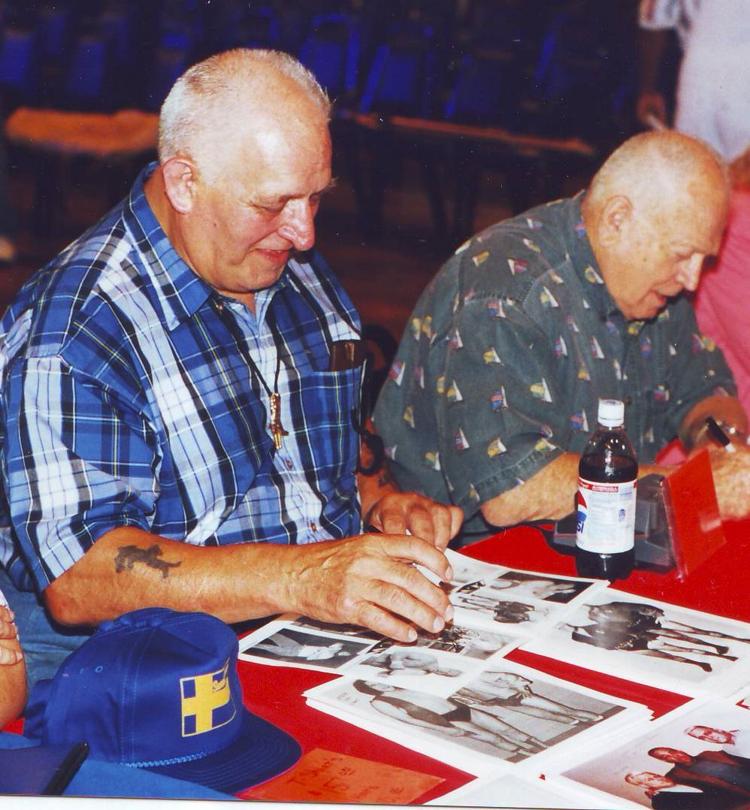 Putting the event together was a labor of love for Andy McDaniel, a longtime fan of Mid-Atlantic wrestling, and myself, who decades earlier had been introduced to pro wrestling in that very same grand old building. It was only fitting that the venerable venue serve as a site for the farewell festivities.
While legends reunions and fan events would become commonplace years later, they were a rarity two decades ago. The sole purpose of the Lowcountry Legends gathering was to reconnect a past generation of beloved wrestlers with one another and with their fans. And while there were matches on the show, they simply served as a backdrop for a special ceremony recognizing a group of stars from long ago.
It was, indeed, a night of the legends. The atmosphere was magical, and even the 100-year-old building looked much the same as it had in earlier years — without, though, the rotting balcony, the leaky roof and the aged floors.
The event was a dream come true for McDaniel, who began attending wrestling shows at County Hall with his dad at the ripe old age of 4 and would become an avid fan of Mid-Atlantic wrestling.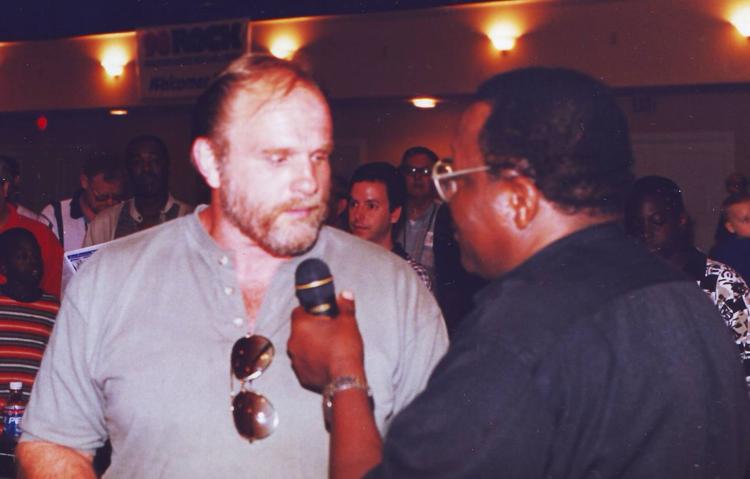 "Anyone who was anyone in the sport of professional wrestling came to County Hall on those hot Friday nights," recalls McDaniel, now a pastor in Iowa. "I could not wait for Friday to come because I knew me and my dad would be on the way to the matches. Seeing Wahoo McDaniel, Ric Flair, Greg Valentine, Johnny Valentine, Swede Hanson, Rufus R. 'Freight Train' Jones and all the great stars of that era would leave me with a lifetime of memories."
The chance to bring them back for one more show was too much for McDaniel to resist.
"It's hard to believe it's been 20 years. My, how time flies. If you have the chance to go and meet one of your heroes from the past, do not pass it up. I will treasure my memories of this event for the rest of my days on this earth. I grew up with the dream of one day meeting my heroes, and I was blessed for that dream to come true."
For many in attendance 20 years ago, it was like stepping back in time to a golden age of grappling in the Lowcountry, watching George "Two Ton" Harris strut to the ring, Tim "Mr. Wrestling" Woods walk once again through the curtain, and hearing that familiar "Hold your own ticket" refrain from promoter Henry Marcus.
It was a special weekend of telling old "war stories," reliving past triumphs and sharing tales of the road. The highlights were many: "Local Legend" Burrhead Jones juking and jiving, "Blond Bombers" Rip Hawk and Swede Hanson sharing a ring entrance for the first time in more than two decades, and Johnny "The Champ" Valentine who, despite being partially paralyzed in a 1975 plane crash at the pinnacle of his career, still striking an imposing figure and still possessing that rare ability to move a crowd.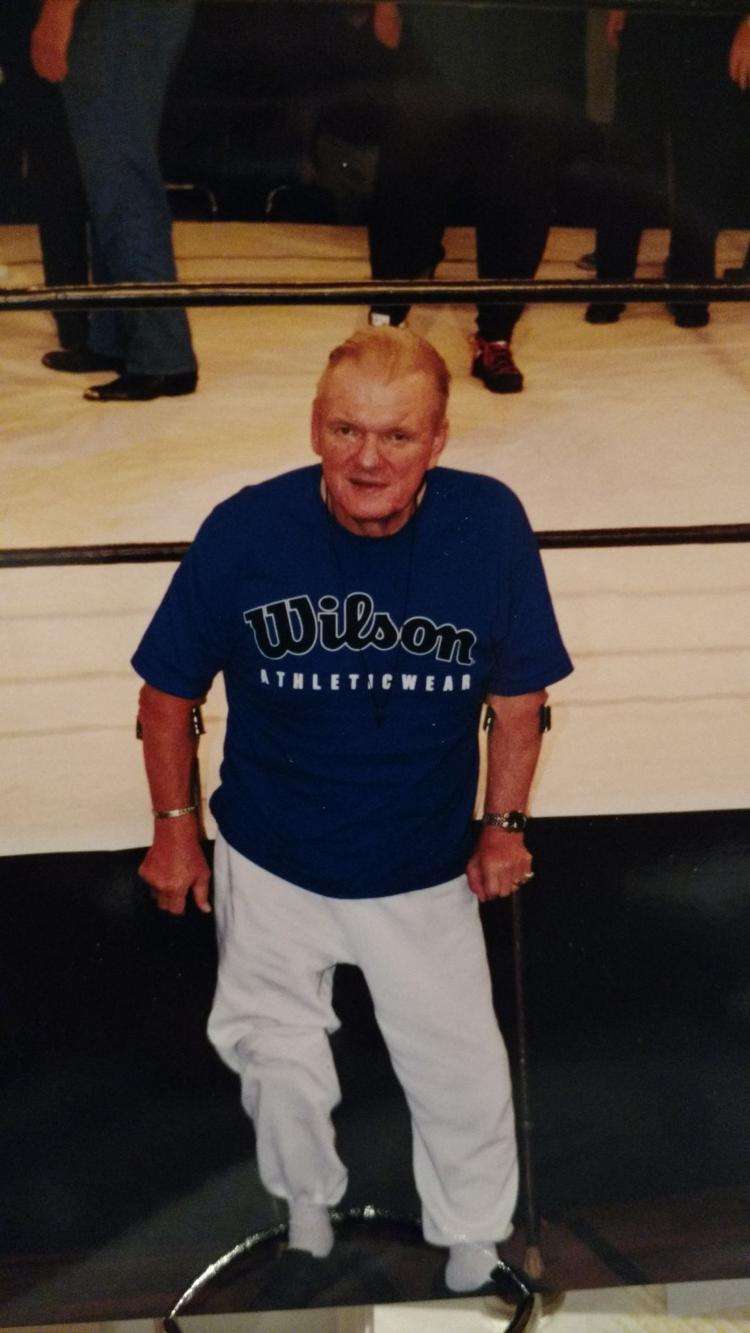 Valentine, who walked with the help of a cane and leg braces, drew a thunderous ovation at the autograph session when he made his way into the ring and proceeded to deliver his signature sledgehammer blows to Woods and Jones.
"The weekend of the reunion was the first time Swede Hanson and Rip Hawk saw each other in more than 20 years," says McDaniel. "Watching them climb into the ring together that night was like stepping back in time. All we needed was for Ole and Gene (Anderson) to have been there together, and we would have had a brawl for the ages."
The night, of course, belonged to the then 87-year-old Marcus, promoter extraordinaire who for decades made Friday nights special for thousands of local mat fans. From Jim Londos to Gorgeous George to Lou Thesz to Ric Flair, they all graced the mat shrine at 1000 King. And Henry Marcus was the common thread that tied this unique form of entertainment to the Lowcountry.
That weekend two decades ago takes on even more significance today. At a banquet the afternoon of the show, I told that special group what an impact they had made on the lives of thousands of fans over the years. As time marched on, I added, it also would be unlikely that the same group would ever meet again. But for that one weekend, they would once again be the stars of the show, and County Hall would be open for business.
The years have passed, and time, indeed, has taken its toll. Henry Marcus left us six years later at the age of 93, but not before regaling me with many more stories about the days he rode trains with Jack Dempsey and dined with Irving Berlin at the old Lindy's on Broadway. In the end, I thanked him for the wonderful memories he had shared, and for his unfailing friendship over the years. And when that fateful day arrived, I wrote his obituary, as he had asked me to do.
There were others who were there that spring weekend 20 years ago, and others who were honored, who have since departed. They were all friends whose memories we will always cherish. Johnny Valentine, "Mr. Wrestling" Tim Woods, Sandy Scott, Rip Hawk, Big Swede Hanson, George "Two Ton" Harris and Al Mandell are no longer with us. We've also said goodbye to three of the greatest ladies of the mat — The Fabulous Moolah (Lillian Ellison), Mae Young and Pretty Penny Banner.
Brian Hildebrand, who celebrated his honeymoon with wife Pam during the Legends weekend here, died of cancer a year later at the age of 37. Better known in wrestling circles as Mark Curtis, Brian had served as one of four special referees at the show that featured two of the greatest referees from the past (Tommy Young and Ronnie West), and two of the greatest from the present (Brian and Charles Robinson). Cancer also would claim Charles' beautiful wife, Amy Robinson, at the tender age of 30, just a few years later. Ron West passed away in 2013 at the age of 65.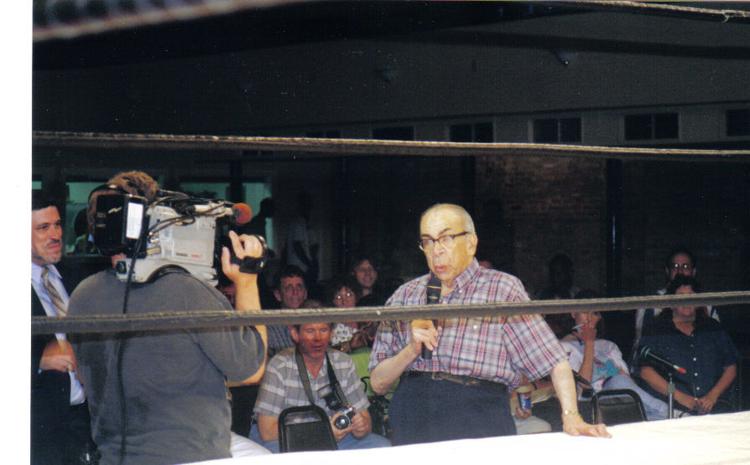 Our beloved "Local Legend," Burrhead Jones, was 80 when he went "on to glory" last year, but not before enriching the lives of all those around him and leaving us with stories that will forever make us smile and laugh.
Memories live on
"I miss those days so much, and that night I was like a kid again," recalls McDaniel. "I will never forget it as long as I live. It was indeed a once-in-a-lifetime chance in many ways. The timing could not have been better, because now it would be impossible to recreate what we did on that night. We have lost so many of our dear friends."
Andy, like many of us, misses the "old days," when Mid-Atlantic Wrestling was appointment viewing each Saturday, when there was less hype and less gimmicks. But that cast of characters really didn't need gimmicks. There was only one Wahoo McDaniel, one Blackjack Mulligan and one Ole Anderson. Their "gimmick" was just being themselves.
"May we always remember the good ol' days, and just as we placed on the plaque of all those who came to be with us in May of 1998," McDaniel muses. "Winners come and go, but Legends are forever."
Nor will he forget the sights and sounds on a typical Friday night.
"I miss those who have left us, but just as we did in County Hall that night, I often just sit and remember them as they were, and sometimes in the distance you can hear a mighty clap of thunder that sounds like Wahoo hitting Valentine, or sometimes you can hear 'Two Ton' Harris say, 'I got him now!' Never let the memories die."
Sixteen years later, McDaniel revisited the reunion in words and photographs in a book on that special weekend in Charleston.
"Reunion at County Hall: The Night the Wrestling Legends Returned to Charleston" was a look back at an event that respectfully paid homage to a beloved promoter, a storied structure and a group of performers who entertained fans for years.
"There are a few times in life we actually get to live out a dream. For this lifelong fan of pro wrestling, in May of 1998 I got to do just that," says McDaniel. "We have certainly lost some of the greats since that event, but they will forever live within our hearts."
It seemed fitting that many of those grapplers, who had enjoyed their glory days entertaining those Friday night crowds, were on hand to say goodbye not only to promoter Marcus, but also to a grand old building which held a special allure that would live forever in their memories.
Many longtime fans fondly remember the building.
"I often said that you could blindfold me, take me around the world and drop me back into County Hall and I would know exactly where I was," remarked one fan. "There was something about the smell that I knew it was wrestling at County Hall. It represents some of the best memories of my youth."
They also talk about those special Friday nights when there was always some aura of suspense and spontaneity, with the undeniable feeling that what you were watching was good vs. evil in its purest form, a morality play being staged inside a ring.
Those days are gone forever, but that hallowed hall — and all those who made it such a special place — will live on forever in our memories.
Reach Mike Mooneyham at bymikemooneyham@gmail.com, or follow him on Twitter at @ByMikeMooneyham and on Facebook at Facebook.com/MikeMooneyham.