For more than a decade pro wrestling fans converged upon Charlotte the first weekend in August to relive memories from their childhood and to make new ones.
Fanfest became one of the most anticipated events of the year for wrestling followers far and wide. Many, coming from as far away as Japan and Australia, even scheduled their summer vacation around the four-day event.
But Fanfest, the creation of veteran promoter Greg Price, ended its run two years ago.
One of the many fans who lamented the loss of the yearly tradition was Marty Damato, a New Yorker and a grappling fan since the age of 5. Like others who had traveled to Charlotte each year for the event, Damato wondered if Fanfest might ever be brought back.
"Around 2007 I decided to go to my first-ever wrestling autograph convention and I loved it," says Damato. "A guy I met talked me into going to the NWA Fanfest in 2008 which was Ric Flair and The Freebirds' year, and I had a blast. It was not only the wrestlers, I loved everything about Charlotte. The hotel was great and, to be honest, the fans and feel for real wrestling legends made it special."
Damato returned in 2009 for the Four Horsemen reunion that drew one of the biggest turnouts in the event's history.
"While there I said to myself, as much as I like being there as a fan, how great would it be to do what these other fans of the business were doing and bring in the wrestlers," recalls Damato, who soon became a vendor at shows in New Jersey. He now has 10 years under his belt, working with more than 120 wrestlers.
It would be his fascination with the concept and popularity of Fanfest that prompted the 42-year-old Damato, under the Tmart Promotions banner, to bring his own group of wrestling stars to Charlotte for Price's Fanfest events.
"For me, and I always told Greg Price this, his show was the best show I ever went to and I loved being a vendor at the event each year. I did Greg's shows in 2010, 2011, 2013, 2014 and 2016, and had many legends with me at his event, including Bobby 'The Brain' Heenan, The Rock 'N Roll Express, The Midnight Express, Jerry 'The King' Lawler, Chief Jay Strongbow, Rick Martel, Lex Luger, Nikita Koloff and many more."
Damato even arranged some rare photo-ops at the Charlotte event with guests such as The Fabulous Ones, The Varsity Club, The Dungeon of Doom, Bobby Heenan and Nick Bockwinkel, and Jerry Lawler and Austin Idol.
As disheartening as it was when Price decided to call it a day following the 2016 Fanfest, Damato thought about the excitement of attending his first Fanfest, and how special it would be to run his own event one day.
"The idea came to my head of trying to run an event like Greg did, and I don't mean replace his because his events were so special. I am not even sure if Greg knows what his event meant to not only me, but hundreds of wrestling fans and the legends of the business."
After letting the thought percolate for a period, Damato contacted Price last June and asked him if he had any plans to do another show. Damato says Price informed him that he had no plans to run an event in 2019, and "may or may not run again down the road."
"The rest is history as I called the hotel and got the deal done and now look forward to bringing back the great event that Greg did, but a little different in some ways."
It's Damato's first foray into a running a convention, but he's looking forward to the challenge.
"I have never run a convention before, but I have been doing these shows as a vendor for more than 10 years now. The biggest show of the year is WrestleCon which takes place on Wrestlemania weekend each year, and I have been at every one of them each year bringing in 25 guests. I basically run my own convention out of that one … The last NWA Fanfest in 2016 I was there with 21 guests during the weekend."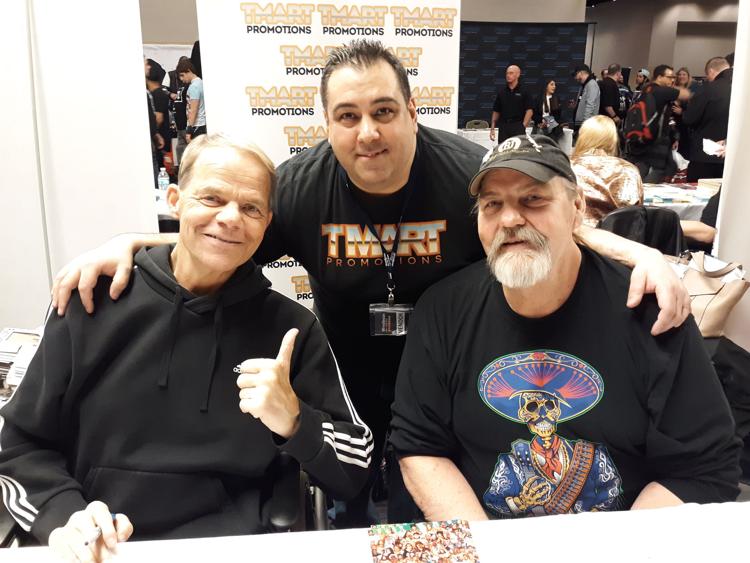 The Gathering
With a new name for the event, aptly titled "The Gathering," Damato will welcome back fans for a four-day weekend, Aug. 15-18, at a familiar location, the University Hilton Hotel in Charlotte, the site of previous Fanfests.
"The fans of NWA Fanfest was always like a family reunion and I am glad to bring it back for them now as The Gathering of wrestling, fans and fun," says Damato.
And, like Fanfest, The Gathering will feature an impressive list of legends. The lineup includes such names as Harley Race, Ricky Steamboat, Terry Funk, Barry Windham, Tommy Rich, Bob Backlund, Lex Luger, Hacksaw Jim Duggan, Ron Simmons, Larry Zbyszko, The Superstar, Missy Hyatt, Austin Idol, Shane Douglas, Magnum T.A., Baron Von Raschke and Greg Valentine.
"As of now we have over 75 wrestling talents to be at this event," says Damato. "We also have many more that have not been announced yet by vendors and some by myself as well. I would say when this event is finally here, we will have 100 or more wrestling talents over that weekend."
Live question-and-answer sessions also will be held with Greg Gagne, Shane Douglas and "World Class Memories" with announcer Marc Lowrance, Hollywood John Tatum, Missy Hyatt and Bobby Fulton.
Night to Remember
The Gathering will feature an around-the-clock schedule of activities.
A Queens of Combat Wrestling show will be held Thursday night, Aug.15, at the Hilton. The following night will feature "A Night to Remember," a dinner and banquet event that will honor a group of legends.
A 35th anniversary of The Midnight Express will include all five members — Jim Cornette, Bobby Eaton, Dennis Condrey, Randy Rose and Stan Lane. "We felt being this is the 35th-year anniversary in the wrestling business for this group and with all the history of one of the greatest tag teams and managers in the history of pro wrestling, and being in Charlotte, this was a no-brainer," says Damato.
Also honored will be former NWA world champion and Four Horsemen member Barry Windham. "My all-time favorite, Barry Windham, will be honored at this event," says Damato. "Barry was one of the best workers in the business for a guy his size; he could move around that ring like a lightweight. It's a real honor to have Barry Windham be a big part of this weekend for us."
An honor will be presented posthumously to Bobby Heenan, with his widow, Cindy Heenan, accepting. "In my mind, we will honor the greatest manager in the history of pro wrestling," says Damato. "I had worked with Bobby I think more than anyone from 2010 until he passed away (in 2017). Bobby Heenan is the wrestling talent that made Tmart Promotions what it is. We are so glad that his wife Cindy Heenan will be with us to accept this honor on behalf of him."
Harry Smith, son of the late "British Bulldog" Davey Boy Smith, will accept an honor on behalf of his dad, while Lanny Poffo will accept an honor for his late brother, "Macho Man" Randy Savage (Randy Poffo).
The final event of the weekend will be a wrestling show, "Rumble at The Hilton," on Saturday night, Aug. 17. The show will feature a 20-person Royal Rumble-type match. Signed so far are Shane Douglas, Missy Hyatt, Harry Smith, Mr. Hughes, Swoggle (formerly Hornswoggle), Scarlett Bordeaux , Katarina, C.W. Anderson, Lodi, Ricky Santana, The Cuban Assassin, Col. Robert Parker, The Dirty Blondes and Big Sean Studd.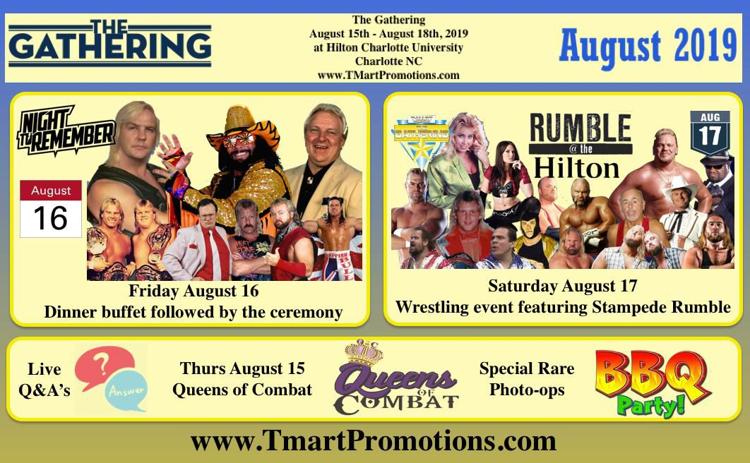 Winning formula
While there will be a few new wrinkles at The Gathering, Damato says he is going back to a number of things that his predecessor did.
"I went back to a lot of the stuff Greg went away from the last four years that he did Fanfest. I have heard what the fans wanted and like most about past events, and decided to bring some stuff back. I came back with the 'Superticket' — 24 wrestling legends over the three days signing with each fan having a Superticket getting two autographs from each of the 24 Superticket guests.
"Some things I am doing different and one is we are opening up the weekend with a full barbeque event and the fans get to enjoy the company of some of the wrestling legends while having a drink, eating some BBQ or sitting by the pool.
"Another thing is we are offering all fans the chance to buy a general admission ticket to this event for only $20. Greg did not do this each year, and we want fans who can't afford to buy the VIP packages to also be able to come and enjoy this huge event."
VIP tickets and single event tickets for each event are now on sale. Upgraded VIP tickets for the complete weekend of events are $270 (includes a ticket to all the events plus two autographs from each of the 24 Superticket guest lineup over the three days).
Standard VIP tickets are on sale for $199 (includes all the events except the Friday "Night To Remember" dinner banquet event).
A two-day ticket for Saturday and Sunday only events is $132. A Sunday one-day VIP ticket is $66.
Daily general admission tickets are on sale for $20 per day (gets you in to the event and does not include anything other than one free autograph from a wrestler selected to be there each day).
One of the best deals, says Damato, is the special VIP ticket for $270.
The ticket includes admission to all three days (Friday, Saturday and Sunday); admission to Thursday night's Queen of Combat show; admission to "A Night to Remember;" admission to Saturday night's "Rumble at the Hilton;" access to all five question-and-answer sessions; and a total of 48 autographs from the 24 Superticket guests.
"If that's not a deal, I don't know what it is," says Damato.
For more information or to order tickers, visit www.tmartpromotions.com.
Yearly event
Damato is anticipating a big turnout for The Gathering and hopes to once again make it an annual tradition. He knows, though, that he has a tough act to follow.
"I have said it over and over throughout the years that Greg Price had the best wrestling convention out there, for fans, vendors and talents. When Greg decided to not do the event the last few years, my biggest goal was to bring it back to the Hilton and make that family reunion weekend return for so many who enjoyed that event each year. Not only the fans, myself, other vendors and promoters, and of course the wrestling talents themselves.
"As far as doing the event each year, I would hope so, and as long as the fans come out and support us, I can't see why not doing it again. I have spoken with the hotel already and if all goes well this year, then we will continue this as a yearly event."
Ultimately, says Damato, the future of The Gathering will depend on the support of the fans.
"I am hoping all the fans come out and support us. When we first made this announcement back in August of 2018 about the event, the show of support from the fans who were at all the past NWA Fanfests was crazy. I could not believe so many were looking forward to this event and wanting it back."
More than anything, Damato is looking forward to offering fans the rare opportunity of rekindling some special memories and interacting with some of the very same stars they cheered — and jeered — many years ago.
"I think the fans love to meet the talents and take pictures with them. So that's big for them. I am looking forward to our Saturday night live wrestling show called Rumble at the Hilton where we are going to have a 20-man Royal Rumble-type match that will have legends involved. We are also planning to have some surprises for the fans at this event."
As far as the performer Damato was most looking forward to having at the event, he says that's a tough one.
"When we decided to put this event together, we set a goal of as much as we love all the NWA talents, we knew we needed some new blood and fresh talent to be a part of this huge weekend. We have so many names that have never done anything in the Charlotte area as far as signings. If I had to pick one guest, I would have to say bringing WWE Hall of Famer Kurt Angle for the first time ever to North Carolina to do a signing and take photos with the fans."
Overall, says Damato, he was very pleased with the names he was able to land for The Gathering.
"I knew I needed fresh faces to get the fans to want to come back. I think back in August I made a list of about 40 names that I wanted on my Superticket. I am very glad that we were able to get almost all the ones I wanted for the event. Guys like Greg Gagne, Carlos Colon, Kendo Nagasaki, Hollywood John Tatum, Sheik Adnan Al-Kassie. These were just a few names that have never been to the area and I wanted them to be a part of this. With the help of the vendors bringing in top names like Sgt. Slaughter, Scott Hall. Jake 'The Snake' Roberts, Lex Luger, Terry Funk and so many others, I think this might be the most packed lineup of legends to hit Charlotte since the famous Four Horsemen reunion that Greg did back in 2009."
Reach Mike Mooneyham at bymikemooneyham@gmail.com, or follow him on Twitter at @ByMikeMooneyham and on Facebook at Facebook.com/MikeMooneyham. His newly released book — "Final Bell" — is now available at https://evepostbooks.com.