Lacey Evans might be portraying a sweet and sassy Southern belle outside the ring, but she was downright nasty inside it Monday night.
The 5-8, 29-year-old Georgia beauty made an auspicious debut last week on Raw as part of WWE's Superstar Shakeup, and she did it in fine fashion, scoring an impressive win over Natalya and leap-frogging her way to a title match with women's champion Becky Lynch.
The looming title tilt is WWE's version of The Lady vs. The Man. While a shot at the world championship might seem a bit premature for Evans, she has the backing of The Boss, namely Vince McMahon, who likes her gimmick and the potential she brings to the WWE table.
For weeks Evans has shown up on WWE TV, using the entrance ramp as her own personal catwalk, waving to the crowd and then mysteriously leaving.
Two weeks ago, though, Evans nailed Lynch with her patented "Women's Right" haymaker on two consecutive nights. Last week, in her official Monday Night Raw debut, she defeated Natalya.
"I'm the classiest superstar ever in the WWE," Evans declared with all the bluster and bravado befitting the company's newest glamor girl.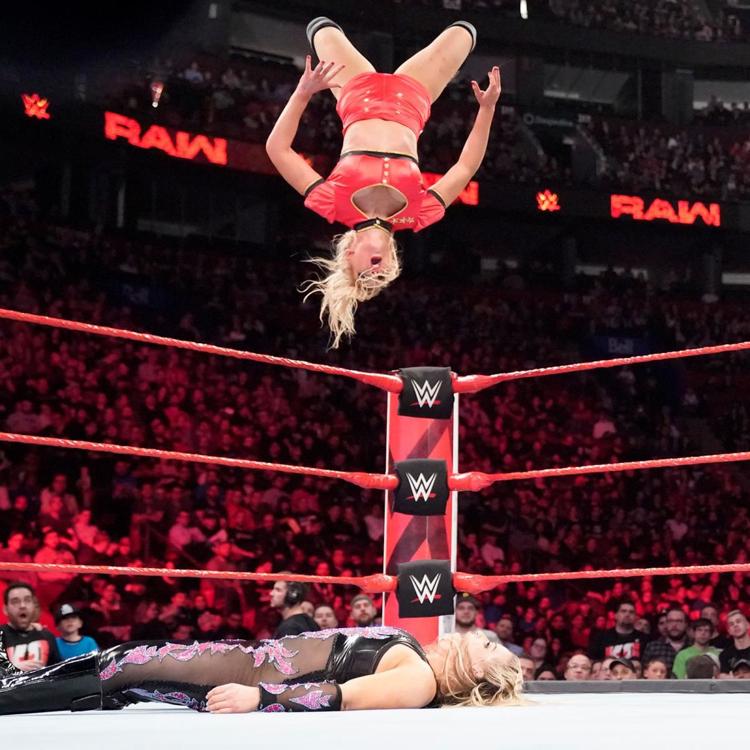 Battle-tested
A similar gimmick featuring weeks of vignettes with a rebranded character known as Emmalina (former WWE performer Emma) failed miserably a couple of years ago before the act ever got off the ground. Another pet project of McMahon, the gimmick reportedly flopped because the performer felt it didn't fit her character. She left the company shortly after, finding success in Ring of Honor under her real name, Tenille Dashwood.
McMahon is more hopeful this time around with the talented Evans, who used an athletically impressive step-up, springboard moonsault off the top rope to defeat the veteran Natalya.
Behind Evans' new heel persona is a real world, battle-tested warrior who spent five years as a military police officer in the Marine Corps, which helps explain her disciplined approach inside and outside the ring.
Compared to her colleagues on the main roster, Evans is relatively inexperienced at this stage of her career. Although she has less than five years under her belt, working nightly with WWE's talented group of women can only accelerate Evans' development.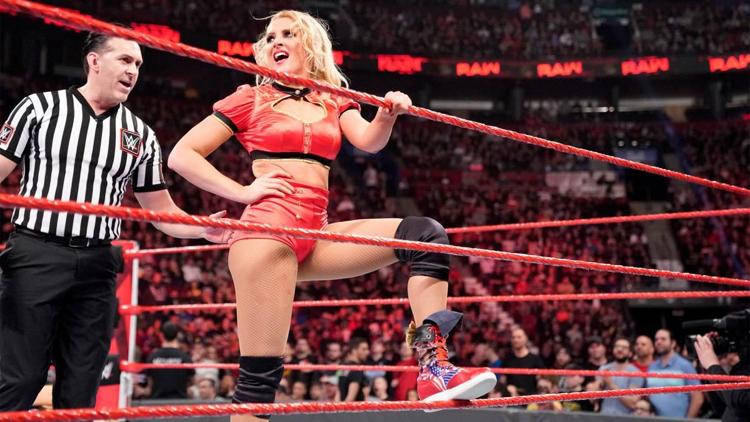 Big upside
With former Raw women's champ Ronda Rousey taking extended time off from WWE following Wrestlemania, there's a prime spot waiting to be filled beside "The Man" (Becky Lynch) and "The Queen" (Charlotte Flair). Some in the WWE hierarchy believe that Evans could slide into that coveted role.
Being positioned so strongly, so soon, can only mean big things for Evans if she is able to back up her posturing with strong mic work and ring ability.
One of six NXT talents brought up to the main roster in January, Evans may have the biggest upside of all.
She steadily worked her way up NXT's ladder, competing in the inaugural Mae Young Classic as well as the 2019 Royal Rumble in January, making fans take notice by entering in the No. 1 spot and lasting nearly 30 minutes before finally being tossed out in her debut performance.
McMahon reportedly sees Evans as a potential major crossover star, drawing comparisons to Roman Reigns.
But it's not just her classic, pin-up girl good looks and her versatility in a wrestling ring that has attracted the attention of McMahon and the creative staff.
It's her inspirational life story that could connect her to the WWE Universe in a big way.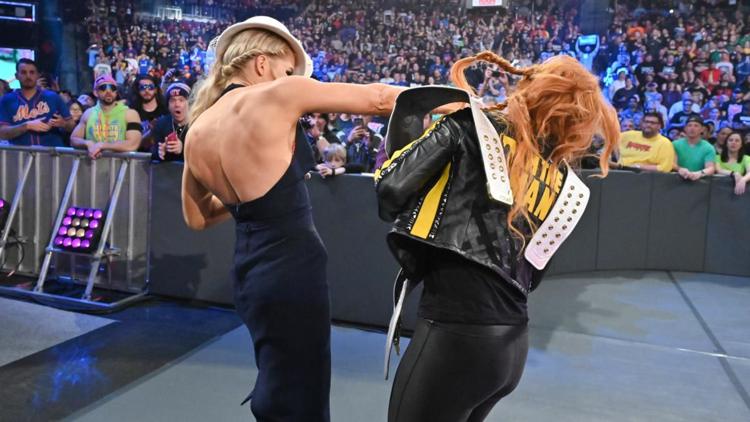 No easy road to success
Lacey Evans' path to WWE has been nothing short of amazing. Hardship is nothing new; her life to this point has been a testament to strength in adversity.
Her goal, she said in a 2017 interview, was "to show people that anything is possible."
As a business owner, an entrepreneur, a military veteran, a wife, a mother, a motivator, and now a WWE superstar, Evans has done just that, displaying an insatiable desire to constantly challenge herself.
Raised in a broken home torn by depression and drug and alcohol abuse with a family that struggled to make ends meet, the Georgia native says she refused to sit back and accept that lifestyle.
"We traveled a lot, so I honestly lived in a tent for a while in Alabama and Louisiana. I spent a lot of time in Texas. I grew up all over the South. My dad just kind of followed construction. Between drugs, it got him in and out of trouble, so we were traveling a lot. I never was anywhere for long."
Her saving grace, she says, was joining the Marines at age 19, where she excelled from the start, graduating out of boot camp as her company's highest-ranked shooter.
She went on to serve as a member of the Marine Corps Special Reaction Team, the military equivalent of a SWAT team. She left the service after five years, having achieved a rank of sergeant, but not before finishing her bachelor's degree while still on active duty.
It was also while in the Marines that Lacey Evans – then Macey Estrella – got her introduction to professional wrestling. A staff sergeant, who also moonlighted as an independent wrestler, invited her to one of his shows. Expressing interest in the sport, she began working out daily at the military base gym, and competed the very next week on a local wrestling card. From that point on, she says, she was hooked.
She would later say that the work she did in the Marines prepared her to work in a stressful environment like WWE.
Role model
Beginning wrestling training while still a Marine stationed at Parris Island, within two years she had advanced to the point where she was signed to a developmental contract with NXT.
While still in the service, she opened a construction company, housed and employed several of her siblings, and along with her husband, began the journey of raising a daughter. It's now a family affair, as Evans and her husband take their 6-year-old daughter on the road with them.
"Whether you're a mom or not, whether you have an addiction or not, whether you're from poverty or not. It's so awesome that I can be that one to show women that not only am I a mom, and I shouldn't be here, but here I am," said Evans. "I want to just give everything I can. It means so much to me in so many different ways."
For now, Evans finds herself in the WWE women's title hunt, with a Twitter war already breaking out with trash-talking champ Lynch.
Lynch fired the first salvo with a personal remark that will no doubt draw a response from Charlotte Flair as well.
"Tall, blonde, does a moonsault, tells me to bow, is from the Carolinas. Might be time to ask Momma Evans if Ric was Naitching around there before you were born, you plank."
Strong words from the fiery redhead, but Evans responded with a personal jab of her own.
"And my actions are being talked about by the history makers themselves … Good thing you're bowing down, my high heels will need cleaning when I'm done taking everything you've worked for."
Truth be known, there's a stronger message Lacey Evans would like to spread far and wide across the WWE Universe.
"For me my biggest goal is to show the entire world that it does not matter where you come from. It doesn't matter what you've been through. You can forget statistics, because statistically I shouldn't even have a job like this. I probably shouldn't even be alive. But I did and I've made it and I've kept my head strong and I've pushed through every obstacle that I've ever had to face, to include helping other people.
"So I just want to show the world that between positivity and having a strong mindset you can do and be anything. I was raised in tents and trailer parks and no money, and I still made it."
Reach Mike Mooneyham at bymikemooneyham@gmail.com, or follow him on Twitter at @ByMikeMooneyham and on Facebook at Facebook.com/MikeMooneyham. His newly released book — "Final Bell" — is now available at https://evepostbooks.com.