Ric Flair, Wahoo among President George H.W. Bush's ties to pro wrestling
It's doubtful that any president who ever inhabited the White House had a more impressive resume of public service than George Herbert Walker Bush, who passed away recently at the age of 94.
President and vice president of the United States, director of the nation's intelligence service, ambassador to the United Nations, chairman of the Republican National Committee, U.S. envoy to China, U.S. congressman, father of a U.S. president and father of the governor of Florida.
Bush also might have been the most sporting president in U.S. history, and wrestling was among his long list of pastimes.
A longtime resident of Houston, Bush followed pro wrestling and became close personal friends with famed promoter Paul Boesch, who ran shows in that town from the mid-1960s to his retirement in 1987.
Like Bush, Boesch was a World War II hero who suspended his wrestling career to enlist in the U.S. Army. He went on to fight in the European theater, taking on Nazi forces in France and Germany. By the time he was discharged, Boesch had earned the Silver Star, Bronze Star, Purple Heart, the Combat Infantryman's Badge and the French Croix de Guerre.
Their meritorious service and love for their country would forge a lasting bond between the promoter and future president.
When Boesch retired from promoting in 1987, WWE hosted a retirement show in his honor at the Sam Houston Coliseum. During the event, then-Vice President Bush sent Boesch a telegram.
"I'm sorry to miss the gala event in honor of my friend Paul Boesch. Paul has made a fantastic contribution to American sports. Through his leadership and foresight, wrestling is now enjoyed by millions of Americans. I treasure my friendship with Paul Boesch. We have known each other for many years. He is a great guy, and wrestling will never be quite the same without his firm, principled leadership."
Bush would become the last World War II veteran to serve as president.
Boesch died of a heart attack at age 76 on March 7, 1989, in Sugarland, Texas.
Wahoo McDaniel
Ed "Wahoo" McDaniel, one of pro wrestling and pro football's most colorful characters, was an avid sportsman himself.
His athletic prowess took shape early as an all-star catcher on a Midland, Texas, Pony League baseball team coached by Bush. Wahoo had caught the attention of the future president who, in later years, would visit Wahoo at wrestling shows whenever he was in Houston.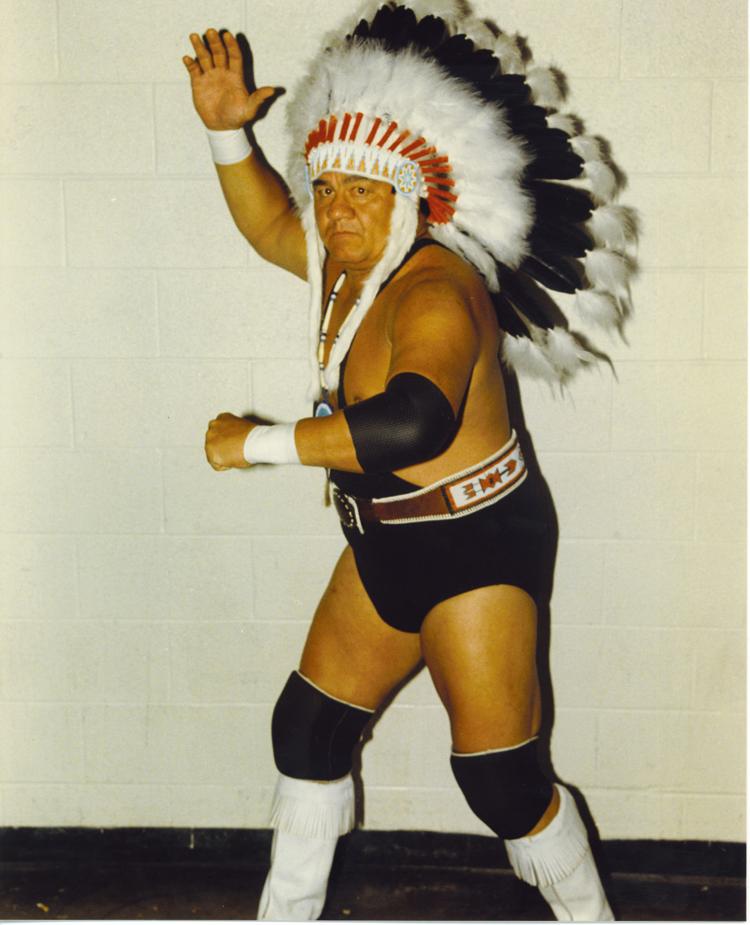 Bush came by his passion for baseball honestly. A left-handed first baseman and quintessential baseball man, he played in the first two College World Series on the Yale baseball team. In 1948, before a Yale-Princeton game, Babe Ruth presented him with a copy of his autobiography, weeks before he died from cancer.
Bush followed McDaniel's exploits at Midland High School in Texas, where the all-state prep catcher led the state in home runs with 14 and was offered pro contracts. In high school track, Wahoo was state champion in the shot put and second in the state in the discus. He also became a prep football phenom, a two-time consensus all-state selection who earned All-Southern and All-American honors, before being wooed to the University of Oklahoma to play collegiate ball for the legendary Bud Wilkinson.
Bush would continue to visit with his protégé whenever Wahoo stopped in to work in Houston. "I'll always remember him as a wonderful kid who captured the imagination of West Texas in the 1950s. He was idolized and worshiped by everyone who knew him," Bush would say.
As a pro wrestling star, Wahoo enjoyed a mini-reunion at the White House with then-Vice President Bush in a meeting orchestrated by master strategist Lee Atwater of South Carolina.
Wahoo, who suffered from diabetes, was 63 when he died in a Houston hospital on April 18, 2002.
Ric Flair
Mike Campbell's father, the late S.C. Gov. Carroll A. Campbell Jr., served as Southern Regional Chairman for George H.W. Bush's presidential campaign in 1988. In 1992, when the 41st president was up for re-election, Mike Campbell approached Ric Flair about taking part in a whistlestop train tour around the country.
"They were doing a swing through the South. I didn't have any idea whether Ric was on tour (with WWE) or not, but I asked him if he would be interested in going on the presidential train with us to campaign for President Bush," recalled Campbell.
Campbell had first introduced the two a couple years earlier when Bush visited Columbia for a fundraiser for Carroll Campbell at the Governor's Mansion.
"I asked Ric if he wanted to come and be my guest," said Campbell. "I introduced them and they had a long chat. I remember that he immediately liked Ric. I told him about the things Ric had done for the business."
"He seems like a real nice guy," Bush replied, adding that he'd welcome Flair to visit the White House.
The next meeting between the two occurred at a fundraiser for then-U.S. Sen. Jesse Helms in Charlotte.
"The president got to spend some time with Ric at the event," said Campbell. "He introduced Ric at the head table and said, 'I'm so happy to have in my corner Ric Flair … I think I might have Ric and Arnold Schwarzenegger head up my Presidential Committee on Physical Fitness!' The crowd went crazy and started wooing."
With Flair and the president having already developed a friendly relationship, the Nature Boy readily accepted the offer to be part of the presidential train tour in 1992.
As it turned out, Flair had just come off an injury in a match with The Ultimate Warrior. He was experiencing vertigo and had undergone treatment at the Mayo Clinic in Minneapolis.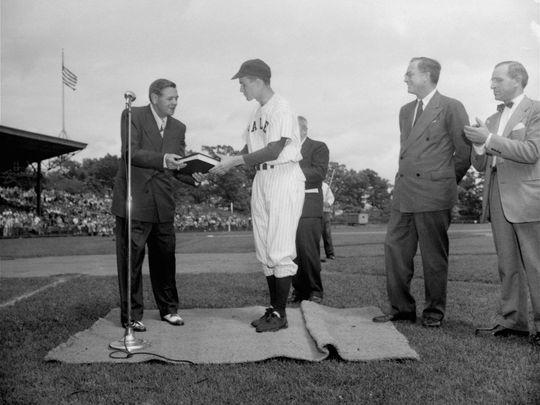 "Ric had time off and agreed to do the tour," said Campbell. The next day, Flair drove to Columbia and met Campbell at the Governor's Mansion. A SLED agent drove them to Georgia, where they met the train.
Not surprisingly, Flair once again stole the show.
"We went through all these small towns around the South, and they would introduce Dad and Strom Thurmond and the president," said Campbell. "These were rallies for the president, but Ric was getting a louder ovation than the president of the United States was. People were going crazy. I even had the Secret Service guy tell me that they had had every person imaginable on this train, from Arnold Schwarzenegger to Bruce Willis and everybody in between, but they had never seen that kind of response for anybody like they had seen for Ric."
Campbell also recalled a humorous incident that occurred on the train's club car involving his mom and the Nature Boy.
"(Political strategist) Mary Matalin was talking to somebody and just going crazy about something. My mom just kind of rolled her eyes at what was being said, and she looked at Ric, held her glass up and said, 'You know Ric … the only thing absolute on this train is the vodka!'"
"Ric loves that story and tells it all the time," said Campbell, laughing.
It was also Flair's first time meeting George W. Bush, who was on the train as well.
"We were sitting in the club car when Dad told Ric to come with him. He took him into the presidential box car, where George Bush Sr., Barbara, George and Laura Bush were there with just Dad. That's when they spent a lot of time visiting and really getting to know Ric. Bush Sr. was so thankful and appreciative of Ric coming there. They started talking about Wahoo McDaniel, and Ric talked about his friendship with Wahoo and all the matches they used to have. The president was fascinated by this."
With both being huge sports fans, the two had a lot to talk about, said Campbell.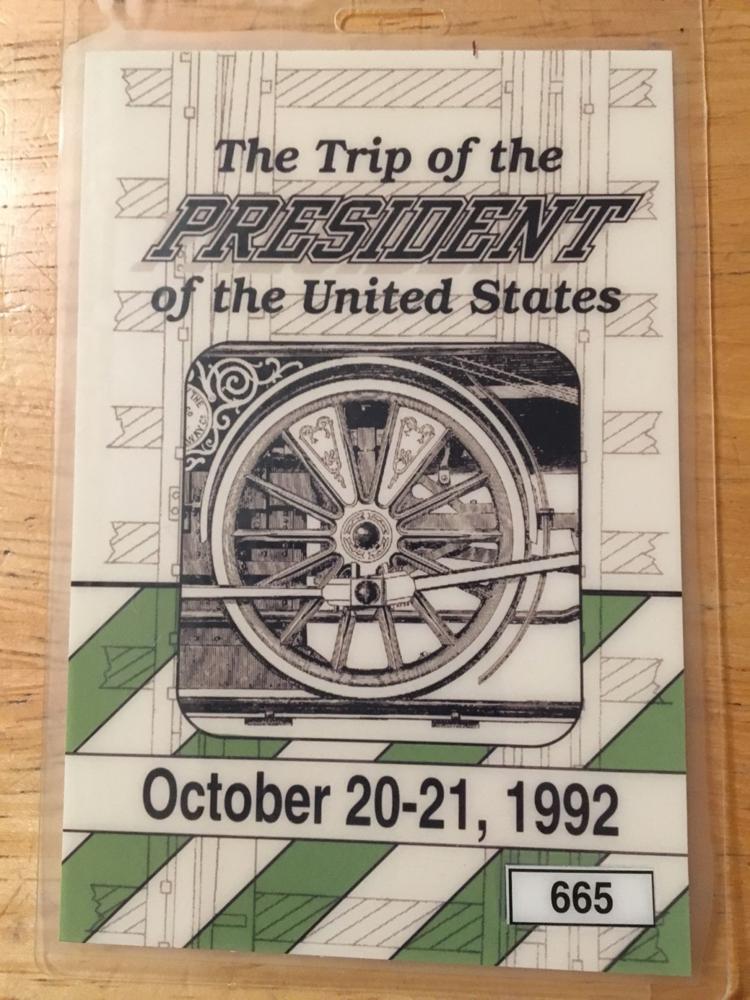 "Ric absolutely loved him," said Campbell. "He was such a personable guy. Even though Ric was a staunch Republican and George Bush was president and vice president, if Ric didn't believe in him, he wouldn't have campaigned for him and put his name out there on the line as well. But he did, not only because he really believed what he was trying to do for the country, but once he got to know him, he genuinely liked him."
Campbell said he also greatly admired George H.W. Bush, whose relationship with dad Carroll almost landed the Palmetto State governor on the presidential ticket.
"I was deeply honored to have known him," said Campbell. "The last political thing in South Carolina he did for anybody, other than his sons when they ran for office, was doing a commercial endorsing me for Lieutenant Governor in 2006. I don't know anyone who could have not liked George H.W. Bush."
"The country and the world have not just lost a great statesman - they have lost a great man," added Campbell. "We will never have another man like him to serve in that role."
Ernie Ladd
At 6-9 and well over 300 pounds, Ernie Ladd was widely regarded as the biggest and toughest man in pro football during the 1960s when he played in the fledgling American Football League and was one of its top stars.
Boston Patriots Hall of Fame center Jon Morris once said Ladd was so big, he blocked out the sun. "It was dark. I couldn't see the linebackers. I couldn't see the goalposts. It was like being locked in a closet."
Nicknamed "Big Cat"' for his massive size and agility, Ladd began wrestling during his rookie season and liked it so much that he gave up football in the late '60s to pursue his new passion full-time. He would become one of the top-drawing performers in the business.
While playing for the Houston Oilers in 1966, Ladd became friends with George H.W. Bush and his family. He met the future president, who was preparing to run for the U.S. Senate, at a mentoring program in Houston for underprivileged kids that was chaired by the elder Bush, who often sought Ladd's counsel.
Their friendship would last for more than 40 years, with Ladd taking an active role in the campaigns of Bush and son George W.
"They're just a great family to know," Ladd said in a 2005 interview. "And nobody's sweeter than Barbara. Don't let anyone tell you that George Bush Sr. is 80 years old. That man is the energizer bunny. I've got bad knees, and I had to roll around in a wheelchair for a while. He and Barbara were walking all over the place. I told his son that he needed to talk to his daddy, because his daddy was running all over the place."
A strong supporter for George W. Bush in his presidential campaign and a member of his steering committee, Ladd was a guest of the family at the Republican National Convention in Philadelphia in 2000. He served on the organizing committee for George W.'s 2001 inauguration.
A devout Christian, Ladd also was part of the effort spearheaded by the elder Bush to minister to victims of Hurricane Katrina in September 2005.
"Everywhere I go I do my job, and that's to spread the word of the Lord," said Ladd. "When a former president calls you and tells you he wants you to walk with him, I didn't have any choice except to say, 'Yes sir, Mr. President.' Simple as that. It wasn't too much left for me to say. My best thing I can do now is raise my hand to the Lord."
Ladd worked as a consultant for minority contractors and traveled with a ministry into prisons after retiring from the ring. But he always enjoyed getting out and helping Bush with his campaign.
"It's easy to enjoy it when you're doing it with a good man and a good family and a good family background," said Ladd.
A member of the 1995 WWE Hall of Fame class, Ladd died of cancer at age 68 on March 10, 2007, in Franklin, La.
Reach Mike Mooneyham at bymikemooneyham@gmail.com, or follow him on Twitter at @ByMikeMooneyham and on Facebook at Facebook.com/MikeMooneyham.