Ric Flair always did know how to throw a birthday party.
And he always knew how to draw the highest ratings for a show.
The inimitable Nature Boy did both in one shot last Monday, when a show that revolved around his birthday bash and the return of Roman Reigns drew the best ratings in six months for WWE's Monday Night Raw. It was the most-watched episode of the show since Aug. 20.
The high numbers were, in no small part, due to the anticipation for the heavily hyped 70th birthday celebration for Flair at the State Farm Arena in Atlanta.
Only problem was that the star of the show never made it to the ring, where Triple H and Stephanie McMahon had brought out a mammoth cake, a new championship belt and four of Flair's best friends in the business – Shawn Michaels Ricky Steamboat, Kurt Angle and Sting – to greet the birthday boy.
Instead, the 16-time world champion was getting pummeled backstage by the returning and unadvertised Batista (Dave Bautista), the former WWE champ-turned-Hollywood star who crashed the party and spoiled the festivities for many fans who had packed the building to see Flair.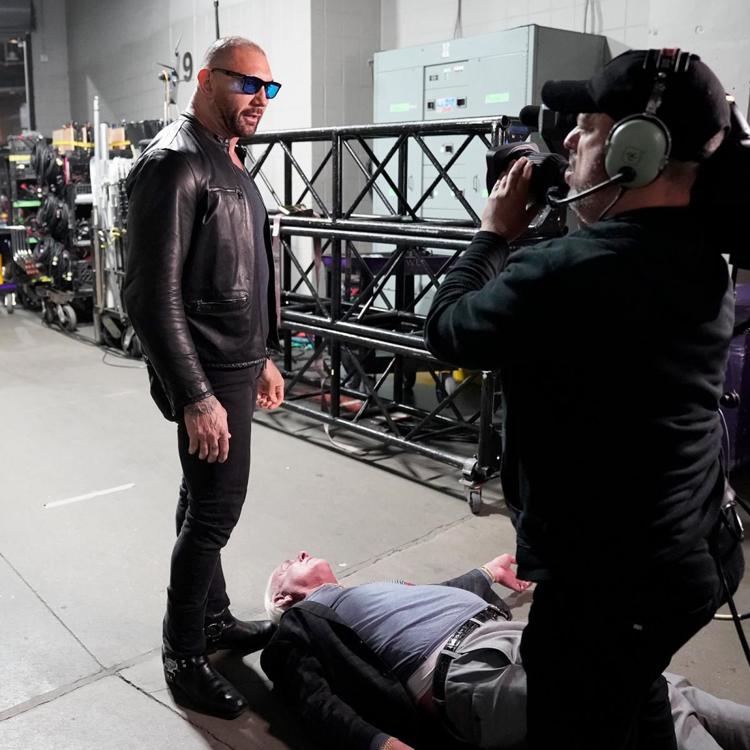 Even at the age of 70, and 46 years after making his pro wrestling debut, the man Triple H called "the greatest sports entertainer of all time" still knows how to do what's best for business. While some attendees and viewers lamented the fact that they did not get to see Flair feted at the "celebration," it was an unexpected swerve that had fans talking, something that has been woefully lacking in the past, and also served to set up a Triple H-Batista encounter for Wrestlemania 35 on April 7.
"Poor Ric. He deserved better on his birthday," wrote one fan," expressing the disappointment of many others as well.
But all one needs to do is chronicle Flair's history over the years, sacrificing himself for the sake of an angle or storyline, doing the job when necessary and cultivating his brand through blood, sweat and tears.
While it's understandable that many fans who traveled and paid good money to see Flair celebrate (and WWE could have at least sent Flair out after the show for the live crowd while he sold his injuries) expected more, in this case the angle and cliffhanger served a greater purpose.
And, for future reference, just keep this in mind: Pro wrestling birthday parties rarely end well.
Triple H spotlight
The Triple H-Batista showdown has been rumored since Batista teased a possible confrontation during a one-night Evolution reunion last October at the Smackdown 1,000 show.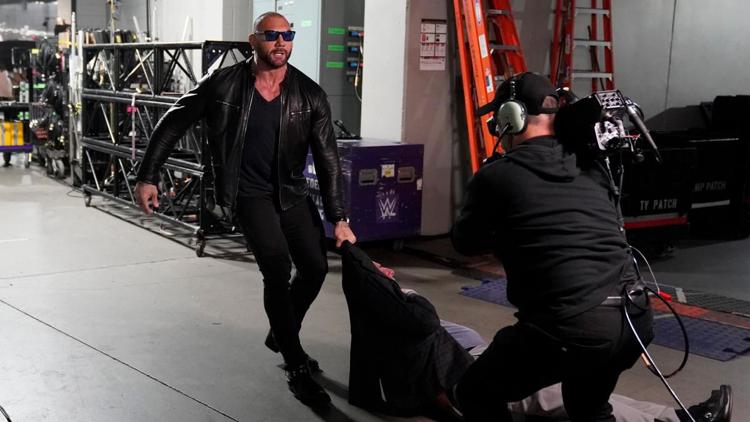 "There is nothing this man hasn't done in this business … except beat me," Batista declared.
While Batista will cash in on a major payday in what looks to be his farewell run with the company, 14-time world champ and real-life WWE exec Triple H (Paul Levesque) stands to be the real beneficiary in this latest scenario.
While Triple H has been bouncing around from heel to face in his authority figure role, sometimes from week to week, he has yet to settle in on a storyline that will put him in the rarefied air territory enjoyed only by icons the magnitude of his boyhood idol.
Coming to the aid of a 70-year-old Flair just might be a big step in achieving that goal, especially if "The Man" finds himself in Triple H's corner at Wrestlemania.
It could also serve as redemption for Batista, who was chided by many fans and even some colleagues when he departed WWE for Hollywood.
"It was brave and maybe a little stupid," Batista told Fox Sports in a 2018 interview. "It was three years of me barely working. You know, (I had) a nice thing with the WWE. I made a very good living there. I was very comfortable and I could have stuck with that, but I just wanted to do something else."
WWE, though, would not give Batista an acting opportunity within the company or outside of it, so he let his contract run out and he moved on.
Batista has had the last laugh, though, as he is a bigger star than ever, earning the spotlight in such films as "Guardians of the Galaxy," "Blade Runner 2049," "Avengers" and "Hotel Artemis," with several more projects in the works.
The Hollywood success story recently told The Tampa Bay Times that he hated being compared to other wrestler-turned-actors such as The Rock and John Cena, noting, "Those guys are wrestlers who became movie stars. I'm … something else. I was a wrestler. Now, I'm an actor."
"I want good roles," said Batista. "I don't care about 'Fast and Furious' or 'Bumblebee' … That's not the kind of stardom I want. I want to be in 'Dune.' I want to work with Denis Villeneuve. I want to work with Sam Mendes and Jodie Foster. I want to work with Academy Award winners. I'm proud to be a character actor. I want that respect and credibility and education."
The 50-year-old Batista says he's looking to retire from acting in five years and possibly move on to directing and producing.
But for at least one night, at Wrestlemania, "The Animal" will trade his acting chops for ring gear. Or will he?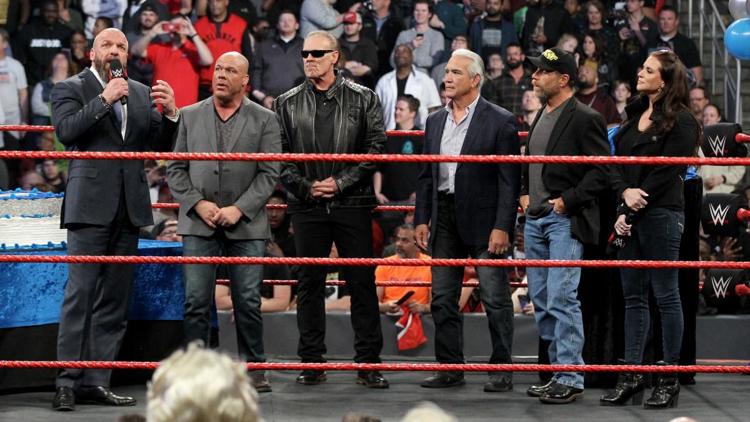 Undertaker speaks
Texas megachurch pastor Ed Young recently featured The Undertaker as part of his pro wrestling-themed sermon series.
Speaking out of character, Mark Calaway dispelled rumors of a possible rift with Vince McMahon over appearing at the Starrcast II convention in May, calling the WWE owner an "awesome leader."
"You may see him on TV and think, man, I do not like that guy, but he is awesome. He wouldn't ask anybody to do anything that he wouldn't do. He's really built an empire from hard work and dedication and energy … He's an awesome leader. I call him boss, but we're like friends now than we are employee and company owner."
Taker also discussed how his wife, former WWE diva Michelle McCool, brought him back to church. He said he knew about God, but didn't have a personal relationship with Him. Raised Catholic in a God-fearing home, Calaway says his wife pushed him to attend church. He initially went reluctantly, but he soon realized it was the perfect circumstance at the perfect time.
"She was very persistent. She wanted me to be the man that I could be. And that has nothing do with being The Undertaker," said Calaway.
"There's another other part to life that I was missing," said Calaway, who says he spends a lot more time these days reading his Bible.
"Michelle is a very strong woman, and she had to be. She's the one who put me in the right place for me to get my life back on track again to what really matters. I'm obviously indebted just for that, but she's (also) an awesome mom."
Young, senior pastor of Fellowship Church of Grapevine, Texas, has also featured Ric Flair, Sting and Ted DiBiase in his series.
Young told The Christian Post last year that he had considered centering a sermon series on wrestling for years given how often it appears in the Bible.
"One of the most used metaphors in scripture regarding the Christian life is that of a wrestler," said Young, citing as examples Ephesians 6:12 and Jacob wrestling with an angel, as described in Genesis 32:22-32.
"It's a staple in our culture so I thought wouldn't it be cool to interview some of the most popular wrestlers in the world, to have them at Fellowship, and then to speak out of the scripture regarding wrestling?" Young said.
The interview can be viewed on Ed Young's YouTube Page.
Thatcher training
Les Thatcher, one of the most respected trainers in the business, is available for weekend training camps and daylong seminars.
Among the areas Thatcher will cover are singles and tags, conditioning drills, pacing, timing, telling a story, ring psychology, facial expressions and body language.
Thatcher also will offer advice to TV personnel, bookers, trainers and referees.
Thatcher, who was inducted into the Mid-Atlantic Hall of Heroes in 2013, has been involved in most facets of the wrestling business, including wrestler, announcer, trainer, booker, promoter, producer, photographer, magazine writer and consultant, since the 1960s. He has trained some of the top names in the business.
Interested promotions or wrestling schools can contact Thatcher at les@epwt.com or lesthatcher@zoomtown.com for more information.
'350 Days'
The pro wrestling documentary film, "350 Days," featuring legends Bret Hart, Superstar Billy Graham and dozens more, is now available for pre-order on iTunes, as well as on BluRay and DVD at Walmart.com, Amazon.com and other online retail sites.
The compelling documentary chronicles their struggles to survive the chaos of 1980s-era wrestling. Living a rock and roll lifestyle, they faced nightly temptations, battled their vices, and were absentee parents and spouses while chasing dreams of fame and fortune.
"350 Days" is set for release April 2.
Reach Mike Mooneyham at bymikemooneyham@gmail.com, or follow him on Twitter at @ByMikeMooneyham and on Facebook at Facebook.com/MikeMooneyham.