Regis Philbin loved pro wrestling. And pro wrestling loved him right back.
Philbin, the iconic media personality who passed away July 24 at the age of 88, was a fan of professional wrestling dating back to the 1960s when he was host of his own local TV talk show and was "Rat Pack" comedian Joey Bishop's sidekick and announcer during Bishop's brief stint as an ABC late-night host.
Philbin later would become a dominant force in daytime TV for more than two decades, co-hosting "Live! With Regis and Kathie Lee" and "Live! With Regis and Kelly," before scoring big prime-time ratings with "Who Wants to Be a Millionaire," a game show that became a must-watch event each week until it went into syndication after 2002.
But pro wrestling, in both its earlier incarnation and later version of sports entertainment, was always an important part of Philbin's amazing 60-year career. He openly declared that he had been a wrestling fan his entire life, and his passion and loyalty to the business was evident when he featured countless wrestlers/sports entertainers on his shows over the years.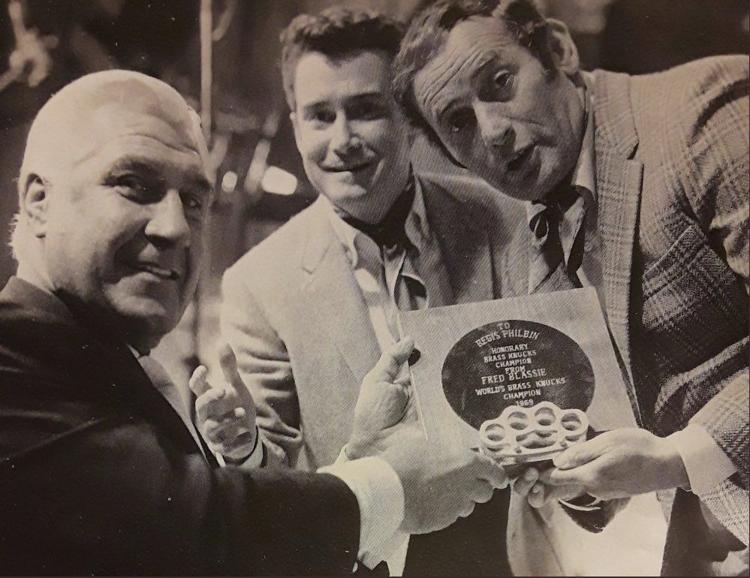 "I've been a fan of sports entertainment my whole life. When I started my first talk show in San Diego, many years ago, it was with The Destroyer. He was tough, fun — one of my favorite guests — and I've been hooked ever since," Philbin declared while sending a congratulatory message to WWE on the company's 1,000th episode of Monday Night Raw in 2012.
The late Fred Blassie, one of the most celebrated heels in wrestling history, was a frequent guest on Philbin's late-night show out of San Diego in the '60s, and the two developed a friendship that lasted until the wrestler's passing in 2003. Always staying true to his "bad guy" character that made him a major name on the West Coast wrestling scene, Blassie would toss around furniture and call Philbin a "pencil-neck geek" during his many appearances on the show.
Philbin, who always took care not to outshine his guests, was the perfect foil for Blassie, as well as many others, including The Masked Destroyer (Dick Beyer), who would also occasionally visit the comedian's show.
"Spontaneous conversation," Philbin said about his approach to hosting in a 2011 New York Times profile. "Spontaneity is everything to me, working without a net."
The morning after "Classy Freddie" Blassie's death in 2003 at the age of 85, the wrestler's longtime friend paid tribute to him on "Live." Blassie, who once said he "loved Regis like a brother," had been one of Philbin's first guests when he started out with his own late-night talk show decades earlier, the comedian recalled, noting that the two had become great friends during his frequent appearances.
Philbin showed several photographs from past Blassie appearances, including shots of himself with Ernie Ladd and (promoter) Jules Strongbow, a shot of Philbin's jacket after it had been torn up by Blassie, and a picture of Blassie and a team of wrestlers engaging in a tug of war with the San Diego Chargers.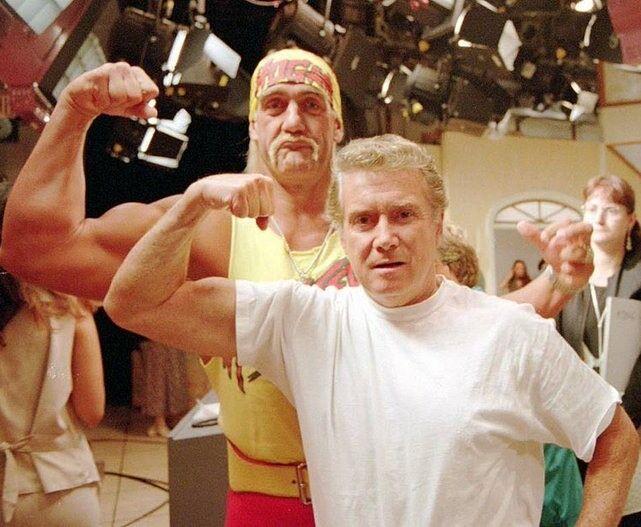 'One of Us'
A born and bred New Yorker, Philbin was no stranger to wrestling shows, making a number of appearances at Madison Square Garden, long known as the Mecca of professional wrestling.
More than a mere casual fan, Philbin was a longtime Wrestling Observer newsletter subscriber who faithfully kept up with the wrestling scene. And although he was a top-level TV celebrity, he understood and respected the wrestling business.
"He was one of us: a wrestling fan," a mat follower posted on social media. "Regis always got involved – he was a true friend of the business," wrote another.
Philbin appeared at Wrestlemania VII in Los Angeles in 1991 as a special backstage commentator on a show that featured Hulk Hogan challenging Sgt. Slaughter for the WWF championship.
Philbin's passion and loyalty to the business was evidenced by the many wrestling personalities featured on his "Live" shows with co-hosts Kathie Lee Gifford and Kelly Ripa. The list includes such names as Hogan, Steve Austin, The Rock, Ric Flair, Bret Hart, Shawn Michaels, John Cena, Triple H, The Undertaker and Paul Bearer, Randy Savage, The Ultimate Warrior, Lex Luger and The Bushwhackers.
Always willing and eager to help promote WWF/WWE events on his popular program, Philbin loved interacting with the countless stars who would grace his stage. Known as "the hardest-working man in showbiz" (Philbin occupies a spot in the Guinness Book of World Records as the most-watched person in television history, logging more than 17,000 hours of airtime), he wasn't averse to physical comedy.
Yokozuna, accompanied by spokesman Jim Cornette, was on a 1993 episode of "Live" in an appearance to promote WWE's Summer Slam where the 600-pounder defended his WWF title against Lex Luger. Philbin, along with a team, battled the massive Yoko in an "epic" tug-of-war.
Bret Hart "choked out" the host on his show. Philbin "riled up" The Ultimate Warrior, and let Kurt Angle apply his Angle lock on him. The genial host humorously matched Steve Austin's "3:16" shirt with his own "Philbin 911" jersey. The laughs were nonstop between Philbin and his guest grapplers, even if co-host Kathie Lee Gifford sometimes shuddered at some of the over-the-top proceedings, such as the time "Ravishing" Rick Rude went on the show with their faces sprayed onto his tights.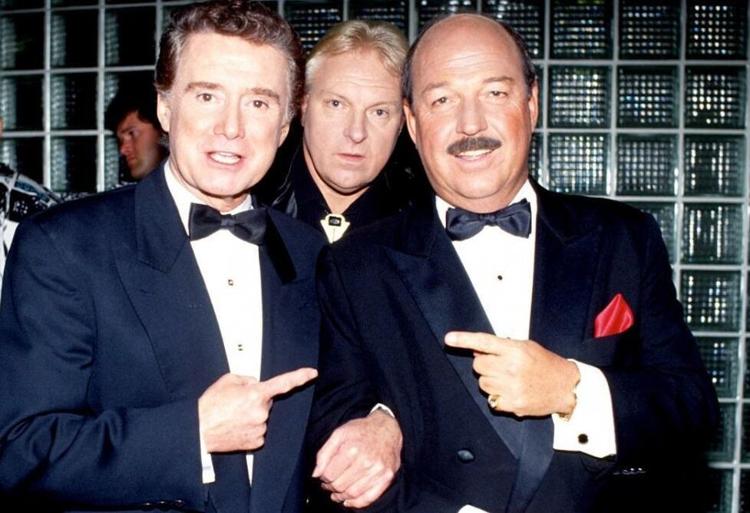 While Philbin enjoyed playing along with the performers, the beloved personality never poked fun at the business, treating talent with the utmost respect.
"A gentleman that was the epitome of an entertainer. A national treasure. He always treated guests from the pro wrestling industry with dignity and class," tweeted veteran performer Frankie Kazarian.
Hulk Hogan noted how he was always happy to be a guest on the "Live" show. "Regis was great, knew how to work and sold it," recalled Hogan. "Regis was the only show I was always excited to do. Regis was a real pro and I could always count on him sneak attacking me every time I was a guest on the show. RIP my brother."
TV's 'Everyman'
The TV icon, who graduated from his beloved University of Notre Dame, got his start in the television industry by working as a page on "The Tonight Show" in the 1950s.
Also a showman and singer who performed in Las Vegas several times over the years, the energetic and funny talk and game show host, with his self-deprecating humor and easygoing demeanor, would become a beloved institution, a staple of American television since the '60s.
Regis, as he was universally known, or just simply "Reege," was TV's "everyman."
"Our show is Reege living out his jock dreams by racing across Columbus Avenue in traffic to catch passes from Joe Namath and Terry Bradshaw," Kathie Lee Gifford wrote in a memoir. "It's Reege mussing up wrestling manager Freddie Blassie's hair and getting a chair tossed at him; shadowboxing with Razor Ruddock; weight lifting with Joe Piscopo; jousting with American Gladiators Lace and Gemini."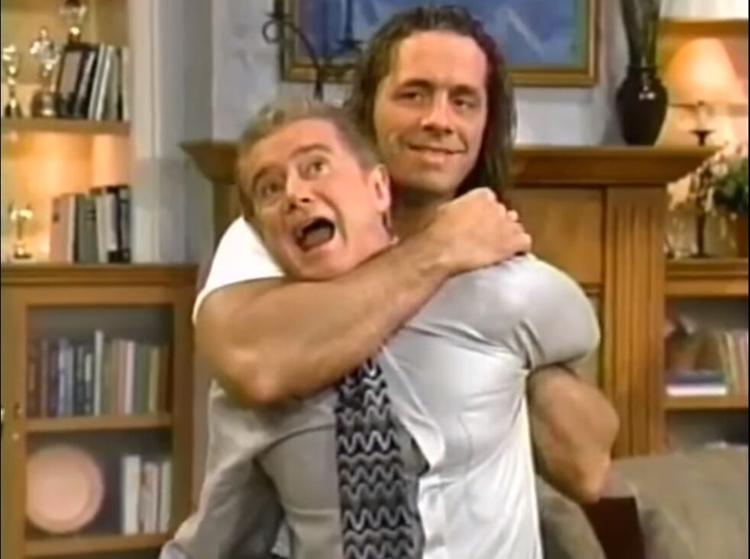 So it should come as no big surprise that Philbin would have an affinity for pro wrestling/sports entertainment.
Mick Foley, who appeared on the celebrity edition of the game show, remembered Philbin as "a gracious and kind man" with a warm, comic touch who was "every bit as nice when the cameras were not on."
President (and WWE Hall of Famer) Donald Trump remembered his friend as "one of the greats in the history of television," noting that Philbin had "passed on to even greater airwaves."
"He was a fantastic person, and my friend," the president added.
The Cauliflower Alley Club also paid its respects to Philbin.
"CAC sends out our sincerest condolences to the family,  friends and fans of the legendary Regis Philbin who passed away today. He was a huge promoter of professional wrestling throughout his career in television having countless wrestlers on his shows from the beginning. R.I.P. Sir."
"Goodbye Regis, loved you for being so kind and generous, will miss you always," tweeted Bret Hart.
"I will always remember how much respect Regis Philbin showed to the wrestling world. I grew up watching Regis and Kathy Lee because that was my mom's favorite show," posted WWE's Natalya (Nattie Neidhart).
"My heart is broken. RIP Regis. You were one of the reasons I wanted to be on television. Your legacy will live on forever," tweeted Smackdown broadcaster Kayla Braxton.
Philbin was a true friend to wrestling for decades and, for many, losing him was like losing a personal friend.
On behalf of all wrestling fans, thanks Reege, for always making us laugh. And that's our final answer.
Reach Mike Mooneyham at bymikemooneyham@gmail.com, or follow him on Twitter at @ByMikeMooneyham and on Facebook at Facebook.com/MikeMooneyham. His latest book — "Final Bell" — is now available at https://evepostbooks.com and on Amazon.com