Pete Kaasa was at the top of his game when he decided to leave the wrestling profession in 2017.
One of the most popular performers on the independent wrestling scene, the Charleston native dazzled crowds with a repertoire of daredevil high spots and amazing acrobatic ability. As more and more fans were exposed to Kaasa's audience-pleasing style, his chances of reaching the next level increased exponentially.
Unfortunately, though, Kaasa had to work through a number of injuries that would slowly derail his upward mobility in the mat game. While he would seemingly come back stronger after each injury, Kaasa began to seriously think about his future outside of the wrestling business.
Kaasa's last match in a pro wrestling ring was on an Evolve show in Texas more than 18 months ago. While preparing to execute an aerial move off the turnbuckle, the second rope busted and Kaasa took a nasty spill. The result was a severe bulging disc between his C5 and C6 vertebrae.
It wasn't the first setback Kaasa had suffered during a six-year career, and he knew it wouldn't be the last.
"That really took the wind out of my sails," says Kaasa, who now works as a firefighter on James Island. "It was tough, mentally and emotionally, trying to get over those injuries. The mental hurdles were way more challenging to me than any of the physical stuff."
Kaasa had made incredible strides during his relatively brief run in the wrestling business. He had achieved high acclaim his final full year in the game working for the respected Dragon Gate promotion in Japan. Fans were in awe of his "Kaasa Tornado," a variation of Neville's spectacular "Red Arrow maneuver, and his running "Superhuman Hurricane," with a nod to Scott Steiner.
"I was finally making enough money to get by and living the life where you'd travel from place to place every day and was working four to five nights a week," says Kaasa.
But it also got Kaasa, in his early '30s at the time, thinking about just how far he wanted to take things in the mat game.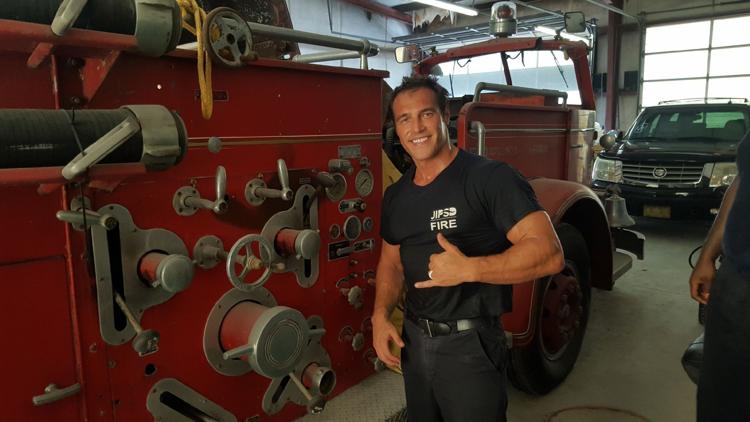 "I think it was then that I realized that I maybe needed to retire sooner than I had expected. Life was challenging for me to maintain my level of health and fitness, along with the wear and tear on my body. I was still young, but my body didn't feel like it," says Kaasa.
"My body was weak. It was really hurting in Japan. I was taking around six Aleves a day just to get by. It wasn't the most powerful stuff, but it still was doing a number on my kidneys. My doctor was really worrying about me when I came back and my kidney levels were all out of whack."
Along with the physical and mental challenges, Kaasa also began to feel the personal ones take hold.
"My relationships also suffered because of it. I found myself wanting to call my family less. When I Facetimed them, I'd miss them so much that it made it harder to call them. And that would allow more and more time to go by. That became the normal thing, and I didn't want to get to that point."
Kaasa, now 34, looks back and knows he made the right decision.
"I think God must have been saving me for something else."
'Fabulous athlete'
Kaasa, who graduated with a degree in exercise science from the College of Charleston in 2008, wanted to be a professional wrestler for as long as he can remember. He took his first major step in that direction when he began training at the Atlanta-based WWA4 pro wrestling facility, under the instruction of former WWE star "Big Cat" Curtis Hughes, in 2010.
Kaasa, whose daredevil style was soon compared by some company officials to that of "The Phenomenal" AJ Styles, breezed through the school with flying colors.
He also developed a gimmick while there — a flashy character known as Pete Kaasanova — along with an impressive following. He would go on to refine his skills at former NWA world champion Dory Funk Jr.'s school in Florida and later with former mat star Manny Fernandez. While Kaasa began building an impressive resume, talent scouts began to take notice.
"Pete is a fabulous athlete," critiqued Funk. "His style of work reminded me of a young Dynamite Kid when I first met him many years ago … He's also one of the finest gymnasts I have seen."
"He's outstanding," echoed WWE talent scout and Hall of Famer Jerry Brisco. "He looks great inside and outside the ring."
Although new to the business, Kaasa had a built-in advantage by bringing a wide spectrum of athleticism to the table. The solidly built 5-6, 190-pound workout fanatic, whose father Gary was a wrestling champ in the U.S. military in 1970 during the Vietnam War, had competed in gymnastics since an early age and also was a championship-caliber surfer.
Well-versed in Brazilian jiu-jitsu and submission wrestling, Kaasa quickly made an impact on the independent wrestling scene, drawing rave reviews everywhere he went.
Fans flooded social media with posts about the rising young star. Commented one follower: "If you were watching the Olympics and wondered what it would be like if one of the gymnasts became a pro wrestler, they would look something like Pete Kaasa. He's small but he is also really strong and can do pretty much anything in the ring when it comes to high spots and flips. He's every bit as athletic, if not more so, than guys like Ricochet, Will Ospreay and Neville. He has since started working for Evolve and I expect big things from him over the next few years."
"One of the best flyers in the world," wrote another. "Pete is so impressive for a guy his size. He isn't the tallest guy but is probably one of the most ripped guys I've seen in a long time."
Kaasa picked up invaluable experience along the way, soaking up knowledge from an impressive array of trainers.
"Manny really cared a lot about me. He wanted to help me more than himself. It's a rare thing. He never charged a dime for training. That's a lot different than any other trainer you'll find … especially someone who had achieved the status he had."
Career highlights included his time in Japan working for Dragon Gate, where he initially made inroads thanks to a sterling recommendation by former WWE cruiserweight champion Ric Swann, and working with close friend Chase Brown as an opponent and tag-team partner. The two were billed as Nuclear Kaasarole (Peter "The Superhuman" Kaasa and Chase "Cauliflower" Brown).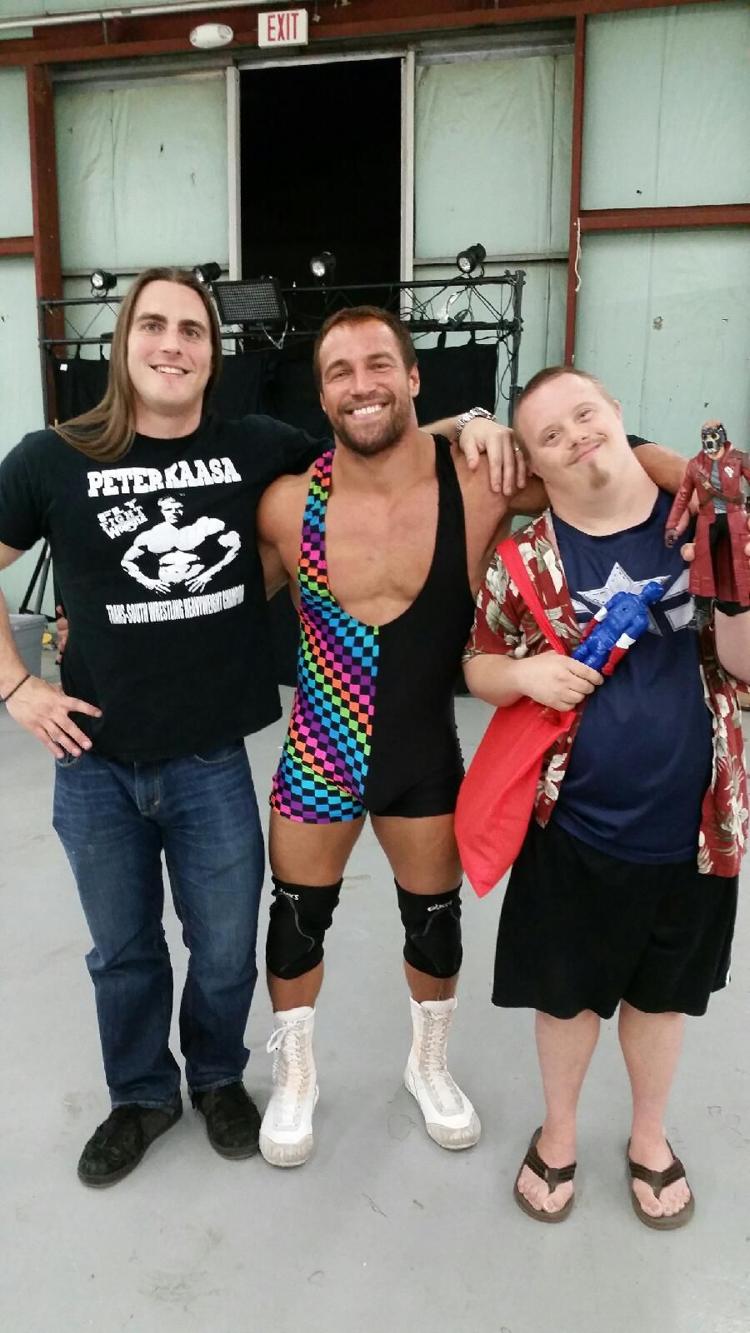 "Teaming with Chase made me feel like I should have been in a tag team my entire career," says Kaasa. "If not my brother Jesse, Chase would have been my first choice for a partner."
Brown also ranked among Kaasa's favorite opponents, along with reigning WWE cruiserweight champ Cedric Alexander and AR Fox.
"AR was basically my training partner when I first started out," says Kaasa. "He really helped me develop a lot of that crazy style. He was the guy who I practiced with all the time. I don't think I would have pushed myself as hard if it weren't for him. He pushed me to where I could accomplish the goals I wanted to reach."
Mounting injuries
The high-flying Kaasa tore several ligaments in his ankle in 2014 and underwent surgery that potentially threatened his career. He was out for nearly a year, but returned more focused than ever.
He later suffered a torn groin that caused him to bleed internally.
"I drove from Spartanburg to Charleston, and my dad took me to the ER. When I got there, they told me I was lucky because I could have possibly bled to death. They told me the impact on my body was like I had been in a car wreck."
It was Kaasa's second major injury in little more than a year. But, like before, he came back stronger and better than ever.
After the final injury in January 2017, though, the writing was on the wall. His time for twisting moonsaults and corkscrews off the top rope had come to an end.
It wasn't an easy decision to make, but it's one that Kaasa felt was necessary in order to begin a fresh new chapter in his life. He left it all in the ring, and there was no looking back.
"I think the main thing was just knowing that I could do what the best did. I don't consider myself the best wrestler, the best technical wrestler, but I see myself up there with the guys who were at the top of the flying aspect of wrestling. It was really a goal of mine, and I felt like I did accomplish that even though I might not have been as well-known as many of them. Thanks to God for that."
Kaasa says he knew he had "made it" when older brother Michael, who has Down syndrome, told him he was his favorite wrestler. Kaasa says Michael, a devout fan himself, has served as his inspiration.
"I don't know if he was a bigger encourager than (brother) Jesse, but Michael was one of my biggest encouragers throughout my whole career. He was always so happy when I got home. You could tell that he missed me a lot. When Michael told me that I was his favorite wrestler, it was the biggest compliment of my life."
Fighting fires
It took Kaasa a while to adjust to a regular life without wrestling. There was a period of readjustment.
"I missed training for something. I'd wake up every day knowing what I was supposed to do and thinking what I had to do to get there. When that's no longer a goal, it's almost like you lose your identity a little bit. You don't know how to be. There's a saying that professional athletes die twice. I guess I felt like that."
"I took a little while to heal. My neck still bothers me, but I got back into Brazilian jiu-jitsu and ended up getting my brown belt, which was a goal I always had."
Kaasa attended the South Carolina Fire Academy last October and became a full-fledged firefighter in January. It was something he had never really considered before.
"I wouldn't say it was always something I wanted to do, but it seemed like there were cool aspects of it that would make it not the normal 9 to 5 (job)," says Kaasa, who drew some similarities to the wrestling business. "You might still get some adrenaline, and you can use your physical abilities to help your community. That really appealed to me."
And like wrestling, dues have to be paid.
"It can be challenging in more ways than one. You can deal with danger. It's also challenging because you're starting something new all over again. You're like the new guy even though you have all this history behind you. It doesn't matter that you went to college. It doesn't matter that you're a professional athlete. You're still going to be scrubbing floors for a certain amount of time."
Sign from above
A licensed massage therapist since 2007, Kaasa opened a business in West Ashley, with plans to relocate to James Island next month.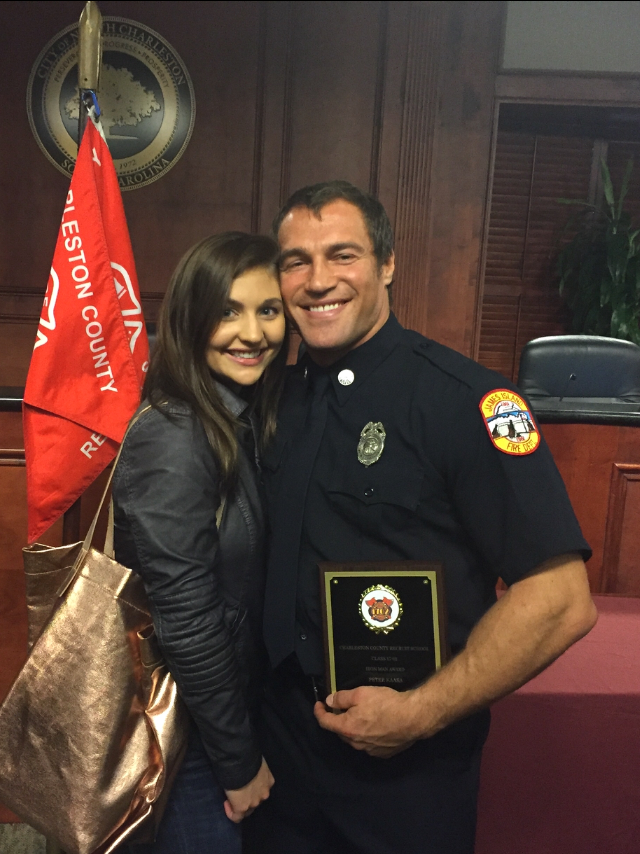 He also is about to embark on his new life as a husband. He and fiancée Hannah Rasmussen were engaged earlier this year and will be married in October.
The two met well after his wrestling days had ended. "She doesn't even know that life with me," he says.
But Kaasa is certain of one thing.
"She's the first person that I've ever known that I want to spend every single second with. Every moment with her is special."
Kaasa, a championship-caliber surfer, also has gotten back to the water.
"Shortly after the last injury, I went on a long surf trip with my cousin to El Salvador and Puerto Rico. It sort of rekindled my love for surfing, which had been lost for those six years when I was trying to do something else. It also gave me a lot of peace. Surfing was also my first love. I feel very close to God in the ocean. That really helped lessen the blow of not wrestling."
Life has come full circle for Kaasa, who finds himself living in the same neighborhood he grew up in. He waxes philosophical about where he's been and where he plans on going, but not with an attitude of regret.
Everything has happened for a reason, and that includes his wrestling career. When he looks back, Kaasa says he feels maybe those injuries were a sign for him to reset his course.
"I believe God is looking over us for certain reasons and putting things in your heart. I definitely believe that."
Kaasa cited an example shortly after his final injury. While considering whether to return to the business, he says a vivid dream gave him confirmation.
"I had this dream one night where I was taken out of a holding cell. I was completely and utterly alone in this jail. And when I was escorted out of this holding cell, I went into an arena where I performed for thousands of people. Afterwards I was taken right back to my cell. And then the doors locked on me."
That dream, he feels, had a deeper meaning.
"I felt like God was telling me that it (wrestling) was my ball and chain. It was keeping me from where I needed to be. I put it as an idol before people, before God at certain times in my career. I just felt like He was speaking to me."
Does that mean he doesn't miss the business?
"I do miss it. I think about it every day. I miss a lot of my friends and seeing people at shows. But what I miss most are the fans."
"It was definitely worth it," Kaasa says of his wrestling journey. "I guess my body tells me that I shouldn't miss that, but at the same time being able to say I was a professional athlete at one time and the experiences I gained were kind of priceless. There certainly were a lot of life lessons."
Reach Mike Mooneyham at bymikemooneyham@gmail.com, or follow him on Twitter at @ByMikeMooneyham and on Facebook at Facebook.com/MikeMooneyham.
.