Dick Bourne has come up with another winner with his latest book, "The Mid-Atlantic Championship," an offering that chronicles the history of one of pro wrestling's most revered regional titles.
Originally introduced in 1970 by Jim Crockett Sr. and called the Eastern heavyweight title, the name was changed to the Mid-Atlantic heavyweight title in late 1973.
The new name reflected a transition from a territory that had been dominated by tag teams for more than a decade to one that put the emphasis on a singles championship. It would become a prestigious belt that would be worn by some of the top wrestlers in the business.
That illustrious list of titleholders would include the likes of Ric Flair, Ricky Steamboat, Johnny Valentine, Wahoo McDaniel, Roddy Piper, Ole Anderson, Dory Funk Jr., Jack Brisco, Jerry Brisco, Greg Valentine, Ivan Koloff, Paul Jones, Rip Hawk, Ray Stevens, Ronnie Garvin, and others.
Bourne chronicles the history of the title through its eventual retirement in 1986. He details more than 60 title changes across a 16-year period and includes photographs along with posters and newspaper clippings.
Naturally Bourne holds the Mid-Atlantic title in high regard.
"Obviously I'm a bit biased, but it is definitely in the same company with some of the other great regional titles of that era," says Bourne. "The southern U.S. had such great regional titles, state titles like the Georgia and Florida heavyweight titles. And the Missouri title in St. Louis. But the Mid-Atlantic title represented such a broad geographical area compared to the state titles in the smaller geographical territories. And the list of guys who held it is like a 'who's who.' For my money, it stands out among the others."
Dubbed "the Indiana Jones of title belt archeology" by Pro Wrestling Insider's Mike Johnson, Bourne says the Crockett territory titles particularly piqued his interest.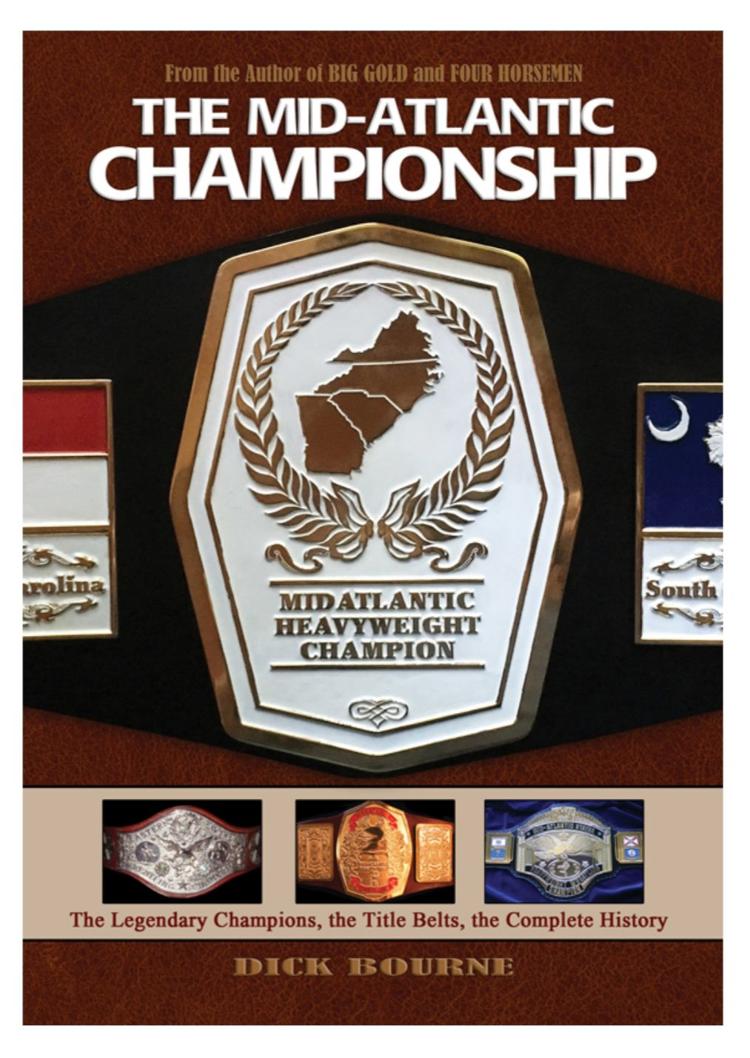 "I'm not a historian on territorial titles broadly, more a keen study of the Mid-Atlantic territory specifically," says Bourne. "Although all territory wrestling history interests me, the belts always fascinated me from my earliest days as a fan of pro wrestling in my early teens.
"Guys like Gene and Ole Anderson, Wahoo McDaniel, Blackjack Mulligan, a young Ric Flair — the belts seemed awfully important to them, so they were important to me, too. I also liked how the belts were the common thread over the years. The wrestlers would come and go, but the championships and the belts that represented them were the constant. They represented something important that everyone fought for, and there was a recognized tradition and a respect for them. That seems somewhat lost today."
Mid-Atlantic Gateway
Bourne, who operates the popular Mid-Atlantic Gateway website with David Chappell, has written several other well-received Mid-Atlantic books including "Big Gold," "Ten Pounds of Gold" and "Four Horsemen: A Timeline History."
His passion and love for Mid-Atlantic wrestling is reflected in his books and on his website.
The site, notes Bourne, is a tribute to the performers and athletes that made Jim Crockett Promotions and Mid-Atlantic wrestling such a magical place. It's a homage to what many consider to be one of the greatest eras and territories in pro wrestling history.
Over the past 20 years their site has become the definitive resource on the web for information and reference on Mid-Atlantic wrestling and Crockett Promotions. Everything a fan wants to know about the territory – from interviews to anecdotes to results — is featured on the extensive site.
"We wondered, of course, would anyone care? Does anyone besides us remember the great days of Mid-Atlantic wrestling in the 1970s and 1980s? And how would they find us? Well, it was sort of like 'Field of Dreams' and 'if you build it, they will come.' We have thousands of website visitors every day from all over the world. It is truly amazing what it has grown into."
While constantly updating the website can be very time-consuming, it's been a labor of love for both.
"We've met so many wonderful people and established great friendships with folks who want to pitch in and help out, who love it just like we do," says Bourne. "From photographers to collectors to general enthusiasts — it's become like a big family."
Rich history
Writing his latest book was a learning experience for Bourne.
"It was fun learning about the rich history of the Eastern heavyweight championship, the title that morphed into the Mid-Atlantic title," says Bourne. "Most of that took place before I was a fan, and guys like Carroll Hall helped me learn a lot of that history that I was only loosely aware of before researching the book. For example, the back-and-forth title exchanges between Jerry Brisco and Rip Hawk in 1973 reminded me of the back-and-forth exchanges between Wahoo McDaniel and Ric Flair three years later."
Wahoo, says Bourne, was his favorite titleholder.
"Sentimentally, my favorite champion will always be Wahoo McDaniel," he says. "Wahoo was the man in the Mid-Atlantic area when I first got hooked as a fan. And his year-long feud with Ric Flair set a standard of brutality and realism that few could match. The single title change that is still remembered and talked about today, and my favorite for sure, is the time when Greg Valentine broke Wahoo McDaniel's leg and took the title in a match on television. Not so much the match itself, although it is a classic to this day, but the arrogance of Valentine in the weeks after the match, wearing the now-iconic 'I Broke Wahoo's Leg' T-shirt. I write in the book about how you see people today, over 40 years later, still wearing that T-shirt at wrestling conventions."
A longtime resident of Mount Airy, N.C., a quaint city that was the inspiration for the fictional town of Mayberry in the beloved 1960s sitcom The Andy Griffith Show, Bourne grew up in Kingsport, Tenn., where he was able to watch Mid-Atlantic programming in the mid-'70s thanks to cable.
"Cable companies back then could carry any signal from any distant market that they could pull in on their big tower antennas," Bourne explains. "So we not only got local TV from east Tennessee, but stations from western North Carolina and the upstate of South Carolina that carried Mid-Atlantic Wrestling. I've been in Mount Airy, N.C., now for nearly 30 years. I've grown pretty fond of 'Mayberry' and don't plan on ever leaving."
And like Mayberry, the Mid-Atlantic Gateway is a place where one can become immersed in the happy days of a bygone era.
"Our website is all about the positive, about reliving and sharing good memories," says Bourne. "We don't get into any of the backstage drama. We like to try and present the history of the territory just as it was presented to us back then on television and in the arenas. It's like back in the days when people passed along folk tales from generation to generation; we want to pass along these great stories told decades ago so that new generations of wrestling fans will know them too, and those great names will never be forgotten."
The 164-page softcover book, which includes some never-before-published photos of the legendary champions, is available for $14.95 in the Mid-Atlantic Gateway Book Store at midatlanticgateway.com and on Amazon.com.
Golden Ticket
A Golden Ticket Battle Royal — with the winner getting a shot at any title, any time, in the promotion — will highlight an upcoming Old School Championship Wrestling show Sept. 8 at the Hanahan Rec Center.
Bell time is 5 p.m. Doors open at 4:30.
Adult admission (cash at door) is $12; kids under 12 $7.
For more information, visit www.oscwonline.com or call 843-743-4800.
Reach Mike Mooneyham at bymikemooneyham@gmail.com, or follow him on Twitter at @ByMikeMooneyham and on Facebook at Facebook.com/MikeMooneyham. His newly released book — "Final Bell" — is now available at https://evepostbooks.com and on Amazon.com.