Few individuals in professional wrestling have covered as much ground as Les Thatcher over the course of a career.
Wrestler, announcer, trainer, booker, promoter, producer, photographer, magazine writer, consultant. The list goes on.
In fact there's not many things in the wrestling business that Thatcher hasn't done. And he's done them all at an extremely high level for an amazing 57 years.
Thatcher, 76, who looks like he could still step into a wrestling ring — which, by the way, he still does as one of the elite trainers in the profession — has seen the business from the inside out and has traversed his journey through the rugged landscape that is the wrestling profession with relatively few scars or bumps in the road.
Much of that can be attributed to Thatcher's professionalism and easy-going demeanor. He's universally respected by peers, students and pundits of the game. He has spent his lifetime perfecting what he knows about the industry. What, the Cincinnati native reverently refers to, as "mastering your craft."
Somewhat bafflingly, though, Thatcher's name appears in none of the major national pro wrestling halls of fame. Which is a shame because his body of work has certainly earned him at least a spot on the ballot.
Few performers have worn more hats in the wrestling business.
Whether it was announcing alongside Gordon Solie and Bob Caudle, or trading holds with Ric Flair and Harley Race, Thatcher always was a perfect fit.
He still is today. His history in the business ranges from childhood idol "Nature Boy" Buddy Rogers in the '50s to "Nature Boy" Ric Flair in the '70s (he had one of Flair's first matches in the Mid-Atlantic territory) to some of the top young stars in today's version of sports entertainment.
This past Fourth of July marked the 57th anniversary of Thatcher's first match, in 1960 against Cowboy Ronnie Hill in Blue Hill, Maine, after training at promoter Tony Santos' wrestling school in Boston.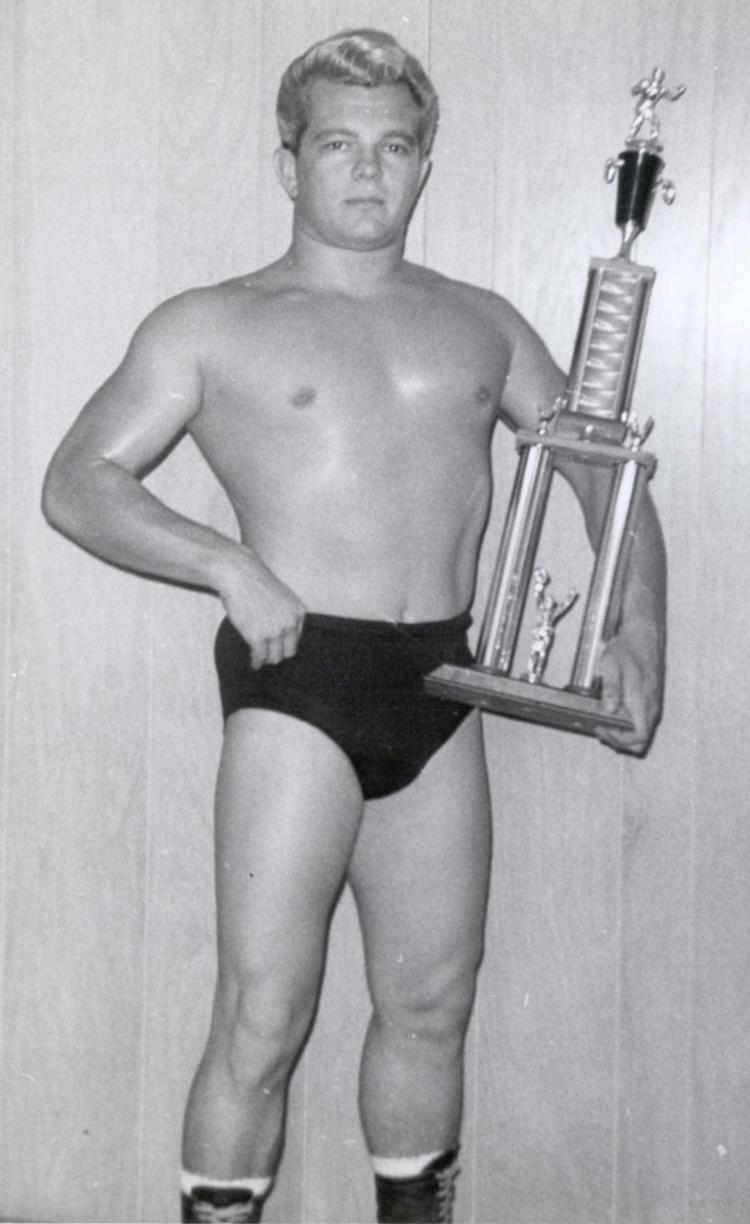 Very few of the performers on those early shows are still alive much less relevant in the industry today.
Quite fittingly Thatcher was honored in 2013 for his stellar body of work in the Jim Crockett-based Carolinas-Virginia territory. Inducted into the Mid-Atlantic Hall of Heroes, Thatcher joined other luminaries such as Johnny Weaver, Johnny Valentine George and Sandy Scott, Jack and Jerry Brisco, Wahoo McDaniel, Blackjack Mulligan, Thunderbolt Patterson, Rip Hawk and Swede Hanson, and Gene and Ole Anderson.
Voted NWA Rookie of the Year in 1967 after beating out such competition as Terry Funk and the late Bobby Shane, Thatcher would go on to hold a number of regional and NWA world tag-team titles in various territories.
But Thatcher's resume extends far beyond his work in the ring.
He competed in NHRA drag racing from 1955 through 1966 and won more than 100 class trophies, two regional championships, and competed in three NHRA national championships.
He was an NPC Masters Bodybuilding competitor from age 46 through 54, and has worked with pro bodybuilders on nutrition and weight training.
Thatcher also wrote for a number of wrestling publications, and helped publish and produce the first-ever color WWWF magazine in 1978. He currently writes a weekly column for a popular pro wrestling website and co-hosts an award-winning weekly wrestling podcast.
He even produced the first pro wrestling T-shirt ("Brisco Booster") ever with Jack and Jerry Brisco in 1972. Thatcher came up with the design while Jerry Lawler did the original artwork.
Thatcher launched Heartland Wrestling Association, a Cincinnati-based promotion and training school that served as a developmental territory for both WWE and WCW, after retiring from the ring.
Today Thatcher's extensive knowledge of the wrestling business lives on through his many students that carry on his mantra of "master your craft."
Thatcher has trained a number of young, aspiring pros alongside Harley Race and Ricky Steamboat. He broke former ROH world champion (and current NXT commentator) Nigel McGuinness into pro wrestling and had a hand in helping former WWE world champion Dean Ambrose along his path. Other future talents Thatcher helped develop include Adam Cole, Matt Stryker, Sami Callahan, Karl Anderson, Shannon Moore, Davey Richards, Eddie Edwards and Brutal Bob Evans.
He continues to conduct well-attended seminars throughout the country. He helped found Elite Pro Wrestling (www.epwt.com) in 2003 and can be reached for bookings at les@epwt.com.
Thatcher is universally respected as a world-class trainer by some of the top trainers in the business. "You're the trainer that other trainers learn from" is a line that's been told to Thatcher more than once.
Ron Hutchinson, longtime Toronto-based trainer whose students have included Edge (Adam Copeland), Christian (Jay Reso), Trish Stratus, Beth Phoenix and Gail Kim, says wrestling could use a lot more men like Les Thatcher.
"He has, literally, been almost everywhere and has done almost everything," said Hutchinson. "Wrestler, trainer, broadcaster, podcaster and probably 101 other things that I don't know about. He has a treasure trove of knowledge to share with anybody smart enough to listen.
"I am honored to call Les my friend. He's an old school gentleman who anybody in this business can learn from and, assuredly, if anybody has learned anything from Les, they have learned it the right way. The proper way and, in my opinion, the way needed for our business to continue to thrive and prosper … Les is one of the greats."
Danny Cage, owner and trainer at the renowned Monster Factory in New Jersey, called Thatcher an invaluable asset to the wrestling profession.
"I am proud to say that not only do I consider this man a mentor, but also a good friend. The best part about our relationship is we agree and disagree on so many things in professional wrestling, but one thing keeps us bonded as brothers: Our love for professional wrestling and the training that goes with it. If I had my way I would have Les at our school every day. Not just for our students, but for myself. I learn from him each time he's in. How can you not?"
George South, whose North Carolina-based school has helped produce a new generation of stars, also sings the praises of the personable Thatcher.
"Give me my wrestling ring, a couple Armstrong boys and Les Thatcher, and I will change wrestling forever," said South. "Les did the job of l0 men for Jim Crockett. One of my dearest friends."
A month away from 77, Les Thatcher remains the eternal teenager, a jack of all trades and an important link between generations of professional wrestling.
His omission thus far into a major hall of fame is one that needs be corrected – sooner rather than later.
Old School Wrestling
Old School Championship Wrestling will return to the Hanahan Rec Center on Oct. 1.
New OSCW champion Tracer X will make his first title defense against Nick Kismet, while inaugural OSCW women's champ Stormie Lee will defend against Brooklyn Creed.
John Skyler, marking his 1,000th professional match, will hold an open challenge in another featured bout on the show, which includes the return of former WWE star Gangrel. OSCW tag-team champs Logan Creed and Drew Adler will defend against The Washington Bullets.
Evolve Wrestling star Austin Theory is scheduled to make his OSCW debut.
Brad "Lodi" Cain also will make a special appearance to discuss his future in the business.
Others appearing on the bill include Francisco Ciatso, BJ Hancock, E.N.D., Rob Killjoy, Scotty Mathews, Dean Richards, Brandon Paradise, Asylum and more.
Bell time is 5 p.m. Doors open at 4:30.
For more information, call 843-743-4800 or visit www.oscwonline.com.
Pro wrestling fundraiser
A pro wrestling fundraiser for the Coastal Center Parent & Guardian Association will be held Oct. 28 at the center, 9995 Miles Jamison Road, Ladson.
The event, presented by The Dynasty promotion, will begin at 5 p.m. with a free meet and greet. The show will start at 6 p.m. with several matches.
Pre-sale front row ($20) and general admission ($12) tickets are available at discounted prices online at www.WearetheDynasty.com until midnight Oct. 27. PayPal and all major credit cards are accepted. General admission tickets also will be available at the door the day of the event for $15.
Reach Mike Mooneyham at bymikemooneyham@gmail.com, or follow him on Twitter at @ByMikeMooneyham and on Facebook at Facebook.com/MikeMooneyham.