"Well let me tell you something Mean Gene!"
– Hulk Hogan to Gene Okerlund
If you've been a wrestling fan for any length of time, chances are you've heard that line repeated many times. Or maybe you've dropped that line yourself impersonating the Hulkster in interview mode with famed announcer Gene Okerlund.
That memorable quote took on a life of its own over the years. A name bestowed upon him by none other than Jesse "The Body" Ventura, the unflappable Okerlund was anything but mean. The moniker stuck, though, and he wore it like a badge of honor.
"Mean" Gene passed away on Jan. 2 at the age of 76, leaving behind a flood of memories and special moments that he helped create during his five decades in the wrestling business.
Playing it straight with the integrity of a legitimate broadcast journalist, the mild-mannered Okerlund was known for his comedy relief and deadpan humor as much as his impeccable skills as an interviewer and his ability to get storylines and angles over.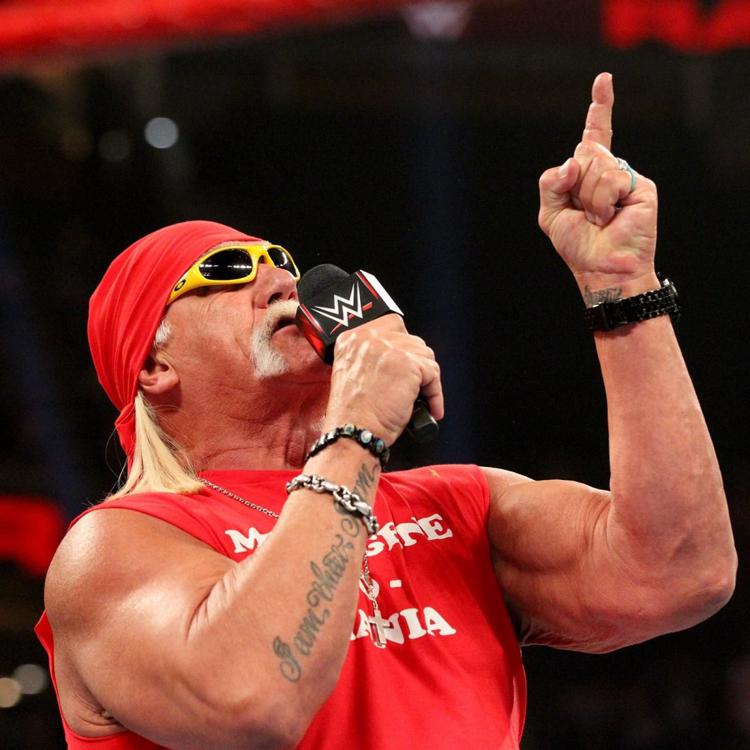 Just how popular and respected was Gene Okerlund in wrestling circles? Much like Ric Flair did inside the ring, Okerlund had the ability to make everyone around him look better.
Ventura, former wrestling star and Minnesota governor, called Okerlund "the best at what he did, the best straight man interviewer in wrestling history."
"You only had to tell him once" how to pitch and sell a wrestling story … He was the best salesman. And he never did retakes. Ninety percent of the time if there was a screw-up on an interview, it was not because of Gene. That's how good he was."
"When it comes to announcers in the history of professional wrestling, I'll say it again, there's Gene Okerlund, and then there's the rest of us," Sean Mooney, a former wrestling announcer who worked with Okerlund, said on his podcast.
"Very seldom does an interviewer become just as popular, and at times even more popular, than the superstars he/she interviews. Gene Okerlund was that person," echoed Kurt Angle.
"As an interviewer, pitch man, announcer or host, he was untouchable," remarked Steve Austin. "Simply the best. Total professional with quick wit, sarcasm, humor and that golden voice."
"I'll always remember Gene with a smile on his face and a drink in his hand and always wanting to help. His was 'The Voice' of WWE," said Jerry "The King" Lawler.
And while Mean Gene was well known for his after-show "socializing," he admitted he was no match for friend and occasional drinking partner Andre The Giant.
"I did try to stand toe-to-toe with him on a couple of occasions, and trust me, I got bent," the affable announcer once admitted.
Okerlund, who had undergone three kidney transplants over the years, died in Sarasota, Fla., where he had been hospitalized for kidney disease. His health reportedly had been on the decline since falling and breaking several ribs last month.
Never looked back
A voice and soundtrack to an era, Okerlund worked for some of the biggest owners and promoters in the wrestling and sports entertainment industry: Verne Gagne (AWA), Vince McMahon (WWE) and Ted Turner (WCW).
But it was pure happenstance that Okerlund got into the wrestling profession in the first place.
Not knowing anything about the business, Okerlund was recruited by then-AWA owner Gagne, who needed a fill-in for another announcer.
At the time, Okerlund worked in sales at the television station where Gagne's AWA was based.
Gagne told Okerlund to just call what he saw.
"I said, 'Verne, I know zero about wrestling,'" recalled Okerlund, who studied broadcast journalism at the University of Nebraska. "He said, 'Do you have a suit and tie? That's all you need.' There were a few bucks involved, so I dived in."
And the rest, of course, was history.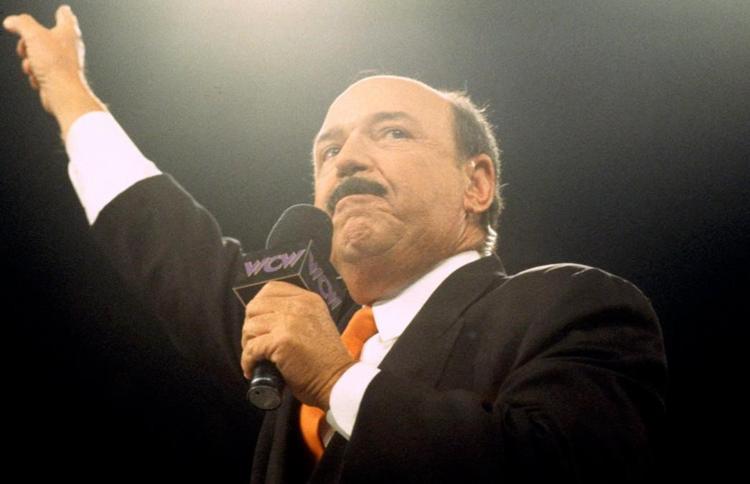 Hulkster tribute
While Gene Okerlund wasn't a wrestler, what he meant to not only the WWE Universe, but the entire world of wrestling over the past several decades, is immeasurable. One of the most recognizable voices in the business, Okerlund used his broadcast skills and parlayed them into one of the greatest characters the wrestling business has ever seen.
He was Mean Gene Okerlund inside and outside the ring, and he played it to the hilt.
Hogan, who inducted Okerlund into the WWE Hall of Fame in 2006, returned to Monday Night Raw last week after an absence of several years for one final interview paying tribute to his late friend.
"You know something guys, I came out here wide open tonight in character because that's exactly the way Mean Gene would have wanted it," Hogan said following a 10-bell salute. "I want to let all you guys know, Mean Gene loved entertaining, and he loved entertaining everybody here in the WWE universe … Mean Gene loved entertaining more than anything that he did."
An emotional Hogan, wearing a sleeveless, red shirt with the slogan "Mean Gene-o-Mania," wouldn't leave before barking into the microphone and delivering that standard opening line one last time.
"Well let me tell you something Mean Gene. I know exactly what you're doing, brother! You're up there, and all those angels are singing 'Tutti Frutti' on top of those big, white clouds!
"I know that you're putting the greatest tag match together, brother! The tag match between the 'Macho Man' – Oooh yeah! – Randy Savage and the Ultimate Warrior versus 'Rowdy' Roddy Piper and Mr. Perfect.
"And I also know that Andre The Giant is the special referee, brother. And I also know you're probably breaking up a fight between your close personal friends Gorilla Monsoon and Bobby 'The Brain' Heenan.
"So Mean Gene, I guess there's just one question left to ask. All the Maniacs up there, brother – what ya gonna do when Mean Gene-o-mania runs wild on you, brother?"
Hogan wrapped up the segment asking that familiar question before dropping the mic.
One thing's for sure. You can bet Mean Gene, always armed with his sarcastically witty humor, had one heckuva retort.
RIP Alexis Smirnoff
Alexis Smirnoff, best rembered in the Mid-Atlantic area as Mike "The Judge" Dubois during his mid-'70s tag-team run with Freddie Sweetan, passed away of kidney failure on Jan. 5 at the age of 71.
Smirnoff, a Canadian native whose real name was Michel Lamarche, had suffered from diabetes for a number of years and had a leg amputated before the disease eventually attacked his kidneys.
A former IWA world champion, Smirnoff also held a number of NWA titles.
Trained by fellow French-Canadian star Edouard Carpentier, he began his career as Michel "Le Justice" Dubois. Based out of Montreal, he earned top billing and was a three-time International champion, battling the likes of Carpentier, Johnny Rougeau, Mad Dog Vachon, The Sheik and Abdullah The Butcher.
It was Ivan Koloff, a French-Canadian who played a Russian, who convinced the wrestler during a 1977 tour that he should drop the Dubois character and adopt a Russian gimmick, similar to the one that had made Koloff one of the most recognized names in the business.
Michel Dubois soon became hated Russian heel Alexis Smirnoff, a move that revived his career and gave him a fresh start in the United States, where he defeated fellow French-Canadian Pat Patterson for the U.S. title in San Francisco, and in Japan, where he won the IWE world championship from Rusher Kimura.
Smirnoff, who also shared the San Francisco version of the world tag-team title with Bob Roop, later formed a top team on the Atlanta circuit with Koloff, whom he considered his favorite partner, winning the Georgia tag-team title.
Smirnoff retired from full-time ring action in 1988 and opened a wrestling school in San Francisco. In later years he would find work doing commercials and in TV and movies, including the wrestling-themed "Body Slam."
While he toured the world, it was as Mike "The Judge" Dubois that he made his mark in the Crockett-run Carolinas in 1972-73. Teaming with Freddie Sweetan and battling such babyface duos as George and Sandy Scott, Nelson Royal and Les Thatcher, Big Boy Brown and Klondike Bill, along with a heel vs. heel program with The Royal Kangaroos, it was their bloody feud with Bobby and Terry Kay (Cormier) that headlined arenas throughout the Mid-Atlantic territory. That feud would also extend to Canada's Maritime Provinces where the Cormier family ran that territory's promotion.
Dubois also toured the Georgia territory with partner Fidel Castillo as the European tag-team champions in the early '70s, defending the belts against the likes of The Assassins and The Daltons.
Sadly, Sweetan died in a fire in 1975 at the age of 36. Dubois would return to the Carolinas in 1976, joining forces with another French-Canadian, Rene Goulet.
The Cauliflower Alley Club presented Lamarche with a Men's Wrestling Award in 2018 in Las Vegas.
"You were crying because you're away from your family, but it's a business and you cannot forget it," Lamarche said in his acceptance speech, making special mention of his wife of 41 years. "She's the one that really supported me, or I wouldn't be here."
Lamarche died in his sleep on Jan. 5 while in hospice care near Atlanta.
Reach Mike Mooneyham at bymikemooneyham@gmail.com, or follow him on Twitter at @ByMikeMooneyham and on Facebook at Facebook.com/MikeMooneyham.