South Carolina native John Skyler has achieved a number of milestones during his 11-year wrestling career.
The next one looms to be one of his biggest when he teams with legendary Japanese performer Jushin "Thunder" Liger on July 7 at a PWX (Premiere Wrestling Xperience) show in Charlotte.
Liger, one of the most celebrated performers in Japanese wrestling history, announced earlier this year that his current worldwide tour will be his last and that he will retire at the next Tokyo Dome show on Jan. 4.
The 54-year-old masked phenom, whose real name is Keiichi Yamada, confirmed at a press conference that he plans to wrestle all over the world between now and then. "I was Liger for 30 years, all over the world," he said. "So while I don't want to call this a retirement tour, I want to go all over Japan and the world and show myself to everyone one more time."
Skyler, 31, whose "Southern Savior" persona has attracted its own share of notoriety, will be one of those fortunate enough to share a ring with Liger on his farewell tour.
"For me, July 7th marks a moment that, I'll be honest, I never thought would happen," says the Blythewood resident and University of South Carolina grad who has appeared in nine countries and three continents since making his pro debut in 2008.
"As a child, before I was 'smart' to the world of professional wrestling, the two Japanese stars that I did know were The Great Muta and Jushin 'Thunder' Liger."
Known for his revolutionary aerial repertoire and striking ring outfit, Liger has wrestled for most of the top promotions in the world since he began his pro career in 1984, including WWE, WCW, TNA, Ring of Honor, New Japan Pro Wrestling, Mexico's CMLL, Stampede Wrestling and even a one-time appearance for NXT in 2015.
Liger is widely regarded as one of the greatest junior heavyweights of all time. Nicknamed the "Japanese Dynamite Kid" early in his career, Liger was an innovator who created the Shooting Star Press and held the IWGP junior heavyweight title a record 11 times.
"I can remember watching the first live Nitro and it opening up with Liger and another one of my idols, the late Brian Pillman, and was blown away from an early age," recalls Skyler. "I remember seeing Liger then go on to wrestle a lot of other guys I admired like (Chris) Benoit, (Rey) Mysterio, (Eddie) Guerrero, the list goes on and on."
When Liger announced that he would be retiring next year at the Tokyo Dome, Skyler chalked it up to another "what could have been scenario."
"I'd ask myself what could have been if I would have been able to step into the ring just one time with Liger. And hear that iconic music. And just share the same canvas as him."
Skyler, though, says he figured it was impossible.
"But now I know, and firmly believe, that in 2019, especially in professional wrestling, anything is possible. While I won't be his adversary, I will be arguably in a more important role as one of his tag-team partners, and it'll be the last time Liger performs in the Carolinas. It's a bookend on an incredible, legendary career. I'm privileged almost to tears to just be a small part of it. I just hope I don't let anyone down."
It's highly unlikely that Skyler will give anything but his always steady and solid performance. The talented grappler has built a reputation as one of the hardest-working performers on the independent wrestling scene. And nowhere else best to showcase it than at the July 7 show.
"PWX and New Japan Pro Wrestling have been working on building a healthy working relationship for the past several months, and with that July 7th will be the biggest show in PWX history. The words 'history making' get tossed around a lot, but I think that's the only way to describe this show."
That the event will be held at the Grady Cole Center, a building with a storied wrestling history, adds even more luster to the event. For years Charlotte was the headquarters of Jim Crockett Promotions and the Mid-Atlantic territory, and weekly Monday night shows at the old Park Center (now Grady Cole Center) were a staple.
"Emanating from the Grady Cole Center is big enough," says Skyler, "but then you add on top of it the stars of PWX and New Japan Pro Wrestling coming together, it will be the biggest show on the Carolina independent wrestling scene in the last 10 years, since I started back in 2008. I genuinely can't think of a single show that could top this one. It's going to be huge."
"I'm extremely proud to have our team host an event in the historic Grady Cole Center and hope we can also make a little history as JCP once did there," said PWX promoter Brian Kanabroski. "This is a huge undertaking for us as a company and we've pushed to make this event on Liger's retirement tour to be affordable for all."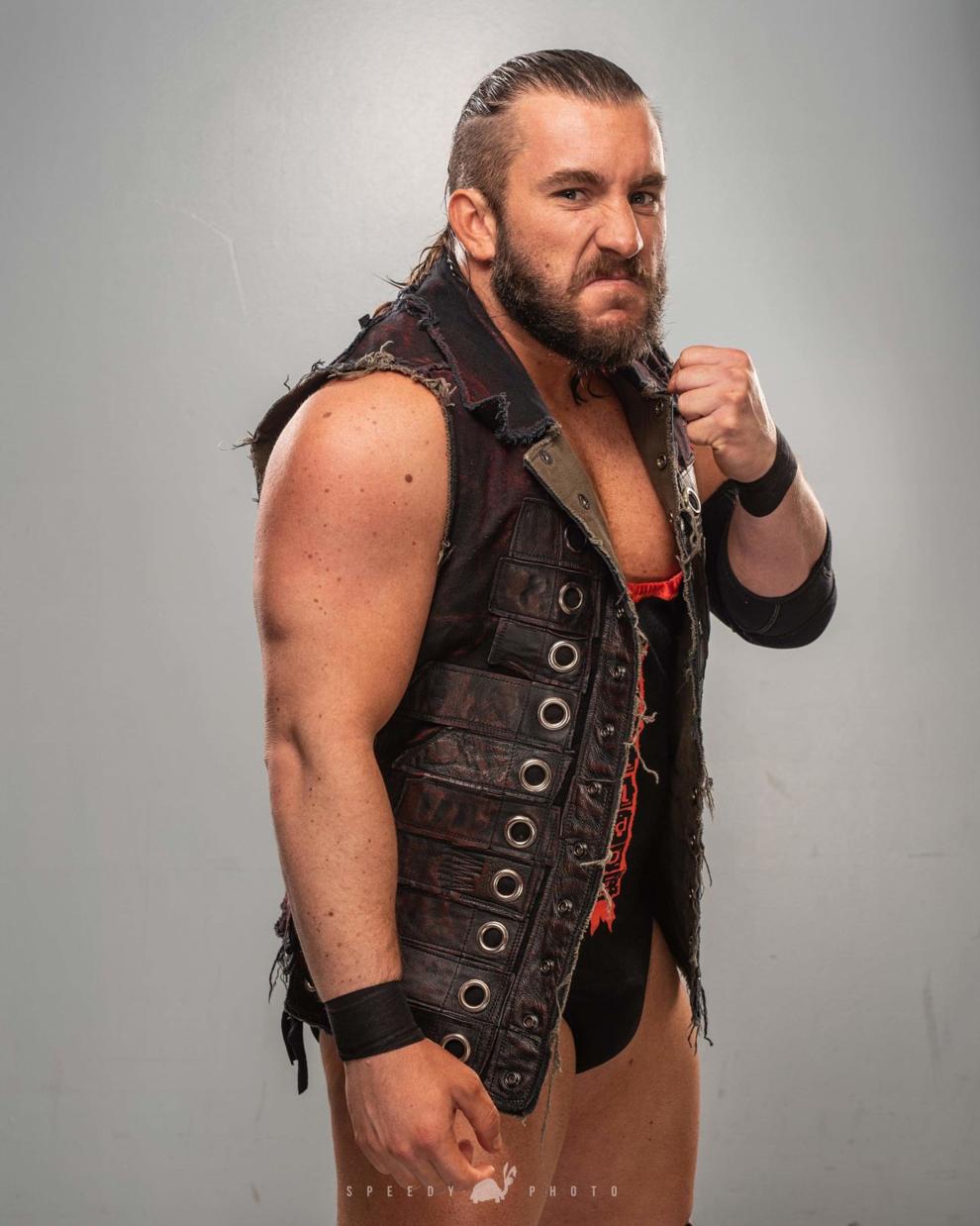 A new milestone
While looking back at some of the high points in his career, Skyler is closing in on realizing some of the dreams he had as a young fan.
"Performing in the Township Auditorium (in Columbia) with the WWE NXT brand, in my hometown, the same building where I watched wrestling as a kid.
"Performing in the Hammerstein Ballroom in New York City with Ring of Honor.
"Competing earlier this year with New Japan Pro Wrestling on their American New Beginnings Tour.
"Wrestling on the Monday Night Raw the day after Wrestlemania last year.
"Stepping in the ring, and holding my own, with the likes of Johnny Gargano, Cody Rhodes, Kevin Owens, Juice Robinson, Cedric Alexander, Zack Sabre Jr., and some of the other very best wrestlers in the world."
And now an opportunity to team with one of wrestling's all-time greats.
"This match easily ranks right up there at the top," says Skyler, "an incredible opportunity to tag with a legend whose work will stand the test of time."
Skyler, who will team with Liger and Ethan Case against The Revolt and Jake Manning, has nothing but praise for his opponents.
"The Revolt (Caleb Conley and Zane Riley) have been staples in PWX since the company's inception," says Skyler. "They took a yearlong-plus hiatus from the company, and since they returned back in December they have been putting on tag-team classic after tag-team classic. They have been on fire, they are performing better than they ever have, and you can tell they are taking this run very seriously. There is a reason they are the tag-team champions.
"Now you add Jake Manning, probably my most infamous rival, back into the equation, and it makes for again something special. This is a huge opportunity for them, too, to headline the biggest show in the area, in a historic building, in their hometown, against a Japanese legend, Jushin Liger, and two of the most consistent performers in PWX history, myself and Ethan Case."
Skyler may be brash and bold, but he backs up the big talk with action in the ring.
"I guess that's the perfect way to describe myself and Ethan Case. The most consistent performers in the history of the company. We have done it all between the two of us. Multiple world titles, multiple tag-team titles, marquee matches with some of the greatest superstars in the industry. There is a reason myself and Ethan are in this spot. It's because we are reliable and when we get put in spots like this by matchmakers, we deliver and even exceed expectations."
Whether playing the role of heel or babyface, Skyler has attracted a legion of fans.
Last year Skyler established himself as a cult favorite on social media when he introduced a "local country singer" billed as Ricky Roberts on an edition of Monday Night Raw. The character was a tip of the hat to the WWE Hall of Fame tag team The Rock and Roll Express – Ricky Morton and Robert Gibson – one of the most popular tag teams in the business during the '80s.
Other matches signed so far for the July 7 show include Harlem Bravado vs. Rocky Romero; Roppongi 3K vs. Tracer X and Drew Adler; Lindsay Snow vs. Savannah Evans; and Billy Brash vs. Saive Al Sabah for the PWX ITV title.
A meet and greet is set for 4 p.m. with doors opening at 6. Bell time is 7 p.m.
For tickets, visit http://www.pwxpro.com/live.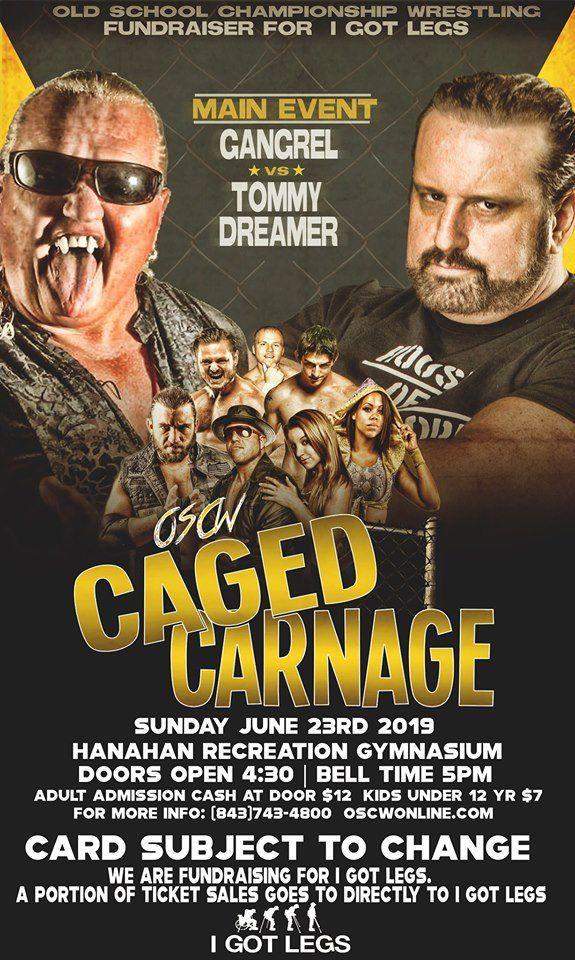 OSCW Caged Carnage
John Skyler, who got his start in Old School Championship Wrestling 11 years ago, will return to his home promotion on June 23 when OSCW presents its annual Caged Carnage show at the Hanahan Rec Center. Skyler will again take on all comers with his open challenge.
ECW hardcore icon Tommy Dreamer will battle former WWE star Gangrel in the main event.
Also scheduled to appear are Caleb Konley, Brandon Paradise, Francisco Ciatso, Stormie Lee, Savannah Evans, Logan Creed, The Ugly Ducklings, Drew Adler, Harlem Bravado, Tracer X, Kevin Phoenix, E.N.D, Josh Powers, The Washington Bullets, James Carver and more.
Bell time is 5 p.m. Doors open at 4:30.
Adult admission (cash at door) is $12; kids under 12 $7. A portion of the ticket sales will go directly to I Got Legs, a nonprofit organization dedicated to re-enabling people with physical challenges by providing opportunities, programs and grants that unlock an improved quality of life.
For more information, visit www.oscwonline.com or call 843-743-4800.
Reach Mike Mooneyham at bymikemooneyham@gmail.com, or follow him on Twitter at @ByMikeMooneyham and on Facebook at Facebook.com/MikeMooneyham. His newly released book — "Final Bell" — is now available at https://evepostbooks.com.