Roman Reigns vowed to defeat Brock Lesnar for the Universal title at the main event of Wrestlemania 34 last weekend in New Orleans.
It now looks like he may have to travel a little further to accomplish that feat.
While the long-planned coronation of Reigns as face of WWE failed to materialize at Wrestlemania, Vince McMahon may have come up with a less hostile environment for the possible crowning of a new champion.
Reigns surprisingly suffered a brutal defeat at the hands of Lesnar, leaving a crowd of more than 70,000 at the Superdome stunned and confused. After all, this was supposed to be the night Reigns finally got the prize that had eluded him for years. It was a plan that many fans had vehemently railed against.
McMahon had ordered a hard press in the months leading up to Wrestlemania in hopes of swaying the anti-Reigns faction, painting him as the challenger against all odds. Feeling manipulated, the detractors only grew in size.
The WWE owner's worst fears were realized when the New Orleans throng turned on the main event of Wrestlemania with chants of "Boring," "This is awful" and even "CM Punk." The crowd's adverse reaction, however, was based more on their expectation of Reigns winning the title than the quality of the brutally physical match.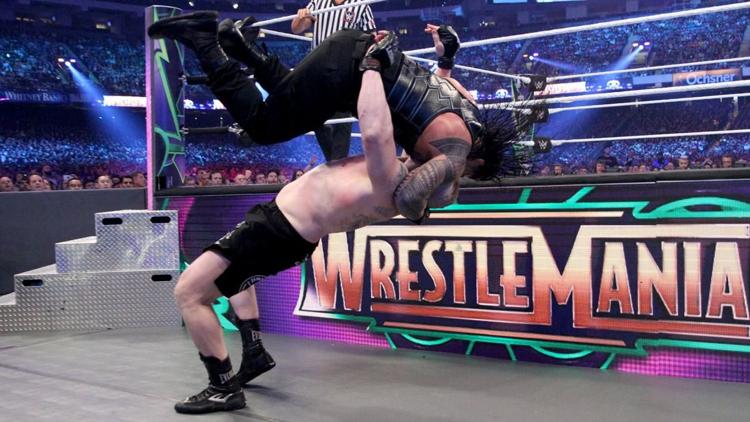 It took six suplexes and six F-5's, including one through the commentary table, to get the better of a gutsy and bloodied Reigns. While the finish was shocking, many fans still refused to buy into it. But it wasn't surprising to McMahon.
Obviously realizing that it might be an ill-advised move to switch the title in the final match of WWE's biggest show of the year, McMahon had made the decision at the previous week's Raw to keep Lesnar beyond the end of his current contract at Wrestlemania.
According to Wrestling Observer Newsletter editor Dave Meltzer, Reigns was told of the change in plans the day of Wrestlemania, with even the referee unaware of the finish before stepping into the ring.
McMahon's new strategy became obvious to the public the next day when it was announced that Lesnar, who had been expected to pack his bags and return to UFC, instead signed a new contract with WWE, a move that sent the rumor mill into overdrive.
An announcement also was made that Reigns would be challenging Lesnar once again, but this time in a cage match at the heavily hyped Greatest Royal Rumble, a WWE Network-exclusive event in Jeddah, Saudi Arabia, on April 27.
It's speculated that McMahon may be hoping that a victorious Reigns will be far better received by an audience 7,000 miles away. Also working in McMahon's favor is the narrative that Lesnar is a part-time champion yet the second-highest-paid performer in the company, and that he cares little for the WWE fan base, only the paycheck that WWE provides. Born to be a bad guy in the ring, his big, intimidating bully character comes naturally.
Lesnar's contract with WWE was set to expire after Wrestlemania 34, and UFC president Dana White had confirmed that Lesnar was working toward his return to the Octagon. But it now appears that his next match will be inside a cage, but one of the WWE variety.
The length of Lesnar's new deal wasn't disclosed, nor were any financial details, but it could be an extension or for only as long as it takes for him to drop the title to Reigns. The contract also doesn't preclude him from pursuing a UFC comeback, which could mean a longer deal with WWE. The UFC and WWE were able to work a deal for Lesnar to return at UFC 200 in 2016 when Lesnar was under contract with both companies.
Making Lesnar's relationship with WWE even shakier was a backstage incident involving Vince McMahon following Sunday night's match in which an angry Lesnar reportedly threw his belt. It also was reported that Shane McMahon squared off with the physically imposing Lesnar before being escorted out by Paul Heyman. Whether it was a shoot or a work wasn't clear.
If McMahon decides to pull the plug on Reigns' title push, at least for now, there's another alternative. Bobby Lashley's recent return to WWE could present an option for McMahon if he decides to keep the belt on Lesnar. A potential Summer Slam showdown between the two would be fresh and competitive on paper.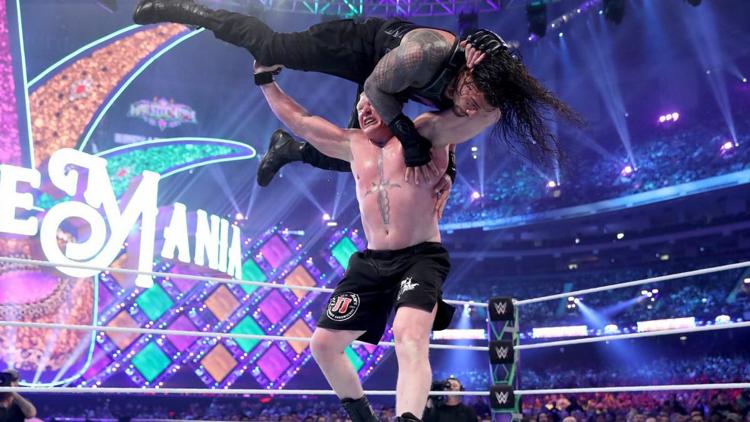 With a background similar to that Lesnar, Lashley also could easily fill the void if the Minnesota native departs for UFC. Lashley, who has greatly improved his stock in recent years, went on to become a four-time world champion in Impact Wrestling since last stepping in a WWE ring 10 years ago.
And like the 40-year-old Lesnar, Lashley, 41, boasts an impressive MMA resume, with a 15-2 record to his credit and the type of credibility to be viewed as a legitimate threat to "The Beast Incarnate."
In his return to WWE last week on Raw, Lashley made his intentions perfectly clear, stating that he did not come back to the company to "wait in line," but to shake things up.
Time will tell if Vince McMahon's vision becomes reality for Roman Reigns, who reminded fans once again, "The story will end with me becoming Universal champion."
RIP Terry (Garvin) Simms
Terry Martin Simms, who wrestled under the ring name Terry Garvin, passed away on April 7 at the age of 55 in Shephardsville, Ky.
Once managed by the late "Freebird" Buddy Roberts, Simms worked as one half of the Beauty and The Beast tag team in the Tennessee-based USWA in the early 1990s and for the Continental Wrestling Association before taking the act to the Dallas-based World Class Wrestling promotion.
Given the ring name Garvin by Jerry Jarrett (not to be confused with the original Terry Garvin, who died in 1998), Simms' look and gimmick was similar to that of "Gorgeous" Jimmy Garvin. Sporting wild curly hair and flamboyant ring attire, his effeminate character was the "Beauty" to partner Mark Guleen's "Beast." As part of his gimmick, Garvin would insist he wrestle only on a customized pink mat.
"I came up with the name 'Beauty and the Beast' because the movie was about to come out from Disney," Simms said in a 2013 interview. "The character evolved into that sissy-ish style because the fans perceived it as so, which I took and ran with and made it my own. Plus in the back of my mind I knew I would one day be a good guy, and there's an unwritten rule in wrestling: The more hated you are as a heel, the more loved you'll be as a babyface."
During a later run in the Global Wrestling Federation, Simms dropped the Garvin name, cut his long hair and adopted a more conventional style. As a fan favorite, Simms was hardly recognizable to those who remembered him as part of Beauty and The Beast.
A skilled matman inside the ring and a solid family man outside of the squared circle, Simms held both the light heavyweight championship and the tag-team title with Scott Putski while working for Global.
Plagued by health problems, Simms confined his wrestling activity in recent years to occasional reunions and a podcast that he hosted from his home.
"Terry was one of the rare ones left in our biz that really cared about his friends and would stand up beside you through adversity without question when truth was challenged. He got it. Some sadly never did fully … and never will," veteran Joel Deaton posted on social media.
"Great talent, better man. Another of our brothers gone way too soon," echoed Del "The Patriot' Wilkes, who worked with Simms in Global.
"Terry loved his Kentucky Wildcats and of course I love my South Carolina Gamecocks," added Wilkes, a former USC All-American football star. "I got the news that he had passed while watching Kentucky and South Carolina play college baseball."
"Terry was giving man — he always let his hair grow out, only to cut it for the Locks of Love charity," wrote Bob Hazelwood, who assisted Simms with his podcast. "He was heavily supportive of Special Olympics and the American Heart Association. In fact, a few years ago he cut up the pink mat that he used in the Beauty and the Beast gimmick, sold off the pieces, and donated the proceeds to the AHA. I will miss him greatly."
Lawler suffers stroke
Jerry Lawler revealed on a recent "Dinner with the King" podcast that he suffered a moderate stroke two weeks before Wrestlemania.
Lawler, who was with his fiancé at the time of his stroke, said he experienced slurred speech, and one side of his face became paralyzed. He was hospitalized for three days.
Fortunately he made a quick recovery and was able to fulfill his Wrestlemania commitments. Only a select few in the company, including Vince McMahon, Triple H and Kevin Dunn, were made aware of his medical scare, he said.
Lawler, 68, survived a near-death experience six years ago when the Hall of Fame announcer went into cardiac arrest during a live edition of Raw. He received medical attention at the WWE announce table before going backstage and to a hospital for further treatment. He returned to the announce desk two months later.
Battle at the Beach
Old School Championship Wrestling will present "Rock 'N Wrestling: Battle at the Beach" on April 22 at The Windjammer, 1008 Ocean Blvd., Isle of Palms.
WWE Hall of Famer Rikishi will headline a show that will include Austin Theory, Logan Creed, Brandon Paradise, The Washington Bullets, The Beautiful Bald Besties, E.N.D., Nick Kismet, Scotty Mathews, Francisco Ciatso, Stormie Lee, Samantha Evans, Kamilla Kaine, Brooklyn Creed, Samantha Starr and others.
Live music will be provided by Spunjwurthi during intermission and after the matches.
Bell time is 4 p.m. Doors open at 3.
Adult admission (cash at door) is $15; advance tickets $12; kids (12 and under) $10.
For more information, visit wwwoscwonline.com or call (843) 743-4800.
Reach Mike Mooneyham at bymikemooneyham@gmail.com, or follow him on Twitter at @ByMikeMooneyham and on Facebook at Facebook.com/MikeMooneyham.