It might be far too early to push the panic button, but WWE isn't taking the past several months of declining ratings lightly.
Both Raw and Smackdown in recent weeks have seen markedly lower numbers compared to those one year ago. And that alone is ample reason for concern.
Raw posted record-low ratings for a non-holiday episode for its April 29 episode, while the following night's Smackdown recorded the show's lowest ratings since the 2016 brand split.
While Raw's numbers improved slightly last week for a show that featured WWE owner Vince McMahon and two Wrestlemania rematches, it was still the second-lowest non-holiday episode.
One should not be surprised, however, by the alarmingly low viewership when the audience is consistently spoon-fed pabulum and tripe. And if this is what the powers that be meant earlier this year by offering to listen to the fans and give them what they want, they are obviously misreading what the WWE Universe is telling them.
Mat pundit Joe Dobrowski of Greenbelt, Md., suggests the issue is more about quality than quantity.
"The fastball isn't there right now," opines Dobrowski. "It's completely desperate and it's a shotgun approach. The issue is with in-ring content and working hard and more quality matches in the ring and doing what you say you will do. Opening with a 30-minute segment and having an enhancement match in the first hour and a half doesn't help things."
It's not the talent, says longtime wrestling aficionado Evan Ginzburg of Queens, N.Y., but rather how it's misused.
"It's an insult to your intelligence. They squander one of the greatest talent bases in history on endless talk, stilted scripted promos, comedy that just isn't funny and innumerable commercials that kill the flow of a match. If you get 20 or 30 minutes of quality wrestling in a three-hour Raw, you're lucky."
Certainly it explains the position of a growing list of disgruntled talent that are presently in limbo after expressing their desire to look for greener pastures. Not happy with how the company is treating them, performers such as Sasha Banks and Luke Harper are on hold. Former WWE champion Dean Ambrose has already departed despite making big money in the company. Former WWE Raw tag-team champs Luke Gallows and Karl Anderson reportedly turned down multi-million dollar deals to remain with WWE, and could be making an exit after their current deals expire in September.
Among those recently released from their contracts are Goldust, Hideo Itami, Tye Dillinger, Rhyno and backstage interviewer Dasha Fuentes. Rumored to be looking to get out are the husband and wife teams of Rusev and Lana, and Mike (Bennett) and Maris Kanellis, with the line reportedly getting longer by the week.
Having not been seen on WWE programming since the Royal Rumble in January, the talented but on-again, off-again Dolph Ziggler remains on WWE hiatus while changing his social media profile to his real name of Nic Nemeth.
Give The Revival credit for wanting out and saying no to a big-money contract that would have reportedly lasted for five years at $500,000 per year. Each member turned down $2.5 million.
But now the former Raw tag-team champions are paying for it. The recent "manscaping" segments have been designed for nothing more than to humiliate Dash Wilder and Scott Dawson on their way out. And the bad comedy also has made their current rivals, The Usos, look like buffoons as well in their comedy relief role.
"That segment with The Revival sure was a reminder of the lengths the WWE will go to bury talent who are looking out for their own best interests," says wrestler and promoter Ron Niemi of Wesley Chapel, Fla. "Seems the company would rather teach a lesson than present a show that fans want to see. Guess no matter how things change, they still stay the same."
"That Revival nonsense may be the straw that broke the camel's back," writes fan Dan DeLappe of Salinas, Calif. "That and WWE making people stay makes them look like petulant children. Even that great match between Kofi and Daniel Bryan could not save that show."
Raw, though, remains one of television's longest-running episodic dramas. The company's longest-running signature TV show, Raw began its run in 1993. It's no easy task to produce three quality hours of programming each week, in addition to its other weekly shows.
But the downward ratings spiral and drop in other key performance indicators is not a good sign as the company enters two huge television deals in October. Along with the ratings decline has been a drop in attendance at live events and merchandise sales.
Its two-hour Smackdown show, which airs on Tuesday nights, will move to the Fox broadcast network on Friday nights beginning Oct. 4. The blockbuster deal reportedly will earn WWE more than $1 billion over the course of the next five years.
WWE and the USA Network also agreed last year to a five-year extension for Raw that will begin in October and continue the nearly 30-year relationship between WWE and NBC Universal.
All of which, of course, makes it even more of a priority to maintain strong viewership.
Ken Mihalik of Charleston, editor of the recently released "Final Bell," laments the loss of an era of larger-than-life characters such as The Rock and Stone Cold Steve Austin whose presence alone guaranteed big ratings and gates.
"Both Seth Rollins and Kofi Kingston are well-liked by fans and are proven versatile talents. But neither stands out as a major draw or 'larger-than-life' champion. There is no Rock, Stone Cold, or Flair (or even a Shawn Michaels) to lead the company. McMahon doesn't presently have a superstar with broad-based appeal capturing the public's imagination."
Or, as some suggest, are there more deep-seated issues beyond star power?
Even Becky Lynch's massive momentum has slowed after Wrestlemania, through no fault of her own. Her cool-down has been partly due to overexposure following her Wrestlemania win, but also has been a product of her title victory in controversial fashion over Ronda Rousey. In pro wrestling the money has always been in the chase, and with her historic quest now in the books, Lynch now finds herself the hunted instead of the hunter.
Shuffling talent
Last week Vince McMahon introduced a "wild card" rule to explain wrestlers making cross-brand appearances. According to McMahon's proclamation, three wrestlers from Raw and three wrestlers from Smackdown would be allowed to appear on the opposite brand "on a given occasion." The number of crossover performers was later capped to four.
WWE's own website attempted to offer clarification the following day, describing the new rule as "Limited number of Superstars from Raw or Smackdown would be invited to cross brand lines for one-night-only appearances, with unauthorized jumps to be penalized by fines or even potential firing."
What this new concept accomplishes is further blurring lines between the red and blue brands while veering away from the recent Superstar Shake-up.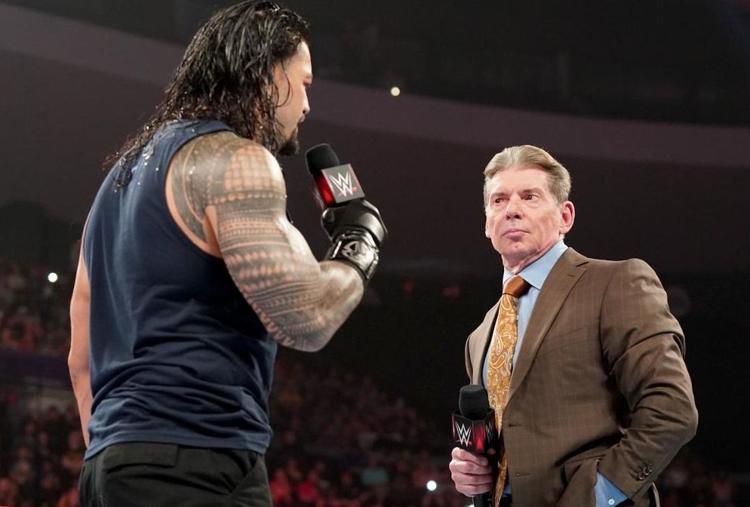 "With the undesignated call-ups, the Superstar Shake-up, the Shake Back, and now the Wild Card Rule. Unless someone is carrying a blue or red title belt, I have no idea what brand anyone is on," tweeted former WWE star Lance Storm.
Beyond the ratings, the quality of the product and the booking process have been criticized, which obviously has a lot to do with the falling numbers.
"No character development. No continuity," says Dobrowski. "Lack of in-ring content and action. The disgracing of two outstanding technicians in Scott Dawson and Dash Wilder. An inability to decide who War Machine should be on a weekly basis.
"The Bray Wyatt stuff is good because it's outside the box. But that is the exception, not the norm. You wonder why talent is sitting at home like Sasha, and now Gallows and Anderson and Revival have asked for releases. Fans can see right through it. Give us a bone. It doesn't have to be NXT Plus, but NXT has it the right way with simplicity and content and quality."
McMahon addressed the issue in a recent conference call with investors.
"We had a very unusual situation in terms of top talents as well as mid-card talents being out. Some 15 talents were out during the course of that period. When you don't have talent, you don't have storylines. When you don't have storylines, you're not going to do that well in terms of live events and television ratings. It was like a cascade of things that happened."
"We've hired new people on our writing team," McMahon continued. "They are really going to help us out in terms of television, television ratings and digital and social. We've got a new team in terms of live events that has just started now. So we'll see live events continue on an upward trend."
With All Elite Wrestling looking to carve its own niche in the world of professional wrestling and sports entertainment, WWE finds itself with another legitimate competitor seeking a piece of the lucrative pro wrestling pie.
AEW is expected to announce a TV deal with Turner next week for a weekly television show to air on TNT beginning in the fall.
In May the promotion will hold its first-ever event called Double or Nothing at the MGM Grand Garden Arena in Las Vegas. The ambitious company has already landed Chris Jericho and boasts an impressive array of talented veterans in creative and leadership positions. It also recently signed WWE Hall of Fame commentator Jim Ross to be the voice of its broadcasts.
While upstart promotions with grandiose plans to challenge WWE are hardly anything new, the well-funded AEW has solid financial backing along with innovative plans designed to change the landscape of the wrestling business.
Who's The Boss?
As if WWE wasn't enough to keep McMahon busy, the mat czar is relaunching the XFL next year, a league that lasted only one season nearly 20 years ago.
ABC and Fox will broadcast XFL games starting Feb. 8, 2020. ESPN, ESPN2, FS1 and FS2 will air games as well. The XFL plans to air back-to-back games on Saturday afternoons along with two additional weekly games on Sunday afternoons.
McMahon recently sold $272 million worth of WWE stock to help fund the new league, and has said he's ready to spend $500 million over the first three years of the XFL to get the league off the ground.
There is, however, a lingering question that many fans and observers of World Wrestling Entertainment are asking with greater frequency.
Does Vince McMahon, at age 73, still have his finger on the pulse of the wrestling industry?
That question was again posed to a number of fans this past week who responded with strong opinions regarding the state of the company and its leadership.
"I wonder if the problem is that Vince doesn't have his finger on the pulse of the fans and the industry," suggested Steven L. Williams of Aurora, Ill. "A lot of what's going on outside of the WWE has made the WWE feel very old, tired and out of touch."
"I have tried hard to not be negative, always trying to find the positives in the product, but I'm honestly to the point of turning off the shows now," said veteran wrestler and promoter Jack Lord of Gadsden, Ala. "In the business, we have a term called 'hot shotting.' That means we would go into a town for only one show, without the intent of coming back anytime soon, and we'd throw everything we had out there. Comedy, ridiculous matches, just having fun with the intent of popping the crowd and leaving them happy. That seems to be the weekly intent of Vince now. The only way to reverse this course is for Vince to step back and let someone else take the reins."
"Vince has never had his finger on the pulse of anything but sophomoric locker room humor (something that got over better in the age of 'Saved by the Bell' than in the age of 'Game of Thrones')," wrote Richard O'Sullivan of New York City.
David Miller of Gainesville, Fla., advocates a radical change at the top.
"It's time for the old man to go. The 'hardy-har-har' embarrass your non-compliant talent comedy skits are insulting to both fans and talent. He has lost touch completely. Kudos to The Revival for powering through. This is what happens when you don't have wrestling people writing the shows."
Michael Johnson of Summerville says McMahon needs to entertain new ideas while dumping the split brands.
"Last night (on Raw) was the first time in many years I didn't watch. Vince has always been able to keep up with the times, but right now people just want wrestling with a good storyline. Look at what Triple H is doing in NXT and its popularity. The rosters in my opinion shouldn't be split; that way you can have shorter more meaningful storylines. I don't think Vince needs to totally step back, but he needs to let other ideas come through."
"In the business world, it happens all the time. The man who starts and grows the business to a certain level is not the same person who takes it to the highest level. Vince needs to step away and hand it over to Paul (Levesque aka Triple H) and Shane (McMahon). Usually pride and fear make one hang on too long," wrote Jon May of Cincinnati.
"I was at CAC (Cauliflower Alley Club) last week. I've met fans of WWE and people who absolutely hate it. I think we're at the point where Vince just needs to step away and let Triple H and Stephanie take over completely. I like NXT, the women's division, the cruiserweights and the historical footage, but that's it," wrote Brian Westcott of Meridian, Idaho.
William Renken of Columbia makes the case that WWE is listening to its fans, citing Kofi Kingston and Becky Lynch winning world titles at Wrestlemania.
"To say WWE doesn't have its finger on the pulse is a troublesome argument. Unless I'm way off base here, didn't WWE give us a Kofi Kingston WWE title win at Wrestlemania as well as Becky Lynch winning in the main event? Those were fierce, undeniable demands from WWE consumers. And despite our best pessimism, they delivered on those (say what you will about the finish of the main event, that's definitely questionable) demands.
"Every single year, the ratings take a dip after Wrestlemania. What's different now besides the emergence of AEW is the fact that we don't consume sports or entertainment the same way anymore. The 'finger on the pulse' narrative should not be focused on talent and who is being pushed. If anything, WWE needs to examine how to refine or completely update its presentation and exhibition of its product. Do we need wrestling to be a never-ending story that doesn't have an off-season? I understand the impact of TV deals and advertising dollars, but if it means a short-term loss for a long-term gain, a critical eye needs to examine how to make WWE more significant in the 21st century outside of a few weeks in spring."
TV ratings, says Jim Varsallone, who covers pro wrestling for the Miami Herald, are no longer the most accurate indicators of a company's success. YouTube, On Demand and other social media platforms attract thousands of additional viewers, a statistic not reflected by the Nielsen ratings.
"As for the ratings, the landscape has programming changed with the Internet and social media; the amount of programs on TV and other places at a given time and the various ways to watch a program has changed. I've been saying this for a while. You cannot just gauge Raw viewership (or any show's viewership) by the Nielsen ratings. That's just one factor of how many people are watching."
"They need to capture the TV audience's attention faster … last night it was 28 minutes before a match was even on the ring," Bill Hazelwood of Greenville said of last week's Raw.
"The opening segment was long," noted Aaron Sherman of Southfield, Mich. "Also I don't understand the point of the brand extension if wrestlers are gonna start showing up to different shows on a weekly basis. They should stay on their own brand unless they are getting ready to set up the Survivor Series match."
"Talent for the most part all come from same instructors, so regardless of how they are packaged their work is numbingly similar," posted Timothy Dix. "Character development is 0. WWE produce content as a media company that happens to have a wrestling division."
"Vince needs to step down from any decision-making role and let HHH fire all the 'writers' to bring in some old school bookers. People talk about not having enough content for three hours. How about a 30-minute match now and then," suggested Henry Boyter of Cary, N.C.
Ray Blevins of Lakeland, Fla. cited a lack of consistency in the product.
"No development of new talent. Guys come in to a big sell, but if they don't get an immediate pop (EC3), they disappear. NXT has figured it out with quality matches and stories. Overexposure of top guys waters down the PPV quality as well. You rarely saw a main event with the champions on TV years ago, now every week is a PPV main event."
"I use to watch regularly," wrote Matt Roberts of Salisbury, N.C. "Then, as the show started to drag and get worse, I would fast-forward to the good parts, and as the show continued to drop, it got to be more and more fast-forwarding. Simply not worth watching."
Frank Huguelet of Gettysburg, Pa., says the heart and soul – the art of telling a story in the ring – is missing.
"WWE is like a Walmart that devoured all of its local competitors, absorbed 99 percent of television coverage for professional wrestling, and got fat, dumb and happy for years as the product got stale," says Huguelet. "I think the characters are lacking in their ability to connect with the audience on a human level. Too much bigger-than-life and not enough skill at telling a story in the ring. The Rock and Roll Express, The Midnight Express, The Andersons, Dusty Rhodes ... it's not all 6-pack abs and 24-inch python arms."
"I haven't watched since last October, when Vince decided that tens of millions from a regime that had a journalist murdered was more important than my $9.99 a month," said Ray Steele, alluding to WWE's highly lucrative deal with the Saudi Sports Authority.
Some fans, like Chad Matthews, noted the length of the show and suggested an alternative way to watch Raw.
"It's an era of WWE television best viewed through highlight clips. To view it like a television show with a flowing narrative is to set yourself up to be consistently disappointed. Watching it like regular season NBA or MLB – basically creating your own SportsCenter through the WWE YouTube channel – is the best way to prevent your fandom from turning jaded."
Brandon Hancock of Gilbert, Ariz., agrees.
"I've said this 1,000 times, the shows have good and bad. I pick and choose what I watch and am happy with that. I enjoy the product because I don't obsess over the stuff that I'm not a fan of. DVR is an amazing thing. Funny enough, I do the same thing when watching old episodes from the best eras on the network."
There's too much on TV, writes Rick Rourk of Charleston, for one company to properly navigate the storylines.
"Back in the late '90s when the Monday Night Wars were in full swing was a good time and was part of that 'Attitude' era. Vince won out and now has everybody under one roof. They try to spread it out with the two shows, but truthfully I could care less about Smackdown and it's because of the weak storylines. The fact of the matter is competition is a good thing. We have talents like Randy Orton who we never hear from anymore. It's because the product is too watered down and you have too many major players competing for main-event time. That's why the days of the territories were great. You could move along and keep your gimmick fresh. Can't do that now. Here's hoping that the AEW can make a dent and create some excitement."
"I believe that Vince has become complacent and unless WWE is challenged by another company he will continue with what he is doing. Raw is not even a professional wrestling show anymore. It's more of a sketch comedy show," posted John Pearson of Easley.
"It's a love/hate thing for me. Repetitiveness makes me tune out, and it's a shame because the company has the talent. It's just there's hardly no compelling storylines to get people tuned in and stay watching," wrote Sarah Hirsch of Douglas, Ga.
Buddy Griner of Savannah says McMahon, in his successful attempt to wipe out all major competitive promotions, has created a stagnant environment.
"He has singlehandedly flushed the one element that has made wrestling what it has always been … the magical escape where a ticket purchase buys the audience a three-hour trip into fantasy. A childhood voyage into a place where fantastic heroes battle evil villains in the epic struggle. For this reason alone, I travel with my young sons across the Southern landscape of indy wrestling so they could and can 'feel' the emotion that has made this surreal sport tangible."
Reach Mike Mooneyham at bymikemooneyham@gmail.com, or follow him on Twitter at @ByMikeMooneyham and on Facebook at Facebook.com/MikeMooneyham. His newly released book — "Final Bell" — is now available at https://evepostbooks.com.
.