It might seem hard to believe that WWE star Ember Moon was once a shy, introverted youngster bullied by classmates.
Now an imposing figure known as "The War Goddess" due to her fierce fighting spirit, the 29-year-old sports entertainer carries herself with poise and confidence.
It was her admiration of larger-than-life superheroes "who stuck up for themselves and fought for what they believed in" that transformed that shy young girl to a world-class performer on the global stage.
"They fought for what they believed in, and that's something I couldn't do," she says. "So when I got old enough, I made that leap of faith. And here I am now."
But make no mistake. It took more than 10 long years to reach what Moon calls her dream job. She more than paid her dues, working for promotions throughout the world, honing her skills and mastering diverse styles.
Known as Athena on the indy circuit, the Texas native broke into the business 11 years ago at the age of 18 and has never looked back.
"It took a lot of hard work," says the ultra-talented Moon, whose real name is Adrienne Reese. "To this day I still find moments where I'd rather be an introvert than go out in the world. But who wouldn't?"
Moon, however, has proved to be stronger and better than the doubters and naysayers who told her she was "different" for liking wrestling and video games. She's having the last laugh, but it came only through dogged determination and a strong work ethic.
"When I took that leap into sports entertainment, I took that leap of stepping outside myself, doing things that I wasn't comfortable with. I was afraid to let people see who I really was and what I had to offer. And then you're going on a platform where the entire world wants to see who you are and what you have to offer.
"I like to challenge myself, and that was a challenge for me. I had to overcome all the stereotypes and rejections. It's something I had to do to do what I wanted. And I did."
Moon has transformed herself into one of those superheroes she admired as a youngster, the kind who gave her hope and inspiration. Now, she says, there's really not much difference between Ember Moon the character and Adrienne Reese the person.
"I don't think it's that different. Other than the fact that I wear red contacts, there's no difference. I am what you see … times a thousand. Maybe Ember is way more aggressive and intense, but at the end of the day it's still me that I'm presenting,"
Learning her craft
Before signing with WWE in September 2015, Moon had spent almost a decade touring the independent scene. She's a former ACW TV champion, a two-time AIW women's champion, a three-time ACW American Joshi champion and a PWA women's champion. Over time she became one of the most sought-after female wrestlers on the indy circuit.
"I pride myself that when I was learning this craft and learning the sports entertainment side of things, it was with a variety of people," she says. "Originally I was trained by Skandor Akbar (the late Jim Wehba). I also trained with Vance Archer (aka Lance Hoyt), then Booker T, along with Rodney Mack and Jazz. I later went to Mexico to train for a bit, then I went to Canada. I started working strong style from Japan to the point where I even got the nickname 'American Joshi.'"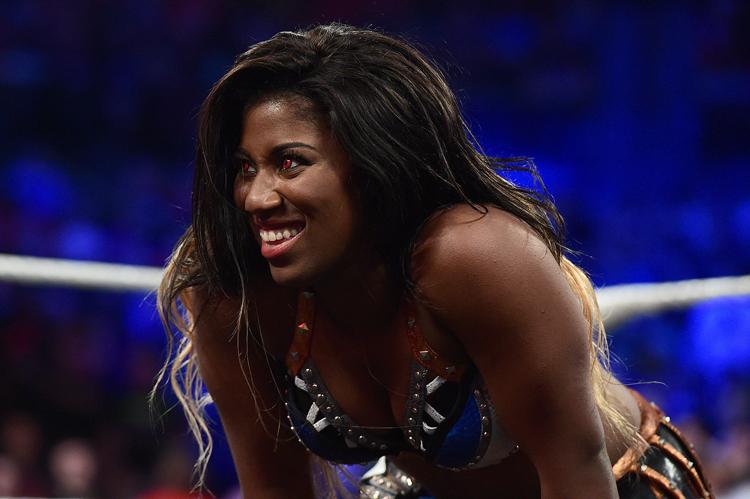 At a mere 5-2 and 125 pounds, Moon wrestles much bigger than her size, and is able to perform high-flying maneuvers with ease. It was her burning desire to succeed that drove her to embrace different styles and skillsets.
"I tried so hard to learn everything I could to present every style I could. I just didn't want to be a one-sided performer as far as what I could do in the ring. So I can do the high flying, I can do the power moves, I can do the technical, but most of all I learned how to present myself in a way that no one else could."
Booker T encouraged Moon to broaden her training by traveling around the world and making a name on the independents. His interest, she says, gave her confidence and motivation.
"It was amazing. When I got to Booker T, I had already gone through training. Booker brought something new to the table. Booker was someone that was currently still involved with WWE at that time. It was something that I felt I needed to give me an extra step, and it did."
The six-time world champion also helped his student incorporate a dazzling aerial assault into her repertoire, which was a feat in itself due to Moon's fear of heights.
"Booker taught me a lot of the high-flying aspect that you see now: the springboard cross-body, the Eclipse off the top rope. That was all Booker. I also learned to present myself in a way that was camera-ready. He likes to tell everyone that I had all the tools, but that's not true. You can only get certain knowledge from people that have been through what you're trying to do."
"I'm still learning every day," she adds. "I wish I could have stepped through the door with all the knowledge in the world, which I tried to do, and I had a vast amount of knowledge. But every day that I show up, I'm still learning. I'm still learning something new because the awesome thing about sports entertainment is that it always changes, it always evolves, and either you're going to evolve with it, or you're going to get left in the dust."
Climbing the ladder
It became clear soon after Moon debuted in NXT in August 2016 that she was destined for the next big step in her career.
Armed with an enigmatic aura and a breathtaking signature move dubbed the Eclipse, Moon established herself as the main challenger to the then-undefeated Asuka. While a number of epic battles with "The Empress of Tomorrow" Asuka failed to produce a title change, Moon caught the eye of WWE officials who labeled her a "can't-miss" prospect.
Moon took the NXT title in November 2017 and finally became the face of NXT's women's division. The NXT experience, she says, prepared her for the main roster.
"The awesome thing about the Performance Center is that it prepares you for every aspect of what you may or may not experience up here on the road. (Things like) traveling, booking the right hotels. As far as going from a smaller group of people to a bigger group of people, it's pretty much the same.
"The Performance Center also does an amazing job in always preparing you for the sports entertainment aspect and everything behind it as well as far as working out and injury prevention and so many more things. But that's like the real game-changer for WWE and its product.
"The vast majority of talent on Raw and Smackdown now started down in NXT or have been in NXT. Even now there are those, including me, who go back and forth to the Performance Center for more training. It's just something where you need that edge to be more competitive."
Moon has been on the Raw roster for less than four months, making her official debut one night after Wrestlemania 34. It was an auspicious beginning for "The War Goddess," who teamed with then-Raw women's champ Nia Jax, and dropped current champ Alexa Bliss with the Eclipse to defeat the former champion and Mickie James.
Her unofficial debut came back in January when she appeared on a main-roster WWE pay-per-view for the first time as part of the first-ever women's Royal Rumble match. She entered the match at No. 23, but was eliminated by longtime rival Asuka.
Moon, who has been steadily climbing up the women's division ladder, recently suffered her first pinfall defeat on the Raw roster, losing to Sarah Logan after a distraction from Liv Morgan.
"A wise man once said 'streaks were made to be broken,'" she philosophically tweeted after the match.
Her ultimate goal, she says, is not necessarily headlining a Wreslemania, but rather being the best she can be. Remembering the bullying she endured as a child, it's important to Moon that she become someone other kids stereotyped as different can look up to.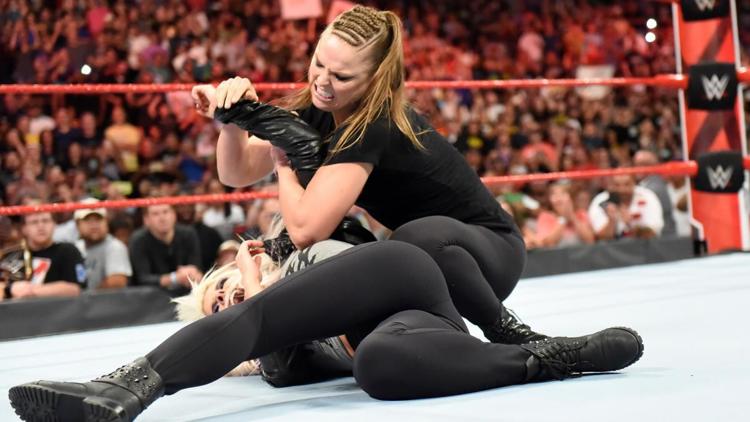 "From being a little kid to stepping into this world, I just wanted to be the best of myself. And now that I'm here, I'm speaking out for myself and have become this role model for all these young girls and young boys. But at the end of the day, my ultimate goal is to show the world that no matter what people say about you, you can do what you want to do."
In her three years of WWE employment, Moon has had the chance to work with many budding WWE superstars.
"And there are so many people I have yet had the opportunity to work with," she says. "I'd love to have a match with Charlotte, Sasha, Bayley — the women who were at the forefront of the women's revolution. I'd love to have another match with Asuka. I'd love to have a match with Natalya. But my ultimate dream match of all time would be versus Beth Phoenix. She has been such an inspiration for people who are different and were told that they would never be here. She kept that dream alive for me."
For now, Ember Moon is savoring every moment.
"I'm living in my own weird fantasy where I think that I'm going to wake up any day now and it's all going to be over."
Moon, who will be part of WWE's Summer Slam Heatwave Tour that invades the North Charleston Coliseum on Aug. 4, will occupy a special spot on the show. She will team with Ronda Rousey, the most famous female athlete in the world according to ESPN's "World Fame 100" list, and Sasha Banks in a six-woman match against The Riott Squad (Ruby Riott, Liv Morgan and Sarah Logan).
"I love Ronda. She's awesome," says Moon. "I'm so proud of Ronda and everything she's done and what she continues to do here. I think a lot of people were expecting Ronda to fall on her face, but she's proven that she can hang with anyone."
WWE Heatwave Tour
In addition to the six-woman match involving Rousey, a double main event on the Aug. 4 show at the North Charleston Coliseum will feature Roman Reigns, Braun Strowman and Bobby Lashley against Jinder Mahal, Kevin Owens and Baron Corbin in a six-man tag-team match, along with Seth Rollins battling Elias.
The B-Team will defend their Raw tag-team title against Bray Wyatt and Matt Hardy. Alexa Bliss will defend her Raw women's title in a three-way match with Nia Jax and Natalya.
Tickets are available at the North Charleston Coliseum Advance Ticket Office or charge-by-phone at 1-800-745-3000.
Reach Mike Mooneyham at bymikemooneyham@gmail.com, or follow him on Twitter at @ByMikeMooneyham and on Facebook at Facebook.com/MikeMooneyham.