Matt Morgan still remembers driving past Titan Towers on his daily ride home from school.
Living only two towns over and less than 20 miles away, the youngster would say a certain prayer every day after his school bus passed WWE headquarters in Stamford, Conn.
"God, I don't know how this happens, but some day I'm going to work there," he vowed.
His prayer would be answered.
At the age of 25, following a basketball career that took him from Fairfield High School in Connecticut to Division I Monmouth University in New Jersey to Chaminade University in Hawaii, Morgan realized his lifelong dream when he signed a developmental contract with WWE (then WWF).
Standing a shade under seven feet tall on a 300-plus-pound frame, the chiseled Morgan was an impressive physical specimen. Tabbed "The Blueprint" Matt Morgan in Ohio Valley Wrestling, Morgan seemed destined for greatness in a profession that he had loved since childhood.
Little did he know that fate would have other plans for him. His greatest joy was yet to come.
Changing course
Morgan retired full-time from wrestling in 2014, nearly 12 years after his first match in OVW.
With a solid resume working overseas in Japan and with TNA Wrestling, where he was a two-time world tag-team champion, Morgan was poised to return to WWE at the beginning of 2014 when somthing happened that would forever change his life.
On Jan. 7, 2014, his son Jackson was born. "It was a miracle," he says without hesitation.
Morgan and his wife, Larissa, had been college sweethearts; she played softball and he played basketball at Chaminade in Honolulu. The two fell in love and, after living together for several years, were married in 2005.
They wanted children, but were both told that might be impossible.
"Immediately we started trying to figure out how to have kids," says Morgan. "For whatever rhymes or reasons, we were both told independently that we could not have kids. We did so many bouts of IVF (in-vitro fertilization). But nothing was working."
But in 2014, on the verge of returning to WWE after successful runs in Japan and TNA, a "miracle" happened.
Morgan and his wife welcomed a son, Jackson, into the world. "And it happened naturally," he adds.
"I had still planned on going back to WWE one day. But the minute that boy was born ... I don't know what happened, I just know a switch went off in my head and I just knew I would never be able to go on the road again. There's no way I would be able to do this."
"It was an immediate reaction that I was not expecting," adds Morgan. "In my head I had it all planned out. I was going back to WWE, and this happens. I swear to you ... in a heartbeat it was 180 degrees. It all changed in that delivery room."
It had taken 10 years for Morgan and his wife to have a child. But it was a high-risk pregnancy and not without complications.
"He wasn't breathing," Morgan relates. "Had we come to this point after being told we could never have kids? I was on my knees praying my tail off to God, and he eventually starts breathing, and that was it. I'll never be away from this boy."
To Morgan, it was yet another sign that wrestling and living out of a suitcase would not be in his future.
"I knew I had to stop wrestling. You really appreciate it more when you're told you can't have something."
Today Jackson is a well-adapted 5-year-old who loves sports.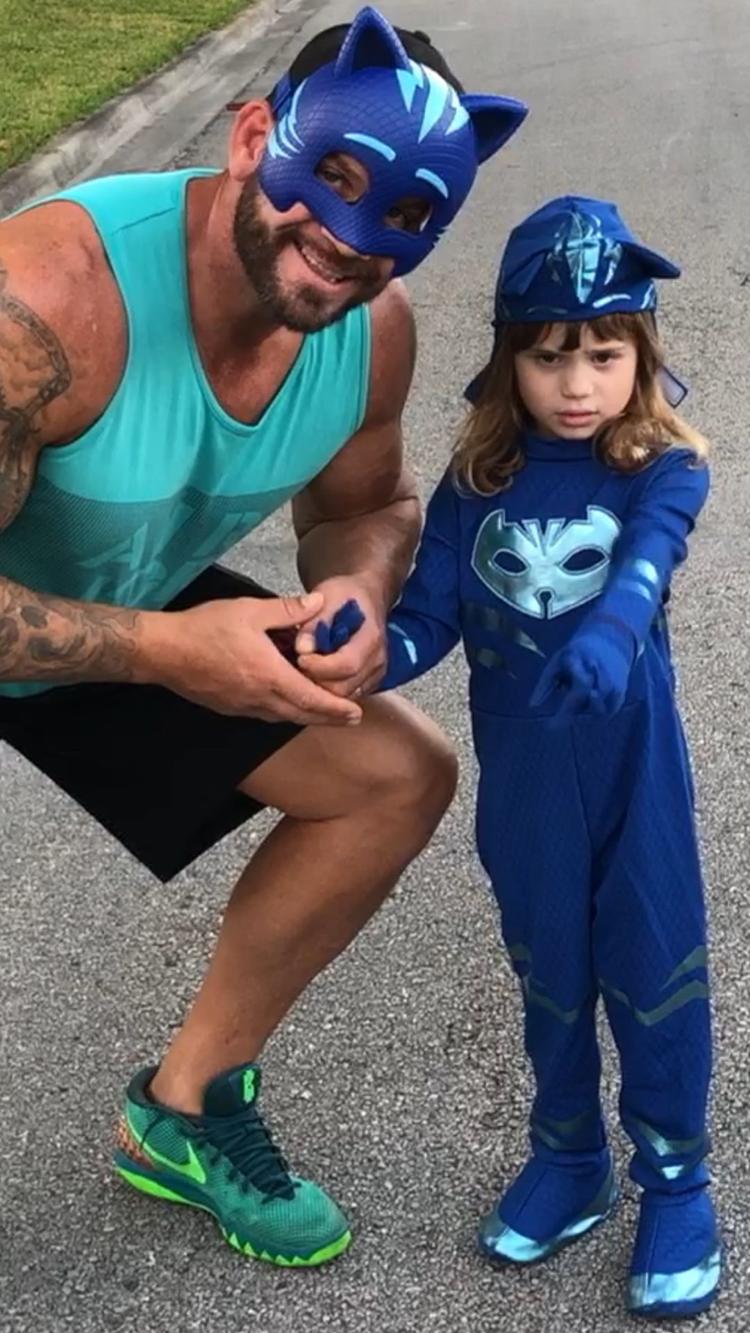 "He's non-verbal autistic, but he's my little miracle baby. He's an amazing little boy. He's insanely smart and a helluva athlete. We play T-ball, we play soccer. He does everything. He just can't talk. But he's on his way to getting there. Obviously we get him a ton of different specialists and a lot of extra help."
New career
While pro wrestling might not have been in Morgan's future, something similar was. And that was politics.
Morgan had moved to Longwood, Fla., a community 15 miles north of downtown Orlando, at the tail end of his wrestling career in 2012 and had become increasingly interested in the Central Florida town.
"Once I became a dad, that's when I really started paying close attention to local politics," explains Morgan. "And that's when I did not like what I was seeing. And I don't mean any disrespect to those who served before me because it was a thankless job. I'm just being truthful. The more I pulled back that curtain in our city politics, the more I hated what I saw. That's when, instead of complaining and moaning, I knew that I could do better. I decided to throw my name in the hat and prove that I could do better."
Going door to door with his grassroots campaign, Morgan ran for one of the city's five commissioner posts, and won. And, he says, it wasn't because he was a former WWE superstar. It was because he campaigned to make his community better. He wanted to make a difference for his family and for others in Longwood.
"It's a beautiful, charming city. Nobody cared if I was Matt Morgan the wrestler. They learn about it, and that's it. You have some wrestling fans who obviously would recognize me. But we do have a lot of seniors in this community, and they're not necessarily watching wrestling in a tiny city like this. I would argue that I'm more famous in larger territories – county, state, country – than I would be in the eight-mile city of Longwood.
"I was somebody with absolutely no political experience whatsoever," he says. "It was something definitely I didn't expect to be doing with my life, but I'm glad I have. I had already been through that leadership role for our city when I got elected commissioner."
Last month, after having served as a city commissioner for 1½ years and then as deputy mayor, the 42-year-old Morgan was voted in as mayor of the Seminole County municipality. Longwood is one of a few Florida cities that allows its commissioners to pick a new mayor each year. All five city commissioners voted unanimously for Morgan.
"Running for mayor was cool because I got the support and the belief in me from my fellow commissioners. What a huge honor."
And he just might be the tallest mayor in the country. Glenn Jacobs, better known in WWE circles as Kane, became the mayor of Knox County — Tennessee's third largest county — in August.
At 6-8 and 300 pounds, Jacobs is no slouch either. While Morgan says he's 6-11 and three-quarters, to be exact, that would give him a slight edge over the "Big Red Monster."
Still, he says, it's pretty close; he's still not sure who's bigger.
"I remember being eye to eye with him when I was in OVW," says Morgan. "He came down to wrestle me there. I can't say enough good words about that guy. Glenn is one of those really great testaments to pro wrestling."
Morgan says Jacobs, as a favor to then-OVW booker Jim Cornette, made a special trip to the developmental promotion in Louisville to appraise the rookie's progress.
"He gave me a heckuva lot of confidence coming out of a 20-minute match which he called on the fly," Morgan recalls. "We didn't rehearse much, and I remember being terrified and a nervous wreck over it because he was my favorite wrestler on top of it. Am I gonna choke? Am I going to be horrible? That whole thing. I really learned then that I wanted to pattern myself that way as a wrestler if I ever got the opportunity to give back to a younger kid that was coming up."
These days Morgan, who holds the distinction of being the largest American Gladiator ever, tips the scales at around 300 ("I'm dieting, so I'm normally 320"). He's also trimming down for a physique competition. "That gives me a physical goal and a reason to go to the gym and not get out of shape. I've got to peel down to about 270 pounds to make the weight."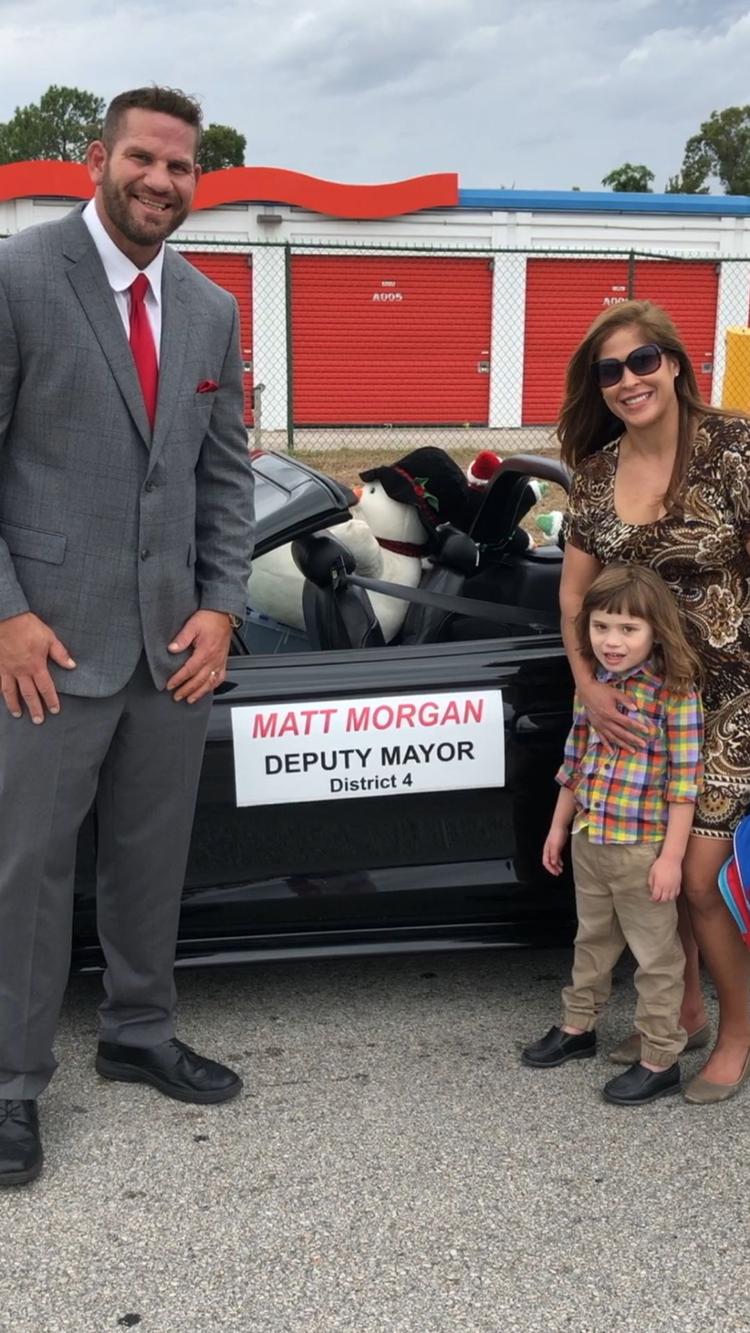 Wrestling and politics
Morgan points out that there are a number of similarities between politics and pro wrestling. His experience in the wrestling business, he says, has helped him prepare for public office.
"In wrestling, as in politics, you've got to learn real quick to develop thick skin and not sweat the small stuff. You've got to be OK with being blamed for things."
Like politics, pro wrestling is a business fraught with backroom deals and huge egos.
"I always tell people politics is much worse. In wrestling, you can be riding in a car with a guy, on tour, who can then back-stab you to the promoter or agents about how terrible this guy is and I don't want to work with him. Whereas in politics, you clearly know who your political rivals are from the jump. So at least it's happening in front of your face a little bit more. But wrestling really developed a thick skin for me.
"One other thing I learned from wrestling is miscommunication. Honestly I should have been a lot more vocal in communicating with our writers when I was there. Now what I've learned serving the public is if you do your job right, you've got to be non-stop communicating. You can't let that door close on communicative opportunities with your residents because then you don't know what they want. If you want to serve them properly, you've got to know that you're meeting their needs. You've got to be willing to talk to them."
Using his gifts
Passionate about being a voice for the voiceless in Longwood, aiming to turn the city into a family-friendly community, Morgan ran a strong campaign and had already proven himself as an effective commissioner. Public safety was a priority, and that included improving conditions for the town's police and fire departments.
"I lived in a city where our police and fire departments were exceedingly disrespected to a point where those that served before me were looking to shift our fire department over to county. But we have great service here. We're only an eight-mile city, and we have two stations. We have the best service there is in our county because anytime something happens, they're Johnny-on-the-spot. And they're heroes. They legitimately are.
"Same with our police. Our police were undermanned and understaffed. Both fire and police were the lowest paid in all of Seminole County. And I saw a huge problem with that. So my thing from day one on the campaign trail was that we needed to take care of our public safety. Then and only then would these bigger brands like Publix look to come to our city and open up shop."
Endorsed by both the police and fire departments, Morgan gave both the first raise they had received in nine years once he was elected to the city commission.
"Because I was campaigning, I was able to go to other cities and see how they did things. We looked at STEP programs. They didn't know what they would be making in five, 10 or 15 years. My whole thing was by inserting the STEP program in the police department, they would now be staying here in Longwood. The longer they serve, the more they're going to make. And that's all they ever asked for.
"So we gave them a raise. It was the first time they were excited and felt the city finally had their back. We had guys wanting to come out of retirement. Before I was elected, we were losing cops all the time to Orange City, to Altamonte Springs, to Mary, Fla., because they paid more money. Not anymore. Fire and police are now much more competitive with neighboring cities. They're proud to be here. They know we've got their backs."
Always thinking outside the box, one of Morgan's most successful initiatives was to enhance the social media outreach between the city and its residents.
"I got all those City Commission meetings adapted to Facebook Live. The city commission meetings are where 'all the sausage gets made.' That is where all the policies and bylaws get created. There are generally five commissioners who vote yes or no on all these things. Three out of five control the majority. That is how everything in this city is decided. With that, my whole complaint was when I was door-knocking and campaigning before I was elected, I asked everyone if they knew about the city commission. Everyone said no. For those who did know, I asked how they found out about meetings if they didn't go to the meetings. We had like two or three people at these meetings, and we have 16,000 residents. So how could I get out to the silent majority? How are we doing this?
"The city clerk told me that you could listen to it on the city's website. I said nobody's going to anything dot-com anymore. It's on their apps, on their social media. That's where people get their news from. I want the city of Longwood at the top of every Longwood resident's Facebook newsfeed on Monday nights at 6 o'clock right before dinner. And I want them to have the opportunity to see and hear what we're doing, so they feel a part of the process. Three months after being elected commissioner, they finally said we're in. All five of us voted on it. That was a major game-changer for our city. We now have anywhere from 400 to maybe 1,000 people watching this versus the 16 people that were previously interested in what was happening at these meetings. It was a huge thing."
Morgan, who suffered more than 29 concussions over his athletic career, also organized a fundraising event to help buy special football helmets for the local Lyman High School football team.
Minimizing the risks of concussions is very important, says Morgan, who often speaks to schools about the importance of education and being involved in their community. New helmets for the team would reduce the risk of trauma to the athlete's head.
Researchers, say Morgan, have pointed to studies that show repeated blows to the head can lead to CTE (chronic traumatic encephalopathy), a degenerative condition associated with aggression, memory loss, dementia and even suicide.
"I had found out that the football team did not have anti-concussion helmets. I myself have suffered many concussions, and I've donated my brain to science after I pass away. I know that a lot of parents aren't letting their kids play football anymore. So I thought how can I make this game safer? These anti-concussion helmets cost $300 apiece. They only had one for the quarterback, and that was it. I knew we had to do more, so I came up with the idea of hosting a wrestling event at our new park. I called in many favors to a lot of independent wrestlers that I knew who lived locally that would be willing to do this. All the local news stations covered it, and we were able to raise $10,000 in just two hours of the event. We raised over $16,000 in total. We got the varsity covered, and now we're on the way to JV."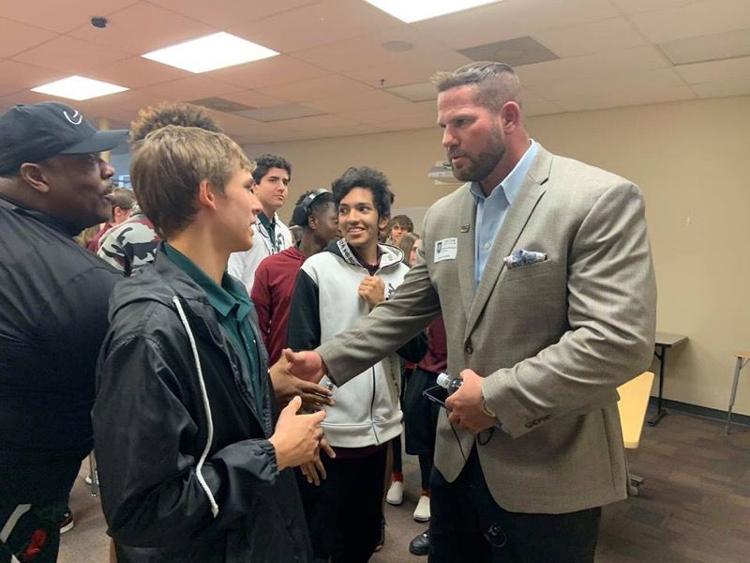 Imposing presence
A big guy with a good look, Morgan oozed potential when he broke into the wrestling business.
His first run on the Smackdown brand saw him briefly join Paul Heyman's team of fellow giants Brock Lesnar, Nathan Jones, Big Show and A-Train. Any traction, however, was halted by a shoulder injury that sent him back to OVW.
"I had been pushed back down to OVW. My partner Nathan Jones had quit. Brock had moved on to football. They didn't have anything for a damn-near seven-foot, 300-pound kid on the roster, which is still crazy to me to even think that, but that is what I was told. And I was sent back down to get some more experience."
It would prove to be his most enjoyable period in the business.
"I can't believe I said that, even though we had worked the hardest with those six-hour practices and felt we were going to die. But I felt that was the most fun because you still had all that untapped potential in front of you and the sky was going to be the limit. You're around a lot of good friends, you're watching each other improve, you're learning at a hundred miles an hour, and you're starting to get the feeling of what it's like to live out your childhood dream of being a professional wrestler."
"There was also tons of camaraderie," says Morgan, a two-time OVW heavyweight champion whose colleagues included Chris Masters ("I gave him his 'Masterpiece' gimmick"), Kevin "Mordecai" Fertig, Tyson Tomko, Nova, Mickie James, Rob Conway, and Doug and Danny Basham.
Morgan says Jim Cornette helped him the most during his time there, along with trainers Danny Davis and Rip Rogers.
"Rip is crazy," laughs Morgan. "I learned the most, as far as being able to call a match on the fly, and being prepared for anything. He definitely had me prepared. So when that stuttering gimmick was later thrown at me by Vince McMahon himself, I was more than prepared."
More than a year later, Morgan was brought back, but this time with the ill-advised stuttering gimmick, pitched to him by the boss.
"I hated it," Morgan says emphatically. "I didn't tell those guys to call me up prematurely. But now I was finally getting an opportunity to work as a heel."
Training with Rogers in OVW had given Morgan the experience to improvise and call matches on the fly.
"Rip would put me in scenarios where I didn't get to be seven-foot Matt Morgan the giant. One time I had to wrestle Jackie Gayda in an hour broadway in front of all our peers. We had to switch roles. She got to be Matt Morgan, I got to be Jackie Gayda. I'll never forget ... I got to take her hand and put it on my own neck and jump and give myself a choke slam. But it was a lot of fun."
When McMahon pitched the speech impediment storyline, Morgan was confident he could handle it.
"There was nothing you could have thrown at me that I couldn't have handled. As for the stuttering thing, I did say in that office, and not talking back or anything, but you know, Vince sold this to me as he's always wanted to put this stuttering character on one of these bigger, super impressive looking guys.
This was the discussion as related by Morgan:
"Joe walks into this bar and sees this beautiful woman. Everyone is staring at her; she's absolutely perfect. And you walk up to her and introduce yourself to her and she has a deep voice," McMahon said in laying out the character he envisioned.
"I get it, there's an imperfection that nobody expected," replied Morgan. "And he's like, I wasn't going to put this on a bigger guy."
At that point in the conversation, Morgan says he thought he heard Brock Lesnar's name as a possible candidate for the gimmick. "I don't want to say Brock Lesnar, but I could have sworn he said Brock Lesnar. Can you imagine that?"
Morgan says McMahon went on to tell him that it needed to be someone who was confident enough to pull the gimmick off. "I think you can do this," he told Morgan.
"I think I can too," Morgan replied, "but I just want to put this out there ... Do you know I have a degree in public speaking? I graduated with honors (at Chaminade). I might not be the best at it, but talking is kind of my thing. And essentially we're going to pull that away?"
"No we're not," reassured McMahon. "It's giving you an Achilles' heel."
McMahon suggested that Morgan return to OVW to work on the new act, but Morgan balked. Instead he was ready to put the gimmick into action immediately.
"Sir, if I'm going to do this character, I do not want to go back to Ohio Valley Wrestling. I'm good to go," said Morgan.
McMahon liked the big man's confidence and gave him the green light to debut his new gimmick the following week.
"I tried to do it to the best of my ability," says Morgan. "I didn't talk like other big guys. I talked very quickly, and while some things I said might have gotten lost in translation, I wrestled on a television show. I always thought that separated me because now you've got a thinking man's giant, you've got a guy that is well educated and well-rounded and doesn't have his weaknesses, and I thought that would look like a 'Mr. Perfect' of the giants."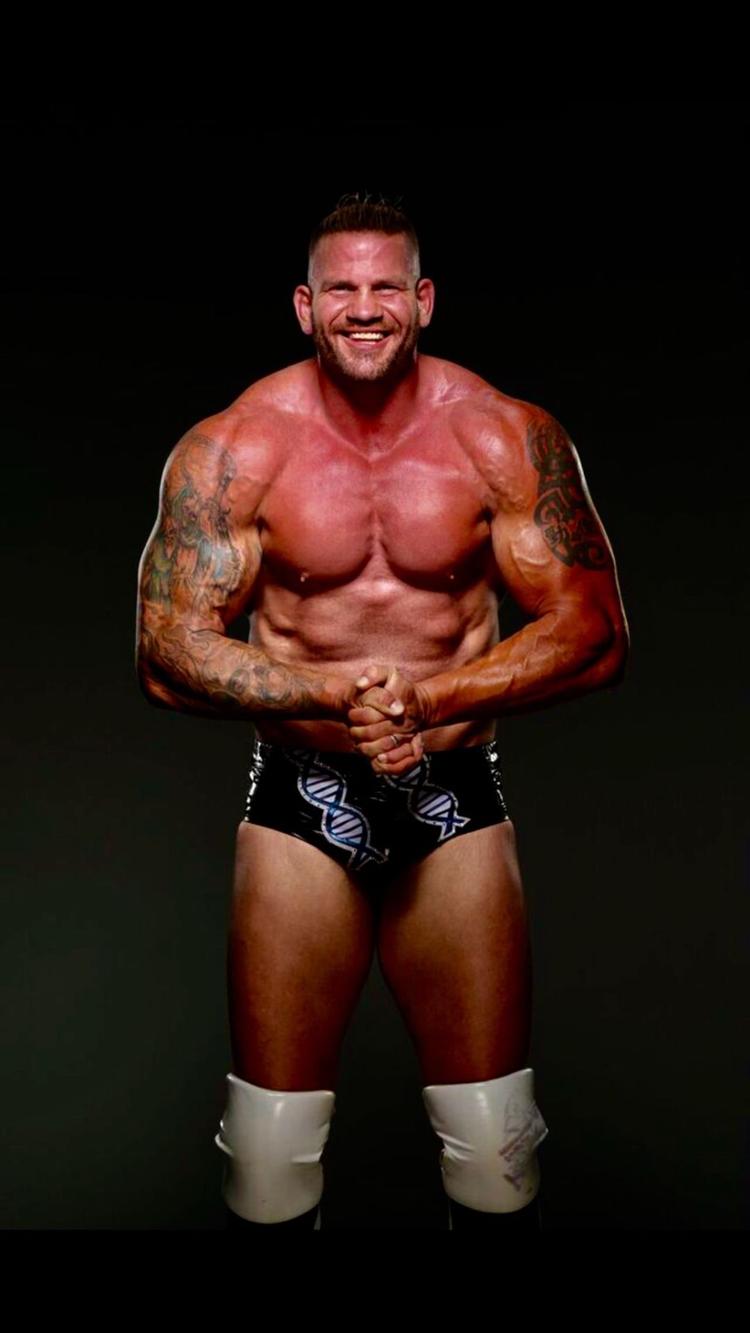 The Blueprint
Morgan's nickname came about after someone remarked that if God designed a blueprint for a perfect physique, it would look like Morgan.
"God created the blueprint of the perfect giant, and you're looking at him," said Morgan.
As for the stuttering gimmick, "I wasn't a fan of it, but when Vince comes up with an idea, you gotta go with it. We'd be doing pre-tapes for Smackdown, and Vince generally was always behind the other side of that camera. Every time we were to stare off into space while I was talking, he was the one who was always producing a lot of those promos. So that makes it exciting. You may not be a fan of the character, but you're assuming it's going to have a lot more legs to it because Vince McMahon came up with the idea."
Morgan had debuted on the main roster in October 2003, but unfortunately the stuttering gimmick kept him in the midcard category.
He was released from the company in 2005, and two years later popped up in TNA Wrestling for the start of a seven-year run.
While he claimed a pair of TNA tag-team titles and eventually became a contender for the TNA world heavyweight championship, he consistently fell short of winning the promotion's top title. When he found himself spinning his wheels, he began thinking about a WWE return.
"I thought for sure after my TNA run that I'd go back to WWE because I had done what they asked. They asked me to go to Japan for a year. Johnny Ace once told me we'd shake that stuttering character and come back a year or two later, and see how it goes from there. I then got calls from Jim Cornette at TNA who wanted to use me as that Blueprint Matt Morgan persona that we had done in OVW. That was me. This is great. I was going to go there and get main-event experience and have opportunities to wrestle Kurt Angle and all these main-eventers and finally start to realize my potential. I did that, and in January 2014, I was very close to going back to WWE. I had put my time in at TNA and developed enough to where I thought I could return."
Possessing the size and the tools, and having refined and improved his game with his experience in Japan and seven years in TNA, Morgan now felt he had a lot to offer WWE.
"A drug-free, steroid-free, 300-pound giant who's now improved and ready to rock. That's what my plan was. On Jan. 7, 2014, my son Jackson was born. Up until then, I had still planned on going back to WWE one day."
Kept the door open
Despite never quite hitting his stride in WWE, there's no hard feelings between Morgan and McMahon.
"He was pretty damn good to me," says Morgan. "I don't have a bad thing to say about Vince. I know a lot of people when they leave, they may not have had the career they wish they had. It's the easiest thing to do to start bashing people, especially Vince. But from my point of view and my experience, I don't have anything bad to say."
McMahon, says Morgan, always kept the door open for talent to go in and talk to him.
"Even a couple months after I was first called up and I was part of Team Lesnar, I'd go in his office when we were on the road, and he'd talk to me about learning how to not play-wrestle. He told me I had to react more and not go out there and play wrestling."
Morgan says initially he didn't fully grasp what the boss was trying to get across. After all, he reasoned, wasn't everyone on the roster play wrestling? He asked McMahon for some clarification.
"I remember looking at him and going, 'No offense, but nobody here is a real wrestler. Kurt (Angle) and Brock (Lesnar) are the only guys we've got here who are real wrestlers. Of course we're playing and acting in a role. That's what we all do."
The concept took a while to sink in, but when it did, it became clear to Morgan what McMahon was trying to get across.
"Lo and behold, it took me a little longer, but when I was in TNA, that lightbulb finally went off. That speech he gave me ... now I know what he's talking about. Being within that Blueprint character, and responding to everything in that match in that arena the way the Blueprint Matt Morgan would do so, then it made sense.
"But to be fair, I would say to get to that point, you've got to figure who the hell you are as a young man first before you can figure out the character. That's where I think a lot of young guys get lost today. They're trying to figure out who they are as a human being.
"How could you tell somebody to morph into this character and make it look real if they don't know who they are as a man yet because they've not gone through certain life experiences. Owning a home, the pressure of bills, the pressure of being a parent. All of those things. That's why I think back in the Attitude Era, those guys were more ready to become superstars because they had been well-traveled, they had been all around the world, and they were used to being on their own. They had learned to be independent to figure out who they were as young men. So when the Attitude Era hit, it was easy."
No regrets
Morgan is currently serving the second year of a three-year term. "Once my election comes up in 2020, if I run again for mayor and win, I'll be up for a four-year term." A "public servant" rather than a "politician," his efforts to make Longwood a better city have not gone unnoticed by its residents.
He returned briefly to the business in 2017 to work for Jeff Jarrett and TNA, only because it was a temporary, part-time gig and didn't require much travel.
"They were right down the street at Universal Studios filming. They would do a number of episodes on Saturday and Sunday, and I wouldn't miss any time at home. I was going to go back and help the company out, but it just didn't work out," said Morgan, who walked away once shows were being taped on weekdays.
Morgan transitioned into medical sales after stepping out of the wrestling ring, working for a medical device company that sells aesthetic laser equipment to plastic surgeons and dermatologists. He was recently promoted for the launch of a new laser device called the Venus Heal specific to the sports medicine market for injuries on athletes.
While Morgan says he will always love professional wrestling and the doors it opened for him, his greatest enjoyment is being a father and watching his son grow up.
"I'm very incorporated in everything he does. I'm definitely a 'helicopter dad.' There's no question about that. I'm sure it annoys my wife at times and annoys everybody else who's not associated with Jackson, but I can't help it. I just can't."
Would he do it all over again?
"Hell yeah! Absolutely," says Morgan without a hint of hesitation. "I'm a lifelong fan. I'm not just exaggerating. I've had the opportunity to share a ring with Ric Flair (and beat Ric Flair). Ric Flair, Hulk Hogan ... these are my idols. All the wrestling magazines you could think of, and I still have them. All the figures. And I get to be one. You kidding me?"
Reach Mike Mooneyham at bymikemooneyham@gmail.com, or follow him on Twitter at @ByMikeMooneyham and on Facebook at Facebook.com/MikeMooneyham. His newly released book — "Final Bell" — is now available at https://evepostbooks.com.