"No matter where you come from, no matter what you look like, if you believe, you can make it happen." – WWE announcer Byron Saxton
There's a New Day in WWE.
No, really, there is, and nearly 80,000 folks in attendance witnessed it Sunday night at MetLife Stadium, along with a few million more watching on the WWE Network and via pay-per-view.
New Day member Kofi Kingston put a dramatic exclamation point on one of the most emotional moments in recent Wrestlemania history when he defeated Daniel Bryan to win the WWE heavyweight championship.
It's been an uphill struggle since Kingston joined WWE 11 years ago, but he couldn't contain his sense of joy and accomplishment after the match.
"They said we couldn't make it! We made it to the top! We made it to the top!"
It was, indeed, a long time coming and, for many, a long time overdue.
It was a dream three decades in the making.
Instant classic
Kingston, a native of Ghana who was raised in Massachusetts after his parents moved to the United States, on Sunday became just the second African American following Dwayne "The Rock" Johnson (Booker T and Mark Henry both held the world heavyweight championship, which was absorbed into the WWE championship in 2013) and first native African to hold WWE's signature title.
Kingston's first shot at the WWE championship turned into a monumental moment for the 2003 Boston College grad. An injury to Mustafa Ali placed had Kingston in the title picture as a last-minute replacement.
Jumping through weekly storyline hurdles placed in front of him by WWE owner Vince McMahon and then-champion Bryan, Kingston soon became a crowd favorite and caught fire with the WWE Universe.
In a match that has been compared by many to the Ricky Steamboat-Randy Savage classic at Wrestlemania III in 1987, Kofi Kingston did what had seemed unthinkable just months ago. It was a seminal moment when Kingston's hand was raised Sunday night. The first black Grand Slam winner in WWE history, he proved that it is possible to achieve your greatest dream.
It was a joyous celebration of the underdog overcoming seemingly insurmountable odds, not unlike the storyline arc Bryan had followed five years earlier when he played the hungry fighter chasing the title, eventually having his own "Wrestlemania moment" at Wrestlemania 30.
Credit also goes to WWE for getting it right. The writing staff improvised, listened to the fans who had become fully invested in Kingston's quest for the title, and created one of those rare moments that fans will remember for decades.
"I have been wondering what this moment (would be like) since the whole thing kind of started two months ago, when I replaced Ali at Elimination Chamber," Kingston told ESPN. "It was after the gauntlet match we had the week before when I realized how much people wanted this – as much as I did ... It's humbling that people support me the way that they have, and just have the desire to see this happen."
As the 37-year-old Kingston would say later, it wasn't in the script or in the cards. "But here we are."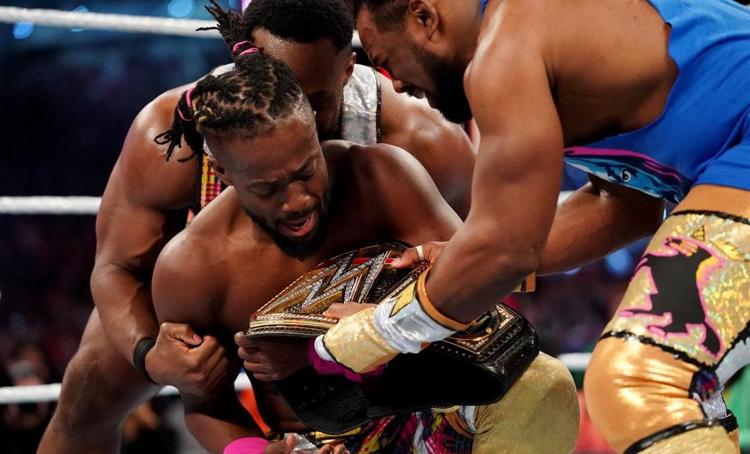 KofiMania going wild
The victory struck a heartfelt chord with many of his fellow WWE performers.
New Day partner Xavier Woods was one of the first to publicly issue congratulations.
"I've never felt emotions like this in my entire career. Kofi Kingston did it. We all did it. Tonight a previously closed off part of the WWE Universe realized that they can be champion too and that representation is so much more important than people realize. Congrats Kofi. We love you."
"Kofi did something special, kicked down a door some people thought could not be kicked down! And you guys all helped! To the New Day, the locker room, all the fans, an entire generation of up-and-coming wrestlers, and of course, Kofi: Congratulations!" Dolph Ziggler posted on social media.
"A black man, born in Africa, is the current WWE champion. This just happened," tweeted MVP.
"A kid who looks like us saw Kofi Kingston win the WWE championship at Wrestlemania and it likely inspired him to chase the same dream ... and know it's possible. What a night," posted Stokely Hathaway.
"Many dreams and opportunities that seemed unreachable for so long now have become obtainable," declared Cedric Alexander.
"That was beautiful! Kofi Kingston just had an amazing Wrestlemania moment – and so did everyone watching! wrote Mick Foley.
Athletic and charismatic, the six-foot, 210-pound Kofi Kingston wasn't the biggest or the strongest, but he didn't have to be. He was the next man up, and he answered the bell. Eleven years later, he's the champion of the world.
"Sometimes fate smiles down upon thee, and I smile back," he says.
And sometimes dreams do come true.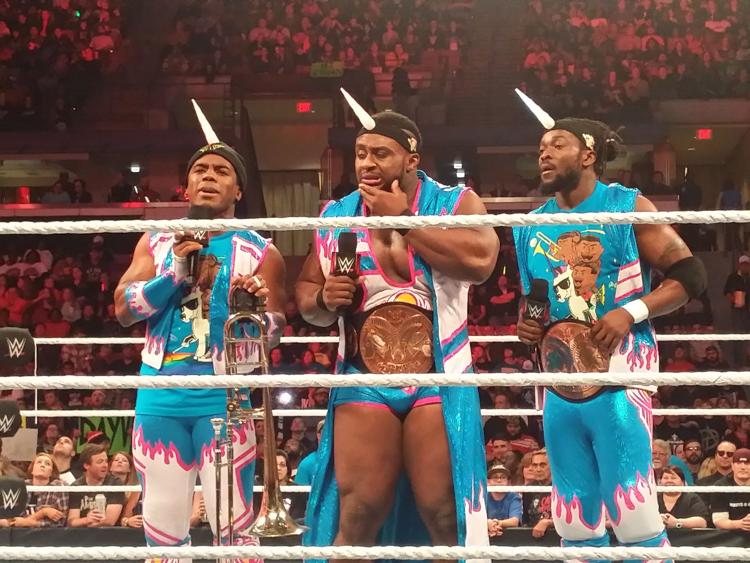 Pop culture phenoms
The real journey of Kofi Kingston, who was born Kofi Nahaje Sarkodie-Mensah and debuted with WWE in 2008 as a Jamaican Rastafarian, began five years ago when he joined up with Xavier Woods (Austin Watson) and Big E (Ettore Ewen). With a gimmick that many said was doomed to fail, and in the initial months it appeared that might be the case, the three became fast friends and worked hard to make the act a success.
The concept of "New Day" was a collaborative effort, Woods said in an interview earlier this year. At the time, Woods, Big E and Kingston were simply trying to have fun and hold on to their jobs. While all possessed talent, forming a new act combining the three was a leap of faith.
"It (the concept) was mine from a standpoint of wanting to come together, and then it's been stuff from everybody as we've gone along," said Woods, a Furman University graduate. "That's nice because we have very similar, but very different, trains of thought. Where I lack, E picks up. Where E lacks, Kofi picks up. It's become a very well-rounded group. We just know each other so well."
The threesome spent six months working house shows and barnstorming ideas as they attempted to get their chemistry down. Billled as gospel singers preaching the "power of positivity" in their in-ring TV debut in late 2014, a gimmick pitched by Vince McMahon, the team initially was met by a chorus of jeers from the audience.
But with some fine-tuning, New Day shook off their rocky start. Once the act was allowed to improvise and tweak the gimmick, they won over the audience with antics that included making unicorn gestures and wearing plastic horns during their entrance, using the word "booty" as their catchphrase and introducing Booty-O's cereal as they danced and gyrated in the ring.
When he wasn't in a match, Woods would be at ringside playing a trombone he dubbed "Francesca" and getting the crowd involved. They soon became one of the hottest acts in WWE.
"Being able to spend the time together before we actually debuted on TV really helped us," said Woods. "By the time we debuted on TV, the sky was the limit. It was solely based on our chemistry that we were going to make something happen. And then that turned into we're going to make everything happen."
Woods and his fellow unicorn-loving purveyors of positivity and fun, who made their tag-team debut on Nov. 28, 2014, would host Wrestlemania and boast a slew of tag-team titles.
Their in-ring accomplishments are noteworthy: two-time WWE Raw tag-team champions; three-time WWE Smackdown tag-team champions; and longest reigning tag-team champions in WWE history (483 days), breaking Demolition's 28-year-old record of 478 consecutive days with the belts.
But last Sunday night, on The Grandest Stage of Them All, it all came together.
"It was all love. The energy in MetLife Stadium was incredible... and to have my family there to watch it, too, my dad had never been to a WrestleMania, so for this to be his first Wrestlemania, is just unreal," Kingston told ESPN. "My mom, my brother was there, my wife, my two kids, my brother-in-law, my brother's girlfriend, they were all lined up, and I knew exactly where they were the entire match."
New Day forever
With the spotlight obviously on Kingston, it's only natural that the WWE rumor mill is working overtime with rumors of a possible split between the popular faction. Close friends outside the ring, the three have developed a tight relationship and bond, and Woods says they complement one another to a tee.
When recently queried about the possibility, Woods said the bond was an unbreakable one and beneficial to all members, hinting that he might even consider retiring before that happens.
"It's the best career move for all three of us (to stay together)," said Woods, noting the fate of others who have gone their separate ways.
"New Day's staying together forever. In the easiest terms, it's the most fun option for us."
'Back to the Beach'
Old School Championship Wrestling, which enjoyed one of the biggest turnouts in the 13-year history of the promotion in February, is hoping for a repeat performance on April 14.
This time, though, OSCW is heading to the beach for its second annual "Rock 'N Wrestling: Back to the Beach" event at The Windjammer, 1008 Ocean Blvd., on the Isle of Palms.
ECW icon Tommy Dreamer, "The Innovator of Violence," will make his first OSCW appearance on the show.
Also scheduled on the bill are former WWE stars Gangrel and Kevin Thorn, Cheerleader Melissa from Lucha Underground, TNA's Caleb Konley and OSCW favorite John Skyler.
Rock 'n roll music will be provided by Spunjwurthi.
Action starts at 4 p.m. Gates open at 3 p.m.
Admission is $15 adults, $10 kids; cash only at the door.
To purchase tickets in advance, visit https://thewindjammer.com
Live music will be during intermission and will continue after the matches.
For more information, call 843-743-4800 or visit www.oscwonline.com.
Reach Mike Mooneyham at bymikemooneyham@gmail.com, or follow him on Twitter at @ByMikeMooneyham and on Facebook at Facebook.com/MikeMooneyham. His newly released book — "Final Bell" — is now available at https://evepostbooks.com.