There was a time, long before sports entertainment and the WWE Universe, when men who wore masks spread terror and wreaked havoc throughout the professional wrestling world.
Masked wrestlers and masked tag teams dotted the landscape and were an integral part of the business.
Most hooded grapplers were villains inside the ring who went to great lengths to conceal their identity. Menacingly billed as being from "parts unknown," these men of mystery preyed on the fears of an audience that paid good money in hopes of seeing their local favorites unmask the rule-breaking scoundrels.
One of the greatest to ever wear a mask inside a wrestling ring was a character known, simply enough, as The Destroyer.
As a youngster I marveled at the colorful visage that graced the covers of the major pro wrestling magazines of the time. Like other fans of that era, I was awed by the mystery behind the red-trimmed, white hood and the man wearing it.
So enthralled by the aura surrounding the mask, I ordered one of my own through a popular mat magazine that was peddling the kid-sized hood for a small sum.
In later years, as I began to seriously cover the business and its many unique personalities, I learned that the man's talents extended well beyond the squared circle.
Dick Beyer, who as The Destroyer and Doctor X was regarded by many as the greatest masked wrestler in the history of the game, passed away March 7 at the age of 88. His legacy, though, will live forever.
Syracuse fame
As WWE noted upon Dick Beyer's passing, he "thrilled fans and terrorized opponents for three decades." But he did more than that during his 88 years on the planet. So much more.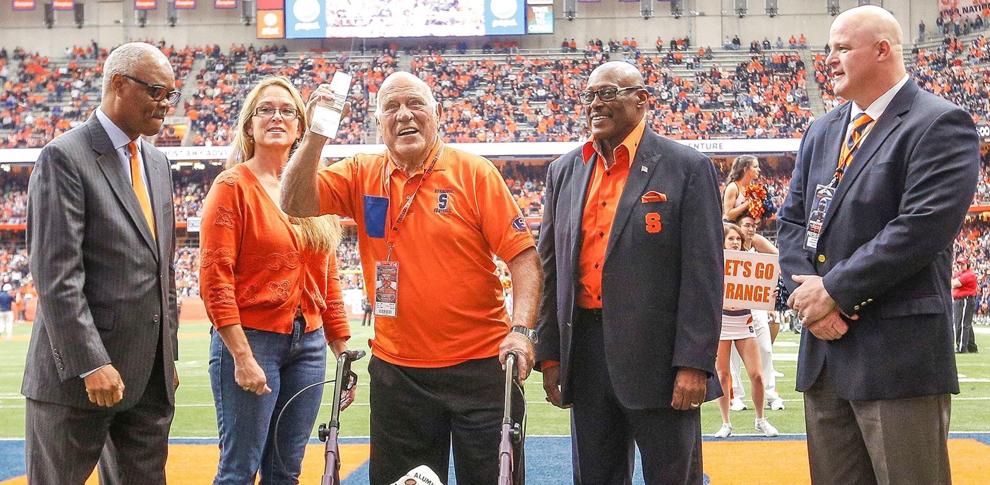 Beyer, who was born July 11, 1930, in Buffalo, N.Y., was an incredible athlete who excelled at wrestling and football at Syracuse University. A four-sport prep star, the 5-10, 230-pound right guard played on the same line as Jim Ringo, who went on to a hall of fame career with Vince Lombardi's Green Bay Packers.
A heavyweight wrestler who went undefeated his senior season, Beyer would co-captain the Orangemen's 1952 football team which, at 7-2, earned Syracuse's first bowl bid, a trip to the Orange Bowl where the Orange lost, quit convincingly, to Alabama. The following year Beyer's exploits on the mat and on the gridiron landed him honors as the 1953 Syracuse University Athlete of the Year.
Beyer, who earned a master's degree in education, turned pro after graduating in 1954, although in the beginning, wrestling was just a sidelight. Traveling the wrestling circuit during the summer, Beyer served as a full-time assistant coach on the staff of the legendary Ben Schwartzwalder.
Syracuse would win a national championship in 1959 with a lineup headlined by running back Ernie Davis, the first African-American to win the Heisman Trophy.
Destroyer is born
As good guy Dick Beyer, he experienced moderate success as a journeyman grappler. Voted 1955 Rookie of the Year by Wrestling Life magazine, Beyer worked the first seven years of his mat career near his Western New York home, due in large part to his coaching job and commitment to the U.S. Army Reserve.
Trained by the likes of Ray Stevens and Dick Hutton and possessing great technical skills, Beyer caught the eye of established star and lead California heel Fred Blassie while on tour in Hawaii. Blassie liked what he saw, and when he returned to California, he raved about Beyer to Los Angeles promoter Jules Strongbow.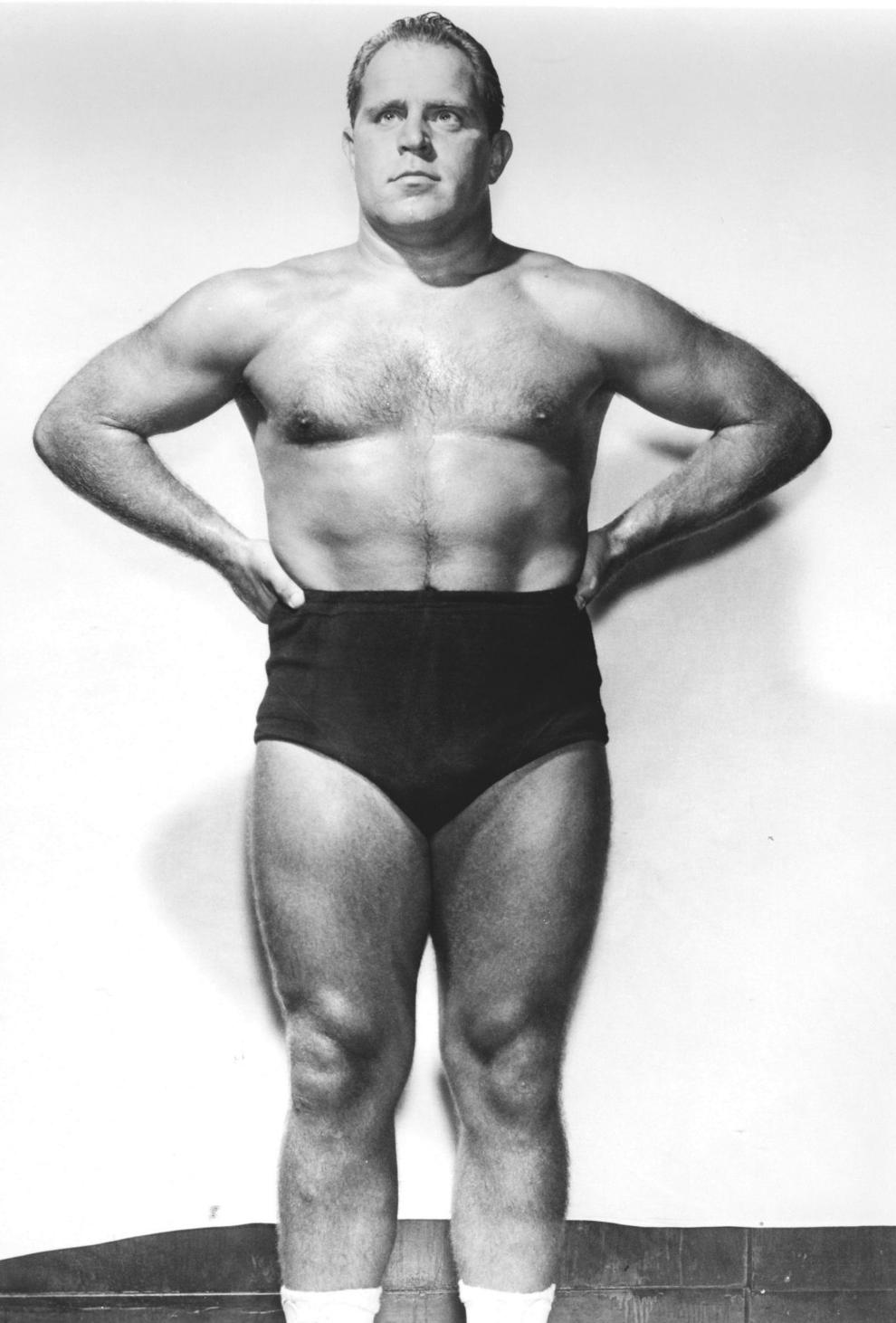 A return trip to Hawaii impressed Blassie even more. This time, the still-maskless Beyer was trying his hand as a heel, capitalizing on his East Coast academic credentials while working as The Intelligent Sensational Dick Beyer. Blassie was more than a little impressed this time; he thought Beyer was the best heel he had seen.
From 1954 to 1962, Beyer had wrestled as a scientific-style wrestler cheered by the fans. What Strongbow envisioned, however, was something entirely different. He asked Beyer to wear a mask, and he would be called The Destroyer.
Beyer initially was aghast at such a proposition; he could barely see or breathe behind the itchy hood that he was crudely fitted with.
Vic Christy, one of pro wrestling's legendary ribbers, provided Beyer with the hood. "It was made out of wool with small eyeholes. It was designed as a wrestling mask, but you couldn't eat or breathe out of it," recalled Beyer.
After his first match under the hood, Beyer went back to the locker room and threw the mask on the floor. "You can tell (promoter Jules) Strongbow that he's seen the first and last of The Destroyer!" Beyer told all within earshot.
Fortunately for wrestling fans, Beyer soon found a mask that was fashioned out of a woman's girdle, one that allowed him to breathe and talk with less difficulty.
"I went shopping the next day with my wife at Woolworth's," Beyer recounted in an interview with the Syracuse Post-Standard. "And I'm there, trying on women's girdles. On my head. In the middle of the aisle. I mean, it was crazy. It didn't take long for about 20 people to stop and stare."
The gimmick would prove to be a big success, turning a lean-cut babyface into one of pro wrestling's most celebrated villains.
Life-changing
The Destroyer wasn't just another wrestler, and the hood wasn't just another mask.
The mask was fashioned, with its holes for his eyes and nose and mouth, out of a woman's girdle that fit over Beyer's head like a tube sock. The distortion and exaggeration of his features from the elasticity in the materials made him look fiercer and meaner.
The transformation would be both career- and life-changing. Although many wrestlers were put under a mask by promoters, Beyer took the process a step farther, turning up the volume on his personality and actually assuming the identity of The Destroyer.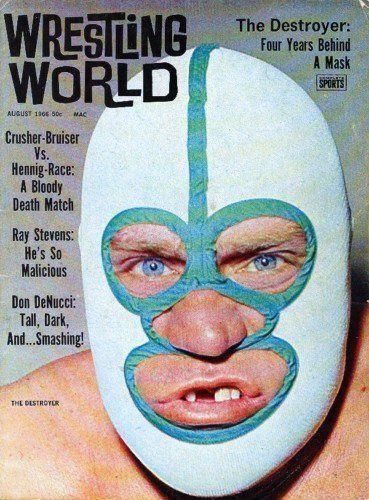 The clean-cut, All-American good guy formerly known as Dick Beyer officially gave way to a new creation hidden under sinister cloth one night in southern California in 1962. His income doubled in the first month.
The rest, as they say, is history.
World titles
Never has a mask done so much for a career.
Dick Beyer, now self-proclaimed as "The Sensational Intelligent Destroyer," would become an international celebrity and pop culture icon.
Once Beyer became The Destroyer, it was no longer financially feasible for him to continue coaching at his alma mater. His career in the squared circle, though, would prove much more lucrative financially.
By the summer of 1962, The Destroyer was feuding with his real-life friend Freddie Blassie, who had held the Los Angeles version of the world title, a belt he had regained from Japanese legend Rikidozan on July 25, 1962, in Los Angeles.
Two days later, The Destroyer defeated Blassie in San Diego to capture the World Wrestling Association world title, the first of The Destroyer's many championships. The Destroyer would hold the title for 287 days before losing it back to Blassie in Los Angeles.
On July 22, 1964, The Destroyer defeated Dick The Bruiser at the Grand Olympic Auditorium to capture the Los Angeles version of the world title for a second time. Holding the title for 50 days before losing it to Cowboy Bob Ellis, The Destroyer reclaimed the title for a third time by defeating Ellis on Nov. 13, 1964, in San Diego.
The Destroyer suffered a controversial loss to Japanese star Toyonobori on Dec. 12, 1964, in Tokyo, however the WWA did not recognize the title change. The Destroyer officially dropped the belt to Pedro Morales on March 12, 1965, at the Olympic in Los Angeles.
A series of sold-out bouts with young Japanese star and future All Japan Pro Wrestling founder Shohei "Giant" Baba at the Olympic would set the stage for a legendary rivalry in Japan and a friendship between the two that would last until Baba's death in 1999.
Cultural icon
While The Destroyer was hugely popular in the States, his character achieved cult-like status in Japan. A 1963 bout with the iconic Rikidozan, the father of Japanese pro wrestling, was responsible for one of the biggest ratings in the history of Japanese television, with a reported 70 million fans viewers tuning in. Beyer was the first American to work for the prestigious AJPW promotion, and a series of matches with Baba turned the masked man into a household name in the Orient.
Initially feared by Japanese fans as a "white masked devil," The Destroyer would become one of the most popular wrestlers in Japan through the 1960s and '70s, battling the likes of Abdullah The Butcher, Mil Mascaras and Antonio Inoki.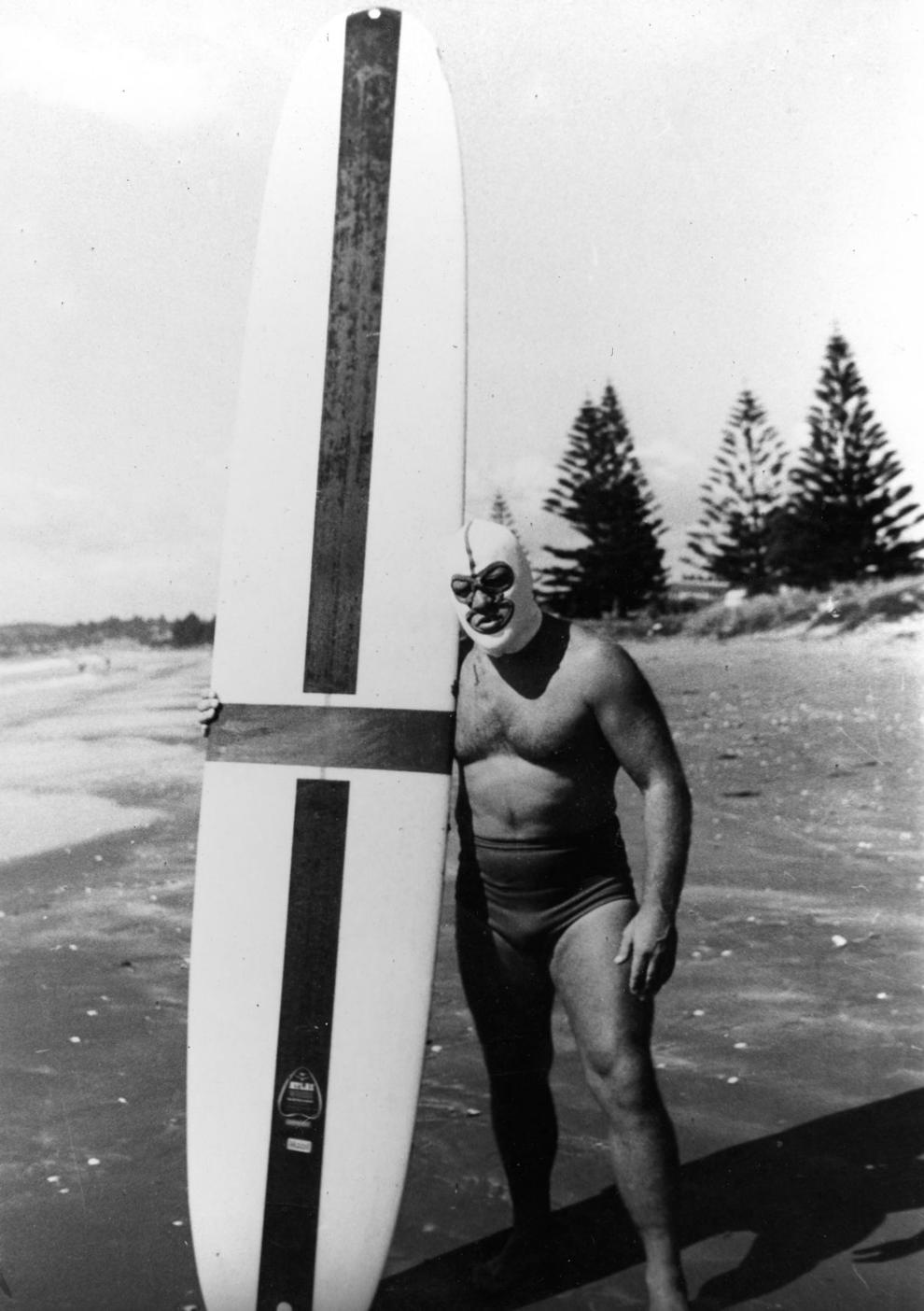 Forever linked with Japanese hero Rikidozan, Beyer and his family lived in that country for six years during the '70s. A mainstream crossover personality and beloved figure in pop culture whose image adorned the covers of Japanese newspapers and magazines, Beyer's popularity extended well beyond wrestling – he had a regular role on a Japanese TV comedy series that was one of the most popular in the country (always wearing the mask) and even recorded an album of Christmas songs titled "The Destroyer's Christmas."
Beyer returned to Japan often after his pro wrestling career ended, many times bringing American amateur wrestlers to the country.
"I go in and out of customs with the mask on," Beyer told the Syracuse Post-Standard. "I wear it from the time I arrive in Japan until the time I leave Japan. And I mean, I wear it everywhere. Everywhere. Except to bed.
"Over there, I'm like Ted Williams used to be in the United States. Or Mickey Mantle. Or any celebrity that you would instantly recognize out on the street in our country. But they wouldn't know me from 10 bags of apples without my mask. With it on, though, probably 80 percent of the population knows who I am. At least the population that's over 25."
The Destroyer's immense popularity also was a key in opening the door for other top American grapplers to tour Japan. The steady exchange of American and Japanese talent still flourishes to this day.
"Japan wouldn't have been where they were with (Giant) Baba and (Antonio) Inoki without (Beyer)," 16-time world champion Ric Flair, who was introduced to the Japanese wrestling scene by Beyer, told Pro Wrestling Illustrated. "I mean, here is this guy, Dick Beyer, wrestling Rikidozan, who walked around Japan with a briefcase with a million dollars in it strapped to his wrist. It was a very tough culture over there."
Flair also recalled an amateur wrestling trip that Beyer, Flair and Flair's late son Reid took to Japan as "Team Destroyer" in 1999.
"He invited me on this (amateur wrestling) tour with my son. It was 'Team Destroyer,' and my 12-year-old son went over there and did a homestay for like 10 days. My son won a silver medal ... it was 'Team Destroyer' (with all) the pageantry of the Japanese nationals," Flair said. "He's been through it all, he has respect from the entire wrestling world, and for me, the fact that he's my hero (is because) he is my son's hero."
Box-office sensation
The Destroyer was a valuable commodity who sold tickets everywhere he went. Although he was most often a heel, as most masked wrestlers of that era were, Beyer was a great mat technician who showcased his skills with an array of scientific holds, using the figure four leglock as his finisher, a hold made famous by "Nature Boy" Buddy Rogers and one he offered any wrestler a thousand dollars if they could break.
In one of his most memorable and highly publicized bouts, The Destroyer was on the winning end of a 1962 mask vs. hair showdown with Gorgeous George at the Olympic Auditorium in Los Angeles which resulted in George losing his trademark golden locks. George, who was running a bar at the time and near the end of his career, suggested the matchup to Beyer, thinking it could be a huge money match for both.
"At that particular moment in my career, I was a babyface and he was a heel. So the people paid good money for the haircut," said Beyer, who won the match with his figure four leglock.
The match was repeated with a win over a hairless Gorgeous George later that year in Long Beach, Calif. Beyer was chosen by WWE to induct George posthumously into the WWE Hall of Fame in 2010.
When Los Angeles promoter Strongbow finally wanted The Destroyer to unmask, Beyer promptly quit the promotion and left the territory.
Beyer was "The Destroyer" throughout the rest of his career, with the exception of an AWA run during the late '60s when promoter Verne Gagne insisted that Beyer assume another masked identity. Like everywhere else he had wrestled, Beyer quickly became a main-event attraction in Gagne's Minneapolis-based territory, transforming himself into another masked wrestler known as Doctor X. He worked there from 1966 to 1972 and captured the AWA world championship from Gagne on Aug. 17, 1968, but lost it back to Gagne two weeks later.
Ironically, one of Beyer's most bitter ring rivals in the AWA was a fan favorite named Billy "Red" Lyons, with both men masters of the figure four leglock. In real life, however, the two were actually brothers-in-law and best friends, with fans never knowing that the nefarious Beyer was married to Lyons' sister.
Unfortunately, due to the grueling schedule and rigors of the business, the marriage didn't last.
"We had 18 moves in our 18 years of marriage. It took a toll on my wife," Beyer would explain.
Beyer wore the trademark mask at a special wedding reception with second wife Wilma in Tokyo.
Leaving a legacy
Beyer, who stayed under the mask as The Destroyer or Dr. X for more than 30 years, fought his last match at Budokan Hall in Tokyo on July 29, 1993, when he was 63 years old, with his son Kurt wrestling by his side.
His career spanned nearly 40 years and included more than 8,000 matches in the United States and Japan.
When he cut back on his wrestling schedule in his 50s, he took a job as school physical education teacher in Akron, N.Y., where he also coached football, wrestling and swimming. He retired in 1995, after 11 years, two years after hanging up his pro wrestling mask, but he remained the high school swimming coach, making charitable donations and fundraising for local youth sports.
Scores of former students paid tribute to their teacher and coach on social media.
"Like so many others, Coach was a staple in my life from the time I was 2 and I walked into the large pool at Akron High School," wrote Nina Thompson of Gainesville, Fla. "He taught me to swim and love the water, which for me turned into a career path pursuing marine science. But he was not only a swim coach, he was a mentor and a friend.
"During middle and high school, he was there when things were hard as well as good. What sticks with me the most about Coach was how he always encouraged all of us to be ourselves. He taught us that it was OK to just be us. He pushed us to be our best self, and he encouraged each of us to have a dream as well as to live an amazing life.
"I was fortunate enough to stay in touch even after leaving Akron and going out into the big world there was outside of Akron to make a difference and do work I am passionate about. But I know one of the major reasons I have been so successful in life is because I always had the amazing support and friendship of Coach. He will always be such a pillar to those of us who knew him and I know we will all continue to try to make him proud and keep his legacy alive."
"We are all saddened by the news of Dick's passing," Greater Buffalo Sports Hall of Fame president Tom Koller told the Buffalo News. "For so many, Dick will be remembered as The Destroyer. But we should not forget his incredible athletic accomplishments ... Dick was a great friend of the Greater Buffalo Sports Hall of Fame and to the countless others who came to know and enjoy him. Our thoughts and prayers go out to his family. His energy, smile and passion for wrestling and life itself will truly be missed."
Life well lived
In 2011, Beyer wrote a highly acclaimed autobiography with Vince Evans titled "Masked Decisions." The book chronicled Beyer's life inside and outside the ring. The book, notes Evans, wasn't just another wrestler's story. It was an in-depth portrait of a sports hero who, almost inadvertently, achieved international success and stardom.
Beyer was a member of numerous halls of fame, including the Pro Wrestling Hall of Fame and Museum, and the George Tragos/Lou Thesz Professional Hall of Fame. He also was a member of the Greater Buffalo Sports Hall of Fame.
In 2017, the Japanese government presented Beyer with the Order of the Rising Sun under the Gold and Silver Rays class, which is the second-highest level. The honor was bestowed for his efforts in promoting goodwill and bi-cultural exchanges between the United States and Japan.
As the oldest and longest-tenured member of the Cauliflower Alley Club, he was a beloved figure and staple of the yearly reunions in Las Vegas, regaling fans and friends with his trademark white mask — the one fashioned from a woman's undergarment that brought him fame, fortune and a chance to see the world. "And to think," he would say, "I never even wanted to wear it."
Honored by Syracuse University with the Zunic Award in 2014, an annual award presented to a noteworthy former Syracuse athlete, Beyer continued to follow Syracuse sports with the same fervor he had when he played and coached.
Borrowing a popular concept from Japan, Beyer opened the first short park golf course in the United States in 2013. The Destroyer Park Golf Course, run by daughter Kris Beyer Jones and husband Chris, was adjacent to his home in Akron, N.Y. He could often be seen on the course encouraging players.
Even in recent years, Beyer still made regular trips to the Far East, for years taking a group of youngsters in the summer to Japan to compete in a national wrestling tournament. He organized, facilitated and fundraised for Akron High School swimmers to travel to Japan to swim and for cross-cultural exchange in 1994 and 2008.
One of the greatest heels of all time, and one of the most kind-hearted, Dick Beyer was beloved and feared as a wrestling antagonist.
Les Thatcher, who has spent nearly 60 years in the wrestling business, said he will remember Beyer as "wrestling's greatest masked man."
"Not only was Dick a great technical wrestler and a star in every territory he wrestled in, but was an amazing human being and one of wrestling's classiest spokesmen. I was so honored and proud to make friends with Dick over the years of catching up at reunions and CAC. We are all better for having known him."
In hospice care in recent weeks, Beyer had been beset by health issues over the past few years. One of his last acts in the wrestling business was to send a letter of congratulation to old nemesis Abdullah The Butcher at Abby's retirement show last month in Japan.
"I miss you! I miss our matches!" Beyer wrote his friend, with whom he spilled buckets of blood in rings throughout Japan over the years. "If I could go back and do it again, I would. And I know you would, too."
Dick Beyer died peacefully in his bed at his home in Akron, surrounded by his wife and all of his children.
His was a life well lived. One of honor, dedication and respect, one that inspired generations of wrestlers.
One with a lifetime of memories. Another time. Another place. Long ago.
He was, and forever will be, The Destroyer.
Reach Mike Mooneyham at bymikemooneyham@gmail.com, or follow him on Twitter at @ByMikeMooneyham and on Facebook at Facebook.com/MikeMooneyham. His newly released book — 'Final Bell' — is now available at https://evepostbooks.com.