For years Wrestlemania has been the premier event in sports entertainment. It started out as a risky gamble by Vince McMahon more than three decades ago, but it was a gamble that paid off in spades and made WWE the juggernaut that it is today.
Award-winning author Jon Robinson takes an insider's look into the phenomenon of Wrestlemania in his new book, "Creating the Mania: An Inside Look at How Wrestlemania Comes to Life," recently released by ECW Press in collaboration with WWE.
Robinson takes readers backstage for the 365 days leading up to Wrestlemania 34, revealing the planning process for the big event along with candid interviews with the big show's major players.
Robinson was given full access with no holds barred and no questions off limits, giving readers a ringside seat to the inner workings and creative development of a show one year in the making.
The best-laid plans often go awry, however, and a colossal event such as Wrestlemania is no exception. Discussed are storylines that successfully made it to Wrestlemania, as well as ones that didn't.
One has to be able to improvise, notes Roman Reigns, around whom the past several Wrestlemanias have been built. Injuries come with the territory.
"As far as how it all plays out — who knows? I pray it doesn't happen, but someone could get hurt and everything could change. It has happened with Seth Rollins, it has happened with me and my hernia in the past, and when it happens, it shakes up the entire card. You have an idea where you're headed, but you have to be willing to improvise.
"In the past I've had a full year's plan for me, but then it didn't end up happening at all. Sometimes it just depends on who your program is going to be with, and how close Vince holds the plans to his vest."
In the case of Wrestlemania 30, the end of "The Streak" wasn't decided until the day of the show.
"Vince went back and forth in his mind a bunch of times about whether or not to end Undertaker's Wrestlemania undefeated streak," revealed Ed Koskey, WWE's Vice President of Creative Writing. "Vince went back and forth, back and forth, until eventually he decided to have Brock (Lesnar) go over, and he didn't decide that until the day of Mania."
Readers might also be surprised to learn that sometimes creative isn't clued in on finishes, such as the case of Reigns losing to Universal titleholder Brock Lesnar despite writers already working on future storylines with Reigns as the champion. It wasn't until the day of the show, it was revealed, that McMahon made the call.
From the planning stages to the final product, Wrestlemania is an ever-changing, ever-developing creative marvel. And Robinson left no stone unturned as he chronicled the year from Wrestlemania 33 in Orlando to Wrestlemania 34 in New Orleans.
Among the dozens interviewed for the book include Reigns, Rollins, Braun Strowman, Charlotte Flair, Sasha Banks, Kevin Owens, The Miz and A.J. Styles. Each discusses their year-long path to the big dance. Also interviewed are TV writers, film technicians and behind-the-scenes personnel who play a role in putting on the spectacle.
The book also examines the host city selection process, and how New Orleans came to be the site of Wrestlemania 34.
Global spectacle
Wrestlemania has become an annual rite of passage for WWE, and for fans who travel from all corners of the globe to witness pro wrestling's greatest supershow.
Among the highlights of Wrestlemania 34 was the debut of former UFC superstar (and current Raw women's champion) Ronda Rousey.
"After my wedding day, this is my favorite day of my life," she said moments after the match.
In the book Rousey also revealed why she decided to join WWE.
"Deep down, I want to be the change I wish to see in the world. I think WWE is social commentary for the world, and to affect real social change, I feel this is the place to do it."
She also revealed how she got her foot in the WWE door, and her answer might surprise many. What she did apparently worked to perfection, though, since a year later she finds herself one of the most valuable commodities in sports entertainment.
As for speculation regarding Wrestlemania 35, Robinson creates some grist for the rumor mill.
"Maybe, just maybe, Roman Reigns will finally embrace the boos and return the hate, calling out his cousin Dwayne 'The Rock' Johnson for an epic clash," Robinson speculates.
Reigns lent credence to the possibility, telling the author, "I think he'd be down with it ... If it's good for business, if it's good for my career, I don't see why not. If it's all positive and he's with it, I'll take a slap punch. Rock Bottom me, baby ... just let me kick out at two."
For those wanting a glimpse into the creative process in WWE, this 321-page book fits the bill.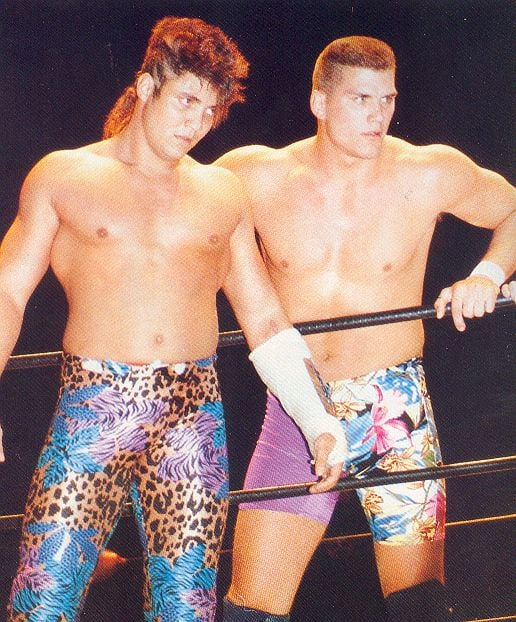 RIP Chris Champion
Chris Champion, perhaps best remembered by Mid-Atlantic fans as one half of The New Breed tag team with Sean Royal in the mid-'80s, passed away last week at the age of 57.
Champion also appeared in WCW during the early '90s as Yoshi Kwan and was managed there by Harley Race.
Champion, whose real name was Christopher Ashford-Smith, was trained by the Malenko family (Boris, Dean and Joe) and started in the Florida territory where they held the Florida tag title. Formed in 1986, The New Breed claimed to be time travelers from 2002 who were going to lead the NWA tag-team division into the future. Wearing futuristic outfits and coming out to the entrance music of The Beastie Boys' "Fight for Your Right to Party," they addressed Dusty Rhodes as "Mr. President," claiming "The American Dream" would be elected president in 2000.
The New Breed worked for the Charlotte-based Jim Crockett Promotions the following year. They had been scheduled to work a program with The Rock 'N Roll Express, but a car accident derailed those plans. The team returned several months later as a babyface combo that feuded with Jim Cornette's Midnight Express (Bobby Eaton and Stan Lane), but Royal retired a short time later.
Champion would form a team with real-life brother Mark Starr (Mark Ashford-Smith) the following year in the Continental Wrestling Association, and would finally get a chance to work a program with The Rock and Roll Express.
Champion worked sparingly for independent promotions after suffering a stroke in 2002. His brother Mark died in 2013 of a heart attack at the age of 50.
Former WWF and Memphis-area performer Warren "Wolfie D" Wolfe expressed his sorrow on his Facebook page.
"Another close brother has passed away. Chris Champion took me under his wing when I was about 16. I was a huge fan of his as the New Breed growing up. We both loved over the top wrestling gimmicks … we came up with all sorts of stuff from a crash test dummy idea to The Cyberpunks. He was also responsible for suggesting Jamie (Dundee) and I do a white rapper gimmick as a team, which ultimately took us as far as Wrestlemania. He handed us a hubcap at a show one night that he was booking and said, 'Wear this around your neck and hit them with it for the finish.' I have a lot of gratitude for Chris and tons of memories. Thank you for everything my friend."
"Sorry to hear of the passing of Chris Champion, known in the early 90's in WCW as Yoshi Kwan," tweeted WWE's William Regal. "I got on great with him and his brother Mark Starr, (who also passed away), both born in England. Chris was an odd cat but we got on well."
Rhodes scholarship
The One Fall Power Factory is hosting the inaugural American Dream Scholarship Super Camp this weekend, and a tournament will be held Sunday to determine the winner of a scholarship to be awarded by Cody and Brandi Rhodes.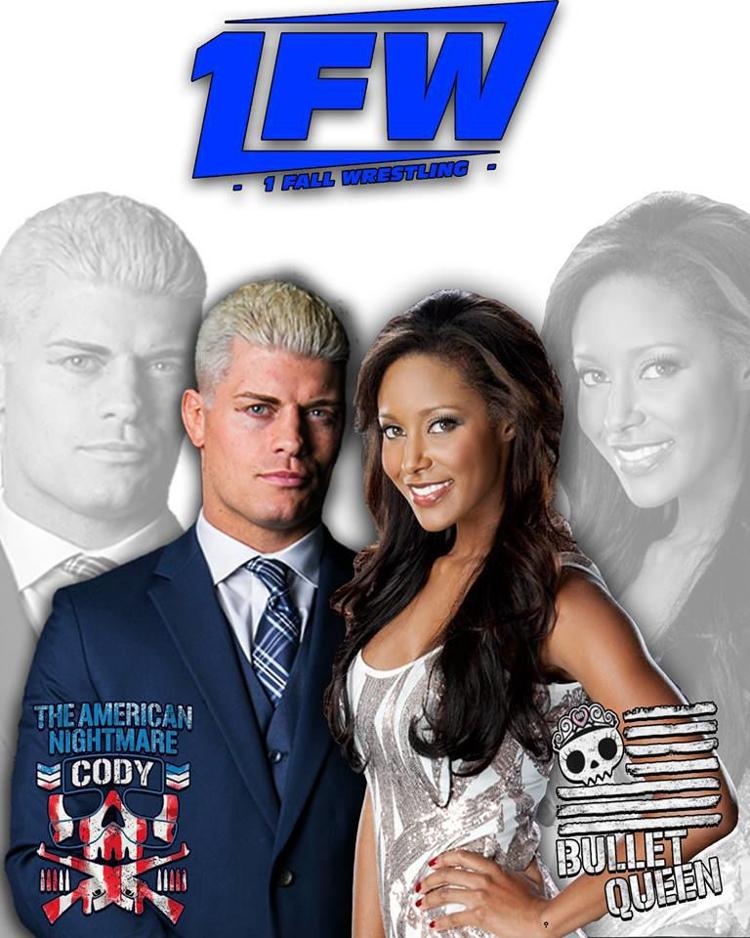 Coaches include Les Thatcher, Dr. Tom Prichard and Kevin Kelly.
The Super Camp will be held at the One Fall Power Factory, 4295 International Blvd. Suite F, Norcross, Ga. 30093, and the Sunday live show and tournament will be at Canton Village Shopping Center, 261 Marietta Road, Canton, Ga.
"This event is very, very special to me because it's completely supported and endorsed by Dusty's family," said 1 Fall Wrestling general manager Ray "Glacier" Lloyd. "In fact, Cody and Brandi (Rhodes) will be in attendance on the final day to present to the scholarship winners in person. To say I'm honored is a true understatement."
The coaches will decide on eight participants (four males and females) to be in the Aug. 26 tournament to crown the first-ever male and female recipient of the American Dream Scholarship.
A meet and greet with Cody and Brandi Rhodes will be held during intermission.
Doors open at 4 p.m. Bell time is 5 p.m.
All tickets are $10. Tickets can be purchased at the door or by calling 908-770-0208.
Reach Mike Mooneyham at bymikemooneyham@gmail.com, or follow him on Twitter at @ByMikeMooneyham and on.com/MikeMooneyham.