"On one good leg, and with a tear in her eye, Becky Lynch is headed to Wrestlemania." — Michael Cole
Sometimes less can be more.
While Charlotte Flair is one of the most talented performers on the WWE roster, her possible addition to what appears to be the main event at Wrestlemania 35 could serve as a distraction to the company's goal of cementing Becky Lynch as the hottest attraction in WWE.
Lynch, aptly nicknamed "The Irish Lass Kicker," is just that hot, and has been for the past few months, with no signs of cooling off anytime soon. Arguably the biggest star in pro wrestling, Lynch has already been described as this generation's "Stone Cold" Steve Austin. And although that lofty comparison might sound a little premature, crowds throughout the WWE Universe have been just as rabid.
While there has been strong speculation about adding Charlotte to the mix as a Triple Threat title match at Mania, the real issue here is between Lynch and current Raw women's champion Ronda Rousey. It's the showdown the fans want, and to ignore their wishes would run counter to WWE's recent promise to listen to its followers and "shake things up."
Lynch, who overcame an injury as well as Charlotte Flair to win the Royal Rumble last weekend, thereby earning the title shot at Mania, has done just that. She's definitely shaken things up and has fans cheering for her from the rafters. She's "over" in a major way, one which sells tickets and merchandise, one which has elevated her from a solid hand in the women's division to the biggest star in the company.
Rousey, who became the Raw women's champ last August at Summer Slam, has proven herself to be a natural inside the wrestling ring since transitioning from the MMA world to sports entertainment more than a year ago. Not everything, though, has gone smoothly for the former UFC champion; she's still prone to botches and her selling at times has been weak. But the positives have far outweighed any weaknesses.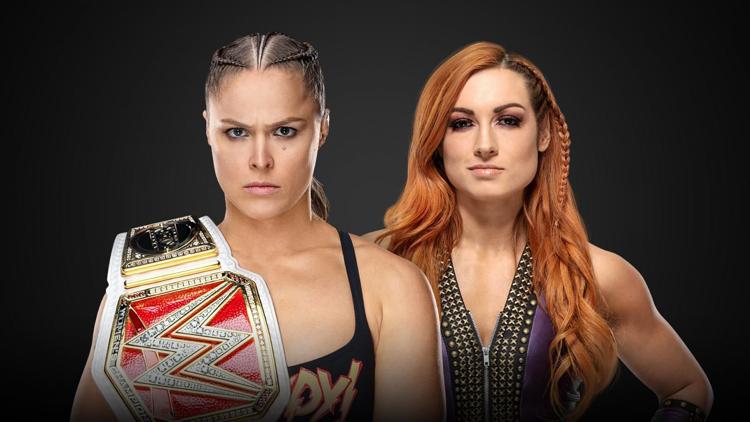 Negative fan reaction in her program with Lynch has been more a result of her rival's immense popularity than a rejection of Rousey. But the more Rousey is seen as a privileged crossover star who panders to the audience, the greater the applause for Lynch will be. And those unintended consequences have made this the hottest feud in the company.
Rousey was visibly rattled by the pro-Lynch crowd during a painfully awkward promo Monday night at Raw, but recovered in time for a dramatic face-to-face confrontation with Lynch later on the show.
Although the raucous booing continued for Rousey, she stood toe to toe with the charismatic Lynch.
"How long have you been The Man, Becky, because I've been a household name for a decade," said Rousey, who is undefeated in singles matches since joining the company.
"You gotta learn something here honey – any ring I step into is mine. I own the ground under my feet and I'm gonna own you at Wrestlemania," threatened Rousey.
"At Wrestlemania I'm going to break your mystique. I am going to take your title and I'm going to kick your (behind) in front of the whole world," Lynch boasted to the delight of the pro-Becky throng.
The two have even carried their feud to social media.
"One big difference between me and you – everything you said last night was fantasy make believe. And every word out of my mouth was a fact," Rousey tweeted.
"No, I believe you're a killer, Ronnie. You were murdering that whole segment until The Man bailed you out," replied Lynch, alluding to Rousey's agonizingly uncomfortable promo the previous night on Raw.
Could Becky Lynch, who has christened herself "The Man" of WWE, be the next "Stone Cold" Steve Austin?
While she has yet to crack open a Coors Light in the ring, she appears well on her way. And there would be no better finish than to have her hand raised to close out the biggest event on the wrestling calendar.
A star is born
Ronda Rousey wasn't intended to be the heel in this scenario. She has had to adapt to a changing landscape in which a superstar has emerged in the form of an anti-hero named Becky Lynch.
"The Baddest Woman on the Planet" vs. "The Man." An instant classic and potentially the first women's headliner in Wrestlemania history.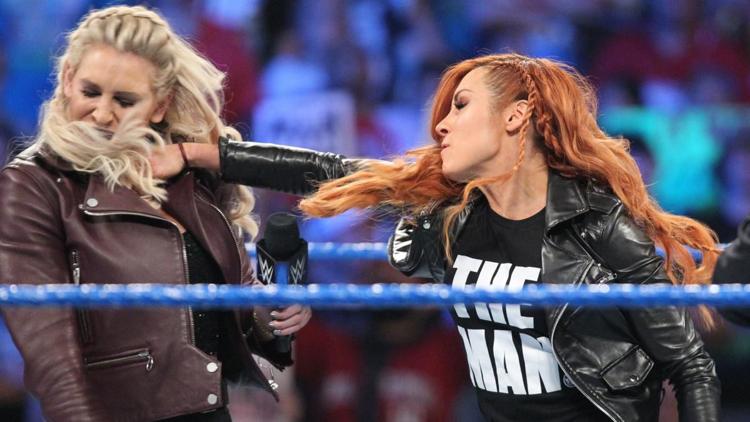 Several months ago, before Lynch's organic ascension to the top, that spot was reserved for Charlotte Flair, who more than anyone was responsible for the women's revolution in WWE. She has had more quality big matches than any of her peers and collected seven world titles in the process. Ironically she was also largely responsible for the meteoric rise of her real-life best friend Becky.
Charlotte, daughter of arguably the greatest performer in wrestling history, is also the best in-ring worker among all the women.
But it's doubtful anyone saw this coming.
Never handpicked as the golden girl of the division, the 32-year-old Lynch transformed herself from a cult favorite to the hottest act in the company. Now it's Lynch's turn to elevate others in the division, and that includes a talented group that more than rivals their male counterparts, a development WWE executives could have never before envisioned.
The possibilities for many more headline matches are endless. Don't forget that Lynch, who was the first Smackdown women's champion, is part of WWE's biggest female foursome along with Charlotte, Sasha Banks and Bayley. A program down the road pitting those Four Horsewomen against Rousey's version (with Shayna Baszler, Marina Shafer and Jessamyn Duke) would be a natural.
There already have been signs.
After Rousey won her match with Banks last weekend at the Royal Rumble, her opponent threw up the hand gesture for the Four Horsewomen, suggesting a looming feud for Rousey against Banks and cohorts Lynch, Bayley and Charlotte.
Rousey recently teased such a confrontation in an interview. "I just think the Four Horsewomen is the only real point of contention for me ... Me and my friends were the Four Horsewomen before we came to WWE," she said.
"It's just something that is so personal and near and dear to me and my friends that if they held the 4's up in the same regard that we do, I would have respect for that, but for them (it's) nothing but marketing."
When – and if – that match happens is unknown. Recent speculation has Rousey leaving WWE after Wrestlemania. Gossip website TMZ, however, said last week that Rousey was happy in WWE and that her contract wasn't up until April 2021.
Rousey, who recently celebrated her one-year anniversary with the company, posted a YouTube video last November expressing her desire to start a family with her husband Travis Browne, a former UFC competitor who is rumored to be eyeing a future in the wrestling world.
"Sometimes I feel like I can't do it all. I have to pick one thing. I can't wrestle forever because I feel like I'm failing my family," Rousey said. "I wouldn't be leaving home unless it was to do the most fantastic things ever, and I really, really do enjoy it and love it, but all that energy I spend on the WWE is energy I don't spend on my family."
She also told Yahoo Sports in April that she and her husband wanted to start having children "soon." While recent reports indicate that Rousey is planning to stay with the company at least through the duration of her contract, taking a break after Wrestlemania hasn't been ruled out.
"Whether she wants to start a family is a private matter," a WWE spokesman said last week.
Singles preferred
An informal survey revealed an overwhelming choice for a singles showdown, not a Triple Threat match, to determine the WWE Raw women's world title at Wrestlemania.
Such a scenario appeared to be a possibility, though, as Lynch and longtime rival Charlotte came to blows Tuesday night at Smackdown, with Lynch selling an injury and playing to a sympathetic crowd that loudly acknowledged her title shot at Mania, cheering "You deserve it!"
There's no doubt that Charlotte deserves it as well, but for this particular moment on the grandest stage of all, Becky vs. Ronda could be the most anticipated women's match of all time in WWE.
Wrestling pundit Joe Dobrowski of Greenbelt, Md., suggests that while Charlotte is the cream of the crop in the women's division, it's more a matter of timing and catching lightning in a bottle.
"If Charlotte is added she will get resentment that is intended for the company. This deal Becky has going is a totally separate track than that of Charlotte. This isn't the time for it. I know Charlotte is the best and we all know Charlotte is the best, but it's timing. WWE shouldn't let it feel like it's an insult that Charlotte isn't in the match. It was the long-term plan for Charlotte to be in this, but it's just not the time. It's Becky's time. And that is no disrespect to Charlotte, but a compliment."
Dobrowski suggests pitting Charlotte against Smackdown women's champ Asuka high on the card.
"Charlotte not being in this match shouldn't be indicative of Charlotte. It's what Becky has done, not what Charlotte hasn't done. WWE needs to find someone to match Charlotte up with so it's not a letdown for fans of Charlotte. The easiest course is a rematch with Asuka."
"I think Becky and Ronda should stay one on one," adds Jason Shapiro of Charleston. "It's reminding me of the buildup to Bret and Stone Cold where the heel is hotter than the baby. Charlotte is the best choice on Smackdown for the Empress of Tomorrow. Queen vs. Empress has a nice ring to it anyway."
"It needs to be one on one," says Elliott Summey of North Charleston. "And Heyman needs to step in and take the mic from Ronda. Go ahead and turn her heel. She can't handle the crowd. It really showed through Monday night. She finally got better at the end when she got mad and got in Becky's face. Charlotte will always be my favorite, but this is good the way it is."
Jack Hunter of Washington, D.C., agrees.
"Charlotte is my favorite wrestler right now. Doesn't change the fact that Becky vs. Ronda should stay one on one."
Jesse O'Quinn of Hanahan also thinks the match should be between Lynch and Rousey.
"Charlotte is amazing and one of the best wrestlers (male or female) in the world, but this is Becky and Rhonda's moment. They've earned it and the build has been great. Charlotte has had plenty of huge moments already in her career. I'd much rather see Charlotte in a Wrestlemania rematch with Asuka for the title than as an add-on to an already highly anticipated match."
"WWE has an opportunity for Becky and Ronda to create 'A Match for the Ages,' opines Lee Anderson of Goose Creek. "If the McMahons are truly listening to the fans, they will keep it a one-on-one contest."
"Leave it just a one on one. Run with Becky while you can. They're actually putting somebody over that the fans are, for the most part, in support of," writes Mike Andrews of Jasper, Ga.
Scott Grady of Charleston also thinks Rousey vs. Lynch is the ticket.
"One on one. Rousey/Lynch was a match fans were wanting to see at Survivor Series based off of Lynch's trash talking. When everything with Nia Jax happened, the fans still wanted the match. At Wrestlemania, give them that match.
Chip Collins of Columbia agrees that the fans have spoken.
"There are rare occasions where you let the crowd dictate how you book. This is one of those instances. It is apparent in every arena (and has been since Becky whipped Ronda with a broken nose) that the crowd wants this matchup. Becky truly has become The Man and she needs to take Ronda down in a singles match at Wrestlemania to once and for all solidify it. Adding Charlotte distracts from it and doesn't make a Becky win nearly as satisfying."
"Leave it one on one," tweets Barry Cain of Knoxville, Tenn. "Too many women's matches are booked with more than two. Although I wouldn't mind Charlotte Flair with the gold again."
Rick Rourk of Charleston wonders if the chemistry would be the same with the addition of a third competitor.
"We saw good chemistry between Ronda and Charlotte. We have seen good chemistry between Charlotte and Becky. It doesn't mean that combining all three is a good idea. One wrestler's chemistry with another doesn't always translate to other participants in the match even if in one-on-one matches, it may be dynamite. These type matches are overplayed and take away from the rhythm and pace that exists between just two performers."
Stephen L. Williams of Aurora, Ill., says Rousey vs. Lynch has all the makings of a classic.
"I think this year's 'Steamboat/Savage,' must-see, Mania-stealing match is Rousey/Lynch. Adding Charlotte would more likely hurt the match than improve it, and I suspect the fan base would (rightly) turn it into more fuel for hating Ronda Rousey (who'd be considered too weak to have had the one-on-one match on her own) and Charlotte (who's too privileged in the pro wrestling/WWE last name hierarchy to not be in arguably the biggest match on the card)."
While David Barton of Goose Creek is satisfied with a triple threat match at this year's Wrestlemania, he sees an even bigger singles bout down the line, but without Rousey.
"I don't think it's as 'out of place' as other triple threats in years past, but should still be a single. But Becky vs. Charlotte could be as close to this generation's Rock vs. Austin as we get."
"The buildup between Becky and Rhonda has been huge," writes Jeff Owens of Belmont, N.C. "They need to follow through with it and make history with them headlining as the main event."
Adam Vance of Atlanta believes that adding a third competitor to the match would cause further confusion instead of helping a relatively inexperienced Rousey.
"No Charlotte in this one. Don't think Rousey could handle a triple threat 'wrestling brain' wise at this point. She's gotten better but triple threats require good timing and ring acumen which she doesn't have."
"While I am a huge fan of Charlotte Flair, it feels like a triple threat is on the table because it's already been promised to her," writes Terry Taylor of Madison, N.C. "While I would have sympathy for her getting bumped out of such a prime position through no fault of her own, the fact is Charlotte has been given many 'firsts' and it's not like being in this WM main event is going to somehow increase her status and profile. But that's clearly where this is going and I'm sure it'll be an incredible match."
To have a three way, says independent wrestler Willy B Man of Lexington, "makes the entire Rumble match irrelevant."
"The psychology in triple threat matches is watered down, it throws off the whole dynamic. Nothing is better than a hard-fought one-on-one match," writes Joshua Morales of Montebello, Calif.
Fan Halil Nedim of Croyton, United Kingdom, feels the match will be great whether two or three competitors are involved.
"It's a tough one, massive fan of Charlotte's in-ring work and promos etc. She is always rising to the challenge and is the complete package. But cannot deny that Becky is on a crest of a wave and has massive momentum. Sensibly it should be one on one, but if I am being honest I would love for Charlotte to be in the mix."
Creative crutch
Many veteran wrestlers and fans alike aren't proponents of "Triple Threat" and "Fatal Four Way" matches which have become a staple on today's wrestling scene. They particularly point to world title matches where a champion can drop his belt without getting pinned or subdued.
"Don't like triple threat matches. One on one will be what's best for business," says WWE Hall of Famer Jerry Brisco, younger brother of late NWA world champion Jack Brisco.
Veteran wrestler and trainer Les Thatcher, long regarded as one of the best minds in the business, agrees wholeheartedly.
"The industry has triple threated us to death, and like Gerald says, if you are trying to push and establish one athlete as a top player, then one on one is far and away the best route. Plus then you still have Charlotte and Becky to build a series of matches as you move."
"Triple threat matches are a copout and usually mean they want to switch a title or have a certain person win without the one they are protecting taking a loss," echoes veteran referee James Beard.
"Wrestling should be about winning and losing. Everyone does both. It's that mentality that losing hurts a person that drives me crazy. Losing doesn't hurt you. It's what you do before that and during the match that makes or breaks you. Three ways and four ways are used from a lack of creativity. Plus, they simply make no sense when defending a title that is meant for one on one or one team on one team championships."
Thatcher sees more and more three- and four-ways throughout the wrestling landscape, despite the fact that a sizable percentage of longtime fans find little value in that type of match.
"Yet this week you will see hundreds of these type matches on every indie show and more telling on every top-level roster," Thatcher laments. "Is anyone paying attention?"
"It's a monkey-see, monkey-do business," agrees Beard. "WWE does something and every indie in the country starts doing it. And doing it to the point of nausea. Logical creativity is a lost art. And unfortunately, it starts at the top of the business."
Dobrowski sees the triple-threat concept as a tool for promotions to correct a creative direction error or miss and an attempt to do something else.
"As a fan I look beyond that. I look at it at face value as a regular fan and then beyond as putting my "why" hat on. I just think they're in a corner here and don't know how to get out of it. Becky will ultimately have her moment, but where fans are mad is if that spotlight has to be shared, and they made this same mistake at Summer Slam too."
"Anything other than one on one or tag teams should be limited to special events. And everybody shouldn't be on every show," suggests veteran Pro Wrestling Torch columnist Bruce Mitchell of Greensboro, N.C.
"A one-on-one match between two top-notch legit stars with name value to boot in a feud for a belt is far more dramatic than a meaningless three- or four- or five-person match or whatever - that takes it into the sports entertainment/circus realm. I mean I never saw Ali vs. Frazier vs. Foreman," writes veteran mat pundit Evan Ginzburg of Queens, N.Y.
"I can't stand these triple-threat, three-way matches, especially with champions losing their titles without being involved in the finish," says Stan Pain of Chicago.
David Spence of Warrenton, N.C., sees triple threat bouts as a gimmick "used to cover for one or more wrestlers that can't handle the increased time, pace and/or pressure of the main event or lazy booking."
Chimed in Albert Gourrier of Los Angeles: "The only iconic triple threat match I remember is Shane Douglas vs Terry Funk vs Sabu. Otherwise, like most, to me triple threats are creative crutches they think are protecting someone. At the end of the match, if you're not the one doing the pinning, you still lost whether you were in the ring or not."
"This has to be one on one and just in my opinion, it must be the main event of WM. This storyline is the most compelling and has the fans completely emotionally invested, much more than any other current program," posts Alan Williams of Charlotte.
Danny Maynard of Goose Creek would take it one step further.
"Don't add Flair. Have Flair go for the Smackdown version of the title. As a matter of fact let's quit the split and have a unification."
"I feel like Rowdy Ronda just isn't ready for Charlotte," writes Robert Hatch of Cumming, Ga.
Reach Mike Mooneyham at bymikemooneyham@gmail.com, or follow him on Twitter at @ByMikeMooneyham and on Facebook at Facebook.com/MikeMooneyham.