It's been a pretty big month for talented indy sensation John Skyler. But then again, it's been a pretty big year for the South Carolina native. And, if things get much better, Skyler might not be just an indy sensation for much longer.
The 30-year-old Skyler, who earlier this year celebrated his first full decade in the business, has worked diligently to position himself for bigger and better things in the wrestling profession. Firmly on the WWE radar, Skyler established himself as a cult favorite on social media when he introduced a character billed as Ricky Roberts on the Aug. 13 edition of Monday Night Raw.
The "local country singer" Roberts, who portrayed a fan of fellow guitar-plucker Elias but would be quickly taken out by Bobby Lashley, also served as a nod to old-school wrestling, of which Skyler is an avowed proponent. The fact that the angle took place at the storied Greensboro Coliseum made it that much sweeter for Skyler.
"Greensboro Coliseum is super special for me, knowing that was really the home for the NWA and Starrcade, but it was actually my second time in that building," says Skyler, a Blythewood resident and University of South Carolina grad who has appeared in nine countries and three continents since making his pro debut in 2008. "The first was on Monday Night Raw a few years back, where myself and Corey Hollis wrestled Primo and Epico on a live Raw. Either way, it was great being back in the building."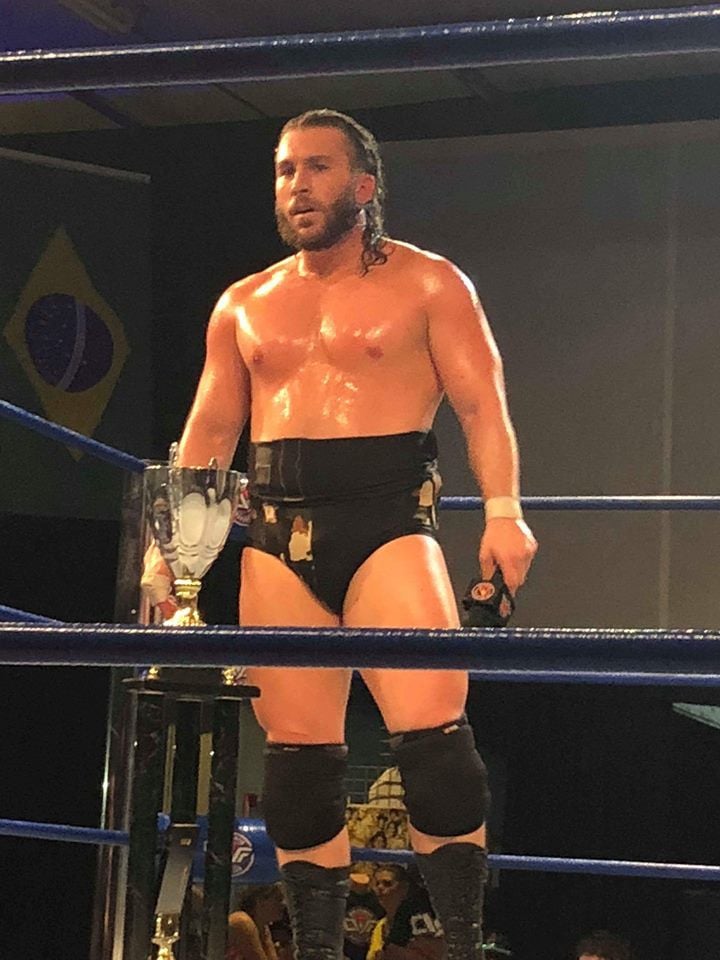 Mat pundit Jack Hunter praised not only the execution of the angle, but the not-so-subtle tip of the hat to the history behind it in a piece he wrote for Ringsideintel.com.
"In the 1980s, Greensboro was the center of the southern professional wrestling universe. The Ric Flair-anchored Jim Crockett Promotions (JCP) was based in Charlotte, but it was the Greensboro Coliseum that hosted that company's grandest event, Starrcade, every Thanksgiving night from 1983 to '86. The brainchild of JCP head of creative Dusty Rhodes, Starrcade predated Wrestlemania by two years (Vince McMahon's answer to Starrcade, in many respects), and WWE would even introduce Survivor Series in 1987 to compete with Starrcade on Thanksgiving.
"But the best part was that the 'Ricky Roberts' name was unquestionably a reference to the WWE Hall of Fame tag team The Rock 'n' Roll Express – Ricky Morton and Robert Gibson – who literally ruled Greensboro and the entire Southeast in the '80s. The pops they got were so loud that I'm pretty sure the screams of teenage girls still reverberate throughout the Carolinas."
"When WWE announcer Corey Graves said 'Ricky Roberts sounds like he was conceived at one of the armories around here in the 80's,' I almost spit out my drink I laughed so hard," added Hunter, explaining that it was a reference to the Rock and Roll heartthrob being very popular with his female fan base at the peak of his career.
As Ricky Roberts, Skyler also caught the eye of the Forbes.com website.
"The Ricky Roberts gimmick is what Vince McMahon had planned if things went south with AJ Styles … The crazy thing is Ricky Roberts cuts a better promo than Bobby Lashley and it's not even close," wrote Forbes contributor Alfred Konuwa.
The character, while "a bit of a fluke," wasn't that much of a stretch, says Skyler.
"I don't know if initially it was designed for someone else or what, but I was fortunate enough to get the gig and I think it kind of fits my personality outside of the ring very well. Anyone who knows me knows I'm an old school country music fan, love Waylon Jennings, Merle Haggard, Buck Owens, George Jones, I could go on and on. Also love cowboy boots … just an usual yet perfect fit."
TheChairshot.com site praised Skyler as one of the three top stars of that edition of Raw.
"John Skyler is 30 years old, and has been wrestling since 2008. He's made multiple appearances on WWE (and NXT) broadcasts in the past, but his appearance on Raw as Ricky Roberts? That takes the cake … Hell of a job, Ricky. Hell of a job."
"Ricky Roberts, as in Rock N Roll Express doing a Jeff Jarrett promo. Best thing on Raw," tweeted Mike Johnson of PWInsider.com.
"Any man with a pair of boots like that is destined for stardom!" posted another fan.
Weaver Cup winner
Two weeks later, and back to his "Southern Savior" John Skyler persona, he achieved another milestone by emerging victorious in the finals of the 15th annual Johnny Weaver Cup Tournament in Gibsonville, N.C.
The event is named after the late Johnny Weaver, one of the most popular performers in the history of Mid-Atlantic wrestling.
To a student of the game like Skyler, winning the Weaver Cup was a huge honor.
I'm a fan of everything old school wrestling, so it meant a lot to me, knowing the contributions of Johnny Weaver to the Mid-Atlantic. I always strive to be a wrestler and a workhorse that even that old school generation of wrestlers, like Johnny Weaver, would be proud of. I even kind of (considered) myself 'The New Savior of the Old School' right after I won the Cup, because I want to bring that toughness and gritty flavor of the old school to 2018. I dig that era, and think I would have fit right in."
Although Weaver was a little bit before Skyler's time, he has watched and studied many of his matches.
"He was a very good technical wrestler and was ahead of his time," says Skyler. "His contributions to tag-team wrestling are obviously notable, and being a huge fan of tag-team wrestling myself, I know all about the feuds with Weaver and George Becker vs. the likes of the Andersons and Swede Hanson and Rip Hawk … all names, that if you are a professional wrestler in the Mid-Atlantic, you should know and know well."
Winning the tournament also served as a sense of validation for Skyler.
"I've been in so many tournaments before, well-known tournaments with a lot of historical significance and buzz. I was a finalist in the NWA Future Legends Cup, I was a finalist twice in the ECWA Super 8, I was a finalist just this year in the Shane Shamrock Cup, and I was a finalist in the Ring of Honor Top Prospect Tournament. Never won one, so I knew I couldn't be denied in the Weaver Cup and I wasn't. I think I went in one night from the Top Prospect to the Top Guy in the Carolinas."
Back in May, Skyler and longtime rival Corey Hollis earned rave reviews when they locked horns in the blowoff of a fierce feud in Concord, N.C. Their "I Quit" grudge match inside a cage was a modern-day version of the famous Tully Blanchard vs. Magnum TA "I Quit" bloodbath at Starrcade '85 in Greensboro.
The rivalry between Skyler and Hollis emerged as one of the most brutal feuds on the independent wrestling scene. The matchup won the CPWA (Carolinas Professional Wrestling Association) 2017 Feud of the Year, and is on course to win this year's award.
"2018 has been great so far," says Skyler. "Obviously Ricky Roberts is a huge highlight for me, and winning the Weaver Cup has been huge for me. The artist in me loved the stuff I did with Corey Hollis, including the big win in the I Quit steel cage match back in May, and also what I've created at OSCW with the BWC Open Challenges for the Intercontinental championship."
"Wrestling No Way Jose on the Raw after Wrestlemania was big; it was surreal to see my name pop up on ESPN the next day," adds Skyler. "I've also had the pleasure of stepping in the ring with the likes of Billy Gunn, 2 Cold Scorpio, Koko B. Ware, Juice Robinson and countless other pros who have tested me in one way or another."
Will there be a follow-up to the popular Ricky Roberts character?
"I have no idea," says Skyler. "I know a lot of the powers that be loved it, and I enjoyed it. I am a huge fan of Elias, and he is someone I have worked with previously before on TV and on live events, and the sky is the limit for him, so I wouldn't mind linking up with him on a full-time basis."
Skyler, whose goals have always extended beyond the independent wrestling scene, has never sold himself short as far as the mat profession goes. Years ago he declared: "I don't want to be a big fish in a small pond."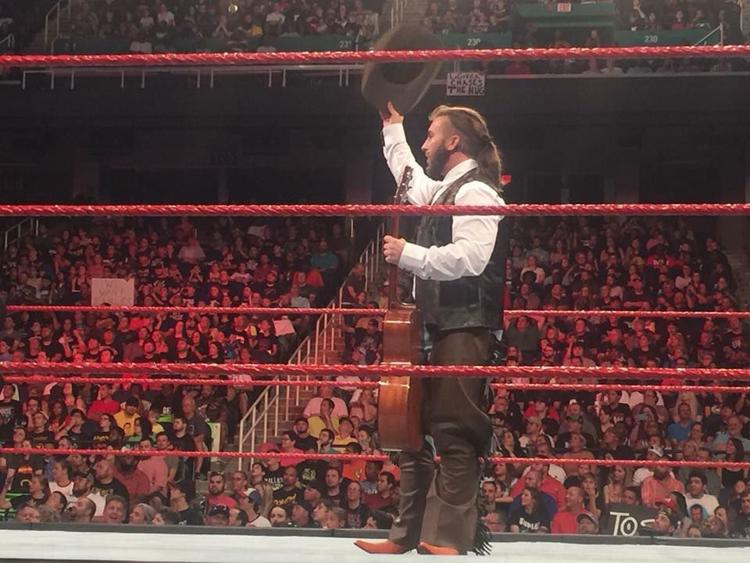 He now finds himself standing on the precipice of something much greater. He's come too far to turn back now.
"I'd like to see 2018 end with me building my brand to the point where my phone is ringing off the hook, people and promoters see enough value in me, and I am seen as someone who can make a company money. I think there have been times before when I've had to try extra hard at times to stay busy, and that's part of the hustle, but I really want to focus on making John Skyler a highly regarded, and highly talked about, professional wrestler."
"And obviously," he adds, "a contract somewhere would be nice."
Lord of the Ring
John Skyler will be part of a big old School Championship Wrestling show on Sept. 9 at the Hanahan Rec Center.
Skyler, the promotion's Intercontinental title-holder, will compete in the annual Lord of the Ring tournament that will feature fellow OSCW champions including Kevin Phoenix, Zuka King, TJ Boss and Scotty Mathews.
In other bouts: Gangrel and Kevin Thorn vs. The Beautiful Bald Besties; Austin Theory vs. Harlem Bravado; Savannah Evans vs. Jenna Van Muscles. Also scheduled to appear include Stormie Lee, Francisco Ciatso, Tracer X, Logan Creed, Josh Powers, Brandon Scott, Chris Silvio, Odinson and others.
Doors open at 4:30 p.m. Action gets under way at 5.
Adult admission is $12 (cash only at the door); kids under 12 $7.
For more information, visit www.oscwonline.com or call 843-743-4800.
Reach Mike Mooneyham at bymikemooneyham@gmail.com, or follow him on Twitter at @ByMikeMooneyham and on.com/MikeMooneyham.