"Where we are going, there is no pain, no hunger, no suffering." — Emilia Sammartino
Bruno Sammartino never forgot those poignant words spoken to him by his mother three quarters of a century ago. They were words of encouragement during the bleakest of times.
Adolph Hitler's Nazi forces had invaded their small Italian village during World War II, and Emilia Sammartino was forced to flee to the mountains during the German occupation with her two sons and daughter.
They survived by eating snow in the winter and dandelions in the summer.
The starvation and deprivation left the youngest, Bruno, frail and weak. A brother and sister had both passed away at young ages, and his father, Alfonso, had been cut off from his family due to the war, having moved to Pittsburgh in 1936 in hopes of setting a foundation to bring the rest of the family.
Risking her life, Bruno's mother often had to make grueling and dangerous day-long treks down the mountain and into the German-occupied village at night to snatch food she had hidden in the family home. She was captured once, but escaped, and another time she was shot in the shoulder by a Nazi soldier who caught her leaving the house, and nearly bled to death while finding her way back to her family.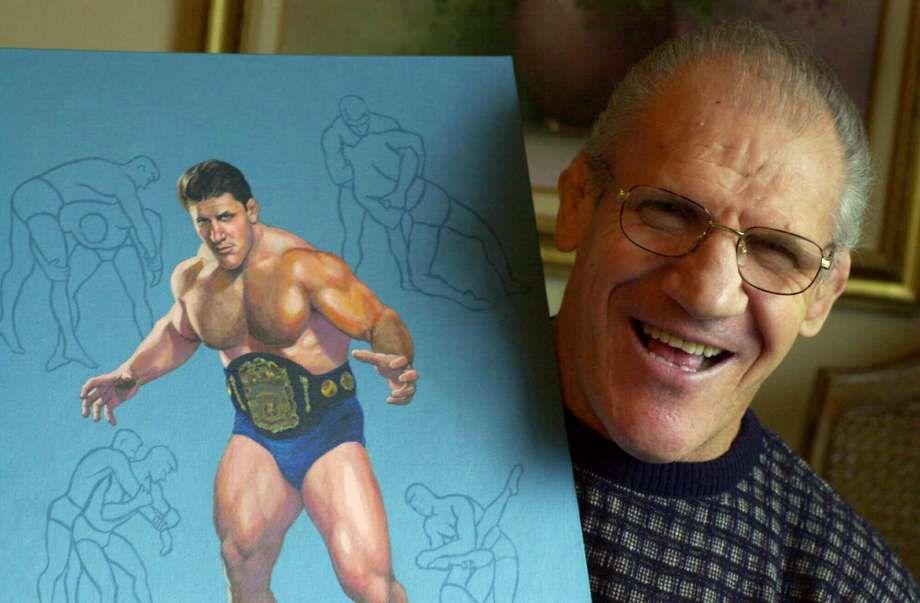 Many were not as lucky, with scores of villagers lined up and executed.
But Emilia Sammartino, fearlessly protecting her children, refused to give up hope.
Barely surviving the elements, the family spent 14 treacherous months in a secret refugee camp before returning to their ravaged homeland after German troops moved out.
Bruno fought off rheumatic fever before World War II ended, and his mother nursed him back to health after doctors told her that her youngest son had only a day or two to live. But he was so sickly that it took three years before medical authorities would clear him to travel and reunite with his dad.
When the family immigrated to the United States in 1950 — and Bruno met his father for the first time — he weighed 80 pounds.
Drawn to the gym and weightlifting, within 10 years the proverbial "98-pound weakling" bulked up and built himself into a 275-pound powerhouse who would be considered one of the strongest men on the planet.
It was only through hard work and sheer determination that Bruno made that remarkable transformation. Frail, sickly and able to speak little English, Bruno was an easy target for schoolyard bullies. But he dedicated himself to bodybuilding, built up his physique, and would eventually push his bony 80-pound frame as a teenager to an Olympic-style weightlifter.
In 1960, he set a world record by bench-pressing 565 pounds, earning the title of North American weightlifting champion. Not long after he would begin an amazing journey in the world of professional wrestling.
While he became a hero to millions, it was his mother, he would always maintain, who was the real hero.
"She was absolutely my hero," Bruno said in a 2015 interview. "She would do without if she could help somebody else. My mom showed the courage of the lion to keep her kids alive, and the sacrifices she made were incredible. I don't know if I would have been man enough to do what she did."
"Where we are going, there is no pain, no hunger, no suffering."
"I remember my mother holding me up and all she kept saying was not to be afraid, that we were going to be happy and no more suffering, no more hunger, no more cold," recalled Bruno. Lined up and looking at a machine gun, they were saved by men from their village who overpowered the would-be executioners.
Nearly 75 years later those same words of hope, suggested Frank Costa, Bruno's close friend and longtime doctor, were surely the same ones she used welcoming her son to his eternal home.
Emilia Sammartino died in 1995 at the age of 97, but her son would never forget her courage and sacrifice.
She was, Costa told the Pittsburgh Post-Gazette, "the driving force in his life."
"Everything that I am, everything that I've done, everything that I hope to be is because of my mom," said Bruno.
It's what drove him to be a champion.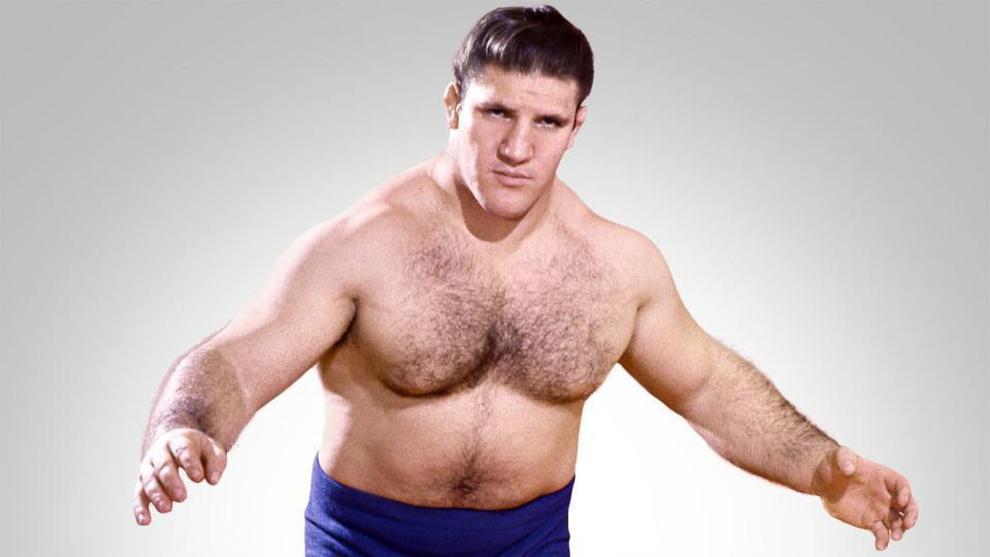 Stuff of legend
Bruno Leopoldo Francesco Sammartino, who passed away on April 18 at the age of 82, was one of the pillars of professional wrestling over the past half century. Not only was he a hero to millions of fans, he was a bonafide hero outside the ring as well.
While the words "icon" and "legend" are grossly overused, in the case of Bruno Sammartino, no other words better describe an individual who truly personified the American Dream. His nickname, "The Living Legend," was fitting.
A man of unquestioned integrity and unshakable faith, Bruno — no last name is needed — was a rags-to-riches story. He was a survivor.
He was professional wrestling's ultimate good guy, achieving a status that few others in the history of the industry ever came close to attaining. His blue-collar style attracted the sizable and fiercely loyal immigrant and ethnic populations in one of the biggest markets in the country. Bruno connected with not only fellow Italians, but also Latinos, Greeks and Jews, and he became their champion, fighting for everyone who rooted him on.
But to simply label him a "good guy" doesn't go far enough in describing Bruno.
"The image of Bruno has actually grown stronger over the years, to the point that 'good guy' is too weak to depict his role in pro wrestling," explained Larry Matysik in his book "The 50 Greatest Wrestlers of All Time." Placing him fifth on his list, Matysik describes Bruno thusly: "Stalwart, reliable, as honest as is likely in this shady business. A picture of health. Try using the word 'hero,' trite though it be, and maybe that's more truly descriptive."
It was an era before the sports entertainment wave crashed across the wrestling landscape. Bruno was a wrestler, and to be called a sports entertainer would have been perceived as an insult.
"Bruno came along in the '60s and he reflected what was going on in terms of the American Dream story," said WWE Hall of Famer Larry Zbyszko. "Poor, starving immigrant kid who escaped Nazis. His mother was shot over the mountains and he came to this country starving and achieved the American Dream. He became the beloved heavyweight champion of the world. People saw that, they felt that. He was a real guy. Everybody believed in him."
He accomplished records that will never be broken.
Just eight days after the official opening of Madison Square Garden, widely considered the "mecca of pro wrestling," Bruno headlined the first wrestling show the Garden ever hosted. As the marquee attraction and centerpiece of Vince McMahon Sr.'s Northeast territory, Bruno sold out Madison Square Garden more than any wrestler in history (although not the often-reported number of 187 times), and not surprisingly that storied venue became known as "The House That Bruno Built."
The "Italian Superman" owns one of the most untouchable records in company history as he held the WWWF championship for nearly eight years (2,803 consecutive days) starting in 1963. The World Wide Wrestling Federation was born on May 17, 1963, when Bruno, at the age of 27, dethroned Buddy Rogers in only 47 seconds, setting the foundation for today's WWE.
For the next seven years and eight months, Bruno defended the title all over the world against challengers such as Gorilla Monsoon, Killer Kowalski and "Big Cat" Ernie Ladd.
But his remarkable run would come to a stunning end with a defeat at the hands of "The Russian Bear" Ivan Koloff on Jan. 18, 1971.
Known as "the night the Garden went silent," it was a seminal moment in professional wrestling and the most shocking event in the history of the building. Fearful of a riot, the referee didn't present Koloff with the title while he was still in the ring. Not taking any chances, Koloff wisely decided to claim his championship out of sight of the fans.
The quintessential hero had been dethroned. Many wept as they left the building that night.
"I remember seeing Bruno's fan club president, Georgian Orsi, sitting in the front row, crying. Many other fans wept as well. I felt like we were all at a funeral as Bruno left the ring," longtime wrestling journalist Bill Apter told the WWE website.
It was the only time Bruno was ever pinned at Madison Square Garden.
Bruno's second reign lasted from 1973 until he was beaten by "Superstar" Billy Graham in 1977 in Baltimore. But wanting to be home more with his family, he grew increasingly weary of the demanding schedule he worked as a champion. Four years later Bruno retired as a full-time performer.
Bruno would come back as an announcer in 1984, and even return to compete part-time for two years.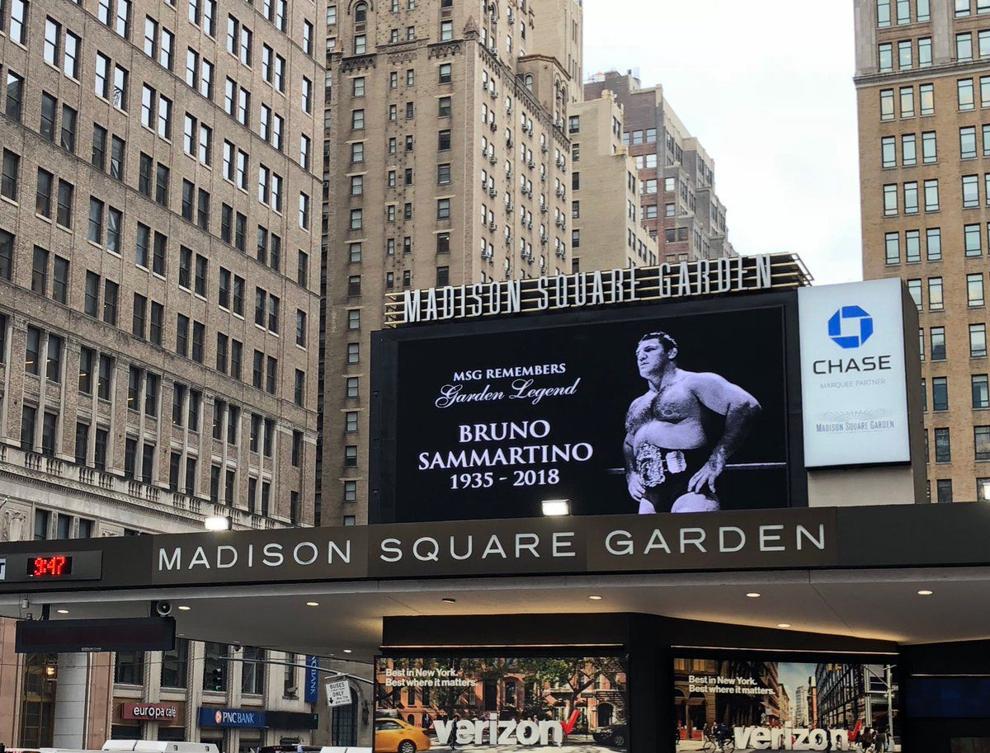 Pittsburgh proud
Nowhere was Bruno more revered than his American hometown of Pittsburgh, where he had lived since 1950 and had provided the launching pad for his road to wrestling stardom.
He and his wife, Carol, moved into a house in Ross Township, a suburb just north of Pittsburgh, in 1962, the year before Bruno won his first world title. They would live in that same house for the next 56 years.
Despite being the highest-paid wrestler in the profession for a near-10-year stretch, Bruno never flaunted it. He was ethical and genuine, and it showed. He was an everyman, working-class sports hero who lived a regular life. His old-school humility endeared him to his legion of fans.
Stardom's trappings were for someone else, not for Bruno.
"If I was a so-called star, they (the fans) made me that star," he'd say.
Pittsburgh was a place Bruno loved, and the people loved him back. In a city with no shortage of sports heroes, Bruno Sammartino ranked at the top of the list.
According to Sports Illustrated, Bruno, Willie Mays and Mickey Mantle were the top-paid athletes of the 1960s. Bruno received a lifetime achievement award in 2010 from the Dapper Dan organization, the city's premier sporting organization.
Pittsburgh Mayor William Peduto called Bruno Sammartino one of the city's greatest ambassadors.
"Bruno Sammartino was one of the greatest ambassadors the city of Pittsburgh ever had," he said. "Like so many of us, his immigrant family moved here to build a new life, and through his uncommon strength and surprising grace, he embodied the spirit of Pittsburgh on the world stage. Some of the fondest memories of my childhood are of sitting in the basement with my grandfather on Saturday mornings and watching Bruno wrestle."
Many of Bruno's millions of followers over the years got their first taste of the sport in that same fashion: watching the Italian strongman battle the bad guys on black and white television sets with their parents or grandparents.
Pittsburgh-area native Ken Mihalik was one of those.
"It was very much a family affair," said Mihalik, a retired communications director at Trident Technical College. "My siblings and my mom and dad. Tuning in was a weekly ritual. The Steelers were not winners then, and the Pirates were so-so in the mid-1960s. So, Studio Wrestling was must-see TV, though we didn't have a color set until the late '60s.
"My cousins with us, along with their dads, would drive to the Civic Arena in Pittsburgh if the main event was a big draw. We had quite a crew my first time. July 1964 is still a vivid memory. I was seven years old, and super-excited. My grandfather accompanied us to Forbes Field, not an ideal venue for the matches, but it lent to the event's significance, to see Bruno defend against, and defeat, Johnny Powers."
To Mihalik, Bruno was more than just an in-ring champion.
"Bruno was our Superman in the ring, but also outside it. He came across as real and a blue-collar hero, never pretentious. As champion, he conducted himself like a gentleman, and seemed classy yet approachable, very fan-friendly. He was that rare performer who, despite a busy schedule, would stay to chat and make certain all autograph requests were met."
There was a simple, yet effective, formula for booking Bruno.
Said Mihalik: "It was customary for both familiar and new challengers to show up on the local Saturday wrestling TV program and trash-talk Bruno, how what brought them to town was the goal of beating Bruno in his own backyard. Naturally, Bruno would take the high road on interviews and accept the match, which would turn into a series of battles over a few months if their styles clicked.
The feud would culminate in a brawl which Bruno inevitably won decisively with strongman tactics, sending the bad guy packing. Meanwhile, the next opponent would be featured in a prelim encounter, defeating a popular mid-card favorite, to set themselves up as Bruno's upcoming obstacle. This pretty successful booking formula sustained the Pittsburgh territory for over a decade.
"There was a clear ethnic flavor to many of the contests, with Bruno taking on, and overcoming, the likes of Professor Tanaka, Waldo Von Erich, Stan Stasiak, Ivan Koloff and assorted others. Not always, as there'd be repeated encounters against heels such as Blackjack Mulligan, Johnny Valentine and Bulldog Brower. Real heat would be generated when Bruno would face a former friend or protégé who 'betrayed' him, whether it was Bill Watts, Spiros Arion or, certainly, Larry Zbyszko. Big crowds showed up to see Bruno gain his revenge."
"It wasn't always about Bruno defending the WWWF belt," Mihalik added. "Tag-team matches were also pretty common main events, with Bruno joining pals Tony 'Battman' Marino or Dom DeNucci comprising the 'home team' versus a variety of tough duos — The Sicilians, The Mongols, George Steele and Baron Scicluna, the Fargo Brothers, to name a few."
While pro wrestling wasn't exactly the real deal, Bruno always was. Buoyed by his strength and charisma, he made the championship real in the eyes of the public and brought authenticity to the ring.
A young Zbyszko (Larry Whistler), who grew up watching Bruno in Pittsburgh and was billed as his personal protégé until he shockingly turned on him during a televised public workout, got a quick lesson on how much fans loved Bruno when he bloodied his teacher with a series of chair shots to the head.
"I was getting my car smashed, I had to hide in trunks," recalled Zbyszko, the traitorous student who quickly became the most reviled figure in the business. "I was going down the highway in a new Cadillac with the windows smashed, the mirrors hanging, the lights are out. It was a different time, a different day. My God, the riots."
The two became engaged in a bitter feud that was capped by a steel cage match at Shea Stadium in 1980 in front of 36,000 people. Bruno escaped the cage a winner. The grudge bout broke box-office records for wrestling events, and it would be the final wrestling match to take place at Shea.
Bruno retired from the ring the following year.
"People hated me for 20 years after that match," said Zbyszko. "Everything I learned was from Bruno. He was my mentor."
Burying the hatchet
As the industry began to dramatically change in the late '80s and '90s, Bruno began to look on the profession he once loved with disdain. Leading a charge against the rampant use of steroids and drug abuse, he became a vocal and integral figure in focusing widespread media scrutiny on a burgeoning problem that would affect the entire business.
From famed performer to outspoken critic, he said the business sickened him and pointed to drug abuse, gratuitous violence, tawdry sexual overtones and growing vulgarity. The circus atmosphere and outlandish storylines that Vince McMahon turned to during the company's infamous Attitude Era were too much for Bruno to bear.
"Wrestling was my way of making a living," he said in a 2004 interview. "I did the very best I could. It was an even exchange. But it's a completely different world now, and it's one that I don't belong in anymore."
As Bruno continued to lambast McMahon's creative and business practices, his omission in the WWE Hall of Fame stuck out like a sore thumb. Without Bruno Sammartino as part of it, the WWE Hall would be like the Baseball Hall of Fame without Babe Ruth.
But after years of rebuffing WWE, things changed in 2013 when Bruno finally accepted an offer to be inducted. Ironically it was WWE executive Paul "Triple H" Levesque, McMahon's son-in-law and a central figure of the Attitude Era, who talked Bruno into coming on board.
Levesque assured Bruno that the company had instituted strict rules within their new wellness policy and had changed their platform to more family-friendly fare. Bruno's trepidations were assuaged, and the relationship began to mend.
"Nobody deserves to be recognized for being a big star and paving the way for the stars of today more than Bruno," said Levesque at the time of Bruno's induction. "Everything that we have today in the business, Bruno was a cornerstone of that foundation."
Not surprisingly, Bruno was inducted in the house that he helped build, Madison Square Garden. At last, the journey had come full circle.
The bitter, two-decade split with Vince McMahon was finally over. The two had not spoken since a short phone call in 1988, when Bruno quit.
"One of the finest men I knew, in life and in business," the WWE chairman said after learning of Bruno's passing. "Bruno Sammartino proved that hard work can overcome even the most difficult of circumstances. He will be missed."
"Devastated to hear the passing of a true icon, legend, great, honest and wonderful man ... A true friend ... and one of the toughest people I've ever met," added Levesque.
Farewell to a hero
Bruno, who underwent heart surgery in 2011, died peacefully after battling health issues for the last two months. He passed away with his wife, Carol, and sons, Darryl and Dan, by his side, said family friend and former wrestling announcer Chris Cruise.
"Every day his high school sweetheart Carol was by his side," said Cruise. "She was his rock, and he was hers. They were married almost 60 years. Carol never wanted the limelight, never wanted to be known as the wife of a famous man. I always enjoyed talking with her and I always loved how much she loved Bruno. They were each other's best friends."
Cruise called Bruno the father he never had.
"I spoke with Bruno almost every day for the past 35 years, traveled with him to Italy and to Wrestlemanias and to other events," said Cruise. "We laughed and poked fun at each other; we talked about everything under the sun, we gossiped. He was the older brother and father I never had. I was thrilled to talk with him; it never got old."
As great a wrestler as Bruno was, he was an even greater man, said Cruise. He hated discrimination of any kind. He was strong, but also very gentle.
"He made you feel good, supported you through ups and downs. He felt your pain," said Cruise.
Athletes, politicians, movie stars, celebrities from all fields paid tribute to Bruno.
"Bruno Sammartino was a legend," said Arnold Schwarzenegger, who inducted Bruno in the WWE Hall of Fame in 2013. "He was the American Dream personified. From his childhood in Italy hiding from Nazis to selling out Madison Square Garden 188 times as the biggest star of professional wrestling, he was a hero in every stage of his life."
"I'm saddened to hear about the passing of Pittsburgh and WWE legend and my father's classmate Bruno Sammartino. My thoughts and prayers are with the entire Sammartino family," football great Dan Marino posted.
"Sending love and prayers to Bruno Sammartino's family. He was such a gentleman when I met him and really meant a lot to my father and I," tweeted pop star Bruno Mars, who famously added the "Bruno" name because Bruno was his father's favorite wrestler.
Hall of Fame wrestling manager J.J. Dillon (James Morrison) was among the hundreds who paid their final respects to Bruno. Admitting that he doesn't do well at funerals and viewings, it was a trip he had to make. It was Bruno who gave a young Jim Dillon his first big break in Pittsburgh nearly 50 years ago.
"There was only one Bruno Sammartino and I couldn't live with the thought of not making this trip which I would have regretted for the rest of my life. This was a trip I had to make to pay my respects to the greatest champion in our history."
"There are two things you didn't do, you didn't curse in front of the church, and you didn't bad-mouth Bruno Sammartino. That's the amount of respect we had for Bruno," said one mourner.
A household name all over the country, Bruno represented the best part of the profession. Even when the business changed in later years, Bruno went about his life with dignity. He was someone who commanded respect. He was a man of his convictions.
His charisma, strength, ethnicity and earnest persona made him a huge draw wherever he appeared. His fans were never turned away for a handshake or an autograph.
He embraced America and its people while maintaining ties to his native country. He was immortalized in Italy with a 10-foot statue, and his family home was transformed into a museum devoted to his career. A wing of a new medical center was named after his mother.
While Bruno's strict regimen of two-hour daily workouts probably added at least 10 years to his life, Cruise figures that the physical toll the business took on his body most likely took 10 years off of it. He paid a price for the sport he loved.
In 1976, Bruno broke his neck during a match with Stan Hansen in Madison Square Garden when the Texan brawler accidentally dropped him on his head. He came within one millimeter of being paralyzed from the neck down, but he returned less than two months later to defeat Hansen in a rematch at Shea Stadium.
At the end, the body that had made him one of the greatest wrestlers of all time began to fail him. His body had suffered decades of bumps, bruises, sprains and broken bones. Back and leg problems had made it difficult to walk, and he could no longer do his favorite exercises.
"I last spoke with him about a week ago," said Cruise. "He sounded weak but determined to get out of the hospital. In the end, the accumulation of injuries he suffered in the ring were too much. Bruno Sammartino gave his life for pro wrestling, literally."
Heart issues, which could have stemmed from rheumatic fever he suffered during his illness-ridden childhood, eventually led to multiple organ failures, according to Dave Meltzer of the Wrestling Observer Newsletter. Bruno had been in and out of the hospital in recent months, but wanted to keep details about his condition private.
Meltzer may have put it best when describing just what Bruno Sammartino meant to generations of fans.
"There's a saying about being careful to meet your heroes because you end up disappointed. Millions grew up with Bruno Sammartino, and the ones who got to know him, they were not disappointed."
A rarity in the modern generation of pro wrestling/sports entertainment, Bruno was a good guy his entire career. An honorable man in a less than honorable world, he represented the triumph of good over evil. He had the heart of a champion until the very end.
Wrestling has changed a lot since the glory days of Bruno Sammartino. When Bruno wrestled, it wasn't entertainment. It was serious business. And he never forgot how he got there.
"You look at success and thank God and the fans for the success. It's why I always feel indebted to the fans … I've had a pretty amazing life."
Reach Mike Mooneyham at bymikemooneyham@gmail.com, or follow him on Twitter at @ByMikeMooneyham and on Facebook at Facebook.com/MikeMooneyham.