When Asher Wojciechowski strode from the Baltimore Orioles' dugout to the mound at Tropicana Field last Tuesday night, it marked the 31st time the former Citadel star has pitched in a Major League Baseball game.
And yet for his wife and other members of the "Wojo" family in the stadium in St. Petersburg, Florida, it felt like the first time all over again.
"I looked over, and he's warming up and the waterworks just start happening," said Alanna, his wife of six years. "You do wonder, will he ever make it back? Or will he never make it back?"
Wojo's pitching line in the boxscore that night — 5⅓ innings, five hits, four earned runs, six strikeouts in a 6-3 loss to Tampa Bay — says little of the 30-year-old's battle to make it back to the big leagues for the third time.
During his 10-year pro career, the first-round draft pick of the Toronto Blue Jays in 2010 has worn the uniform of 14 different teams, played in eight different MLB organizations, and pitched in "The Show" for three different squads — the Astros in 2015, the Reds in 2017 and now the Orioles in 2019.
"It's been a wonderfully crazy ride," says Alanna.
'Clothes and coffee'
Wojo's minor-league career reads like an itinerary put together with a map and a blindfold.
Auburn, N.Y. Dunedin, Fla. Corpus Christi, Texas. Oklahoma City, Fresno, Jacksonville, New Orleans, Louisville, Norfolk, Charlotte and Columbus.
"My mom used to buy gear from all the teams I played for," Wojo said. "But I think she stopped buying after the Reds."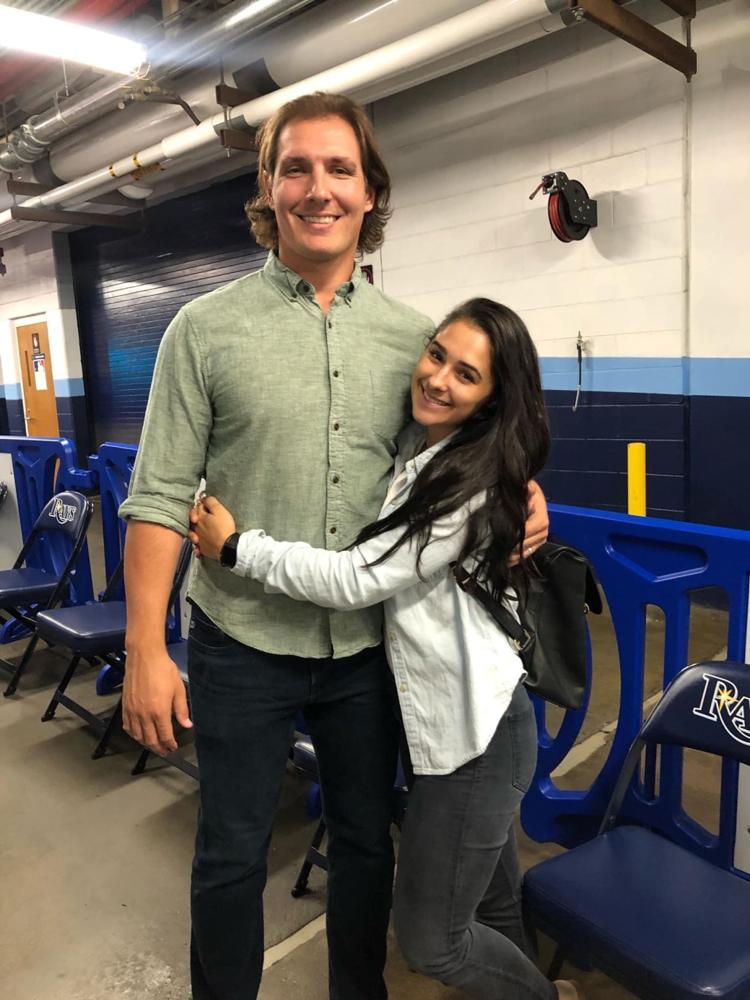 Somewhere in there, Asher and Alanna found time to get married, in 2013, when Asher pitched for Corpus Christi and OKC.
They met when Asher was at The Citadel (he led the Bulldogs to a Southern Conference title in 2010), and Alanna at the College of Charleston. Alanna's cousin was dating (and later married) Bulldogs catcher Grant Richards.
"We were at a football tailgate in Columbia," Alanna said. "And my cousin said, 'Look at Asher, he looks like a male model.' And I was like, 'He kind of does.'"
For a while, they tried to make it as a long-distance couple, Alanna working in Charleston and Asher on the road.
"We tried that in 2014 and 2015, but it's just hard," said Alanna. "And then he got called up by the Astros, and I wanted to be there. I didn't want to miss the experience. It's so finite, and being there and seeing it in person is so different."
So the pair decided to hit the road together. They bought a house on James Island as an off-season  home base, and they rent an apartment wherever Asher is pitching. Alanna teaches Crossfit in Charleston, and sometimes finds time to take on clients on the road.
Wojo earned a signing bonus of more than $800,000 in 2010, and has pitched in the big leagues for three different teams, earning more than a year of MLB service time. But he's not making Bryce Harper money, so the couple has learned to pack light and live frugally.
"We're both very frugal, and I think we got that from our parents," Alanna said. "He's had a financial adviser since he signed, and we meet with him every spring. He invested a lot of stuff when he signed and set up accounts for his retirement and all that.
"We've always said that we'll live beneath our means, and we committed that to each other."
They've also learned that Asher's career path can change at the buzz of a cellphone.
"As we've gotten better at being minor/major leaguers, we've learned how to pack for the season," Alanna said. "When we were younger, we'd pack a lot of stuff and have to bring it home with us.
"Now, we know the shirts we like to wear, and the only thing we bring is our coffee machine, because we're obsessed with coffee."
Faith is very important to the Wojciechowskis, and they stay connected to their pastors and friends at Seacoast Church while on the road.
"They have a broadcast on Sundays that we can tune into," Alanna said. "We like to watch on our iPads or our phones, and sometimes Asher can watch at the field before the game. That's how we stay plugged in."
Supporting it all is family. Both grew up in families where travel is second nature.
Asher lived all over the world as his parents served as missionaries, from South Carolina to Florida, the Dominican Republic, Romania, Michigan and back to South Carolina, to Beaufort for high school.
Alanna is the daughter of veteran football coach Paul Hamilton, who grew up on James Island and has coached at The Citadel, Wofford, ETSU, Air Force, Elon, Brevard and now at Kentucky State.
"She's been everything," Asher said of Alanna. "I don't think I could do this without her, the way she pushes me and motivates and encourages me. She takes care of everything back home. When I get a phone call telling me to go here or there, she goes with the flow."
Big-boy pants
After Wojo made his MLB debut in 2015 for the Astros, it seemed like he might be ready for a permanent gig in The Show. Houston had gone from six straight losing seasons to the playoffs in 2015, and Asher was a considered a rising prospect.
"All of the articles said he was the next big thing in Houston," Alanna said.
Beset by nagging injuries, Wojo was released by the Astros on May 17, 2016, the first time since he'd been drafted that he was without a professional job.
"That was his first time getting fired, so it was a shock," Alanna said. "And he had to put his big-boy pants on and really go after it and dig himself out of a hole."
Picked up and released again by the Marlins, Asher signed as a free agent with the Diamondbacks and then with the Reds, making it back to MLB with Cincinnati in 2017. He pitched in 25 MLB games that season, going 4-3 with a 6.50 ERA.
But again, it wasn't quite good enough. The Reds let him go, and he signed with Baltimore and then the White Sox before a fortunate break — he was picked up by the Cleveland Indians and their analytics-savvy organization last February.
"I was very impressed with the Indians' organization, from top to bottom," he said. "The information they give you, the communication they have, it's top-notch. With their data analysis, they were able to say, 'We really like this pitch, you should throw it in this location and it will play here.'
"They give you all this analysis in a way that is easy to read and understand."
That information helped Wojo put up some of the best numbers of his career — 8-2 with a 3.61 ERA at Class AAA Columbus — before the Indians traded him to Baltimore on July 1. The next day, Wojo was at Tropicana Field for what amounted to his third MLB debut.
"Each time is different," he said this week from a Baltimore hotel. "The first time with the Astros, it was a lot more emotional because my childhood dream was coming true. The last two times, you are working to make it back.
"Each time you make it up, you think, 'This is it, I'm going to stay up here and have a long career.' But as hard as it is to make it to the big leagues, it's harder to stay and stick in the big leagues."
Wojo will likely pitch again Sunday as the Orioles wrap up a three-game series in Toronto before the All-Star break. Then, he'll be home in Charleston for a couple of days before the Orioles tell him what's next for him and Alanna.
"He still loves baseball and I can say without a doubt that he's never given me the sense that he was over it," Alanna said. "It can give him a beating sometimes. But he's the most committed person I've ever met in my life."
Said Wojo, "When you turn 30, people think you are getting older. But I feel just as good and just as strong as when I left The Citadel. I have zero plans on stopping."