Bill Eadie, whose greatest fame in a star-studded career came during runs as such disparate characters as The Masked Superstar, Demoliton Ax and Bolo Mongol, will work his final official match on Aug. 5 in South Bend, Indiana.
The 69-year-old Eadie, whose full-time career ended more than two decades ago, appeared for the IWWA on June 3 in Parkersburg, West Virginia, in his penultimate bout. He also was inducted into that promotion's hall of fame by longtime friend Jim Cornette.
Eadie made his pro debut during the early '70s working in The Sheik's (Ed Farhat) Detroit-based territory. At 6-3 and 290 pounds, and with impressive amateur credentials, Eadie was destined for greatness in the squared circle.
Working as a high school teacher and coach in Ohio at the time, Eadie was recruited to the wrestling ranks by trainer Newton Tattrie, who needed a replacement for his injured partner. Known collectively as The Mongols (Geto and Bepo), Tattrie had formed a top heel team with Josip Peruzovic, whom he had trained and taught to speak English. With bald heads and small horns of hair on the very top of their skulls, the two cast an imposing presence in the ring.
Neither, of course, were actually born in Mongolia. The concept was concocted in a library, as Tattrie was thumbing through a book when he got the inspiration for the team.
"I went to the library in Calgary, Alberta, and I'm going through some books and I saw a Mongol book. I saw Genghis Khan and Kublai Khan. It was interesting, so I thought it would be good. So creative control was at the library," Tattrie related in "The Pro Wrestling Hall of Fame: The Tag Teams."
Peruzovic would return later as future WWE Hall of Famer Nikolai Volkoff, while the younger Eadie would enjoy his first major run in the business as one half of The Mongols.
"I needed somebody," Tattrie told the SLAM Wrestling website. "I had had a gym in Pittsburgh where I trained wrestlers. Bill Eadie paid me and I trained Bill Eadie. So I had a call from Japan and they wanted The Mongols. They offered us good money. Bill Eadie was a big guy and just shaved his head and grew a mustache. A few weeks later, we're in Japan."
With Peruzovic on the sideline, the physically similar Eadie shaved his head and joined Tattrie under the ring moniker Bolo Mongol in 1973. The team worked the Pittsburgh area, where Tattrie had been a promoter, along with Buffalo and Toronto. The two also appeared briefly for Ann Gunkel's All South Wrestling Alliance, which ran opposition to the established NWA promotion in Georgia before folding in 1974.
Eadie gained more valuable experience when he and Tattrie made their first trip together to Japan. The two later teamed in the IWA, a new national promotion formed by creative whirlwind and Chicago White Sox executive Eddie Einhorn. When Einhorn left the IWA in late 1975 due to business conflicts and a sizable financial loss, The Mongols also left, taking the IWA tag-team belts with them to rival Jim Crockett Promotions in January 1976. There they were billed as the International tag-team champions.
A lot of credit for his early success, says Eadie, goes to Tattrie, who passed away in 2013 at the age of 82.
"He broke me into the business. He really gave me a leg-up because I was working main events when I probably shouldn't have been at that time. He was already established."
Superstar is born
While the next two decades would see Eadie earn tremendous success worldwide, including a run as one half of the trend-setting Demolition team in the WWF, there was one particular territory where he would establish himself as a major star in the business.
The Carolinas and Virginia hold special meaning for Eadie, who first worked in the area in 1976 with Tattrie as The Mongols. Before the year was out, Eadie would make yet another major transformation, this time under a hood as The Masked Superstar.
The switch was so seamless that Eadie, as Bolo Mongol, wrestled Wahoo McDaniel in a hair match on a Sunday evening in Greensboro, North Carolina, and the following night in Greenville debuted as The Masked Superstar. With the help of booker George Scott and manager Boris Malenko (Larry Simon), the powerful yet agile 300-pound masked man was propelled to immediate main-event status.
Eadie assumed a role that had been vacated when Don Jardine, better known as The Super Destroyer, left the area a year earlier. Jardine had been the territory's top masked act, and Scott saw Eadie as a suitable replacement. Eadie, however, was much more than that. He became one of the best big men in the business – with or without the mask.
"I was young and green and ignorant to the business, but I soon realized that if the booker is going to give you a gimmick, he's going to push you," laughs Eadie.
For the next decade Eadie was a major attraction from Charlotte to Tokyo, with a feared finishing hold known as the cobra and a gimmick of coughing up several grand if anyone could make him submit. A master at the microphone and a first-rate worker in the ring, Eadie claims to have been one of the first wrestlers to body-slam Andre The Giant, years before Hulk Hogan's highly publicized feat at the third Wrestlemania in 1987. The two were close friends outside the ring, teammates as The Machines in Japan, and Andre became godfather to Eadie's two daughters.
Demolition Ax
Years later, as part of a team known as Demolition, Eadie would resurface along with partner Smash (Barry Darsow), a journeyman who previously had appeared in the Mid-Atlantic area with a Russian gimmick as Krusher Khruschev, as a dominant force in the WWF tag-team division.
Known as Demolition Ax, Eadie's original partner on the team was Randy Colley, but their run only lasted a few months before Colley was replaced by Darsow. Unfortunately for Colley, a sizable portion of the WWF audience recognized him as his previous character, Moondog Rex, who had enjoyed a run as tag-team champions with Moondogs King and Spot several years earlier, and had earned a WWF world title shot with Hulk Hogan only a couple years prior. It was determined that the team had little chance of success with Colley being someone fans were already familiar with, so Colley stepped aside and Eadie was given the task of choosing his next Demolition partner.
After a meeting in Charlotte with Darsow, whom he had never met before, Eadie was convinced that he had found his new teammate. WWE owner Vince McMahon gave his blessing, and a new Demolition was born.
Much like The Road Warriors, Demolition wore leather and spikes to the ring along with outlandish face paint. The three-time WWF tag-team champions, who won the belts at Wrestlemania IV in 1988 by defeating Strike Force (Tito Santana and Rick Martel), set a record with a 487-day title reign and dominated the WWF from 1987-90. It was a record which lasted for more than 18 years before being broken by New Day.
With health issues plaguing Eadie, the later edition of Demolition, which included Demolition Crush (Brian Adams), lost its magic and was a shadow of the original team. The team disbanded shortly thereafter. Smash would later be repackaged as Repo Man, with Adams adopting a Hawaiian surfer gimmick.
Red-hot angle
Eadie said in a 2006 interview that picking his favorite between the Superstar and Demolition Ax characters was like choosing between kids, but the masked gimmick got the nod.
"I think I enjoyed Superstar more, but only because it's the first big break I got by myself. I certainly enjoyed Demolition because it gave me some longevity and sort of reignited my career in front of a different group of people. It's funny. There are a lot of fans of both characters. I've been getting a lot of requests for legends shows and autograph signings, and I'll ask promoters which character they want to choose. Sometimes it's hard for them to make a decision. I won't do both, though, because it just insults the people," said Eadie, whose other personas included Super Machine, Axis The Demolisher and Billy Crusher.
It's also difficult to pick a favorite memory of his extended time in the Mid-Atlantic area.
"There are so many good memories. I guess the matches I had with Igor, the battles I had with (Blackjack) Mulligan, they're the ones that stand out," said Eadie, who greatly benefited from Malenko's guidance.
The year-long program with The Mighty Igor (the late Dick Garza), he says, got him plenty of mileage. A memorable angle in which The Superstar smashed manager Boris Maximilianovich Malenko's lit cigar into Igor's eye not only spurred one of the top money-making programs in the territory, but it also led to a long, lucrative run in Japan for Eadie.
"The angle was so successful that I took it to Japan and got a 13-year career out of (Antonio) Inoki from it," Eadie said. "I was the first guy to ever do anything like that to Inoki. We were supposed to have a blowoff match after about the first six weeks at the Tokyo Dome, and there was so much heat they had to send me home. They finally brought me back, and I rode 14 years out of that thing."
Eadie, as The Masked Superstar, rode the same angle with Dino Bravo in the Montreal territory into a five-year run. Eadie recalled originally coming up with the idea as a rib.
"We needed some kind of victory celebration. Boris didn't smoke. We got these big, stinky cigars, and every time we got a victory, Boris would have to light up a cigar. Boris would actually almost throw up every time. In this case a rib turned out to be a good thing. Once fans saw him light up that cigar, they thought it (the match) was over. And then when I had the best of Igor at (Charlotte's) Park Center, Boris jumped the gun and lit the cigar, stood up on the apron and turned around with a big smile, and there I was with a bear hug on me. I just grabbed the cigar and stuck it right in Igor's eye. It did get him a little bit in the eyebrow, but he sold the heck out of it."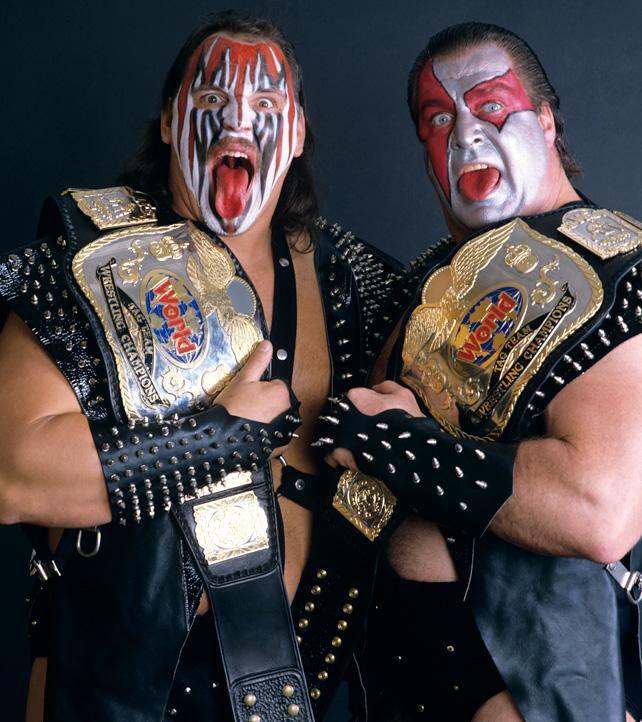 Igor sold it so well that his vision suffered as a result.
"Even when it got better, he went and got sandpaper and scarred up his eye. He wore this big patch to the extent that it almost cost him his vision. He wore it for almost six months. But people sure remembered that angle. I got almost 13 years out of cheap three-dollar cigars."
The Superstar's lengthy run in the Carolinas saw him form a top team with Paul Jones, with whom he won the NWA world tag-team belts from Ray Stevens and Jimmy Snuka in 1980 and again in 1981 from Stevens and Ivan Koloff. He followed with National tag-team title reigns in Georgia with Scott "Super Destroyer" Irwin and King Kong Bundy, packaged with several National title runs. A red-hot mask vs. mask feud with Mr. Wrestling No. 2 sold out arenas across the state, as did his program with former NWA world champ Tommy Rich.
Fond memories
In recent years the well-spoken Eadie, who has a master's degree in education from West Virginia, has worked as a special education teacher in the Atlanta area. He plans to retire within the next year after 20 years on the job.
"I was still working in Charlotte when we moved down here," said the Pennsylvania native. "When I came down for that period of time back and forth with Ole (Anderson), we bought a house in the Stone Mountain area. After that, we bought a house in Roswell, and have been here ever since."
Eadie has nothing but fond memories of his times in the Mid-Atlantic area.
"Between Georgia and the Carolinas, they were the most educated wrestling fans. For that time period they saw all the top talent there was in the United States and Canada. Everybody that was anybody wanted to come to the Carolinas. There was a waiting list to come in here. And some couldn't handle it because it was tough. We'd go from Charlotte to Richmond and down to Charleston and back to Norfolk. It was on fire for years."
The territory was so strong, said Eadie, that he believes it could still be thriving today if not for some strategic miscalculations.
"It's sad because Dusty (Rhodes) and a couple of folks convinced the Crocketts to take on Vince (McMahon) and the whole world. There could have still been the Mid-Atlantic territory. Vince has such a high overhead that he couldn't go into towns like Sumter, South Carolina, and Wilson, North Carolina. They (Crocketts) were sometimes running three or four towns a night. Vince could sell out Columbia and still have a negative balance. If you're running Columbia, Sumter and Rock Hill and you total them all together, you've got a pretty tidy sum. I just think they overreached."
Eadie also recalled the Friday nights at the old County Hall in Charleston where he tangled with some of the top stars of Mid-Atlantic wrestling. He gave props to the man who, for decades, made those Friday nights a staple for local fans.
"Henry Marcus was a very good promoter," said Eadie. "He was an old-time promoter. And Charleston was a rough town. People would be packing that upper balcony, and you'd get pelted with stuff."
Would Bill Eadie do it all over again? You bet he would.
"The only regret that I have is that I didn't get a chance to take my family to all the places I wanted them to see. I got paid to go places that people pay a lot of money to go to. It was a great career."
Reach Mike Mooneyham at bymikemooneyham@gmail.com, or follow him on Twitter at @ByMikeMooneyham and on Facebook at Facebook.com/MikeMooneyham.