Head coach Duggar Baucom watched on a laptop computer from a car in the parking lot, serving out a Southern Conference suspension. Senior leaders Zane Najdawi and Matt Frierson struggled, combining to make just 2 of 13 shots for 10 points.
And yet The Citadel still managed its first SoCon road win of the season, taking a 67-61 victory over Mercer on Saturday at Hawkins Arena in Macon, Ga.
Associate head coach Daniel Willis, running the show in Baucom's absence, relied heavily on point guard Lew Stallworth, who scored 27 points, including the final 11 of the game for the Bulldogs (11-12, 3-9 SoCon).
Hayden Brown racked up a double-double with 10 points and 11 rebounds before he fouled out, and Kaiden Rice scored 11 points off the bench.
With their first back-to-back wins over Mercer (8-16, 3-9) since 1926-27, the Bulldogs pulled ahead of the Bears in the chase for a sixth-place seed and first-round bye in the SoCon Tournament.
"It was awesome," said Willis, filling in after Baucom was ejected from last week's loss to Wofford, triggering an automatic SoCon suspension for Saturday's game. "It was a huge win for us. The guys kept fighting, and it wasn't really pretty until we hit those three 3-pointers in a row."
Mercer led by two with less than six minutes left before Connor Kern and Rice combined to hit three treys in less than a minute. Kern hit the first two and Rice the third, all from the left wing, for a 56-49 lead with 4:40 left.
"That was Citadel basketball," Willis said. "That's what a lot of people saw for the first two months of the season: Other guys stepping up and hitting shots. They are still chasing Matt around everywhere he goes, but Connor and Kaiden stepping up to hit those shots was huge."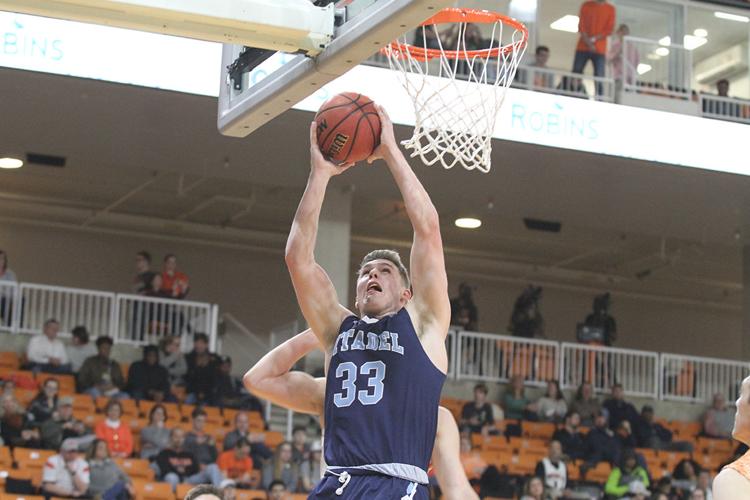 Mercer never got closer than four after that, as Stallworth added a layup and then a 3-pointer of his own before making six free throws over the final 83 seconds.
"Lew Stallworth, man, he was really great down the stretch," Willis said on the postgame radio show. "We just hung on for all we could, and it feels to get a road win."
Najdawi fouled out and finished with just four points and three rebounds. Frierson, who chased Mercer's top scorer, Ross Cummings, around the floor in a box-and-one defense, fought Cummings to a draw as each scored six points.
Mercer shot just 35.5 percent from the field, including 5 of 18 from 3-point range. Ethan Stair was the only Bears player in double figures with 19 points on 6 of 18 shooting.
The Citadel continues a three-game road swing at ETSU next Thursday.