Where does VMI rank on Citadel's list of rivals? This week, it'd better be No. 1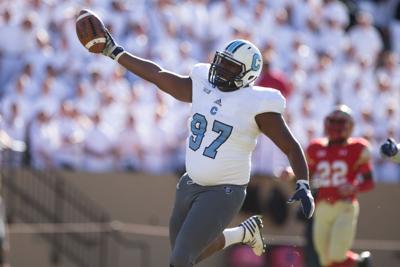 The Citadel's list of football rivals seems to expand and contract as the years go by.
Ask current and recent Bulldogs, and they'll tell you the team they most want to beat is Wofford.
Talk to older alumni, and they are sure to mention Furman and how "purple makes me puke."
The school's top brass likes to hold bragging rights over fellow military school Virginia Military Institute, Saturday's homecoming foe at Johnson Hagood Stadium.
And for some members of the local media, a yearly matchup between Lowcountry schools The Citadel and Charleston Southern seems to be a must.
But if a true rivalry is supposed to withstand the test of time, it's clear that Furman and VMI hold pride of place in The Citadel's hierarchy.
"Wofford has become a huge rival for us, just based on the battles we've had over the last three or four years," Citadel coach Brent Thompson said. "And I do hear that, especially from our Upstate alumni.
"But Furman is a huge rival for us, as well ... and VMI is a rival just for the fact that we are similar institutions with the same basic values, the two Corps of Cadets and the dynamic between the two schools."
Thompson was part of a military school rivalry during his playing days at Norwich University in Vermont. Norwich and the U.S. Coast Guard Academy played for a trophy called "The Mug" in what was known as the "Little Army-Navy Game."
Thompson's Norwich teams never won "The Mug" during his career. So he knows full well the meaning of the Silver Shako, which goes to the Citadel-VMI winner in the "Military Classic of the South." The Shako has belonged to The Citadel since 2003.
"We need to create this as a huge rivalry between us," he said, "because I know up in Lexington (Virginia) they are treating it as a big rivalry, and I want our guys to have that same feeling."
Safety Aron Spann, for one, has gotten the message.
"VMI is up there," he said. "For me personally, I treat everybody as a rival. But VMI is a traditional rival, and we want to beat those guys to prove we are the better military school — not only in football, but in cadet things, too."
For VMI, 0-8 and losers of 14 straight games under third-year coach Scott Wachenheim, a win against The Citadel would go a long way toward salvaging another in a long string of disappointing seasons.
The Keydets have not had a non-losing season since going 6-6 in the 2003 season; their last win over The Citadel was by 23-21 in Charlotte in 2002, when VMI also went 6-6 under coach Cal McCombs, a Citadel graduate and former Bulldogs assistant.
This year's VMI team ranks last in FCS football in scoring offense (8.1 points per game), and last in the Southern Conference in scoring defense (allowing 39.8 ppg).
The Citadel, meanwhile, snapped a three-game skid with last week's 20-14 win at Chattanooga, to improve to 4-3 overall and 2-3 in the SoCon. That kept alive hopes for a third straight winning season and an outside shot at an FCS playoff bid.
The Bulldogs rushed for 405 yards against Chattanooga, and Spann sealed the game with an end-zone interception in the final minutes.
"That was The Citadel football team that we need, and that was The Citadel football team we had last year," Thompson said. "When we needed big plays, we got them, and that builds confidence. I think we are growing up and getting to where we can start making those plays on a regular basis."
Slotback Grant Drakeford led the Bulldogs with 97 rushing yards on just nine carries against the Mocs; five Citadel players had at least 43 yards each.
"We just executed," said Drakeford, who also leads The Citadel with 389 rushing yards this season, averaging 9.5 per carry. "We didn't have a lot of missed assignments. We had a lot of blocks from the linemen to the A-backs and wide receivers, and we were able to get to the perimeter and make some big plays."
Reach Jeff Hartsell at 843-937-5596. Follow on Twitter @Jeff_fromthePC