Severe weather made for a long night in the Class AAAAA boys soccer state championship between Wando and J.L. Mann on Saturday night.
It took nearly four hours to decide a winner, including a 90-minute weather delay and a few overtime sessions. Wando eventually came with a 1-0 win on an unusual goal at the end of a third overtime.
With 11 seconds remaining in the first of two possible sudden death periods, Wando's Bennett Schillp took a quick throw-in from McCrady Andrews and turned into a shot that resulted in the only goal of the contest.
Wando (26-2-1) won its third consecutive Class AAAAA state title.
"We tell the guys, sometimes you just gotta take a shot, just let one go, even if it may not be an ideal shot, take it," Wando coach Shilo Tisdale said. "We felt like we were gonna get one. We had some great opportunities. Bennett made a play. It's just a great play. Sometimes you gotta be lucky."
Schillp was still in disbelief moments after the celebration.
"I honestly, I was just trying to shoot," the junior forward said. "When I saw it go in the back of the net, I was like 'damn.'"
A scoreless first half saw each team with a few good shots but neither could find pay dirt.
Midway through the second half, the much-anticipated rain storm made its presence in Irmo, forcing the teams off the field with 19:51 remaining in a scoreless affair. Heavy rains, lightening and winds pounded the stadium for nearly an hour and a half.
Once play resumed, through a steady rain, Wando came out very aggressive and had several great looks at scoring opportunities. Tre Jackson looked to have found a goal as he delivered a missile from mid-range. The shot was deflected by Mann keeper Mohammed Al-Jaouni and the teams played through regulation with a scoreless tie.
The teams went through a pair of 10-minute overtime periods. Owen Hamilton had a solid shot at scoring midway through the first overtime but was again denied by Al-Jaouni.
"We went through a little lull just before the rain came but we came back out with great energy," Tisdale said. "They were getting bored and antsy waiting around because they were ready to get back after it. They didn't let the rain bother them. We had a lot of energy after the delay."
Tisdale, who has five titles in 13 seasons as head coach, says his team fought through adversity all season, especially with some early setbacks.
"Losses can help you grow and that's what happened with this team," the coach said. "As an individual, you learn by sitting on the bench. As a team, losses can be your best lesson."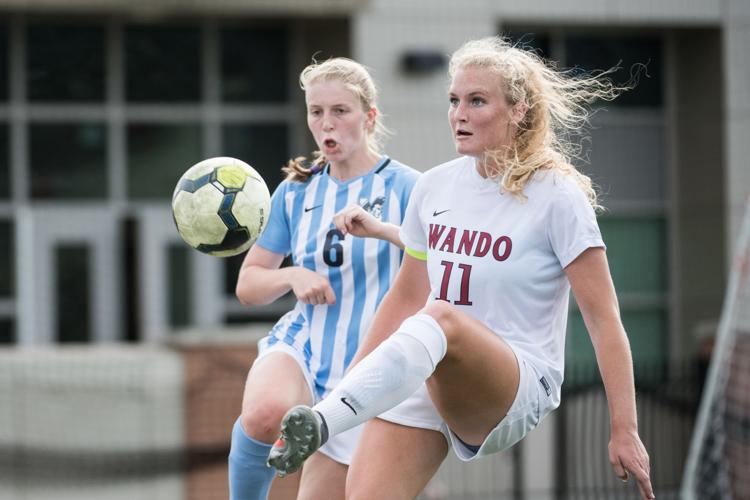 Girls
J.L. Mann 1, Wando 0
One amazing goal in the early stages of the game was the difference between winning and losing for the Wando girls soccer team in Saturday's Class AAAAA championship at Irmo High School.
Wando ended up with their first and only loss of the 2019 season, falling 1-0 to J.L. Mann. Mann won its third consecutive state championship.
The lone goal in the contest came in the 10th minute of play when Mann's Erica Manfre scored off a 40-yard free kick that sailed over the out-stretched arms of Wando keeper Maggie Van Thullenar and into the upper right corner of the net.
The improbable goal came after Mann had forced the issue for the first 10 minutes with several threats. Wando settled in during the last 20 minutes and forced several solid scoring opportunities.
Yet, Wando was unable to sustain significant progress against a stellar Mann defense.
"Crazy enough, we've been through the history with J.L. Mann many times," Wando coach Shannon Champ said. "That's just how it is in these big games. They are typically close. They beat us in penalty kicks two years ago. We lost by a goal in 2015 and we beat them by a goal in 2014. I knew going in it would be close.
"Unfortunately, we gave up the goal in the eighth minute. I thought we rallied pretty well but it just wasn't our day. We had some really good chances in the last 10 minutes. I don't think we capitalized on our corner kicks. We had our chances. They found the back of the net and we didn't."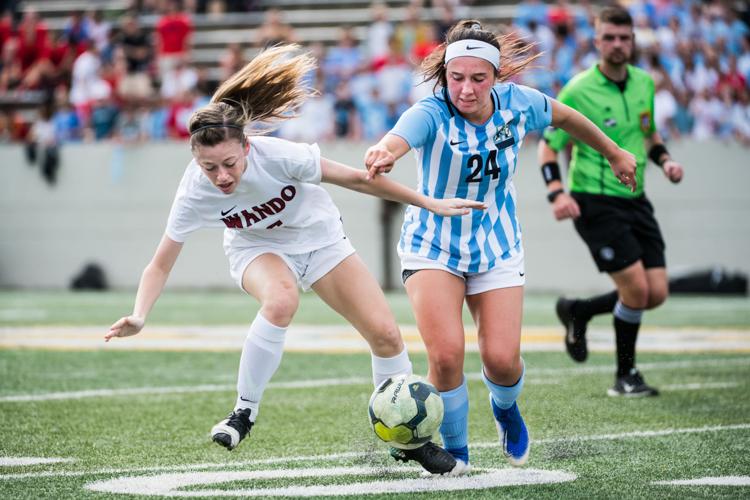 Wando finished with a record of 24-1-1. Saturday's championship meeting was the fifth between the two schools with Mann taking a 3-2 edge in wins. Champ says one of the biggest disappointments is that she feels her team couldn't play their best game in the finals.
"I don't think we played our best 80 minutes," the coach said. "I thought we had spurts but overall I don't think we brought our best game to the state finals. That's disappointing. You would think you would be at your best in the state finals."