Before taking on Charleston's Shelby Rogers at the Volvo Car Open on Thursday night, Ash Barty warmed up with a little footy.
Barty, the No. 1 player on the WTA Tour and a native of Australia, likes to engage in some Aussie rules football before stepping onto the tennis court.
"We travel with a little Aussie rules footy," Barty said. "It's just a nice way to change up the warm-up and kind of get the hands going."
Coming off a 50-hour trip from Australia and a grueling five-match run to a title in Miami last week, Barty got going just enough to slip past Rogers by 7-6, 4-6, 6-4 on April 8 in the third round of the Volvo Car Open at LTP Daniel Island.
Her third victory over Rogers this year, and second in three sets, earned Barty a quarterfinal match with Spain's Paula Badosa. The top-seeded Barty is the only one of the top 10 seeds still left in the VCO. 
"It's strange to play someone so often so close together," said Barty, who faced Rogers twice in Australia earlier this year. "Sometimes you find yourself playing the same person over and over, and sometimes you won't play them for years.
"But Shelby's an exceptional ball-striker. She always makes you work very hard for every single point, every single match, and tonight was no different."
Rogers could not match her 2017 run to the quarterfinals of her hometown tournament, where she once served as a ball kid. Ranked No. 52, she will achieve a career high ranking, projected at No. 46, after this week.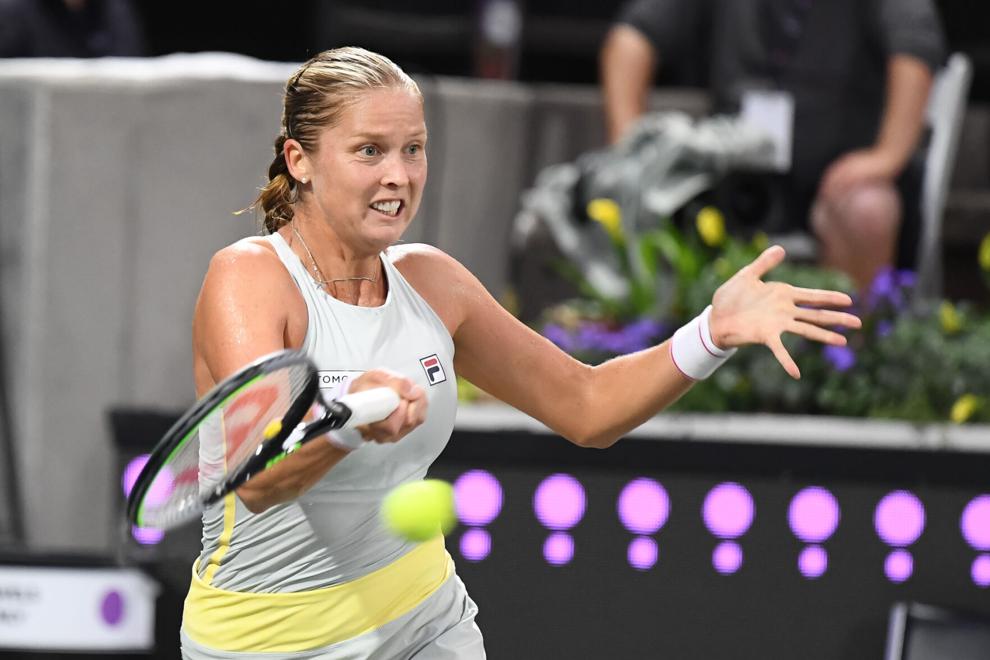 But that doesn't mean much for the 28-year-old.
"The number doesn't do it for me," said Rogers, still seeking her first WTA Tour singles title. "I want to win these tournaments, beat these players. I have a lot of goals for myself, and I want a much smaller number for that."
Rogers broke an unusually erratic Barty's serve to get to 4-4 in the third set when the Aussie hit her ninth double fault. But Rogers could not consolidate the break as Barty sliced a backhand drop shot for break point, then smacked a forehand to break back at 5-4. Rogers held off one match point, but Barty rifled an ace on the second.
"She raised her game at that moment, and that's what these girls do," said Rogers, who plans to play in the Charleston 250 WTA event next week on Daniel Island. "They recognize the three points that are going to make or break a match."
No. 3 seed Petra Kvitova and No. 6 seed Garbine Muguruza joined the parade of seeded players exiting the Volvo. Kvitova lost by 6-4, 6-1 to No. 91 Danka Kovinic of Montenegro.  
Muguruza, ranked No. 13 and off to a great start this season with a 20-5 record and a singles title, was forced to retire with a leg injury against No. 11 seed Yulia Putintseva, the highest remaining seed aside from Barty.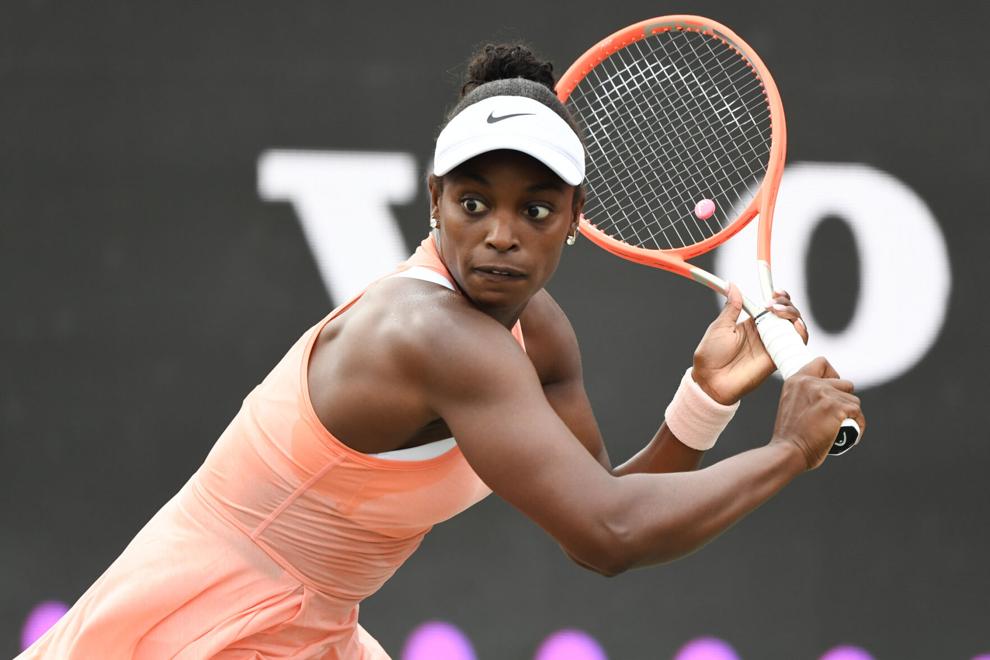 Former VCO champ Sloane Stephens moved into the quarterfinals with a 6-3, 6-4 win over No. 78 Ajla Tomljanovic less than 24 hours after defeating good friend and defending Charleston champ Madison Keys.
"It was tough," said Stephens, who won the Volvo in 2016. "But the turnaround was pretty quick and I didn't have a lot of time to dwell on it. The weather helped me out, because it was hot during the day, and then right when we went on court, it was shady. I was like, okay, this is good."
Stephens will face Veronika Kudermetova in the quarters after the 15th-seeded Russian beat Japan's Kurumi Nara by 6-0, 6-3.
Kovinic is into the quarterfinals in Charleston for the second time in her career with her upset of Kvitova, a two-time Wimbledon champ.
"We both have pretty big serves and she's very good hitting from the baseline," said Kovinic, 26. "Today it was the key that I tried, and did it really well, to take her pace of the ball and use her energy. As you can see, her returns on my second serve were sometimes incredible. I didn't even move and the ball passed by me, but somehow I managed."
No. 14 seed Coco Gauff is still alive, as the 17-year-old American fought off Lauren Davis by 6-2, 7-6. Davis had upset No. 2 seed Sofia Kenin in the second round.
"My confidence is definitely super high," said Gauff, who will get No. 12 seed Ons Jabeur of Tunisia in the quarters. "I feel like each match I'm doing better and better ... I feel like when I'm confident on the court, that's when I play my best tennis."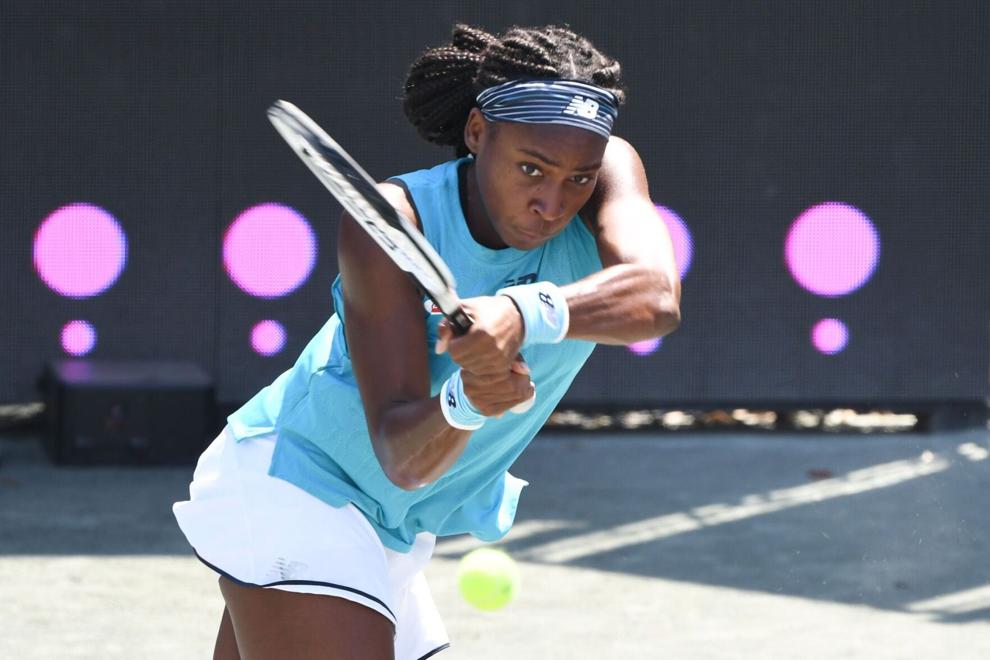 Jabeur defeated Alize Cornet by 5-7, 6-3, 6-3, and 15th-seeded Veronika Kudermetova ousted Japan's Kurumi Nara by 6-0, 6-3. Kudermetova's doubles partner, Timea Babos, reportedly tested positive for COVID-19, forcing the team to withdraw and Babos into quarantine. 
Charleston's Emma Navarro teamed with Caroline Dolehide to face Gabriela Dabrowski and Asia Muhammad in doubles in the day's final match. 
Volvo Car Open
Quarterfinals (April 9)
Starting at 1 p.m.
No. 11 Yulia Putintseva vs. Danka Kovinic
No. 12 Ons Jabeur vvs No. 14 Coco Gauff
No. 1 Ash Barty vs. Paula Badosa
7 p.m.
No. 15 Veronika Kudermetova vs. Sloane Stephens
Coco Gauff/Catherine McNally vs. Alexa Guarachi/Desirae Krawczyk
April 8 results 
Round of 16
Veronika Kudermetova (15), Russia, def. Kurumi Nara, Japan, 6-0, 6-3.
Danka Kovinic, Montenegro, def. Petra Kvitova (3), Czech Republic, 6-4, 6-1.
Yulia Putintseva (11), Kazakhstan, def. Garbine Muguruza (6), Spain, 0-6, 2-2, ret.
Ons Jabeur (12), Tunisia, def. Alize Cornet, France, 5-7, 6-3, 6-3.
Coco Gauff (14), United States, def. Lauren Davis, United States, 6-2, 7-6 (2).
Paula Badosa, Spain, def. Caty McNally, United States, 6-3, 6-3.
Sloane Stephens, United States, def. Ajla Tomljanovic, Australia, 6-3, 6-4.
Women's Doubles
Quarterfinals
Nicole Melichar, United States, and Demi Schuurs (1), Netherlands, def. Ons Jabeur, Tunisia, and Anastasia Potapova, Russia, 6-3, 6-2.